By Ryan Swift, contributions by Michael Verdon and Julia Zaltzman
The Big Idea: Riding the Wave
As far back as the late 19th century, British colonial officials and businessmen began importing yachts to Hong Kong and racing them for recreation. A visit to the hallowed halls of the Royal Hong Kong Yacht Club reveals some of this history: grainy black-and-white photos on the walls show yachts and regattas gracing the city's waters through the decades.
There was even a time when yacht building became a business in Hong Kong. During the 1930s, Ah King's Slipway at the Causeway Bay Typhoon Shelter built several sailing yachts, some of which are still at sea. The storied beauty So Fong, built at Ah King in 1937 and designed by Sparkman & Stephens, was still doing charters in the Spanish Mediterranean as late as the 2010s. From the 1930s through to the sale of its Lantau site in 1996 to form part of Disneyland, Cheoy Lee Shipyards busily produced wooden yachts before pioneering fibreglass models aimed at the US market.
Today, Hong Kong is the undeniable centre of leisure yachting in Asia—in fact, the city imported more yachts in 2020 than any other city or nation in East Asia. The Royal Hong Kong Yacht Club has become one of the world's premier organisers of offshore yacht racing. And despite its relatively small size, the city offers some surprising destinations for boaters: tiny, isolated beach restaurants, mysterious or abandoned islands, intriguing rock formations, hidden beaches, and even decent diving locations can all be explored by yacht.
Similar diversity prevails in the vessels themselves, with boats and yachts of all sizes plying local waters. Some of the most popular models in yachts are in the 25- to 30-metre range—the "sweet spot" for Hong Kong, as it allows all the luxuries while being small enough to fit into the smaller bays and to find a berth.
The recent travel restrictions and lockdowns, while a bane for some sectors, were a boon here, boosting demand to unprecedented levels as buyers sought alternative forms of recreation. So, not only is the city out-importing its competitors, its 2021 motor yacht imports beat its own records. Simpson Marine, one of Asia's largest yacht dealerships and services companies, said 2021 was the best year for yacht sales in the nearly 40-year history of the company.
The boom means that Hong Kong's yacht dealers are able to offer a wide range of choices. There are yachts for those seeking high-speed thrills, yachts for those who prioritise sophistication, and yachts for navigating in comfort to far-off places.
If there's a little downside, it's berthing: there are so many yachts that supply has struggled to keep up with demand. In 2020, the Lantau Yacht Club opened up the refurbished Discovery Bay Yacht Club, freeing up new marina berths for superyachts. Lawrence Chow, chair of the Hong Kong Boating Industry Association, says the Marine Department added 200 new moorings for yachts in 2021 as well. With the HKBIA planning to stage a new yacht show in Hong Kong in 2023, things are continuing to look up.
Wally
Wallywhy200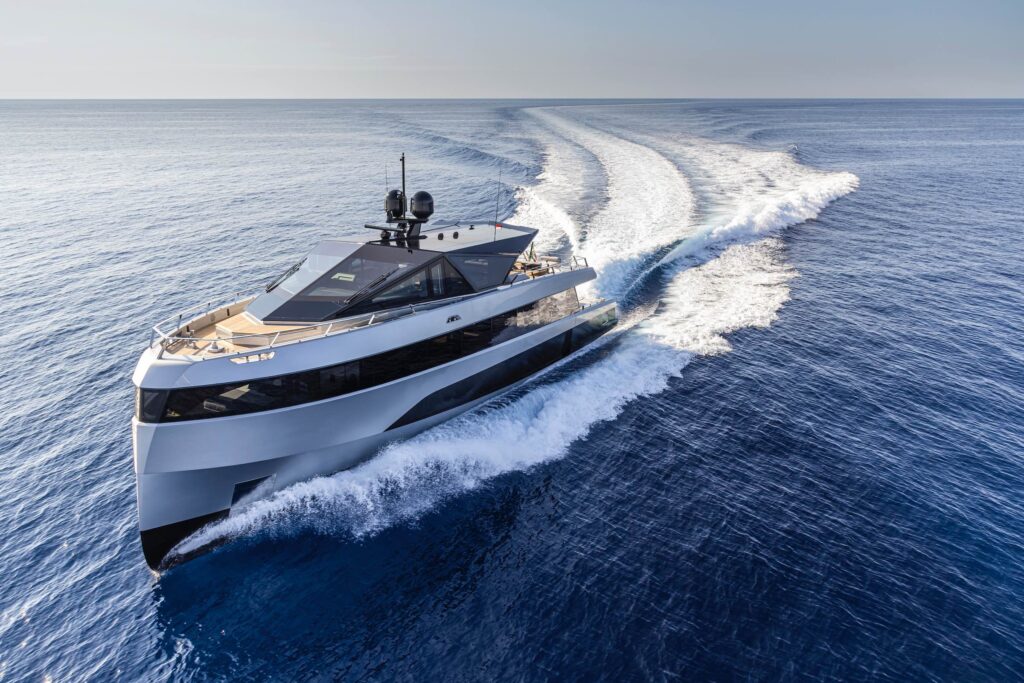 The Wallywhy200 from Wally, a Ferretti brand, created plenty of buzz when it debuted at Cannes in late 2021. As Wally managing director and Ferretti chief commercial officer Stefano de Vivo pointed out, the semi-displacement model gives "all the advantages of a catamaran without the limitations," such as limited volume and mooring issues.
As the experimental brand within Ferretti, Wally is known for space-age looking yachts. But this 27-metre beauty is about more than looks: the Wallywhy200 offers enormous interior volume and a high level of fuel efficiency, with range of nearly 1,000 nautical miles at 10 knots. That puts destinations such as the Philippines within easy reach.
"Like all Wallys, the new compact superyacht Wallywhy200 carries the wow factor engraved in its DNA," said Wally founder Luca Bassani. And he wasn't exaggerating: there's a lot of innovation at play here. Where the master cabin on a yacht this size would normally be located amidships, the Wallywhy200 puts a 37-square-metre space right in the bow with a 270-degree view. The upper deck is wide open, while the main deck offers a 61-square-metre living space and a show kitchen. Yachts normally have an outdoor lounge at the bow—here, that's switched out for more interior space. Guests can also make use of a 5G wireless network.
At anchor, the yacht opens its aft decks to create a beach club area of 32 square metres. Two garages have enough storage for a four-metre jet tender, plus assorted toys. All that's left is to sail away.
Image courtesy of Wally.
Sanlorenzo Yachts
SP110 Superyacht
When Italian superyacht builder Sanlorenzo recruited legendary yacht designer and entrepreneur Tilli Antonelli to add new spice to its line, the end result was the sleek SP110, which offers high performance (the SP stands for "smart performance") paired with an intriguing interior layout.
A 33-metre yacht such as this would normally have a flybridge up top; instead, the SP110 has a sleek hard top fitted with solar panels to help power onboard amenities such as air conditioning. To offset the loss of a flybridge, the SP110 has a huge bow area lounge, a focal point for modern yacht design. At the aft deck, a split-level entrance into the interior lower deck and main deck creates an airy open space with fantastic sea views. The level of taste throughout is also exceptional, with interiors by Italian icon Piero Lissoni.
Antonelli, meanwhile, is known for his love of speed, and it shows. The SP110 has a top speed of 40 knots on a set of three engines with a total of 2,000 horsepower. Lightweight construction and waterjet propulsion create better performance, while the engineering system enables the captain to power the yacht on one, two, or all three of its engines for a range of speeds with economical fuel burn.
Sanlorenzo plans to expand the SP line, in keeping with the growing trend towards greener yachting, and has announced plans to incorporate zero-emission hydrogen fuel cell technology on future yachts. So, the SP110 is just a taste of what's to come.
Image courtesy of Sanlorenzo Yachts/Erik Lefvander.
Benetti Yachts
Motopanfilo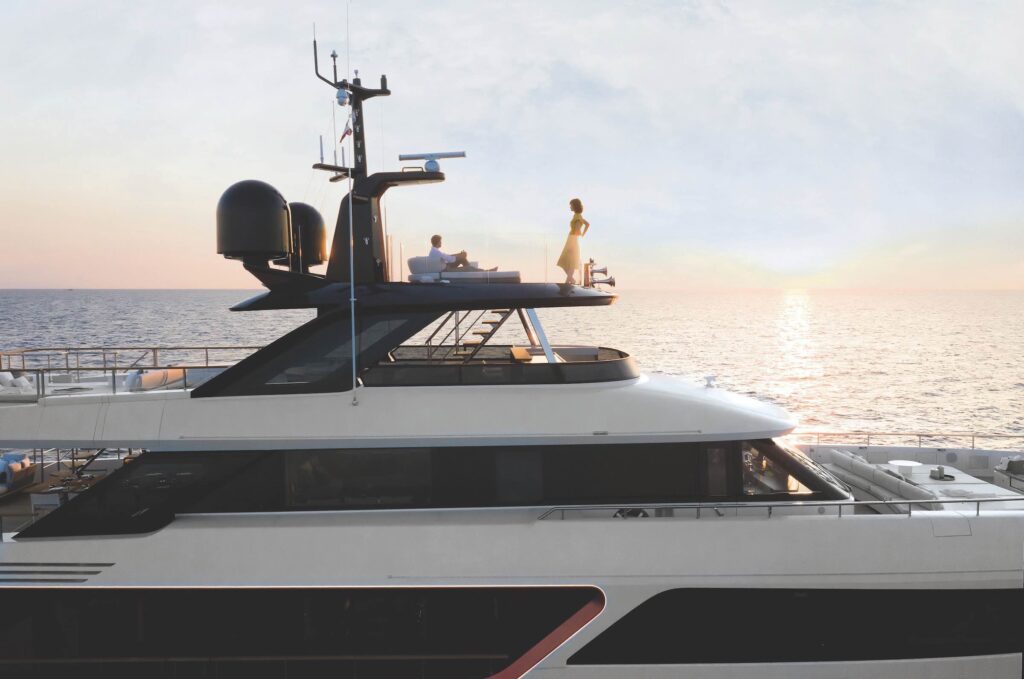 A classic yacht reimagined for the present day is not an easy assignment to pull off, but a contemporary reinterpretation of Benetti's 1960s Motopanfilo managed to successfully blend old and new. Far from a clichéd retro remake, the 2022 exterior, jointly conceived by Francesco Struglia and Benetti, revamps the original Motopanfilo's creative styling with sympathetic restraint. But it's the interior, reimagined by Claudio Lazzarini and Carl Pickering, that reinvents the soul.
On the main and upper decks, the interior spaces are framed by structural "ribs" dressed in textured white lacquer. Each rib features an integrated panel that echoes the nautical doors and portholes of the 60s, which are more elegant, subtle architectural details than clumsy tributes to the past. Billowy cream curtains and golden-hued teak-veneer flooring continue the modern theme, offering a fresh take on the classic elements. The decor introduces a pale shade of blue into an otherwise traditional blue-and-white nautical stripe—again, a 2022 designer's take on a typical 60s look. The signature piece for the salon's cabinets, which include teak strips, is a freestanding bar that is a clever, museum-quality touch. For the modern yacht owner, large swathes of glass, marble, and stainless steel carry the design into the present day.
When at anchor, the fold-down transom extends the swim platform, making it ideal for waterside dining. The upper deck offers oversized sun pads with a glass-encased Jacuzzi, and above, an observation platform with glass balustrades for uninterrupted views. Perhaps the most eye-catching exterior detail is the retractable cabana in place of a beach club. It delivers functionality with all the glamour of the 1960s Amalfi Coast. The boat is an elegant nod to its predecessor without getting bogged down in the nostalgic touches.
Image courtesy of Benetti Yachts.
Heesen Yachts
Lusine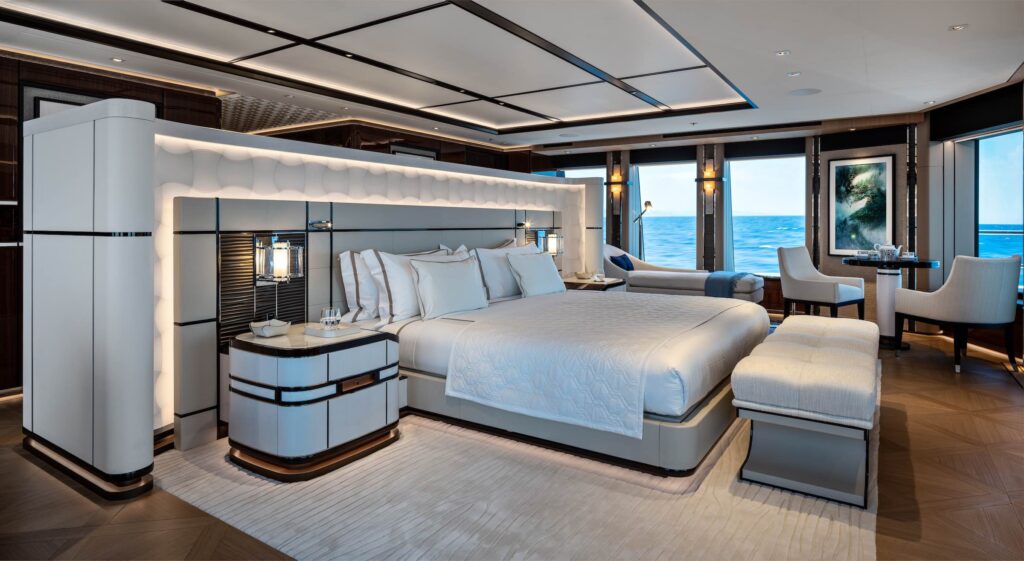 Heesen founder Frans Heesen got his start building high-speed aluminium yachts for discerning clients, including Octopussy, the first superyacht to top 50 knots. Today, the yard focuses on fuel efficiency and internal space, but this heritage informs every design it produces.
One of Heesen's latest creations, the 60-metre Lusine ("moon" in Armenian), debuted at the 2022 Monaco Yacht Show. The steel superyacht's fast displacement hull form allows higher speeds with less fuel burn, and it has a sleek shape to match. Sharp edges and bold lines are complemented by stretches of dark glass that seem to elongate the body. A touch-and-go helipad makes ferrying passengers discreet, with the upper sundeck featuring a guest reception area. An aft terrace acts as an extension of the owner's private stateroom apartment, thanks to retractable stairs and closing hatches.
But it's the interior, by legendary Dutch firm Sinot Yacht Architecture and Design, where Lusine truly shines—in fact, the company considers it one of the most complex interior designs in its history. Across several decks and staterooms—including a giant owner's deck—lunar landscapes and mythology provide the design motif. Rare woods and veneers, graphic steel lines, and marble and mother-of-pearl inlays evoke Art Deco. Bespoke artworks in precious materials adorn public and private spaces, and one of the tabletops is inset with a piece of lunar meteorite. As interior designer Paul Costerus put it, "the artistry lies in the fabric of the vessel itself."
Image courtesy of Heesen Yachts.
Northrop & Johnson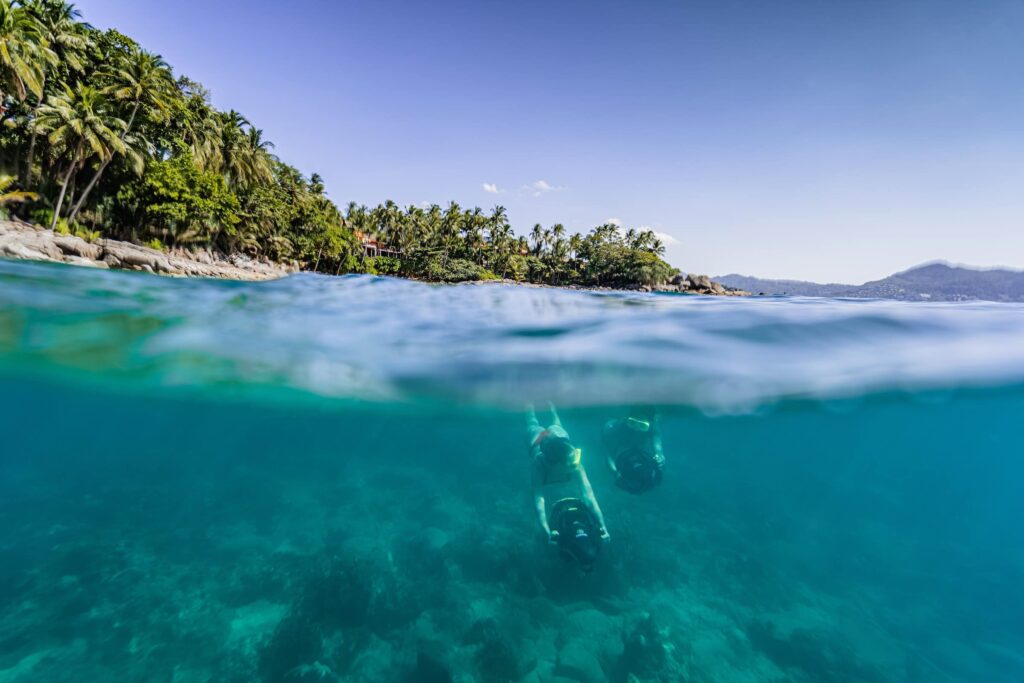 Northrop & Johnson ranks as one of the world's top brokerage and charter companies for superyachts. Across Asia, the company is represented by Martin Holmes and Josh Lee of Lee Marine, which was set up more than two decades ago in Phuket and brings this wealth of expertise to every deal.
Though Holmes and Lee maintain their base in Phuket, Hong Kong remains key. "Hong Kong is one of Asia's most important markets. We're looking forward to being present there," says Holmes. In the meantime, he says, yachting out of Phuket has only improved thanks to the lack of tourists, with underwater ecosystems returning to life.
Yacht owners themselves are changing too, according to Holmes. "Yachts are going from being a plaything or status symbol to being a lifestyle element. The yachts are a little less showy and the market is maturing in Asia," he says. "Some owners are now spending three times as much time on their yachts as they did before."
With the maturing market and a steady stream of enquiries for both sales and charter, the company continues to go from strength to strength.
Image courtesy of Northrop & Johnson.
Sunseeker
65 Skyhelm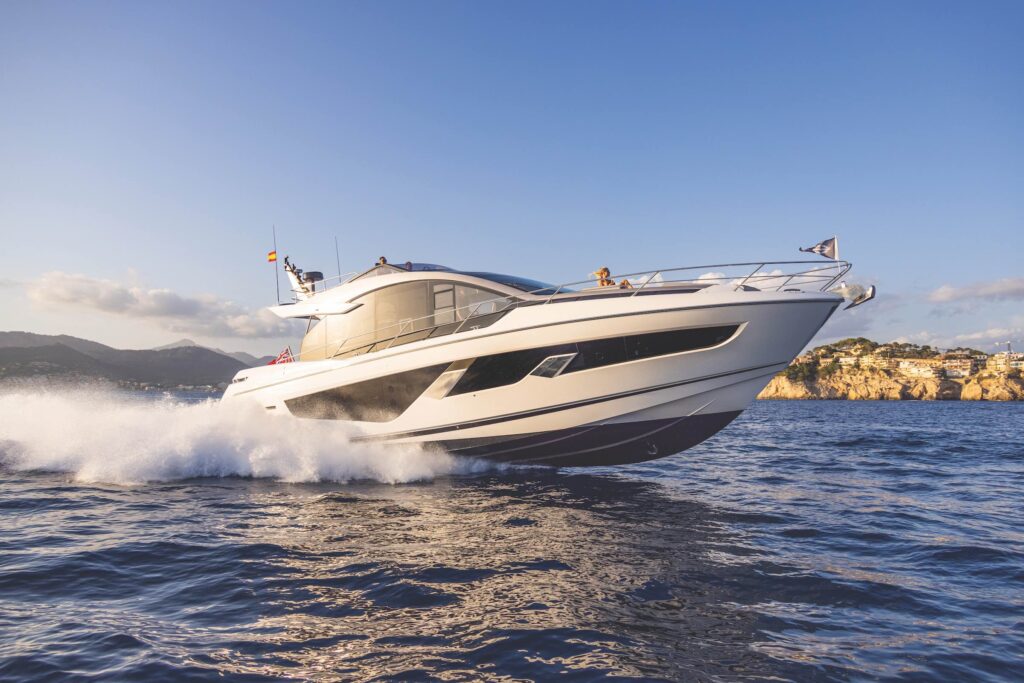 If we hadn't tried it ourselves, it would be a stretch to say that one feature can completely change a boating experience. But UK builder Sunseeker has done just that with its SkyHelm option, a helm seat and steering wheel on the flybridge of its 65 Sport Yacht.
Typically, driving a 34-tonne, 20-metre yacht is an exercise in boredom, with the driver gauging depths and channel markers rather than feeling any boating buzz. But the upper helm—with its matching Besenzoni wraparound seats, driver's legs placed under the steering wheel, and a small curved windshield forward that cuts some, but not all, of the wind—gives the feeling of driving a sports car. Yes, a sports car. Maybe it's because one can feel the hull climbing over every wave, without feeling the running surface crashing below, and at that tall height, the boat—and driver—actually leans into turns. Absent as well are diesel fumes and engine vibrations: just the fresh ocean breeze rips through.
Sunseeker's design team also created a sporty, uncluttered helm; the centre island has digital-analogue gauges, throttles for the Volvo 1350 IPS drives (generating 2,000 horsepower apiece), and a phone charger. The steering wheel itself tilts up, so the driver can stand and navigate in tight quarters or docking, using a joystick. The yacht tops out at only a hair above 60 km/h, but it's still the most exhilarating ride in its class.
Image courtesy of Sunseeker.
Azimut Yachts
Grande Trideck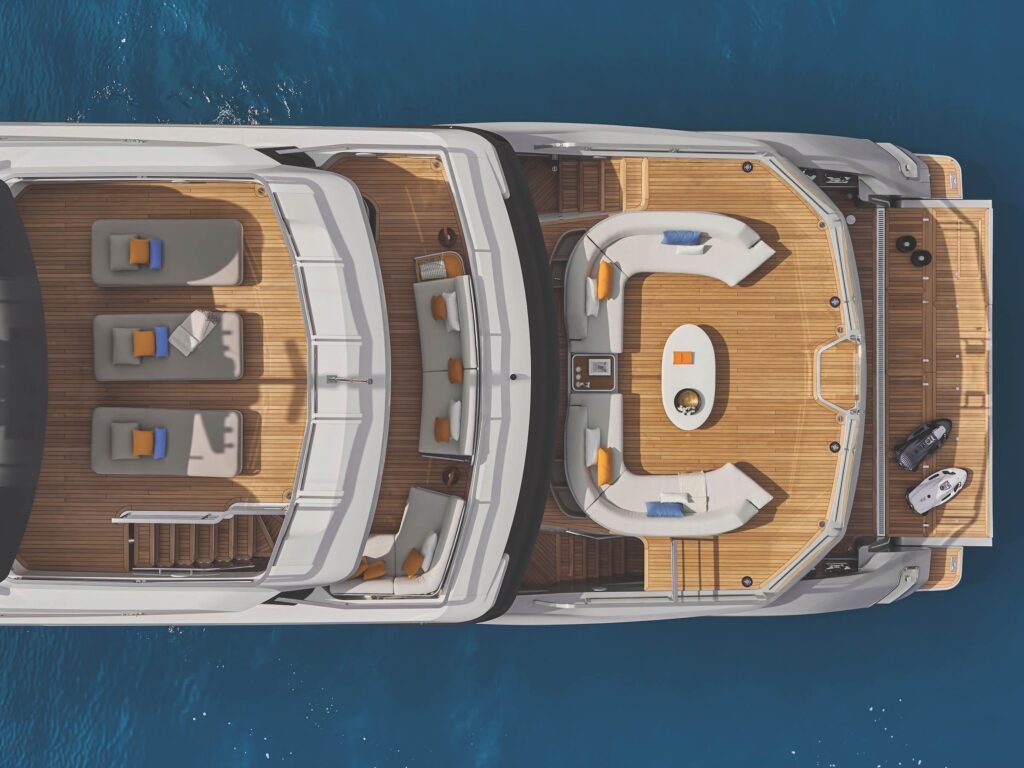 Italian shipyard Azimut is so proud of its new flagship design that it added the number of decks to the name. But in truth, the Azimut Grande Trideck moniker sells it short, since the flybridge actually gives the vessel four levels.
While linking inside and outdoors is the driving force behind yacht design these days, Alberto Mancini's tiered exterior and the Achille Salvagni open-plan interior set the Trideck apart from competitors in the high-volume 38-metre class. Looking aft from the flybridge, the Azimut has a cascading effect that blends practical design with aesthetics. The flybridge has sun recliners, a lounge, and a bar forward, with the upper helm discreetly in front, concealed behind a divider. The level below has a foredeck with a Jacuzzi, a salon, and an aft al fresco dining area. The beach club on the water includes a fold-out transom swim platform to expand the space.
But the most creative area is the main deck. The raised mezzanine level replaces a traditional, and often dark, cockpit area that can feel like a neglected social space. Nicknamed the Sea View Terrace, this large open version floats above the beach club like an oceanside villa's patio. Salvagni's whimsical-but-elegant interior, with its rounded furniture, unusual ceiling patterns, and architectural details that even extend to the stairwells, is a worthy complement to the unconventional exterior. Light colours and big windows, plus multiple doors, offer a connection to the outside.
Performance-wise, the Trideck's wave-piercing bow improves fuel efficiency by more than 40 per cent, which means the yacht can reach 24 knots on two 2,600-horsepower MTU engines. Azimut used carbon fibre across the hull to minimise weight. The boat also has lithium-ion battery packs for hours of silent running for its house systems. All in all, it's this year's breakthrough design in a competitive category.
Image courtesy of Azimut Yachts.
Fraser Yachts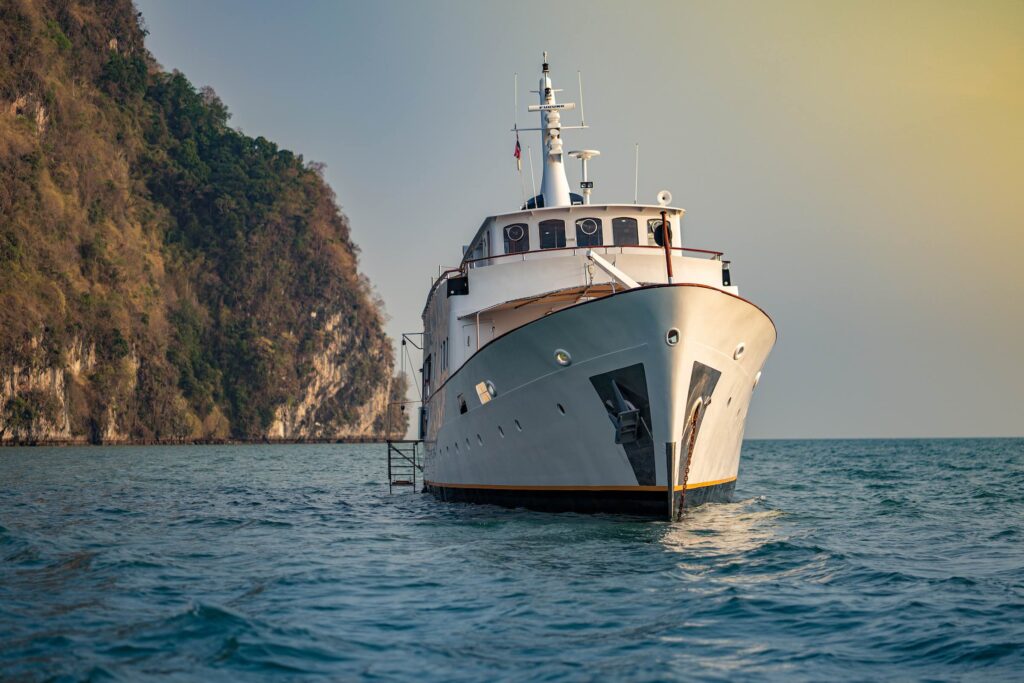 Industry powerhouse Fraser Yachts is represented in Hong Kong by Asiamarine, headed by French-born Eric Noyel. Locally, Noyel's firm handles chartering and sales, while a small but growing team handles the bigger yachts represented by Fraser.
Within Hong Kong, Noyel is most proud of new 24-metre catamaran charter yacht Vibe, whose wide-open party spaces and nightclub-worthy sound system draws many Fraser clients. As for international charters handled for Fraser's Hong Kong clients, Indonesia tops the list, Noyel says, with many Hongkongers also chartering for trips around their second homes in Phuket. In Thailand, the company has recently added a 32-metre classic gentleman's yacht, the Camara C, for charters.
Brokerage sales have increased significantly over the past five years, according to Noyel, and Fraser Yachts in Asia has added two more brokers to help keep pace with the growing business, which he expects to continue. To complete the sunny outlook, Noyel says 2021 was his best year since opening 10 years ago, and at the time of writing he expected 2022 to match or exceed even that.
Image courtesy of Fraser Yachts.
Camper & Nicholsons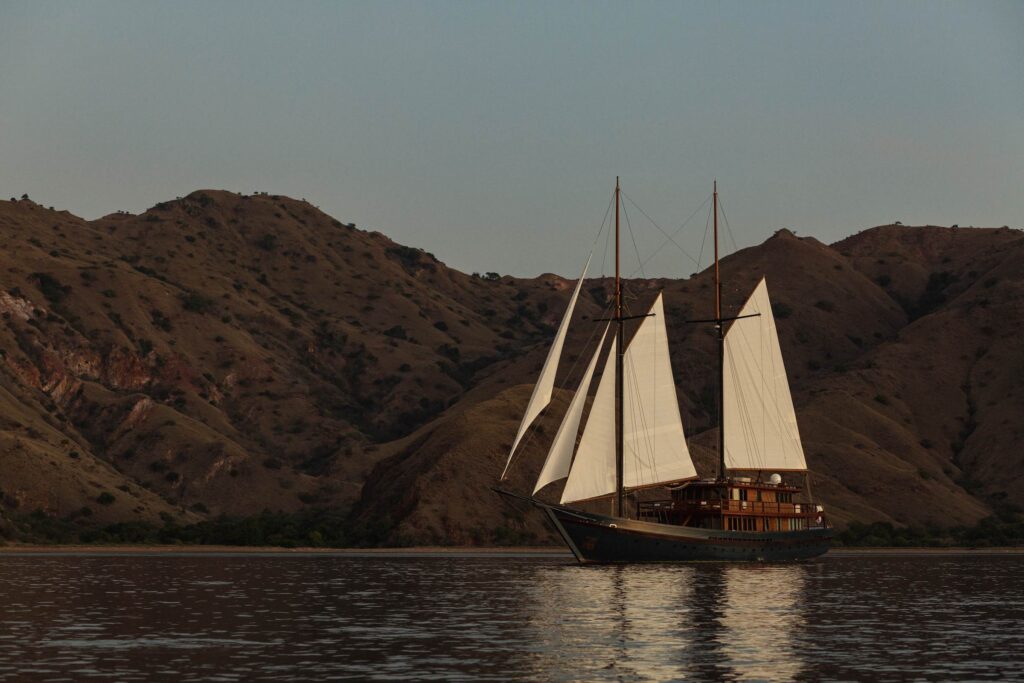 The storied name of Camper & Nicholsons traces its roots back to the 17th century, when it was based near Portsmouth. Today, the company is owned by Hong Kong's Lai Sun Group, and maintains one of its largest offices in the city.
Carmen Lau, senior adviser for Camper & Nicholsons in Asia, says that due to size restrictions on superyachts for charter in Hong Kong, the company does a lot of its work finding charters in Southeast Asia. Indonesia and Thailand are particularly popular among Hong Kong clients thanks to their dive sites, cuisine, and excursion trips, according to Lau.
The company has seen an uptick in local charter, however, as well as active sales of new and brokerage yachts below 40 metres. According to Lau, the city is seeing growing interest in yachting as well as more adventurous buyers. Striking new designs from Princess, such as the X95, have found purchasers in Hong Kong, while for charter, the company will be offering the 50-metre all-wood, Indonesian-built Vela, a luxurious phinisi (a traditional Indonesian design) that will be available for cruises around Raja Ampat, Komodo National Park, and the Maluku Islands.
Image courtesy of Camper & Nicholsons.
Fairline Yachts
Phantom 65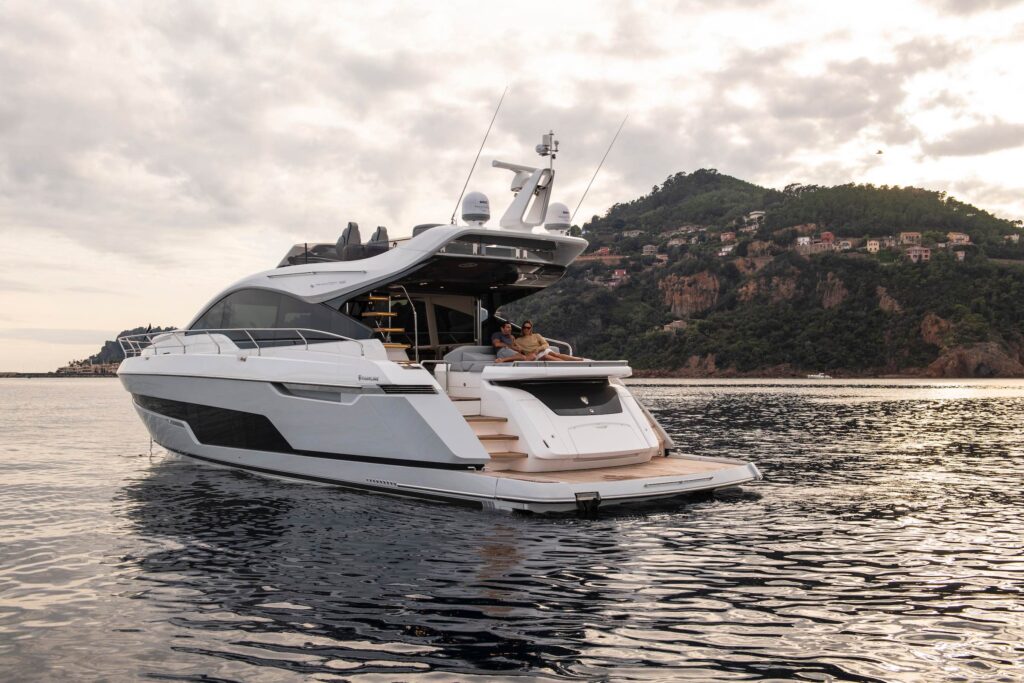 Fairline's reboot with Alberto Mancini continues to bear fruit, with the designer accentuating the company's sporty lines. In 2022, the star was undoubtedly the Phantom 65. With the Phantom series sitting between the sporty Targa and the bigger Squadron, the Phantom 65 has the sleek styling for which the Italian designer is known, plus all the luxury and performance you'd expect.
Onboard, you'll find great functionality with top-tier design flourishes and finishes. The flybridge is compact but very usable: a grill station and cooler are nested within a circular seating area, creating a small but enticing lounging spot, and the smaller space allows for a retractable roof. The aft cockpit is well designed for people drinking, eating, and moving around the yacht, while the bow area uses recessed seating to offer a genuine lounge space. Below, the full-width master cabin feels positively kingly, and a choice of four layouts includes a four-cabin version perfect for weekend guests.
Twin Caterpillar engine options yield 2,300 horsepower and 31 knots or 3,244 horsepower and 37 knots, so with the sunroof open, the driver will get plenty of wind in the hair. And the tender garage fits a Williams 345 SportJet, which can easily pull wakeboarders or deliver the whole family to shore in comfort.
The Phantom 65 is excellent for those wanting to spend some serious time with the family at a hidden bay, but still have a bit of sleekness and speed. The brand is represented in Asia by Simpson Marine, which is currently building up its stock to allow faster deliveries.
Image courtesy of Fairline Yachts.
Vox Pop: Hong Kong Charter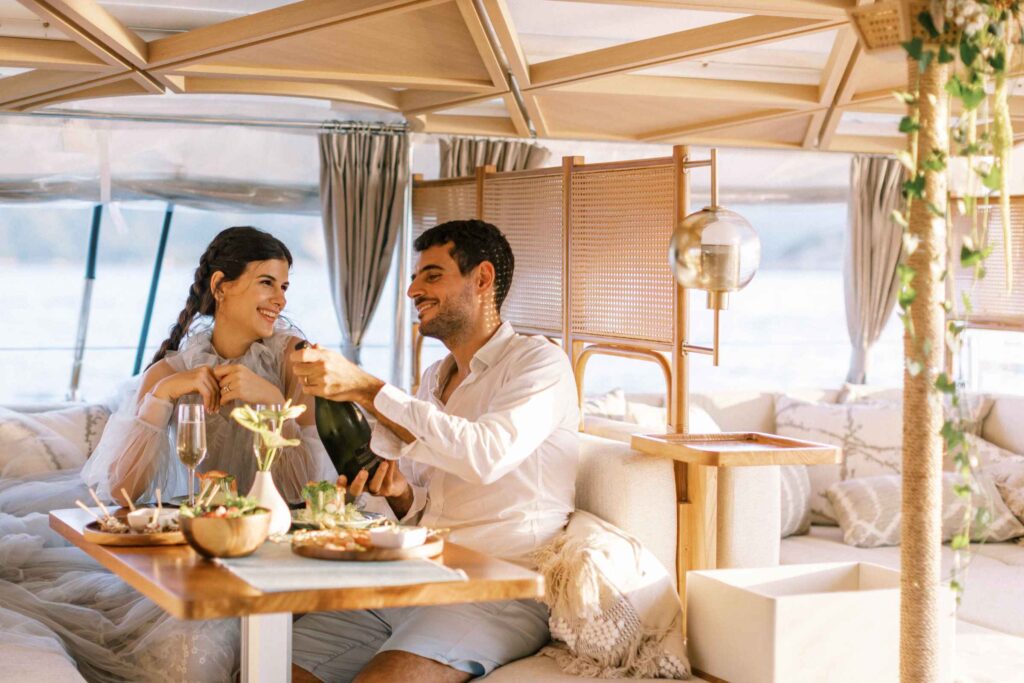 Chartering a yacht in Hong Kong was once nearly impossible; most guests simply rented a junk for the day. But pandemic restrictions changed everything, with many of us unable to jet off to our favoured destinations as freely as we once did. Yacht chartering picked up as people began to discover, or rediscover, the joys of touring or even overnighting aboard a yacht—previously, even the biggest yachts were often used for day trips only.
Simpson Marine, which operates one of the largest charter businesses in the city, estimates that its charter business within Hong Kong doubled thanks to these restrictions. And the number of yachts available for charter has risen along with demand: Simpson now has more than 50 available for charter in Hong Kong, including two Sanlorenzo models. (Though keep in mind, if you're keen, that currently only smaller yachts of up to 150 gross tonnage—usually around 24 to 28 meters in length—can charter in Hong Kong waters, according to Camper & Nicholsons.)
Moreover, charter guests are overnighting on their yachts much more frequently, making better use of a yacht's facilities. "There were just a handful of overnighters before. That has tripled," says Eric Noyel of Fraser Yachts. "Chartering has become fashionable, for the young especially." Noyel recently renovated a 24-metre catamaran, Vibe, just to catch the chartering wave in Hong Kong.
A small drop came due to potential clients moving away during the restrictions, according to Simpson Marine, but it's expected that the business will continue its rise as many move back. "We're nowhere near the end of this boom," says Noyel. "People here just got into the habit. Once they do it, they want to do it again."
Image courtesy of Fraser Yachts/Terry Li Photography.