It all started with a dam.
In the early 2000s, amid rapid economic development, plans to construct the Liao Fang reservoir in China's Jiangxi province were set into motion. It would provide ample water supply and storage, prevent floods, and generate energy, but there was just one problem: it would come at the cost of permanently submerging a valley of ancient camphor trees, some over a thousand years old, and historic dwellings dating back to the Ming and Qing dynasties.
Quickly, through the initiative of a local entrepreneur who had been informed of these pressing events during a visit to his hometown of Fuzhou, a protection plan was put in place to preserve the trees and houses by removing them from the valley. Camphor giants were dug up by their roots; houses were painstakingly dismantled brick by brick, stone by stone, beam by beam, column by column, to be cautiously reassembled piece by piece in a new location.
It was an emotional moment for the villagers in the valley as they watched their camphor forest depart for a new home. Some elders believed that the trees are imbued with great spiritual energy; they wished the 10,000-strong cohort farewell on their long journey. Destination: the Minhang district in Shanghai, allegedly the original neighbourhood from which the modern megalopolis grew.
It was a race against time to save history. Near impossible logistics aside, a formidable squad of master craftsmen, artisans, architects, engineers, botanists, and labourers had to combat monsoon season, heavy rainfall, and typhoons to achieve their goal. All the components of the complex historic homes had to be meticulously documented, numbered, and stored away in controlled environments so that the structures could be raised again in their original condition some 700 kilometres away in Minhang district. Simply getting the trees to Shanghai was one thing—replanting and helping them take to the new, unfamiliar soil was another. Arborists were brought in to coax new growth out of the old trees, and the team of experts only heaved a collective sigh of relief when the ancient evergreens survived and thrived past the crucial three-year mark.
I learn all of this within the first half hour of arriving at Amanyangyun, Aman's sprawling Shanghai resort. A special mini-documentary is screened inside the 20-seat IMAX theatre there, a welcome activity that new arrivals are encouraged to participate in. Except, you might ask, why? Well, only because the grounds and accommodations of Amanyangyun are made up of exactly those historic mansions and forest of camphor trees, of course.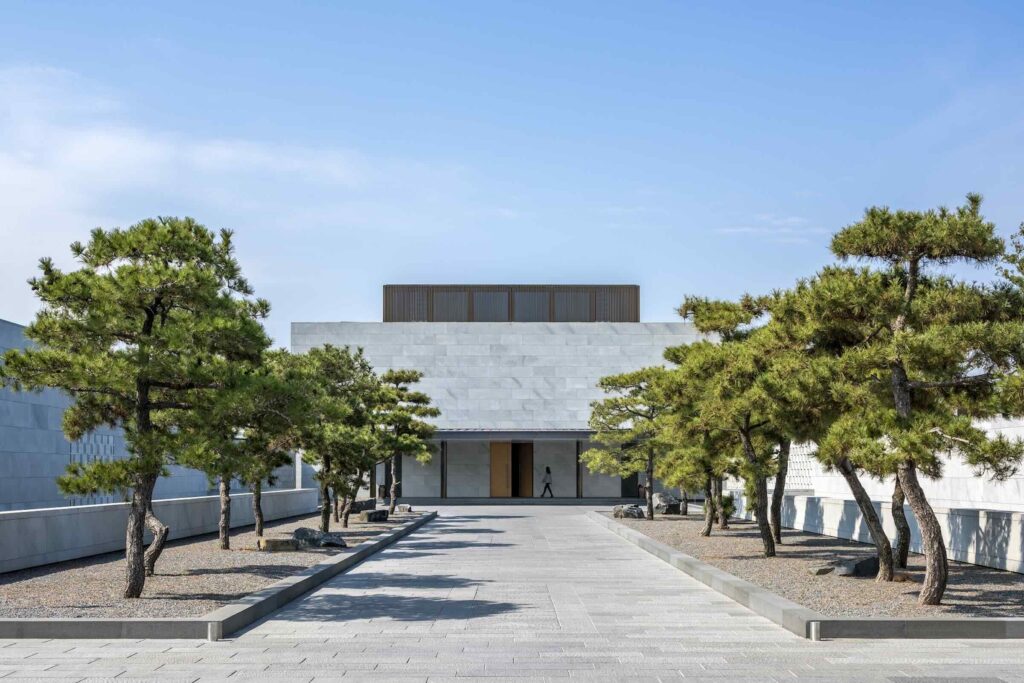 Let's dial back a bit to shed light on Aman's role in all this. For those who travel and like to do so in the lap of ultimate luxury and impeccable service, there are few destinations more spoken-about than Aman; its discerning resorts masterfully complement their surroundings and incorporate cultural appreciation and immersion into thoughtful design. Amanyangyun—named for an inscription on a Forbidden City pavilion that means "nourishing cloud"—takes this brand philosophy to the next level, and to appreciate the ambitious nature and importance of Aman's fourth China hotel in this tale, one must first learn its history, which began more than 20 years ago. Now that the ancient Fuzhou camphor trees and mansions were rescued from their watery fate, the only question remained, what to do with these acquisitions? Aman entered the chat, and the conversation turned from protection to preservation and revitalisation.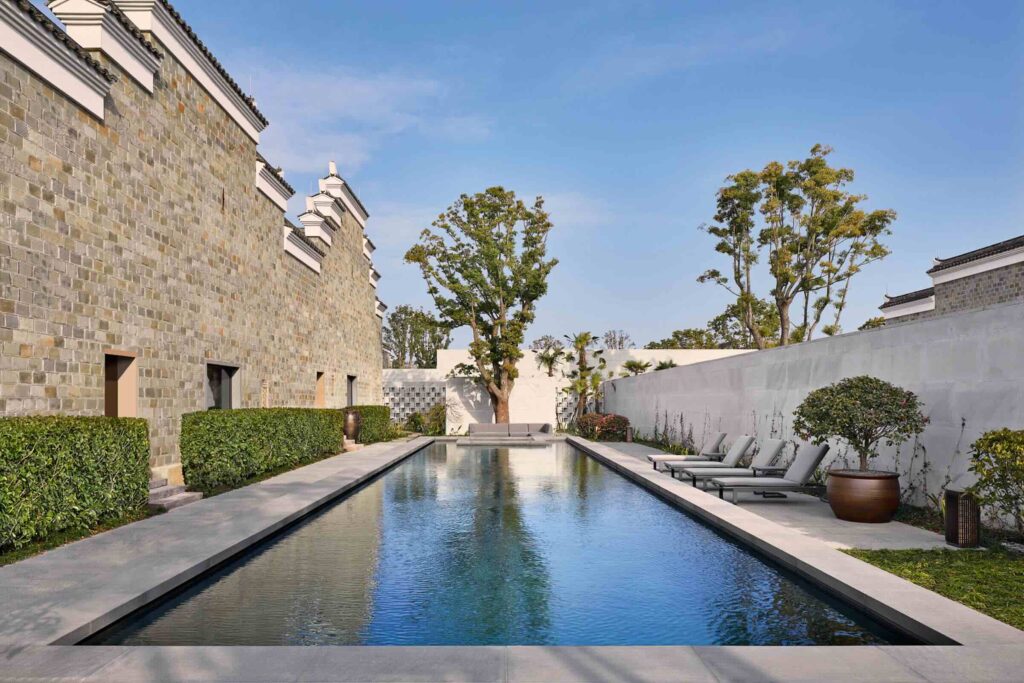 Amanyangyun stands as a testament to a well-balanced mix of old, new, and restored. Modern, minimalistic interpretations of classic moon gates and covered colonnades usher you past decorative still bodies of water, their reflections dancing on the ceiling. It is quiet, serene, secluded. 24 Ming Courtyard Suites are set up in what could be considered the modern wing of the resort, while almost a dozen antique villas and pavilions are spread out across expansive plots on the grounds. Each stand-alone villa comes with a sizeable outdoor swimming pool and hot tub, and the stone façades differ from one to the other. Get close to the outer wall of the mansion to admire the handcrafted nature of the exterior—the bricks are all different shades, and some are embedded with fingerprints and hand marks.
Ming Courtyard Suites, while new and shiny, pay homage to the hallmark elements of traditional Chinese courtyard homes. Under a sloping ceiling, a combined bedroom-living-room lies at the centre of the long-formation suite, flanked by two courtyards, one with a fireplace, the other with an outdoor stone tub, connected to the spacious indoor bathroom.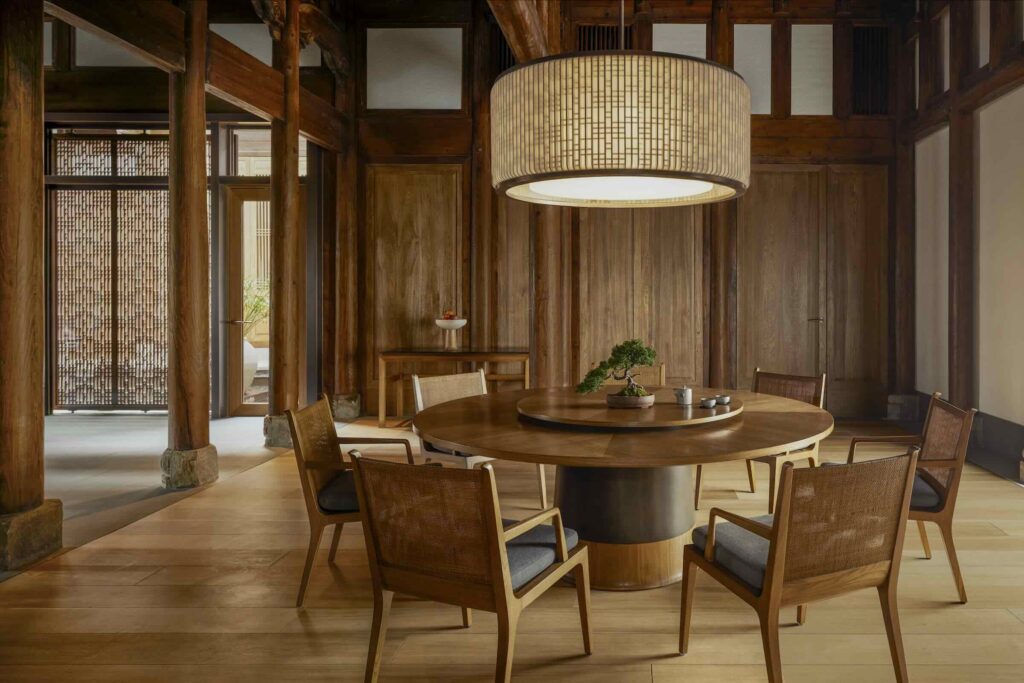 Inside is a different story. Kerry Hill Architects, well seasoned at the luxury hotel design game in Asia and frequent Aman collaborator, having done the Tokyo, Kyoto, and Ise-Shima outposts, was tasked with dressing the structural skeletons of the mansions in Aman's well-recognised Asian-inflected minimalism; the result is a tasteful blend of contemporary interpretation and traditional Chinese silhouettes, sensitive to the locale and respectful of the ancient dwellings' characterful nature without overwhelming them with modernity.
Kerry Hill Architects retained the original layouts, keeping the bones intact except in a few cases where rooms were opened up to enlarge the space or create en-suites. High ceilings, exposed wooden beams and columns, ribbed timber frames on the sloped roof, and hand-carved arched components add to the feeling of grandeur. It feels much like experiencing a captured moment in time, a slice of history preserved, a completely intentional effect.
As you move through the palatial multi-bedroom homes—some of them merchant mansions belonging to bygone families involved in commerce and trade—and venture deeper into the building with every room, you'll notice that each successive threshold is one step higher than the last; these are designed as a literal representation of the Chinese proverb bùbùgāoshēng—the auspicious action of successfully advancing upwards with each step.
Feng shui is also why the walkway to the entrance of each home is zigzagged in nature; traditional Chinese design principles state that straight paths invite bad fortune in and leak good fortune out, so a non-linear approach deters misfortune. (As families involved in business, the former inhabitants would have been devoted believers in such concepts.)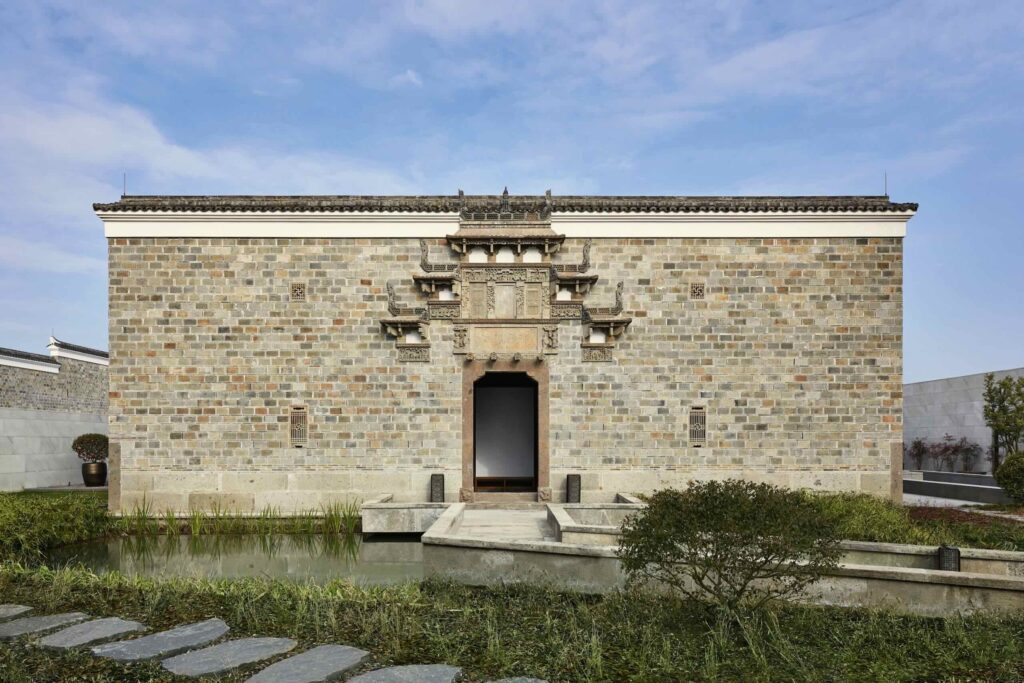 "Amanyangyun is a living museum, not just because of the antique houses, but also the guest experience," Tanuj Goenka, director of Kerry Hill Architects, says of the "mammoth" project in an interview with Dezeen, noting that "the antique houses as well as the camphor trees had to be woven into the masterplan," which was based on a "walled village" concept.
"Less is best" accurately describes the calculated interior and furniture decisions. Modern devices are discreetly hidden away to deepen the immersive experience and appreciation of spending time in a historical dwelling. Wide-open spaces are modestly punctuated by clean-lined consoles, coffee tables, and seats in monochrome natural tones and soft greys.
Architectural and interior design philosophy aside, Amanyangyun's landscaping is equally rife with symbolism: bamboo culms represent strength and righteousness, and the ever-present camphor signifies purification and longevity, good fortune, and harmony. In the lobby, a square room fenced in by geometric, lattice-shutter walls, an understated horticultural arrangement serves as the graceful centrepiece of the welcome experience. But it's really the majestic King Camphor Tree that we've come to see.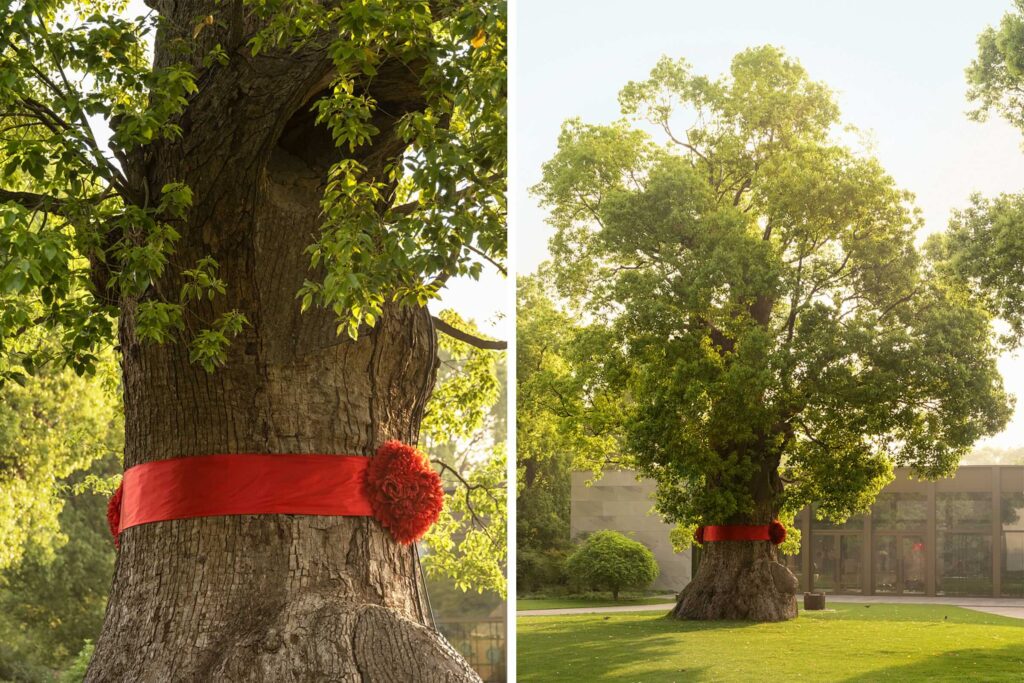 It is impossible to miss—the King Camphor Tree stands tall, stout, and proud on a neatly clipped lawn, asserting its 80-tonne magnitude. It would take six or seven people holding hands to hug its circumference, I am told. It also has a bright red ribbon tied around its trunk, giving it a dignified appearance. Next to this behemoth, a well, filled to the brim, and two oversized wooden ladles; guests are encouraged to douse the King Camphor Tree in a show of respect and spirituality, and remain in the moment for a prayer and blessing.
Not far from the King Camphor Tree lies an imposing building surrounded by a shallow, turtle-inhabited moat. Nan Shufang—named after the royal reading pavilion in Beijing's Forbidden City—is the cultural heart of Amanyangyun, a hub of knowledge where literature, art, crafts, and learning converge. It is also, architecturally, the most magnificent of all the ancient structures rescued from Fuzhou, bearing singular features that the other villas lack.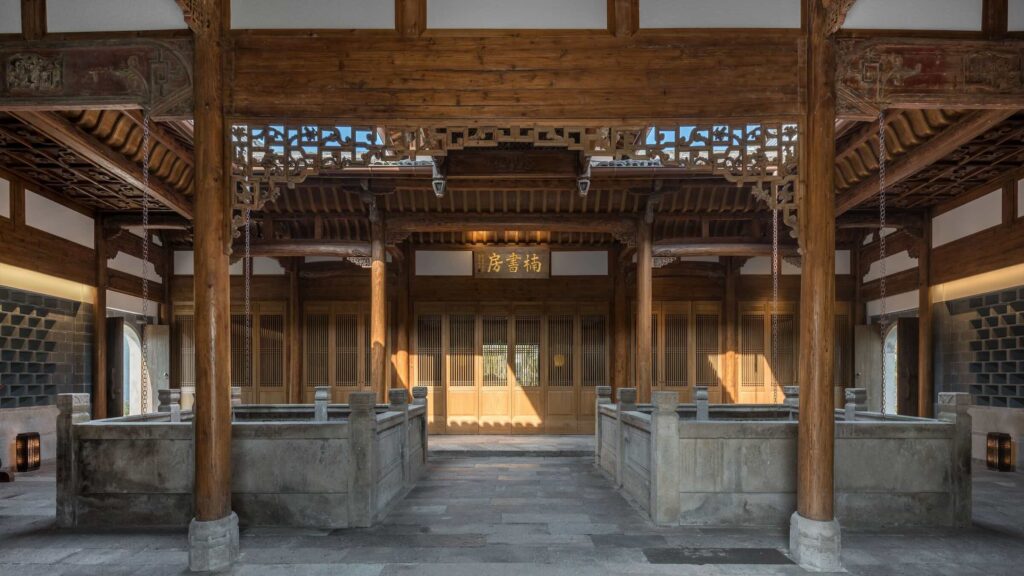 It was once a 17th-century private school, and was reconstructed as such, brick by brick, to serve as a place of education and a centre of cultural activity once more. Many elements in its meticulous design reflect its former purpose: two symmetrical stone wells in the front courtyard bear carvings depicting the life cycle of aspirational cultured folk, rife with mythological imagery of dragons and phoenixes and scenes of academia. Right above, the tiānjǐng skywells allow for natural light to stream in. Interlocked rain chains snake their way down from roof to well to help control humidity and excess moisture and collect rainwater—another important feng shui requirement, as water symbolises wealth and well-being.
Look up; the intricate wooden ceiling—with its ornate geometrical carvings and complex layered structure—hides a secret in plain sight. A patterned octagonal panel, a traditional meaningful symbol reserved for use by leaders of society only, takes up residence in the centre of the ceiling structure, serving as a valuable reminder of Nan Shufang's salient past.
Sailing through the rooms, an aromatic, smoky waft makes itself apparent; that's the potent natural fragrance of nanmu, a precious and protected species of wood endemic to China. Also known as golden silk wood, nanmu was widely used in the Ming dynasty as durable woodworking material and the furniture at Nan Shufang was constructed using this unique softwood. (Due to its scarcity, it is prohibitively expensive now.)
It is here in the classrooms of Nan Shufang that I find myself on a balmy afternoon, buffing a slab of engraved wood in preparation of hand-printing Chinese calligraphy using a stencil. Class starts with—what else—a sip of pu'er tea. I daub midnight-black ink onto my block and gingerly stamp rows upon rows of Chinese characters on hair-thin sheets of paper. Ink-printing is just one of many daily cultural activities available at Nan Shufang. Guests can also join guqin music appreciation classes and tea and incense ceremonies led by experts.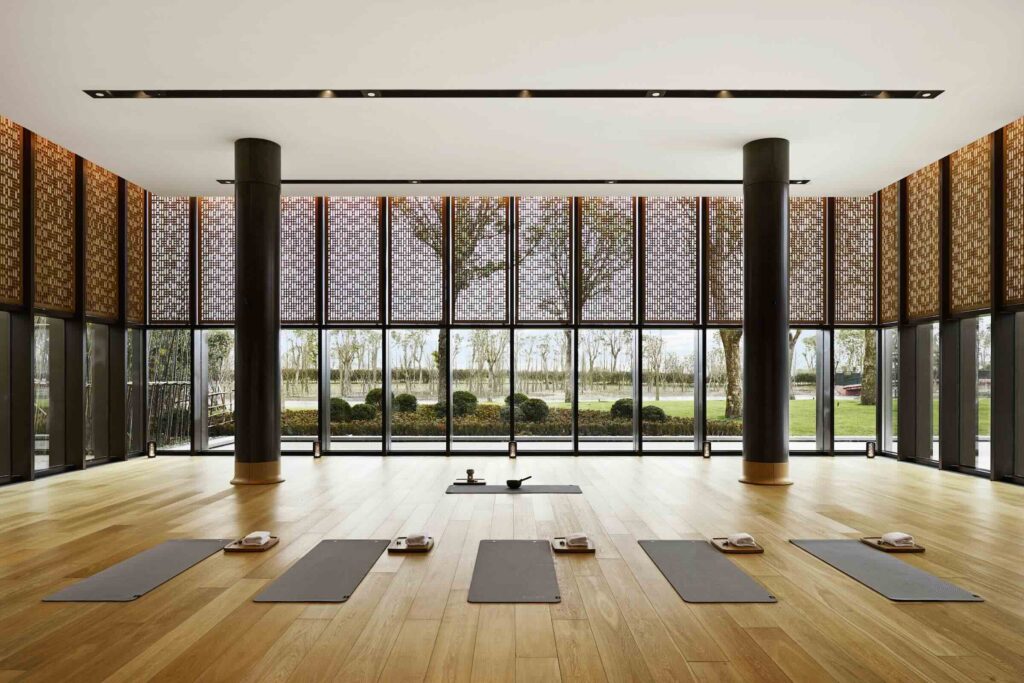 No Aman is complete without a spa, and Amanyangyun lays claim to the largest of them all. Across some 2,840 square metres, the Aman Spa is a wonderland of wellness, with—deep breath—eight single rooms, two double rooms, six lounges with massage chairs, two private multi-room bathing suites with banya and hammam facilities for groups, a sauna, cold plunge pool, hot tub, two heated swimming pools, hair and beauty salon, fitness centre, and yoga studio. With just two handful of treatment rooms, you can imagine the generosity of space—each comes with its own lounge for pre-treatment wind down.
It is so comprehensive it could well be its own stand-alone well-being complex, and some guests do treat it as such—the private bathing suites are designed to accommodate immersive half-day wellness journeys. Find inner peace on your own "nourishing cloud" indeed.
Chinese healing traditions are written into Amanyangyun's unique spa language and applied to different treatments of the Grounding, Purifying, and Nourishing wellness pathways. Between Tibetan-derived Ku Nye massages, Himalayan crystal salt rituals, meridian acupressure therapy, facials, body scrubs, wraps, and so much more, it's impossible to decide on just one treatment, and equally impossible to want to leave after the restorative session.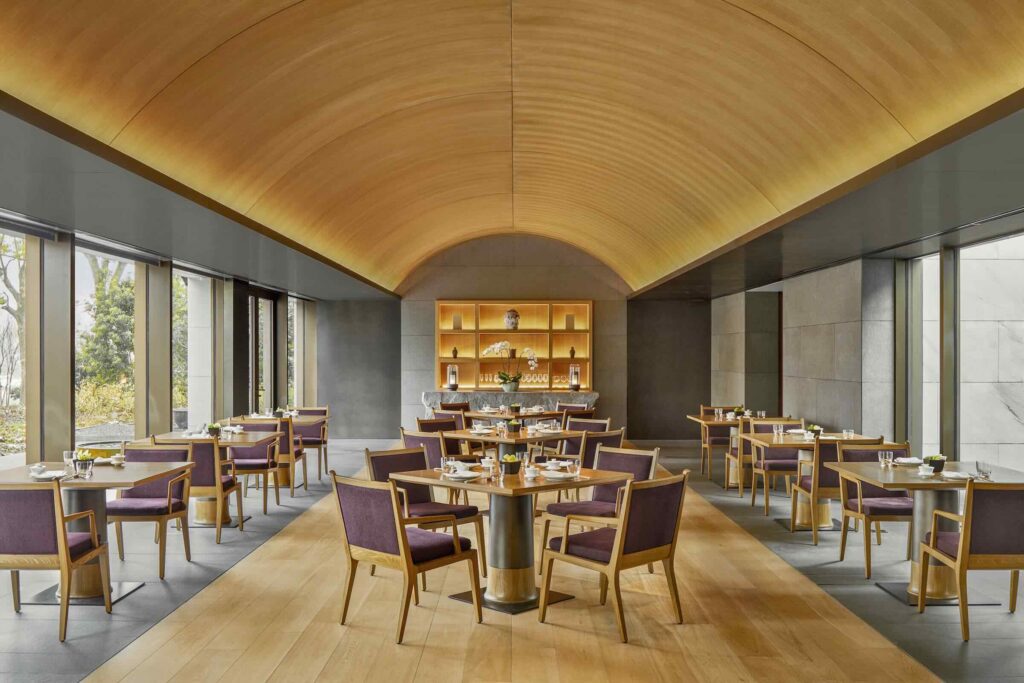 After restoring your mind and body, fuel it at one of four dining venues. Yinlu, overlooking the lake, with a slate-grey interior that reminds of Aman Tokyo's lobby—another Kerry Hill project—brings convivial Cantonese-style hot pot to the table, prepared in a funnelled pot that wraps diners in heady aromas of meat, seafood, and vegetables as they simmer. Order à la carte or simply let the restaurant take care of your meal with curated hot pot menus. We highly recommend leaving room for the homemade XO sauce when mixing your dips.
Lazhu takes diners on a homecoming journey to Amanyangyun's origins through fiery Jiangxi flavours, characterised by a healthy use of spices, fish banquets, fermented black beans and tofu, and using tea oil as cooking oil. In deference to the locale, Shanghainese dishes are also served, as well as Chaoshan cuisine, so it's a bit of everything and 100 percent delicious, so you can't go wrong ordering whatever catches your fancy, but the stir-fried Jiangxi smoked pork with vegetables and braised mandarin fish in chilli soy gravy were clear winners.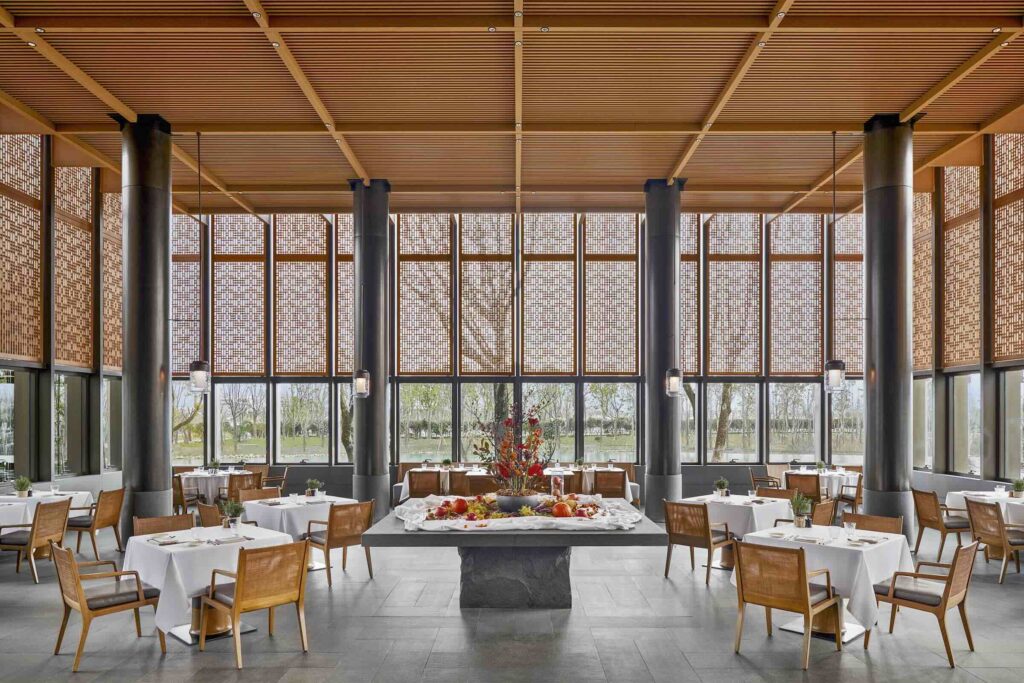 Arva, Aman's Italian farm-to-table concept, is not unique to Amanyangyun, but the cucina semplice tradition provides a Western contrast to Yinlu and Lazhu's Chinese regional cuisines. Its signature, the risotto all'Astice e frutti di mare, a baby lobster risotto with asparagus, fresh scallops, cuttlefish, mussels, and Beluga caviar, is highly moreish. Arva is also where the daily semi-buffet breakfast is hosted; true to Aman style, the menu is split between international options and locally inspired dishes, such as the beef vermicelli soup.
One of our favourite dining experiences, however, took place outside of four walls, on a traditional covered wooden boat on the Qingdeng river that separates Amanyangyun from the camphor forest. Chinese afternoon tea, prepared by Yinlu, is served, to be enjoyed as the vessel lazily meanders down the waterway past wildlife that call this stretch home. Dried fruits, cold plates, a variety of contemporary dim sum dishes such as caviar jade dumplings and charsiu pastry with honey sauce, and tea are some things to look forward to. Follow it up with a visit to Bei Teahouse to take expertly brewed tea in a tranquil space.
Knowing the saga of how Amanyangyun sparked into existence infinitely deepens one's appreciation for the hotel. All this work to preserve history—but how to ensure its continued longevity and safeguard it for posterity? As a representative told me as we toured the site, quoting some immense wisdom, "One of the best ways to preserve something—a building—is to use it."
As you walk along the verdant paths of Amanyangyun and take in the stoic stone villas and their astoundingly well-preserved state with a deep sense of awe, let it not be forgotten that rescuing and reviving these ancient relics took 16 years of diligent philanthropic conservation efforts. Amanyangyun's story is one of perseverance, patience, and protection, and knowing where it all began allows you to treasure your stay with more than just cursory appreciation.
Aman has a gift for carving out places of serenity in our ever-developing world, of preserving the last bastions of tranquillity for purposeful cultural exchanges, self-discovery, and just plain old relaxation, really. But even among its singular, often characterful, resorts, this one's incredibly special.
All images courtesy of Amanyangyun.