This Porsche 911 Dakar didn't sit in its owner's garage for long.
Bought just last month, a basically untouched example of the off-road-ready sports car is now up for auction on Bring a Trailer through this Thursday. The vehicle doesn't just look to be in mint condition, either: It only has 68 miles on the odometer.
Porsche unveiled the exclusive Dakar last fall, following years of enthusiasts pleading with the marque to release an official Safari 911. The variant, which is inspired by the modified 953 that won the 1984 Paris-Dakar rally, is one of the most exciting releases of 2023, as well as one of the most coveted. Porsche announced it would build just 2,500 examples at the time of its unveiling, which would be allocated via an application system. Thankfully for those who weren't lucky enough to have their name chosen by Porsche, there's always the auction market.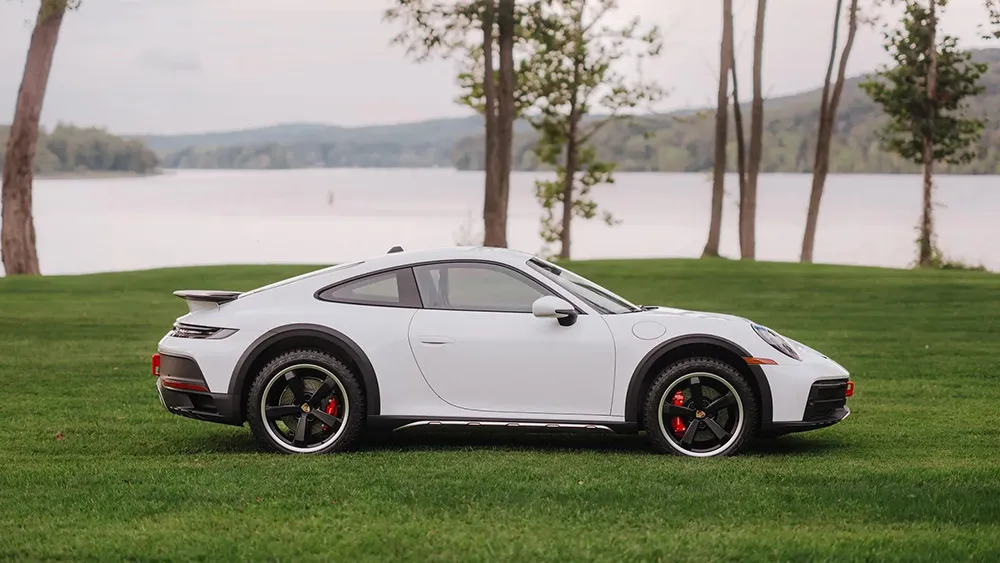 The Dakar up for bid is example number 1,191. The variant is very clearly a 911, but it comes with several off-road upgrades that give it a much more rugged air. The sports car has been outfitted with flared fenders, rocker panels, a fixed rear spoiler, and a staggered set of Pirelli Scorpion All Terrain Plus tires. This example is finished in white with black protective cladding and has a black leather interior with Race-Tex insets and green stitching. It's a sedate spec, especially since the original owner could have opted for the graphic-heavy Rallye design package, but there's no denying it looks both stylish and tough.
The variant is basically a rally version of the 911 Carrera 4 GTS, which means it's powered by a twin-turbo flat-six. The mill is mated to an eight-speed PDK gearbox that routes 473 hp and 420 ft lbs of torque to all four wheels. Thanks to all that grunt, the car can sprint from zero to 60 mph in just 3.2 seconds and has a top speed of 150 mph. It also features a revised suspension and lift system that boost ride height by up to 3.2 inches.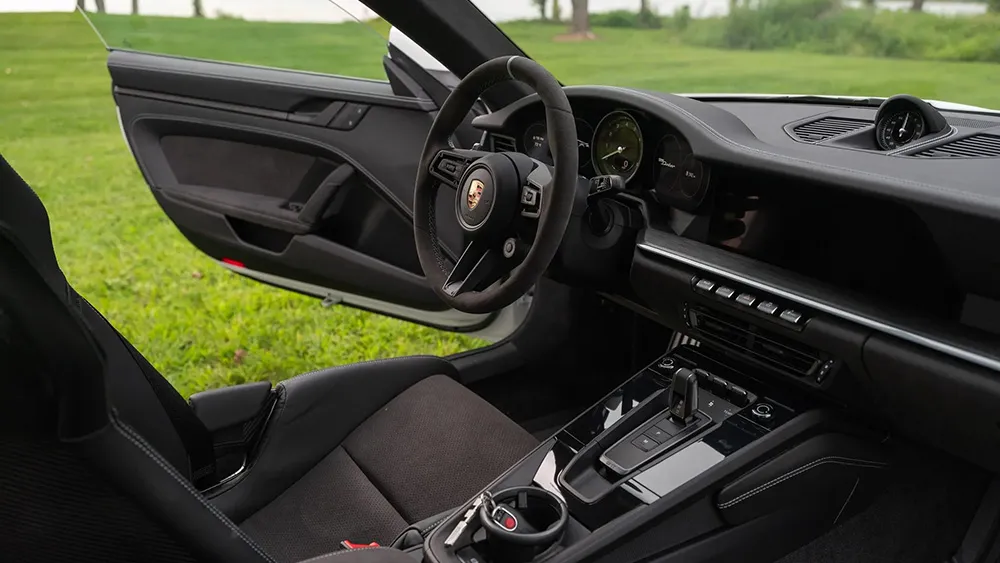 Bidding has reached $256,000 with two days left to go. That figure, which is sure to rise over the next 48 hours, is $34,000 over the vehicle's original sticker price. That has some in the listing's comment section grumbling, but we imagine it won't dissuade anyone interested in a 911 they can enjoy on- or off-road.
Click here for more photos of the Porsche 911 Dakar.