Oscar Viñals of OVI's Design wants to turn the aircraft of a sci-fi fantasy into a reality.
The Barcelona-based designer, known for penning all manner of disruptive concepts, has just unveiled an insane new supersonic plane that points to the future of aviation.
The Sky OV concept is at the bleeding edge of aeronautical design, with innovative technologies that result in greater speed, efficiency, and sustainability. The aircraft has the sleek arrow-shaped silhouette of a fighter jet and four aerodynamic wings that help it soar through the skies. The wings also fold up when not in use to save space in the hangar.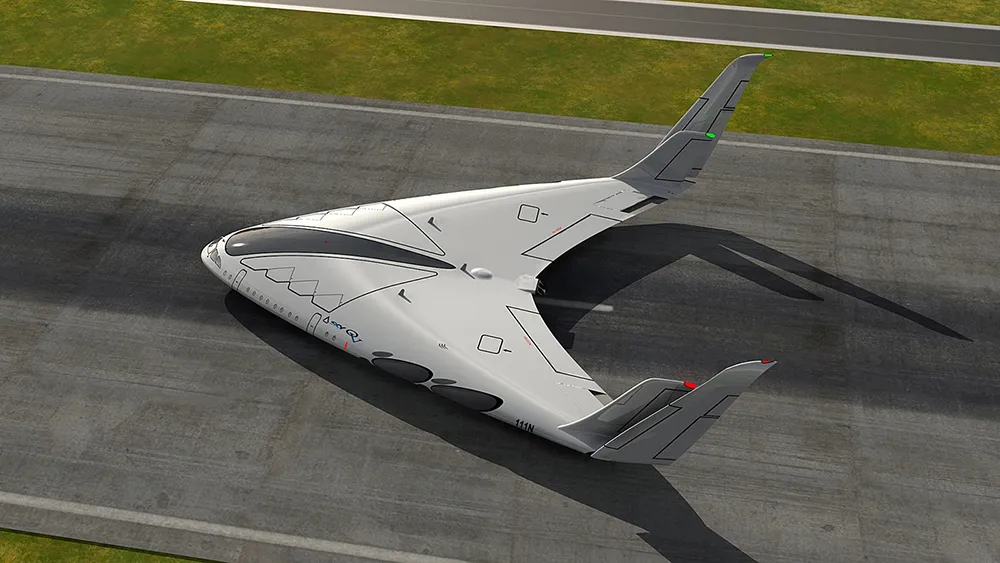 The Sky OV is equipped with bladeless turbojet engines that borrow from Dyson's motor for the all-electric Airbus A320E. For the unversed, the British company's engine is powered by a "Fluidic Propulsion Air Multiplier" (FPAM) system that essentially accelerates a consistent stream of air without exposed blades.
The Sky OV engines are also based on pulse detonation and use controlled explosions to create thrust. Viñals says detonation engines are more efficient than traditional jet engines at high velocities, with the ability to drive an aircraft to four or five times the speed of sound. Speaking of which, the Sky OV promises a cruising speed of 913 mph (Mach 1.2) and a max speed of 1,141 mph (Mach 1.5).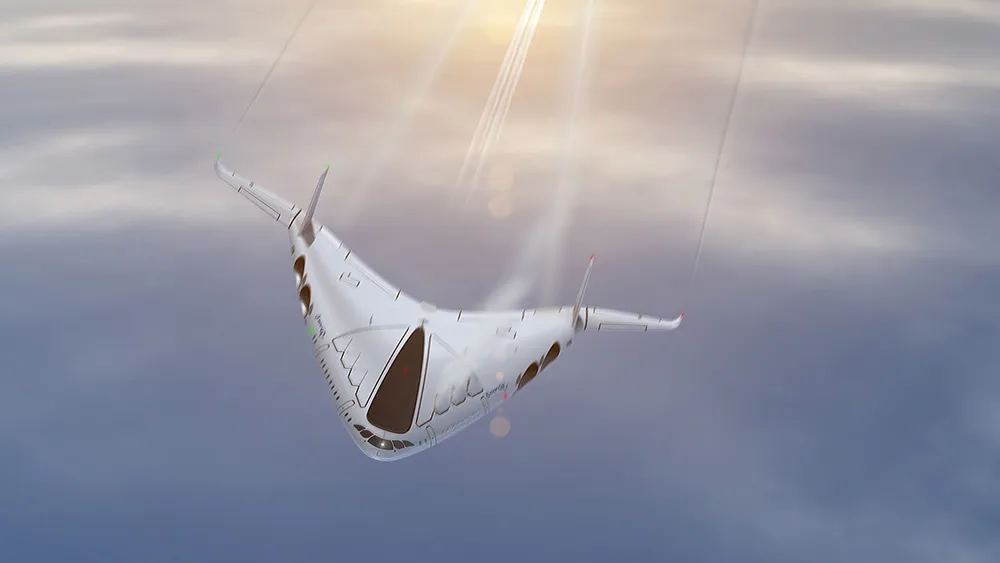 "The system could deliver more thrust and use 50 percent less fuel than a small turbojet," Viñals writes on Behance. "Compared to turbofans or turboprops, it's about 30 percent lighter and much less mechanically complex—clear advantages in aviation."
To top it off, the Sky OV runs on a mix of hydrogen fuel and electric power to ensure true zero-emission flight. This concept also has "solar dots" integrated into the ceiling that could produce further electric power from the sun's rays.

Measuring just over 149 feet, the craft can comfortably carry up to 200 passengers and two crew. There are no renders of the interior, but Viñals says fliers will be in very comfortable conditions, with the cabin offering "all kinds of commodities and luxury devices."
Industry experts are still divided as to whether or not supersonic flying will take off. Even still, companies such as Boom Supersonic, Spike Aerospace, and Lockheed Martin are working on supersonic jets. Viñals has also designed other supersonic aircraft, including a jet that could fly from New York City to London in just 80 minutes. We'd certainly love that to become a reality.