The racing watch may not be the necessity it once was for drivers, but that hasn't hurt its popularity any.
Cameron Barr, the CEO of Craft & Tailored, and collector Blake Rea sat down with Robb Report editor in chief Paul Croughton to discuss the enduring appeal of the genre of timepiece at the House of Robb at Wynn Las Vegas this weekend. The reason was clear to both: The most famous racing watch, the Rolex Cosmograph Daytona, is a timepiece that all watch brands want to make and all collectors want to own.
"Most people are trying to create their version of a Daytona," Barr told the crowd.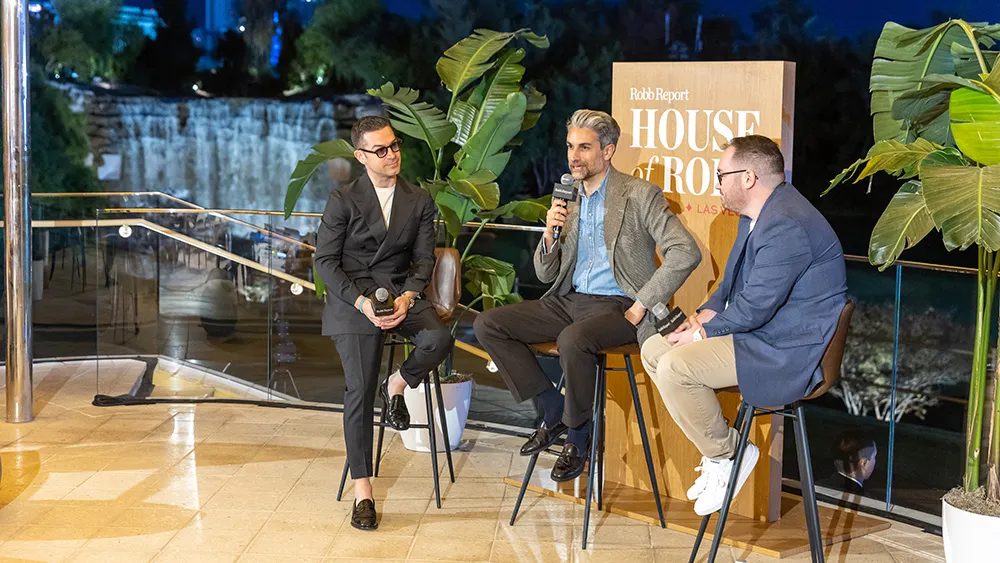 The Daytona is one of a trio of racing watches, along with the Omega Speedmaster and TAG Heuer Carrera, that have come to define the genre. The timepieces, of course, include a chronograph that can be used as a stopwatch and a tachymeter bezel for making speed calculations. These features used to be must-haves for race car drivers and engineers but aren't any more thanks to advances in technology. Despite this, they remain more coveted than ever.
"I think there's an element of romance and history to them," Barr said. "When I get into my car, I kind of transport myself to a different time in place. And the same thing with putting a watch on my wrist in the morning, it sets the pace for who it is that I'm going to be that day, and what it is that I'm going to be doing."
Perhaps the best illustration of the racing watch's continued vitality is the new Daytona Le Mans. The limited-edition model (Ref. 126529LN) has been the timepiece that watch enthusiasts—including celebs like Mark Wahlberg or John Mayer—have coveted since it was released this summer to coincide with the 100th anniversary of the 24 Hours of Le Mans. The model's appeal is about more than just being the latest Daytona, though. The 18-karat white gold chronograph bears a striking resemblance to the most famous Daytona of them all, the "Paul Newman," thanks to its black Cerachrom bezel with "100" in red on its tachymeter scale and a reverse panda dial with a black backdrop and white registers.
Barr said it was exciting to see a watchmaker like Rolex look back to its rich heritage. "You look at a brand new Porsche 911 and you can kind of see the classic 911 in it," he said. "In the manufacturing world, especially with luxury watches, you kind of lose that in the design because they're innovators."
While the Daytona Le Mans may command outsize interest right now, when it comes to picking a racing watch, it's about finding the one that feels right, according to Rea. "I'm just looking for that spark" he said. "I can compare it to maybe meeting your partner or the moment your child was born. That's what I'm looking for."