The Big Idea: Rebuilding
After three difficult years, Hong Kong is starting to come back. The city's government is making efforts to bring in international business and talent, which look like another major step towards the city's re-emergence on the global stage. Recent months have also seen international conferences and sporting events return, and what feels like a better vibe for both residents and visitors.
It's a welcome wind. The past year saw the housing market restrained by a volatile stock market, weak business sentiment, the pandemic, and continued rate hike pressure. As a result, according to JLL, mass residential capital values fell by an average of 11.6 percent over 2021 as of the end of November.
The luxury property market also endured a downward trend, albeit modestly, with the same JLL report revealing a 4.4 percent drop due to weak local demand, fewer non-resident buyers, and the number of new completions. But while transactions across the market have also fallen, there were some noteworthy closings in the second half of last year.
According to deals reported by Savills, a 400-square-metre (4,299-square-foot) house at Gough Hill Residences on the Peak sold for HK$500 million, or $116,306 per square foot. Another detached house in Kowloon Tong fetched HK$538 million for its 600-square-metre (6,460-square-foot) space, or $83,282 per square foot. In the investment market, a low-rise apartment block at 68 Robinson Road was sold to Weave Living and LaSalle Investment Management for the sum of HK$275 million.
Despite these green shoots, Savills is expecting luxury property prices to remain suppressed in 2023 due to economic conditions remaining uncertain and expected inflationary threats continuing to affect the market. However, the company pointed out in a recent research report, there is "the potential for government to unpick previous cooling measures." Joseph Tsang, chairman of JLL Hong Kong, was of a similar view, noting that "rising mortgage rates will continue to deter the housing demand. If the cooling measures in the housing market remain, the trend of the market will rely on whether the full-scale reopening with Mainland China and overseas will give a boost to the local economy."
The latter aspect remains an open question. As of writing, the central government has relaxed its strict pandemic restrictions, which could indeed speed the local recovery and strengthen demand for luxury property. Perhaps with this possibility and the recent deals in mind, some Hong Kong developers have started to ramp up their luxury property sales and marketing again, and are releasing early-bird stock to see how the market responds. Obviously, times like these see shifts in favour of cash buyers, so this might just be the best time ever to snap up that place you've had your eye on.
Hysan Development & HKR International
Villa Lucca
Perched against the rolling hills of Pat Sin Leng in the background and with views of Plover Cove Reservoir and Tolo Harbour, Villa Lucca is a collection of thoughtfully designed homes above the suburb of Tai Po, which is well connected to the Chinese mainland and Hong Kong's Central and Kowloon East CBDs, as well as the proposed Northern Metropolis. Designed by a dream team including architects Olson Kundig and DLN Architects Limited, interior designers Via Architecture and BTR Workshop on the residences and David Collins Studio on the clubhouse, and landscape designer Adrian Norman, the development integrates indoor and outdoor living spaces to offer residents an experience that combines timeless luxury with modern convenience.
The 262 residences range from two to five bedrooms, and include 36 garden houses of 301 to 746 square metres (3,245 to 8,030 square feet). All feature bright, modern living spaces with abundant natural light. High ceilings add a sense of space and tranquillity, with rooftop terraces adding further opportunities to enjoy the mountain and sea views.
Image courtesy of Hysan Development & HKR International.
Kerry Properties
Mont Verra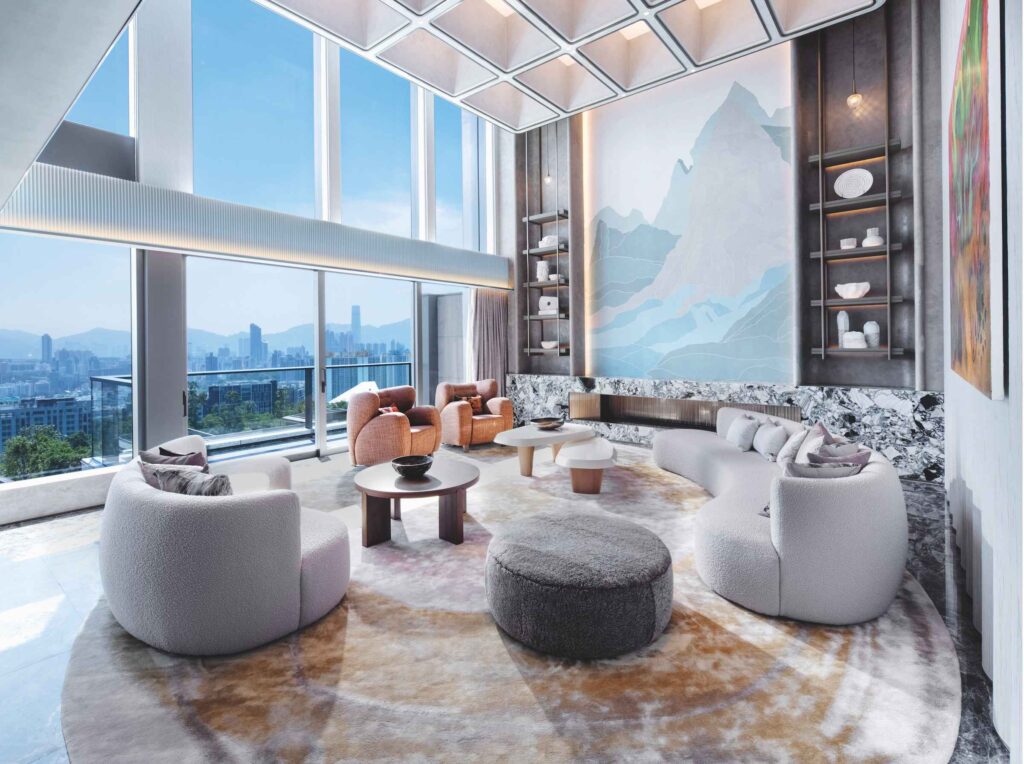 Enviably located in Beacon Hill above the evergreen area of Kowloon Tong, Mont Verra is a stately boutique development offering immersive views of the city's skyline. The homes are thoughtfully positioned to command panoramic views of the Kowloon Peninsula against the tranquil backdrop to the north, complemented by landscaped gardens that will bloom with the seasons.
While the smallest units span a generous 322 square metres (3,466 square feet) of internal area and most types feature gardens, the drawcard is undoubtedly Mont Verra's three sumptuous mansions: the Mountain Mansion, the Courtyard Mansion, and the Water Mansion. Measuring in excess of 1021 square metres (11,000 square feet), each one offers a meticulously presented interior and a landscaped garden with swimming pool. The five low-rise apartment buildings also offer a variety of styles from which to choose, including penthouses of more than 780 square metres (8,400 square feet) of internal space, and gardens almost as large. The property's unique blend of architecture and natural scenery matches the stunning vista below and beyond.
Image courtesy of Kerry Properties.
The V Group
Twenty Peak Road By V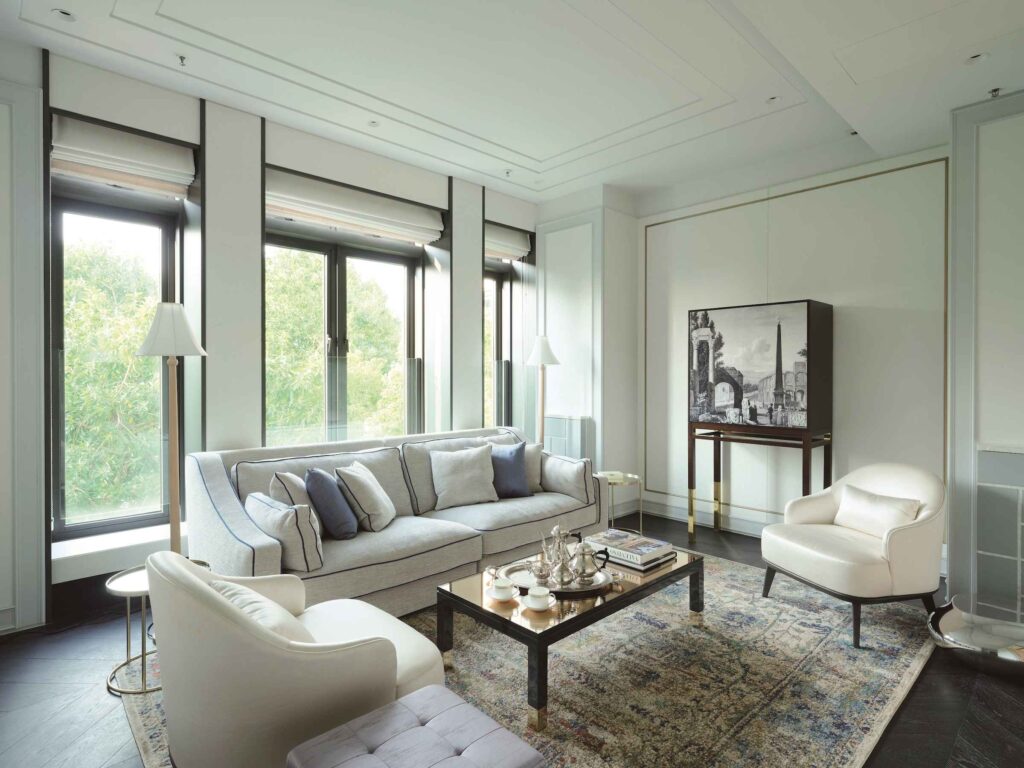 The Peak remains the city's most prestigious address, as it has for more than a century. In 2021, when Nicole Kidman visited Hong Kong to film a TV drama series, it was there she chose to stay, specifically in one of the homes at 20 Peak Road, a space described by Kidman as a "beautiful property".
The private compound at 20 Peak Road comprises four three-storey houses ranging in size from 346 to 440 square metres (3,722 to 4,740 square feet). Surrounded by mature trees, the homes embody discretion. Each is adorned with a veil of cream-coloured stone, which stands juxtaposed against the modernity of the Art Deco-inspired architectural design. Individually named Carlyle, Avalon, Napier, and Webster, they're united by timeless design and exquisite craft, exemplified in high ceilings, thoughtful window placements, and a balance of grand and intimate spaces, but there's room for individual themes as well. Each offers a private pool and a rooftop terrace, but it's hard to go past the unrivalled panoramic view over Victoria Harbour for the stamp on the property's exclusivity.
Image courtesy of The V Group.
K. Wah International
2 Grampian Road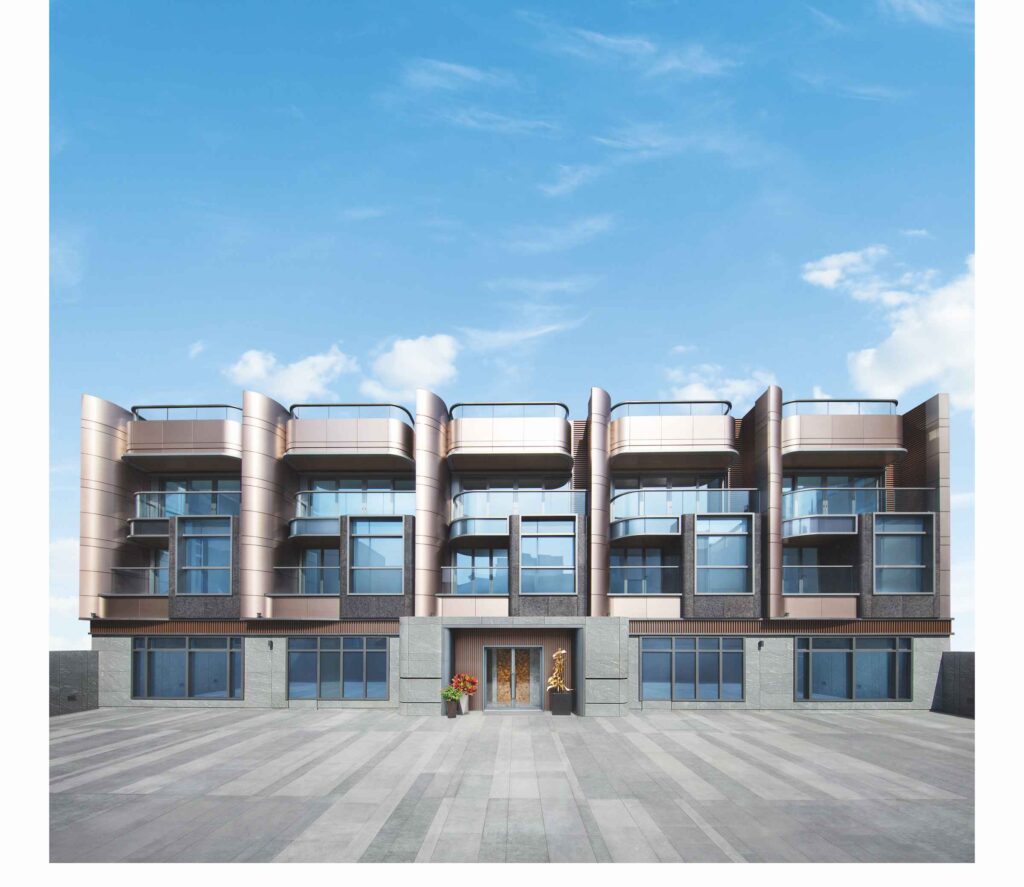 Over the past 10 years, Kowloon East has been transformed into a vibrant commercial hub known as CBD2. Grampian Road, however, is a serene residential street that stands in contrast to the bustling area while being located conveniently close by.
The boutique development at 2 Grampian Road is a collection of five three-storey residences, each laid out across more than 372 square metres (4,000 square feet). Each home boasts an internal courtyard, extending the indoor living space to the outdoors. The light that pours in through the courtyard, French doors, and skylight helps make the living and dining spaces feel more spacious and inviting, as well as boosting well-being. The five en-suites benefit from the highest-quality sanitary ware and underfloor heating, while the master suite further features an impressive walk-in closet. In-home elevators go from the ground floor all the way to the top floor and rooftop terrace, another example of the thoughtful design.
Image courtesy of K. Wah International.
Sino Land
St George's Mansions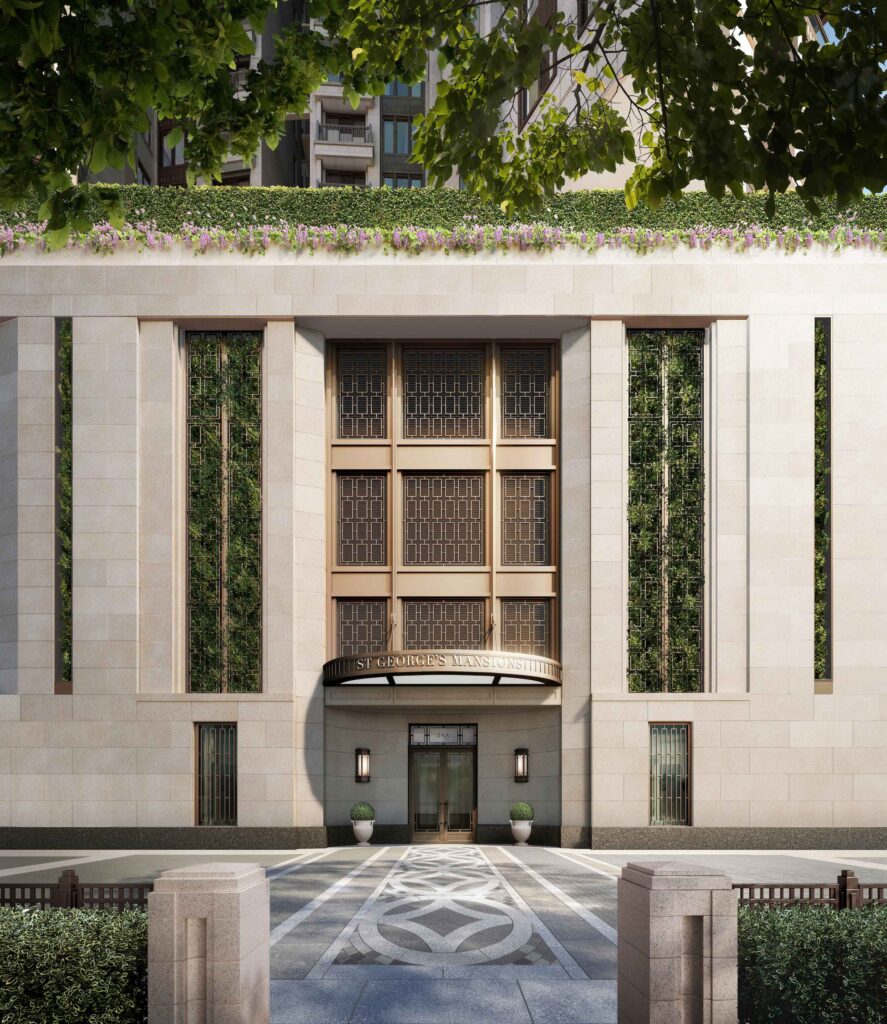 Designed by internationally acclaimed Robert A.M. Stern Architects, St. George's Mansions is an excellent choice for those looking for an unmatched city living experience with a touch of New York grandeur and Hong Kong nostalgia.
Kadoorie Hill is a storied neighbourhood, unique in Hong Kong for its century-old mansions. Within this setting, the architecture of St. George's Mansions works in an unobtrusive way by adding to the time-honoured architecture surrounding its three towers while respecting it in style and spirit. The façade uses natural limestone sourced from Portugal, which is beautifully inlaid with bronze-coloured windows. The complex comprises 175 residences, most of which are configured as two-, three-, or four-bedroom, ranging in saleable floor area from 71 to 199 square metres (764 to 2,141 square feet), with five simplex units ranging from 309 to 343 square metres (3,325 to 3,695 square feet). And it's just a hop and a skip away from prestigious local and international schools.
Image courtesy of Sino Land.
Sun Hung Kai Properties
Signature Homes Residential Leasing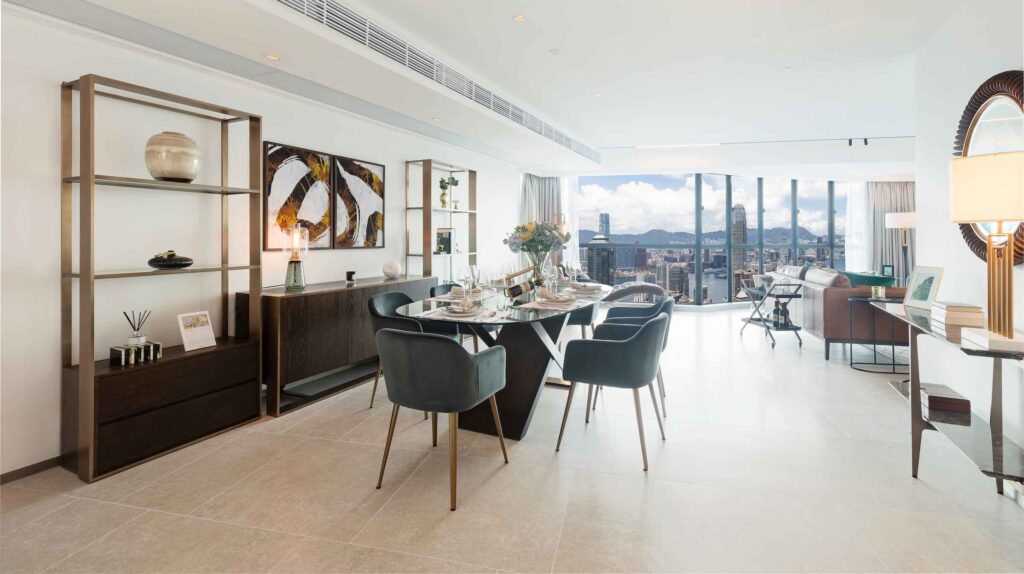 At the time of writing, Hong Kong continues to gradually open its borders to welcome global visitors, executives, investors, and entrepreneurs. For those coming to the city for a few months or thinking about moving here, Signature Homes might be the flexible leasing solution you're looking for.
The company keeps a portfolio of homes from fully serviced suites to seafront family homes in sought-after communities. Dynasty Court in Mid-Levels, Pacific View in Island South Tai Tam, and Four Seasons Place Hong Kong in Central, designed by Yabu Pushelberg and Bilkey Llinas Design, are just a few examples.
Signature Homes' tenant services ensure that all properties are ready for occupancy and well-maintained. There's also a range of concierge services, as well as opportunities for networking and socialising through the lifestyle activities organised by the company.
Image courtesy of Sun Hung Kai Properties.
Hang Lung Properties
23–39 Blue Pool Road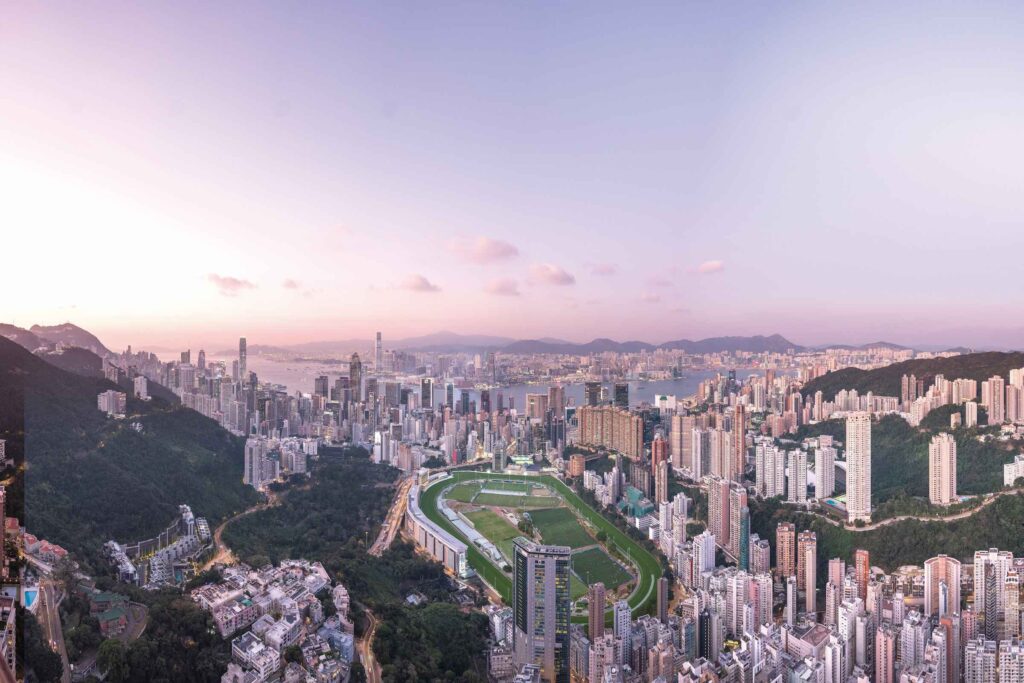 Situated in Happy Valley, in the heart of Hong Kong Island, the collection of residences at 23–39 Blue Pool Road displays the utmost sophistication in design. Realised by leading architects Kohn Pedersen Fox, the development occupies its own private podium, and each residence is entered via a small yet dignified forecourt defined by a bronze privacy screen with close attention paid to its geometry, finish, and patina.
The small collection of semi-detached homes range from 425 to 427 square metres (4,571 to 4,599 square feet), each featuring its own foyer, balcony, flat roof, courtyard, and garage. On entering one of the homes, you're immediately struck by the internal courtyard and the views and natural light it brings to the kitchen and living room. Interiors are as versatile as they are tasteful, with rooms—including five en-suite rooms—capable of multiple uses. The project has also been designed with sustainability in mind, and is the world's first project to be registered under the LEED for Homes International Pilot.
Image courtesy of Hang Lung Properties.