The Big Idea: Live Culture
After almost three years of struggling through changing restrictions, shortened dine-in times, and even fine dining restaurants turning to delivery and takeaway to survive, Hong Kong's food and beverage industry is finally seeing the light at the end of the tunnel. But this isn't to say that the industry simply gave up on the traditional way of doing business during this difficult period. Far from it—restaurant openings haven't slowed, restaurateurs continue to put their creativity to the test, and some establishments rose to great heights to meet the challenge, coming through stronger than before. It speaks of the resilience of the industry, and of the people who keep the wheels turning and the plates coming.
It also sheds light on our voracious appetites for shiny new things. Chefs and restaurants are constantly remaking themselves to stay ahead of the game and remain at the forefront of diners' minds. We're looking for entertainment, memorable meals, and something to rave about long after our visits. Relying on reputation is passé—even institutions like The Peninsula are expected to get with the times.
Fine dining in Hong Kong is entering a new era for other reasons too: new concepts are centred around bringing oft-overlooked Asian cuisines to the haute cuisine stage, realised with invigorating culinary creativity. No longer is this the playground of only French, Italian, Chinese, and Japanese tasting menus (although we've seen plenty of them too). In 2022, we welcomed Plaa's contemporary, Gillardeau oyster-studded approach to tom kha and its elegant transformation of massaman curry. Mora brought us an avant-garde exploration of all things soy and tofu, reinvented in genius shapes, forms, flavours, and textures that combine the Asian staple protein with global ingredients and influences. Mosu Hong Kong at M+ revealed a finer side to Korean dining with abalone tacos and roasted acorn noodles, and Whey ushered in a Singaporean-influenced take on European dining.
It's an exciting year of innovation and of honouring heritages and traditions through fresh eyes. At the pinnacle of gastronomic excellence, chefs are still seeking to build bridges back to their childhood flavours and infuse the culinary experience with their identities—and more than that, to relate to their patrons through their personal relationships with the food they serve.
Connection is everything—between chefs and diners, and dining and the world at large. Now is the time to eat whatever your heart—and your palate—desires.
Agora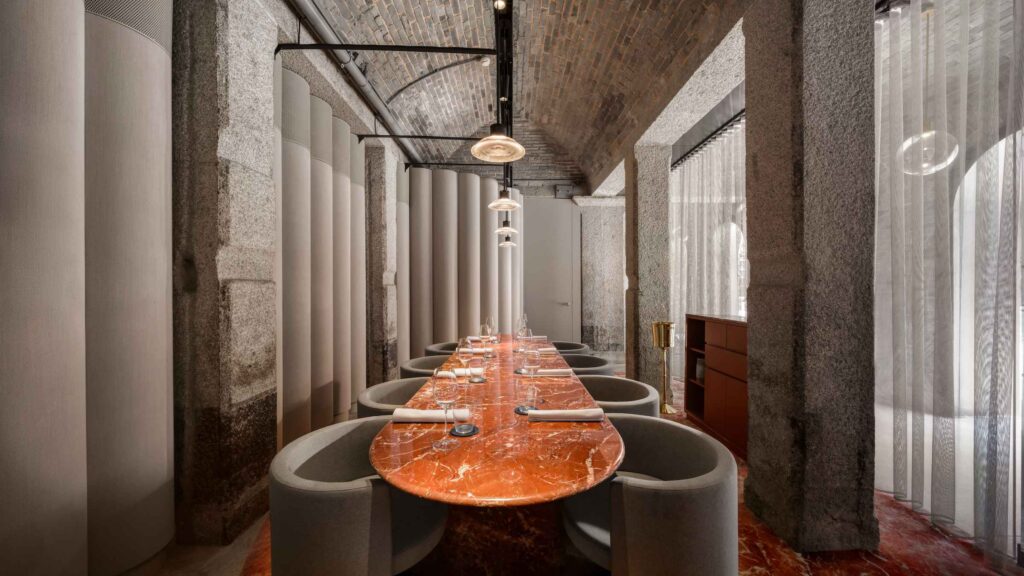 Following his hit 22 Ships, Madrid native Antonio Oviedo has continued his collaboration with local hospitality outfit Jia Group in the form of Agora, breathing new life into Hong Kong's Spanish food scene. Perhaps ironically, the restaurant's location in Tai Kwun—a former prison, police station, and magistracy—has been injected with the liveliness of a modern "meeting place," one of several meanings behind Agora's name, lifted from various ancient languages.
Gazpachuelo, a homely fisherman's dish, is delicately reinvented with asparagus, mandarin, and green olives, poured tableside for a performative element. Oviedo also takes everyone's favourite part of the paella—the socarrat crust—and serves the crispy bomba rice as a flavourful, textured base to pair with carabinero prawns and alioli. For the Instagram age, there's the erizo—a sea urchin flan, presented in a spiky half-shell with creamy ajo blanco. Ingredients are sourced according to the season from different regions in Spain, showcasing little-known produce like Gamonéu cheese, a smoked, fatty blend of goat, cow, and sheep's milk.
Food aside, no detail is overlooked—the interior design by Collective Studio works in harmony with the protected heritage building and its existing granite and brickwork to carve out an understated look with a pop of red, while a veritable troupe of craftspeople and artisans contributed to the handmade tableware, dishware, ceramics, and cutlery. Modern and traditional go hand in hand here, as does doing good: a percentage on every bill goes to disadvantaged communities affected by natural disasters.
Image courtesy of Agora.
8 1/2 Otto e Mezzo Bombana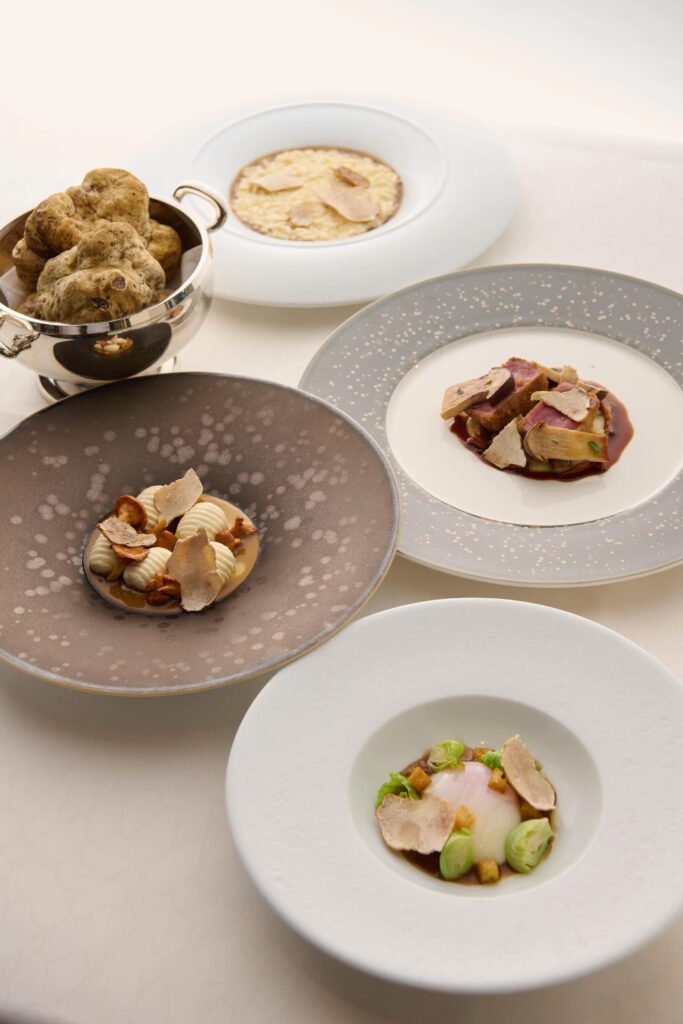 Umberto Bombana's history with Hong Kong goes all the way back to 1993, when he opened Toscana at the Ritz-Carlton. Fast-forward to now, and he's synonymous with fine Italian dining in Hong Kong. 8 1/2 Otto e Mezzo Bombana is still topping best-of lists, and has maintained its three-Michelin-star status. But what is it exactly that makes Bombana's cooking so enduring?
Well, his superb handling of Alba truffles, for one. As the "King of White Truffles," Bombana was instrumental in fuelling Hongkongers' appetites for the premium tuber, and the restaurant's seasonal truffle menu showcases the aromatic gems in a variety of textures and flavours that few others can match. But 8 1/2 Otto e Mezzo Bombana also expertly executes classic Italian dishes with refinement and poise, with handmade pasta and top-quality ingredients doing the talking—there's not much you need to embellish when the luscious flavours of premium produce speak for themselves. Bombana's cavatelli featuring shellfish ragout and sea urchin remains a firm favourite, even all these years later, as does the playful nip into the cheese ageing room for a moreish finish. Why fix it if it ain't broke? So, one might consider Otto e Mezzo a safe bet when it comes to Italian, but we think it's an equally delicious one that's tough to beat.
Image courtesy of 8 1/2 Otto e Mezzo Bombana.
Arcane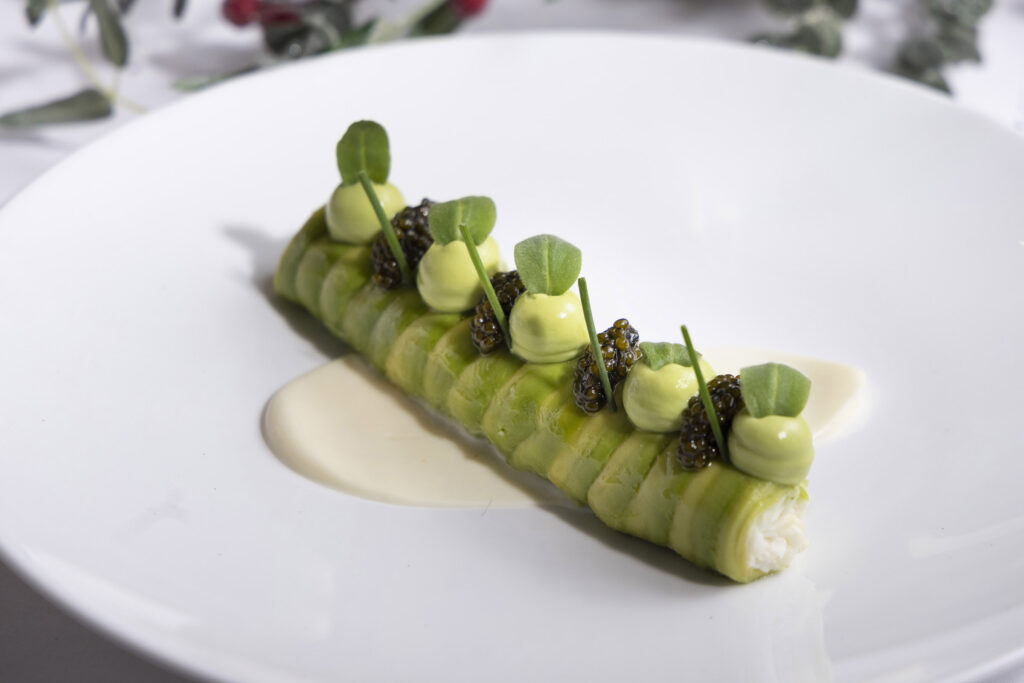 Over the eight years in which Arcane has quietly watched over an oft-forgotten corner behind bustling Queen's Road Central, chef-owner Shane Osborn has not been idle. A Michelin star was gathered and retained; a widely televised appearance as a contestant was made on Netflix's The Final Table; and The Arcane Collective was established, serving as the launchpad for two new restaurants, Cornerstone and Moxie, in 2019 and 2021. It's the first-born Arcane, however, that best bears Osborn's flag for sustainable, socially aware, and ingredient-led dining.
At Arcane, the food is polished, the plating is precise, and the wine list is carefully curated, but the meal is never pretentious. Its concise, contemporary menu, prepared with seasonal produce sourced from Japan, France, and the UK, reaches across that great swathe generally understood as "European" cuisine to welcome global and local influences—see the Japanese fruit tomato starter served with İmam bayıldı and vadouvan sour cream, the moreish sautéed potato gnocchi served with morel and shiitake ragout, and the unctuous slow-braised Wagyu short rib with Jerusalem artichokes and dau miu.
The restaurant was also one of the first places in town to introduce a separate vegetarian tasting menu as a restaurant mainstay at a time when plant-based dining was nascent, speaking to Osborn's forward thinking.
Image courtesy of Arcane.
Rùn
At The St. Regis Hong Kong's fine Cantonese restaurant, art and presentation rival flavour in importance—as expected of an establishment designed by illustrious interior architect André Fu. Executive chef Hung Chi Kwong cut his teeth at Michelin-starred local institutions Man Wah and Cuisine Cuisine, but when it came to Rùn, he knew being an advocate for remarkable taste and superior ingredients alone is not enough—looks matter.
Lucky, then, that every dish at Rùn is given a photogenic lift. Dim sum here is reimagined for the modern day, where camera eats first; the checkerboard-like Wagyu beef puff is threaded with pastry to create a textural snack, and what looks like a trio of deep-fried mini apples is, in fact, a set of savoury glutinous dumplings. Not to be missed is the signature barbecued Ibérico pork with honey, a diced slab of tender, melt-in-your-mouth roasted char siu that imparts hints of caramelised smokiness. And on the lighter side, there's the double-boiled abalone soup, served in a coconut shell atop an aesthetic bird's nest-style arrangement.
A wine sommelier and tea master are on hand to make informed suggestions on the best pairings, never overwhelming the balanced flavours teased out by Hung's astute techniques.
Image courtesy of Rùn.
Whey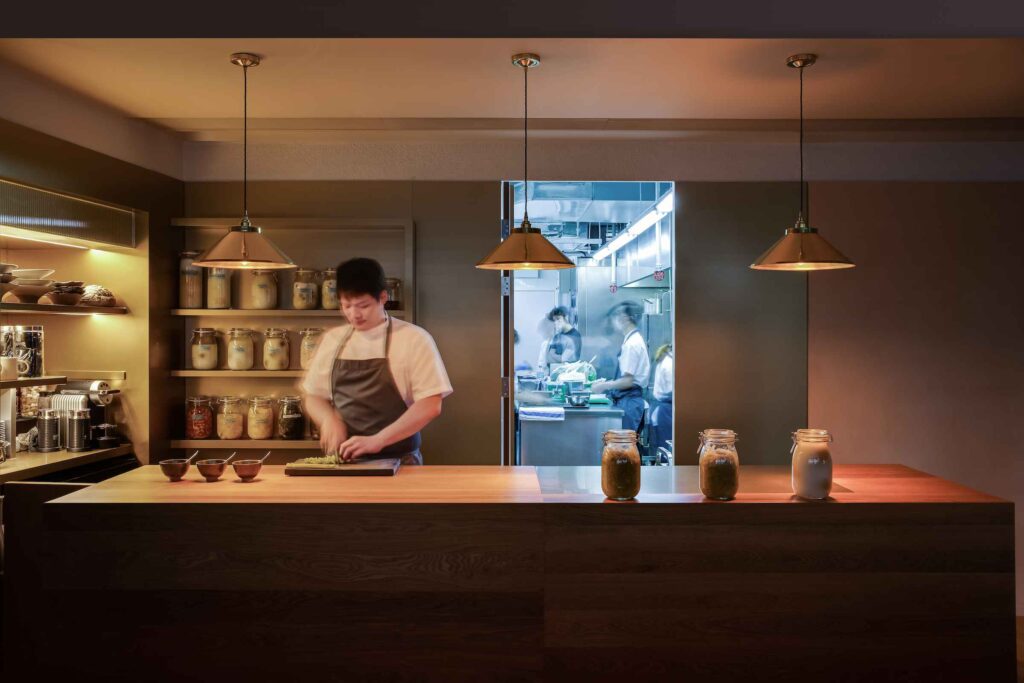 Singaporean chef Barry Quek turns his childhood flavours on their head at Whey, putting the haute cuisine twist on Straits cooking. It's a refreshing addition to Hong Kong's upmarket culinary scene—largely led by Western or fusion concepts—and succeeds with its sophisticated take on a gastronomic tradition that's long been overlooked by fine-dining chefs.
Quek is fearless when it comes to reimagining his native cuisine, with respectful experimentation key to the task. Here, modern European meets classic Singaporean flavours and regionally sourced ingredients; the dishes retain their traditional essence under his care, with well-honed skills from Orient and Occident injecting deeper nuances. But Quek isn't just technically proficient—his food is fun, creative, and playful.
See the traditional bak kut teh deconstructed and fiery laksa transformed, while the seasonal Hokkaido spot prawns are elevated with zesty calamansi, longan, pickled red onions, and ulam raja. A Mao Shan Wang durian ice cream with caviar pearls and delicate milk crisp ends the meal with aplomb.
Image courtesy of Whey.
Amber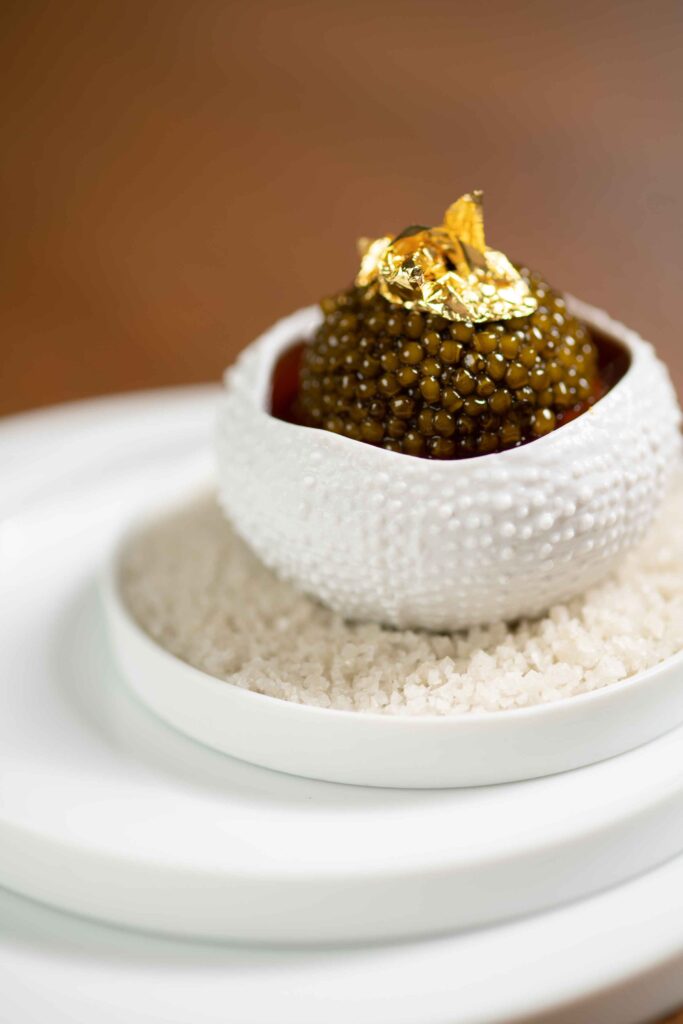 Few chefs in Hong Kong have carved out a legacy as enduring as that of Richard Ekkebus. Amber, at the Landmark Mandarin Oriental, has been a stalwart of the city's fine dining landscape for almost two decades. But it doesn't rest on its two-Michelin-starred laurels—Ekkebus continues to pioneer bold approaches in his redefinition of fine French cuisine, dispensing with traditional Western ingredients like cream, milk, sugar, and butter in favour of soy, agave, honey, and nut milks.
Inside the warm-hued, Adam Tihany-designed space, pure, clean flavours are the highlight of the degustation menus, with diets and food allergies thoughtfully catered to. Signatures like the much-raved-about uni and caviar and the ocean trout with roe continue to leave lasting impressions. Amber is also a pioneer in putting a plant-based spin on the classic tasting experience.
In keeping with this progressive spirit, the restaurant's contributions to sustainability—reducing food waste, minimising the restaurant's carbon footprint, and using naturally harvested produce—all help pave the way for responsible eating and addressing diners' evolving expectations. It's this unique blend of constant reinvention and Ekkebus's deep understanding of the current zeitgeist that makes Amber worth returning to time and time again.
Image courtesy of Amber.
Nanhai No. 2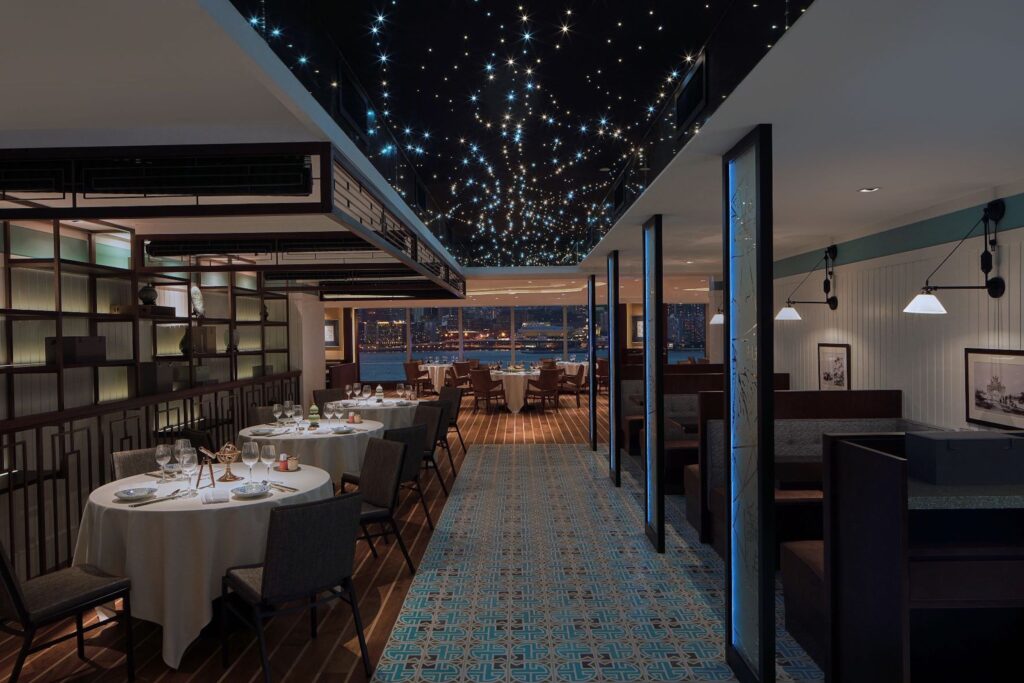 Nanhai No. 2 is a place that takes its time; after all, this follow-up to Nanhai No. 1 took 12 years to come to fruition. But executive chef TS Chan has plans to lead the sophomore effort even further afield. His sights are set on the countless leagues covered by Chinese admiral Zheng He in his globetrotting adventures, each transformative voyage revealing new discoveries greater than the last. It's all in the name, of course, Nanhai No. 1 being one of the most spectacular shipwrecks to have been found in the South China Sea, so it's clear that Chan has a high bar to live up to for the new opening.
One could say that Nanhai No. 2 is Elite Concepts' second great expedition for the contemporary Chinese brand, and the restaurant continues to pay homage to the legendary traveller in more ways than one. A "starlit" corridor with twinkling lights, echoing the navigational night sky at sea, sets the scene, but you could opt for the real thing by requesting a window-side table, with floor-to-ceiling views of the Victoria Harbour skyline. As with Nanhai No. 1, southern Chinese dishes are given an elegant makeover, complemented with flavours from ports on Zheng's journeys such as Sri Lanka and Malacca, and matched with a collection of 150 labels for a well-rounded experience.
Image courtesy of Nanhai No.2.
Gaddi's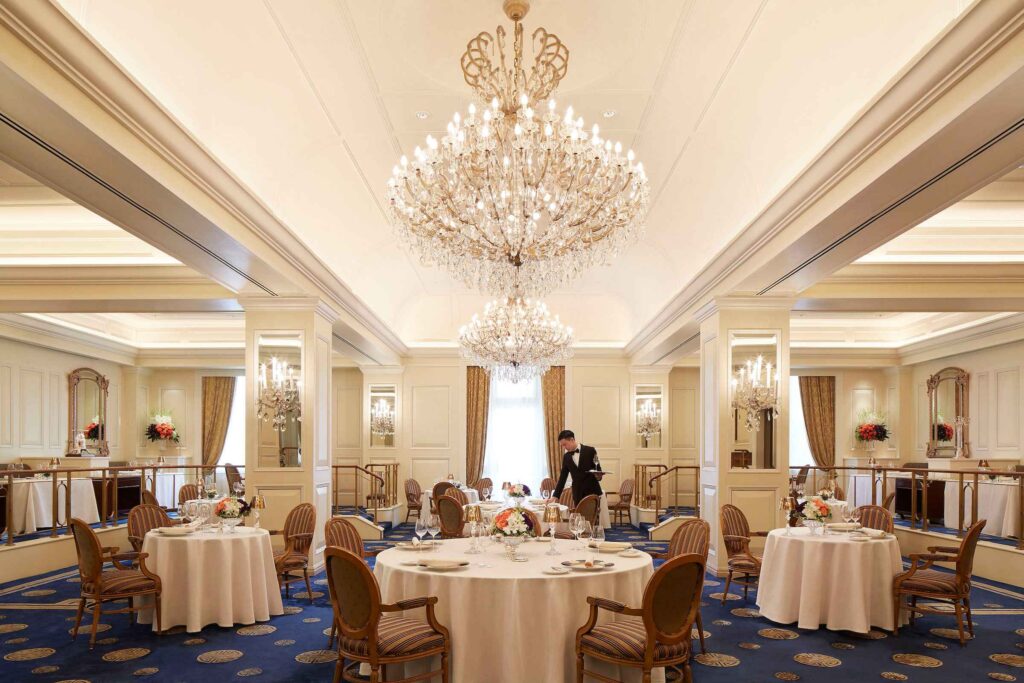 The Peninsula, Hong Kong's "Grande Dame," has seen almost a century come and go, but age has not diminished her charm. Likewise, Gaddi's—the flagship French destination now under the leadership of chef de cuisine Albin Gobil—is an institution that set the precedent for European fine dining restaurants in the East. Not much has changed since; everything about Gaddi's oozes "classic"—think oversized crystal chandeliers, white-clothed tables, dramatic Louis XVI-style chairs, and panelled walls—but never in a stuffy or antiquated sense. It simply transcends time.
The menus, whether degustation or à la carte, are embedded with exquisite ingredients, from langoustines, blue lobsters, and foie gras to Amur River caviar, Miéral pigeons, and Piedmont white truffles. Dishes are slow-cooked, braised, foamed, and emulsified with precision, while the hospitality lives up to the setting. And if you time it right, you'll come for the dinner, but stay for the show: Gaddi's and the hotel as a whole have been putting an emphasis on cultural offerings, hosting one-night-only operatic performances and ongoing shows.
Image courtesy of Gaddi's.
Vea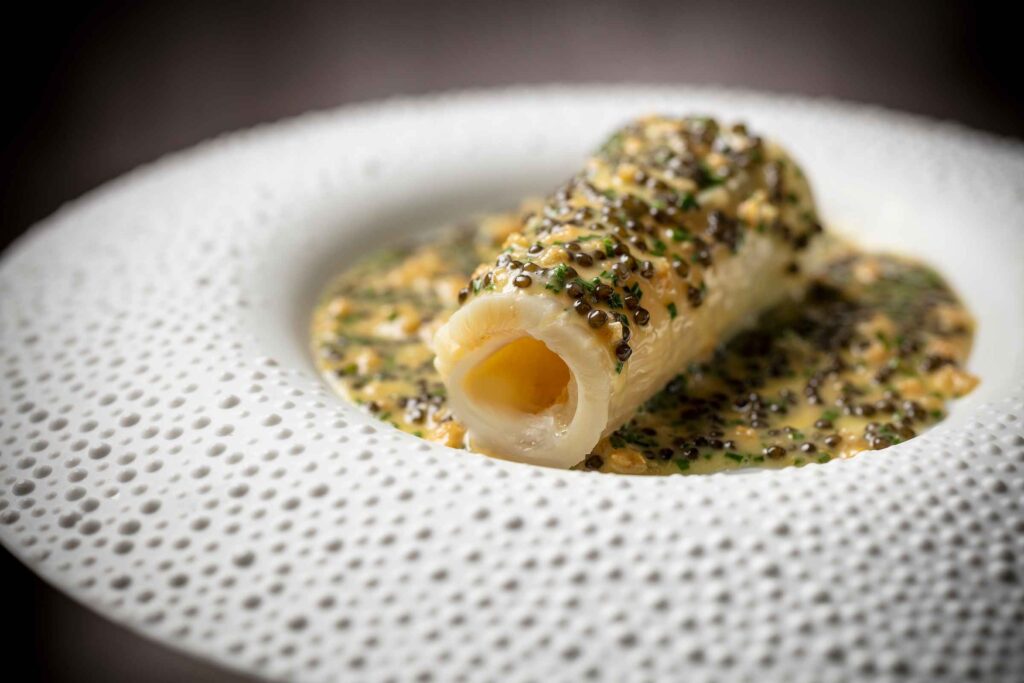 An acquaintance once remarked, "When I'm having a bad day, I go to Vea for dinner, and I always feel better afterwards." Vicky Cheng may not have intended for his restaurant to serve as a comfort food destination that cures all ills, but Vea's ability to transport the diner borders on magical. Drawing on his Asian roots with applied Western culinary knowledge, Cheng's Chinese-French approach experiments with rare Eastern ingredients prepared in European styles.
Slide into the long dining room—tastefully neutral with brass design accents—and let the experts cater to you from the interactive open kitchen. Of note is the concept-shaping abalone pithivier, a novel twist on the French classic that swaps in a whole dried Japanese abalone, foie gras, and Chinese morel mushrooms for the filling of each hand-laminated puff pastry. The unassuming daikon is marinated for flavour, fried until perfectly crispy, whimsically plated with a garland of decorative petals, and topped with an egg yolk confit and black truffle. And where you'd least expect to see the Cantonese staple fish maw, Cheng goes the extra mile to feature both saltwater and freshwater breeds for taste and texture, dressed in a French butter sauce and dotted with puffed quinoa, Chinese beluga caviar, and chives.
Image courtesy of Vea.
Sushi Hisayoshi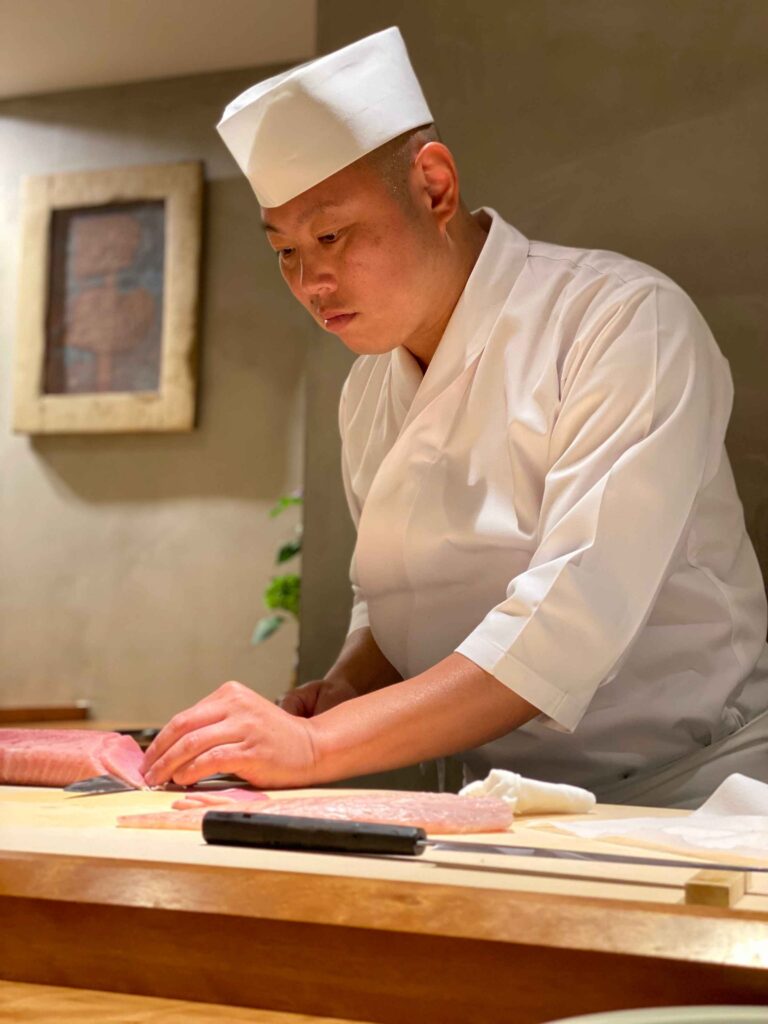 Hisayoshi Iwa is a master at his craft. Collecting a Michelin star for his first restaurant, Ginza Iwa, looked effortless, but it was the culmination of more than a decade's worth of training under celebrated sushi giants. Another decade later, with his protégé Tsukasa Kaneko, Iwa brings his eponymous omakase experience to Hong Kong to showcase a wealth of exclusive oceanic bounties sourced from all around Japan, expertly prepared and meticulously presented.
As with most omakase restaurants, the Junzo Irikado-designed space is kept minimal and sleek, with a 30-seater, 250-year-old hinoki cypress counter serving as the centrepiece. It's really the chefs and the sushi you've come to admire, anyway.
The restaurant specialises in Edomae-style sushi, but it's the fermented otoro, aged in a custom-built cabinet designed to evoke traditional Japanese preservation techniques, that's the indubitable highlight of the signature 23-course tasting menu. Finished with a light grilling over charcoal, the otoro's umami notes sing after two weeks of maturation, and its lingering taste leaves you wondering if any other tuna can ever taste as good.
Image courtesy of Sushi Hisayoshi.