The Big Idea: Nature Nurtures
The pandemic led us all into nature, and for most of us—hey, we kind of like it. At least that's what Emma Maclean, founder of interior design firm EM Bespoke, has noticed. Her award-winning practice is behind many of the interiors at Hong Kong's new Fullerton property, as well as projects ranging from Qeelin's Paris boutique in the Place Vendôme to luxury fashion conglomerate Kering's Hong Kong offices. "Nature is going through the whole spectrum of design," she says. "We're seeing earthy tones, rich textures, and organic shapes, both architecturally and in furniture. It's all about creating calm, tranquil environments."
The trend is being driven from two directions, with designers and architects taking it increasingly seriously while consumers and end users do the same. For the latter, there are a few simple aspects to the aesthetic: some people lean heavily into colours, with British racing greens and deep forest greens coming together with earthy browns. For others, it's more about materials: not only rich textures, but provenance. We want natural fibres not just because they're naturally sourced and sustainable, Maclean explains, but because we love the story of where a material comes from. "It's really all about that narrative of connecting back to nature in a fundamental sense," she says.
On the part of designers, the move is part of a more rigorous and longer-term approach that draws on research such as that undertaken by the School for Environment and Sustainability at the University of Michigan, which found that our cortisol, or stress hormone, levels are lowered by spending as little as 20 to 30 minutes in nature. When it comes to creating spaces with that in mind, much of the intellectual framework is drawn from the work of American author and critic Sarah Williams Goldhagen, whose seminal Welcome to Your World: How the Built Environment Shapes Our Lives draws on research in neuroscience and psychology to detail just how well-designed spaces benefit our well-being and how we suffer mentally and physically in their absence.
Broadly, this is because we experience environments actively: both consciously and sub-consciously, we're embedded within them and influenced by them. This goes from the macro (cities and large spaces) to the micro (objects), and when it comes to the latter, we experience surfaces "emotionally and palpably," Goldhagen says.
For a designer, this can lead to a simple, intuitive solution: for one building in his native Finland, Alvaar Aalto used bright yellow floors and wooden banister sleeves "because he correctly intuited that people need only look at a wood handrail in a sunny-yellow stairwell to feel warmer," she points out.
This welcome movement sees designers maximising and integrating nature's bounty. For the objects we want in our homes, that means colours, materials, and functions that allow us to feel at once connected to the world and unclouded by it, that promote the calm and clarity we all desire.
LG
Easel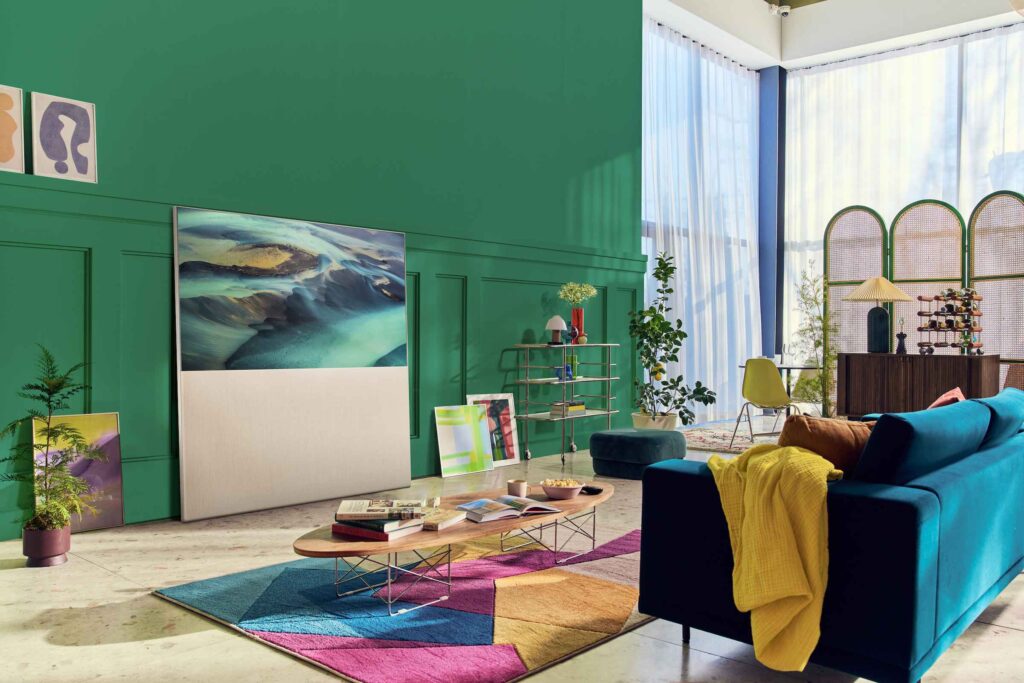 LG's Objet collection uses technology to elevate home aesthetics, with the brand understanding that not everyone wants their couches positioned around a giant TV screen. Enter the Easel, an OLED TV that's designed to look like a contemporary version of its namesake.
Just as you would with the iconic piece of artistic equipment, you can lean the Easel naturally against a wall. And when you aren't bingeing on the latest Netflix drama, it can display minimalist videos in extreme high definition in Gallery Mode.
That said, if you'd just like to just switch it off, LG has provided a simple and elegant fabric panel covering for the TV, so there's never the need to be flanked by a giant black rectangle—here, it's a textured neutral fabric from Danish textile maker Kvadrat, chosen for durability and sound penetration. Pull it all the way down to the ground to get into couch-potato mode, or slide it down just a little to activate Line View, a mode that offers the time, date, and weather at a glance—on your choice of aesthetically pleasing backgrounds, of course.
Image courtesy of LG.
Lualdi
Ying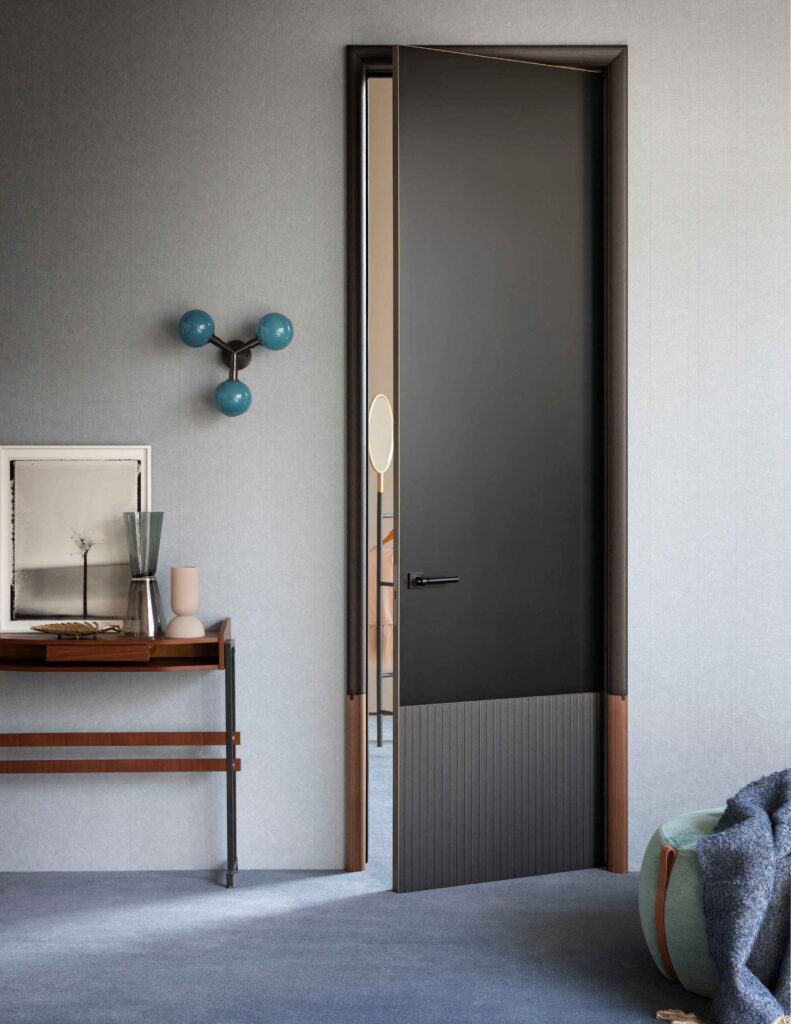 Multi-hyphenate Steve Leung has been a name in the Hong Kong design scene since before there was a "scene" of which to speak, and in line with his personal motto of "design without limits," his collaborations with various furniture brands are many. One of the latest is his debut collection for premium Italian door and boiserie brand Lualdi, showcased for the first time at the 2022 iteration of Salone del Mobile. As is often the case with Leung, he's the first Asian designer to work with Lualdi, and his final product melds Eastern tradition with Western sensibilities as well as Leung's signature minimalism and restraint.
Sŭn măo—a traditional Chinese mortise and tenon technique that's simultaneously strong and simple—is used in the design in a nod to the past that may be invisible but adds to each piece's story. On the doors' upper portions, colour blocking and contrasting textured wood offer a contemporary touch. Customisable in a variety of woods and finishes, this is elegance and personalisation at its finest—at once a door to the past, and the future.
Image courtesy of Lualdi.
Lalique
Into the Blue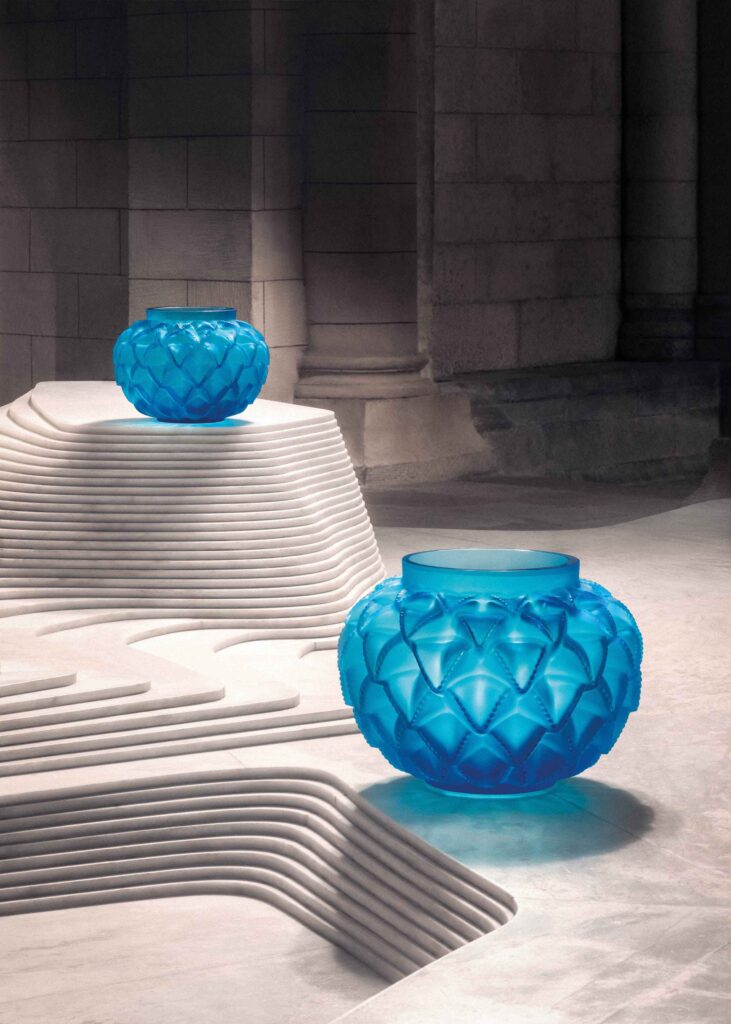 When René Lalique took his granddaughter Nicole Maritch to Chartres Cathedral, she was so impressed by the intense and myriad shades of blue that she asked her grandfather, "Can you make the most beautiful blue in the world?"
Thus began Lalique's unending quest to create ever more exciting manifestations of this classic hue. These have culminated in the Into the Blue collection, created to celebrate the 100th anniversary of his house's production facility in Wingen-sur-Moder, a small village in the Alsace region known for glassmaking.
Classics from the crystal maison have been re-forged in a cerulean hue that symbolises eternity and hope—a bold colour that from a technical perspective stays constant no matter the thickness of the crystal, but can be manipulated through various polishes and finishes that add or reduce intensity. This blue is, ironically, composed of various tones—the red of iron oxide, black of copper, and pale yellow of cerium—which under fire transform into an unusual tint that now adorns iconic Lalique creations such as the Champs-Élysées bowl, the Languedoc vase, and the Cabochon ring.
Image courtesy of Lalique.
Louis Vuitton
Metaverse Crossovers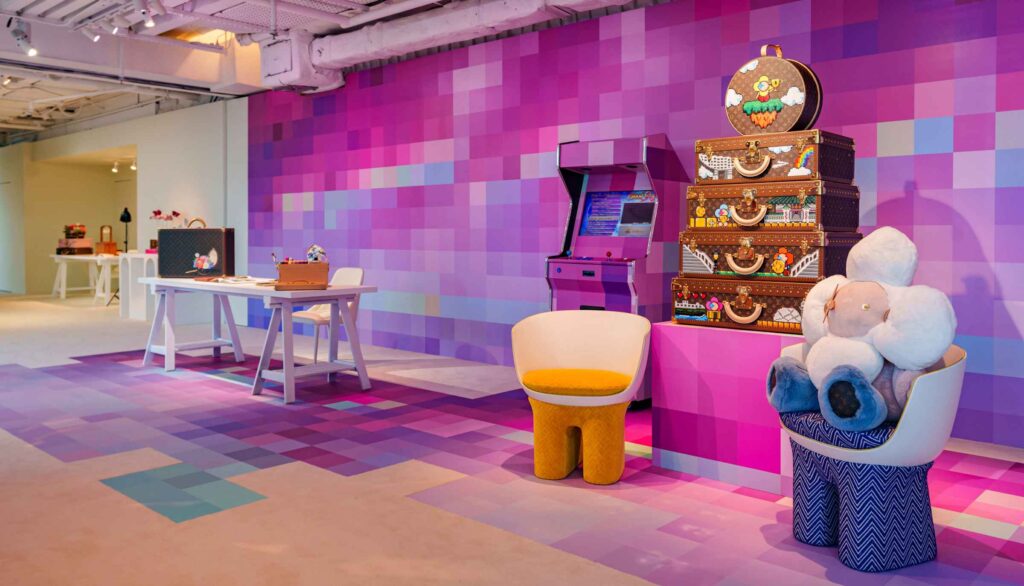 Launched in 2021 as a celebration of 200 years since the Louis Vuitton founder's birth, Louis: The Game garnered in excess of two million downloads inside its first year. In the video game, players assist a flower-headed, monogram-emblazoned character named Vivienne in journeying through six imaginary worlds gathering birthday candles that unlock postcards with stories of the brand's history, as well as fashion accessories and—of course—NFTs.
In 2022, for the brand's Savoir Faire event in Hong Kong showcasing the history and workmanship behind its iconic trunks, Louis Vuitton unveiled new pieces alongside painted towers created by stacking the chests. The Painted Tower of Vivienne in the Hong Kong Metaverse may be a mouthful to say, but is actually a rather playful manifestation of classic meets contemporary. The tower itself is created from four oblong valises and crowned with a round case, and the familiar brown pattern becomes a backdrop for iconic Hong Kong landmarks—the Star Ferry, Peak Tower, and Space Museum all feature—rendered in a colourful and nostalgic 8-bit style, as Vivienne runs amok chasing down her various trophies. It's often a struggle for storied maisons with old-school house codes to find the joy in jumping into the metaverse, but one of the oldest of all has shown that it doesn't always have to be high-concept or overwrought to be fun and successful.
Image courtesy of Louis Vuitton.
Hermès
H Pythagore Cashmere Blanket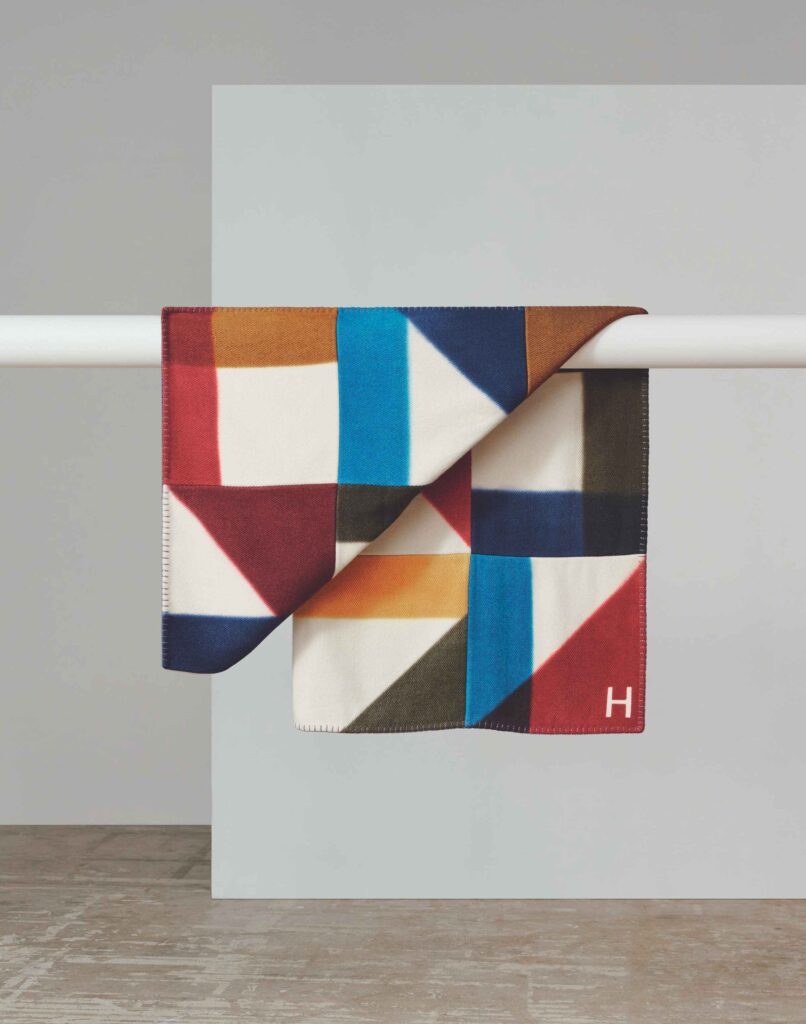 Hermes went light for its 2022 home collection, hoping to celebrate the levity that's come with the slow ease out of isolation. The adjective is something of a counterpoint to the typical expectation of the luxury brand, known for its sturdy leathers and the longevity of its wares; with this in mind, Hermès Home co-artistic directors Charlotte Macaux Perelman and Alexis Fabry elected to create a series of home items that included this H Pythagore blanket, making textiles the theme of a collection for the first time. "Six creations form the fabric of this manifesto for lightness. All are made from cashmere," the maison announced. "This infinitely refined natural fiber combines a responsive hand with radiant colors."
In keeping with this direction, each strip and square is cut from the highest-quality hand-woven cashmere and then hand-dyed to create unique transparencies and a range of shapes (after all, the blanket is named for the philosopher and mathematician known for his contributions to geometry). The result is deceptively simple, light, and long-lasting—a lazy afternoon buddy for the ages.
Image courtesy of Hermès.
Vermillion
Design Platform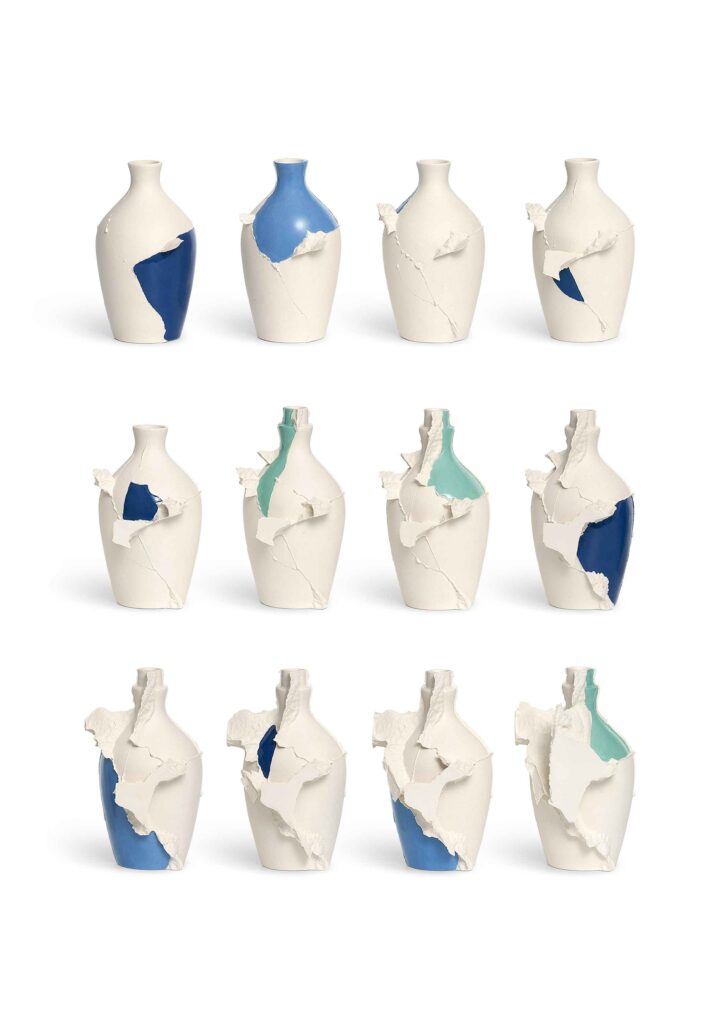 Initially a business-to-business platform, Vermillion launched in 2021 to give hospitality and interior design firms easy access to Asian-designed wares, ranging from furniture and decor to wellness items to one-of-a-kind commissioned artwork. It filled a gaping hole in the design procurement process, and was well received for that.
Now the platform is available to consumers as well, who can access a wide but carefully selected range of beautiful products such as lacquered crafts from Singapore's Forbidden Hill, timeless Japanese furniture from Monmaya, and limited-edition Fragments vessels by Hong Kong brand Julie & Jesse (pictured). Vermillion also provides styling and sourcing services by request, and we welcome it as a showcase of both Asian aesthetics and the quality of the work in the region.
Image courtesy of Vermillion.
Sub-Zero x Start From Zero
Cool22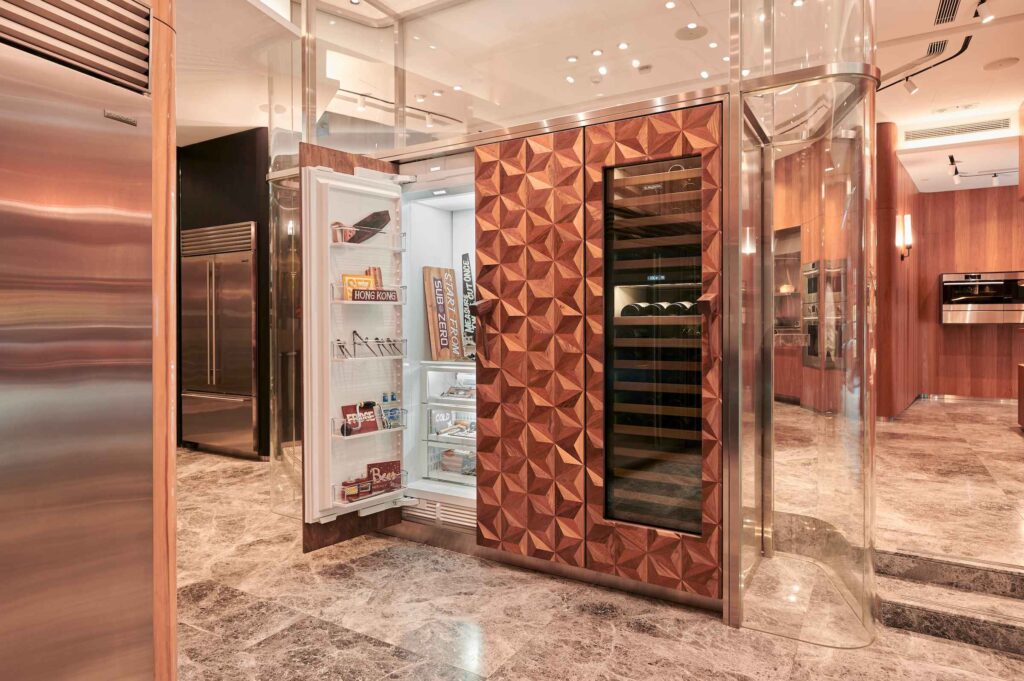 Sub-Zero has long been the gold standard for refrigeration and wine preservation, and has—through its distribution partner The Madison Group—celebrated the brand's Designer series through design-led collaborations. In 2022, that included the Cool22 installation, featuring a one-of-a-kind wood panel carved by artist Dom Chan, founder of local wood-art label Start From Zero.
The panel design references the brand's snowflake, and is available as an artistic touch to fit existing Sub-Zero fridge models. Besides being handcrafted from locally sourced and upcycled wood, the door handle incorporates a hammer used by woodworkers, echoing the message of sustainability. This makes for a neat tie-in to Sub-Zero's mission of energy efficiency, with almost half of its appliances being Energy Star certified, and each fridge astonishingly consuming less power than a 75-watt lightbulb, despite high-grade functions such as an air purification system of the type used by NASA that scrubs the air of ethylene gas and odour at 20-minute intervals. And after all, what's more sustainable than minimising waste by keeping your food fresher, for longer?
Image courtesy of Sub-Zero.
Dior
La Colle Noire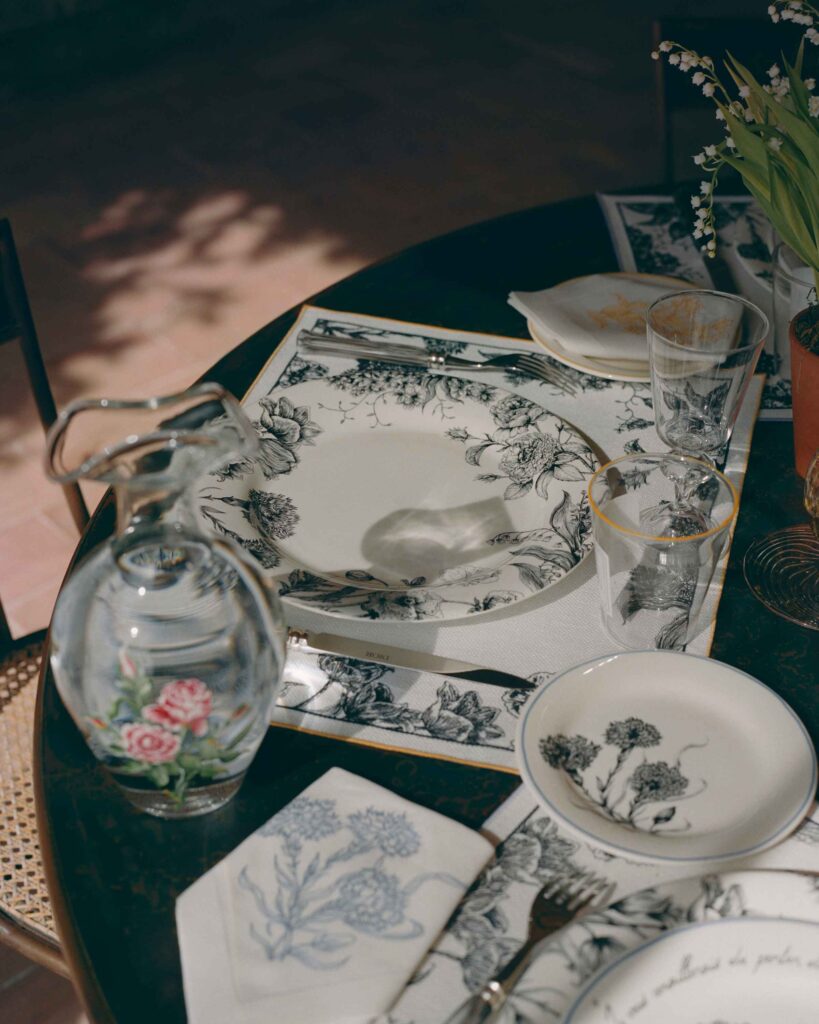 Flowers were a continual source of inspiration for Christian Dior, who often retreated to the Château de La Colle Noire, his home in Provence, to immerse himself in gardening and in the beauty and simplicity of nature's botanical wonders.
The maison pays homage to this obsession with a collection of dinnerware inspired by the late couturier's most beloved flowers: the dahlia, after which he named one of his couture dresses; lily of the valley, Dior's favourite that became a house emblem; as well as roses, carnations, tulips, and more. All these adorn dinner plates featuring black and white botanical sketches accompanied by cursive that spells out phrases such as "This blooming tulip evokes the defining shape of the 1953 silhouette."
Glasses are coyly labelled with the names of flowers, and delicate vases and bulbous candle holders crafted in Italy—the remainder of the collection is made in France—complete this elegant, perennially chic collection, one that's fit for all seasons.
Image courtesy of Dior.
Tai Ping Carpets x Qin Feng
Song of Solitude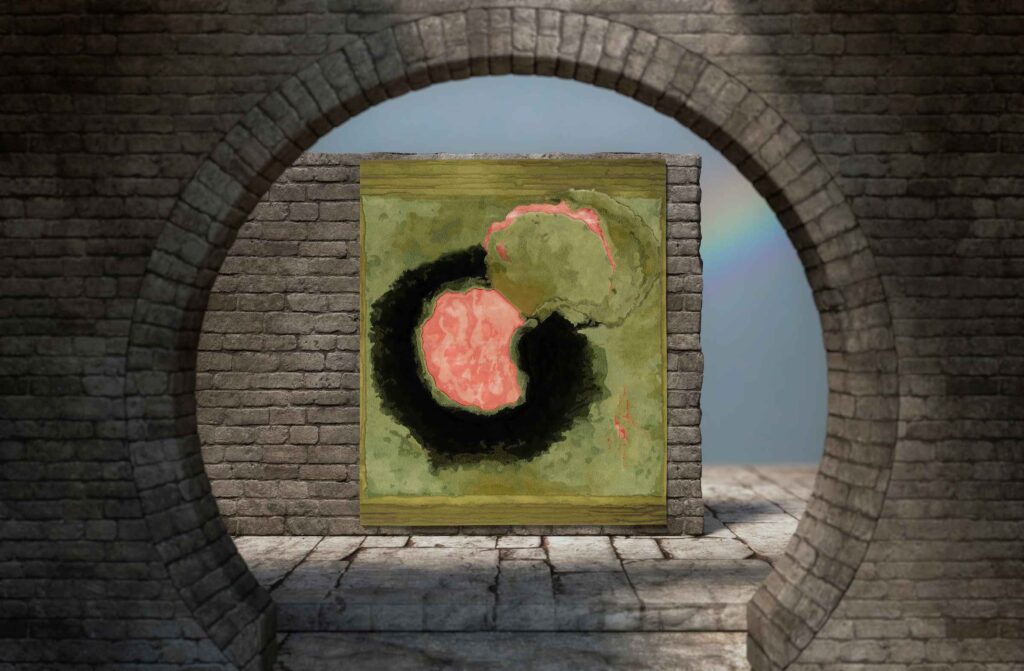 In collaborating with leading Chinese contemporary ink artist Qin Feng, Tai Ping Carpets plays with the lines between art and design, and between functional and decorative. Here, the exuberance and emotion of the artist's brushwork is translated into a woven textile which magically retains the key elements of Qin's practice.
The collection's title, Song of Solitude, takes inspiration from ancient folklore from the Chinese northwest and its mythical landscapes and realms. Tai Ping's hand-tufting mastery turns out to be a fitting technique to express the shapes created by ink and brush, with an added drama and intentionality that offers an extra dimension to the final work–sometimes quite literally, as utilising high and low piles, or hand-knotting, creates different depths.
On pieces such as the Tianshan iterations, representing the "white mountain" oft referred to in martial arts novels, wool and silk host a subtle gradation from black to grey; in Yaochi, the ink blots blur and diffuse as if on paper. This is more than a run-of-the-mill collaboration or rendering of an artist's work in a tufted form, it's a genuine adaptation to a different medium—and while solitude may be the theme of the story, the resulting wares instead sing a vibrant song of partnership.
Image courtesy of Tai Ping Carpets/Qin Feng.
Baccarat
Miffy Figurine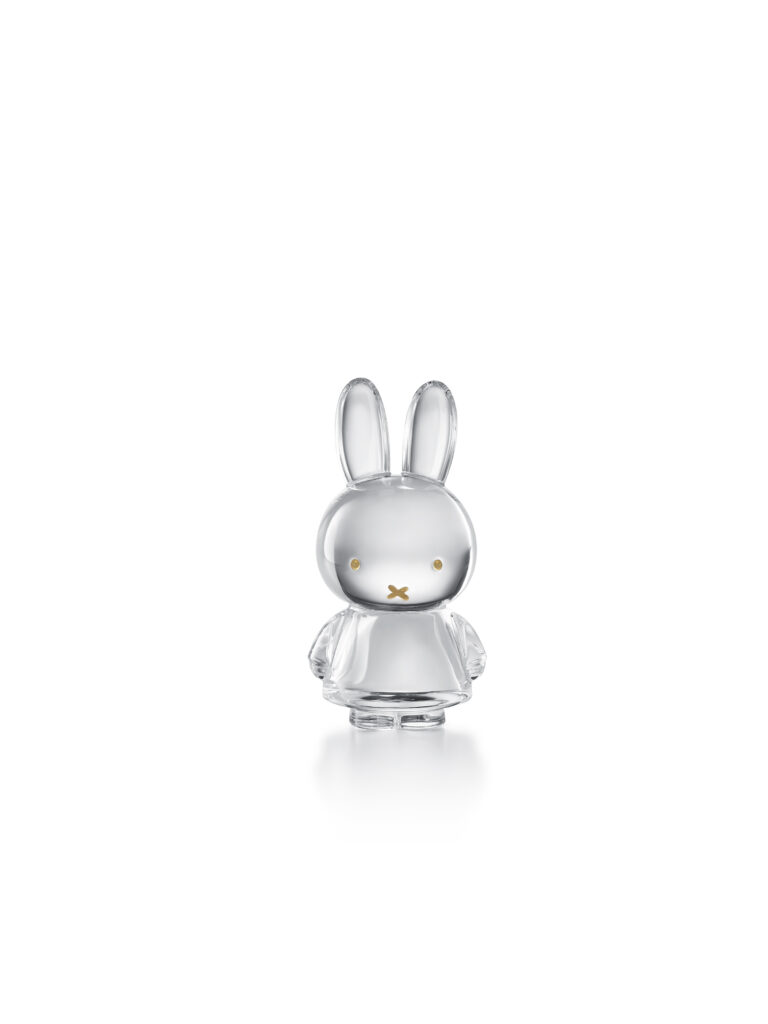 Baccarat has been crafting luxury home objects for more than 250 years, and has collaborated with creatives and brands from the likes of Virgil Abloh to the house of Hennessy. So perhaps its latest figure seems a little more diminutive than some of the industry behemoths with which it has previously joined hands—but what the little lass lacks in size, she makes up for in reputation.
Miffy—aka Nijntje, which means "little rabbit" in her mother tongue of Dutch—has had her likeness forged in Baccarat crystal, complete with a perfect round silhouette and perky ears, her eyes and cross-shaped mouth drawn in 20-carat gold. She makes a beautiful decorative object for a child's room, or to commemorate someone born in the Year of the Rabbit.
Image courtesy of Baccarat.