By JW and P.Ramakrishnan
The Big Idea: More Than Token
Change is always precipitated by an increasingly urgent need for something—sometimes, anything!—different. For the auction and art market, notoriously reserved, the pandemic was one such catalyst. As is the number of HNWIs that skew younger, younger, and younger still than the average 63-year-old billionaire. As is the hyper-digitisation of valuable artefacts like currencies, art (see Christie's 3.0 facilitating on-chain NFT sales) and the metaverse (see Sotheby's being the first to open a virtual gallery) that swung the pendulum even further towards the change-is-necessary end of its arc.
Going online, something that was just a necessity in the midst of the pandemic, ultimately shattered records at the biggest international auction houses. At the time of writing, online purchases accounted for 20 percent of sales in the art market over the past year, which more than doubled the nine percent of pre-pandemic 2019. And with cause comes effect: the how has since encouraged the who (see: younger HNWIs) and, more interestingly, the what, which might just be sneakers, streetwear, collectibles, or designer toys.
This past September, Christie's launched Department X, slotting Air Jordans, skate decks, and hypey add-to-cart items right alongside the Old Masters. "We've watched the classic luxury departments start incorporating these elements of sneaker culture and streetwear through the leadership and the guidance of people like Virgil Abloh and Kim Jones, who have come into these really storied, iconic fashion houses and brought in this influence," said Department X head Caitlin Donovan at launch. Donovan noted that the influence of these figures had been seen across jewellery and timepieces already, that the market was continually growing, and that it was not only "a very expansive and important department to grow into, but also these collectors are serious and educated".
And while as of writing, Department X had received some backlash over a couple of its early collaborators, the appetite for this very specific genre of hype-ified, culture-attuned luxury has not waned—and doesn't seem to be any time soon.
The trend was further underlined when Joopiter, Pharrell Williams's newly launched online auction house, easily pulled six-figure bids on items including a US$2 million (HK$15.7 million) chain, a US$121,000 (HK$949,566) Louis Vuitton trunk, and 45 other items pulled from the musician's own extensive archive. "The idea behind Joopiter is to embrace the energy that's released when objects change hands," said Williams in a statement. "Joopiter is a new platform for myself and for my fellow curators, one where existing and future generations of collectors can feel welcome to take part in this exchange."
And considering the Joopiter website endured a much-publicised crash due to heavy traffic almost immediately post-launch, it's tough to overstate the volume of interest.
Christie's
Landscape after the Four Yuan Masters and "Fu Di" Poems in Running Cursive Script


Tangible linkages to the past frequently find themselves under the gavel. And despite Christie's recent diversification focused on the sneaker-shaped impulses of latter Millennials and Gen Z, some of the house's most impressive lots of 2022 turned back the pages of history. Two pieces at the Fine Chinese Classical Paintings and Calligraphy auction in early December, presented by Christie's Chinese Paintings department, were stunning exemplars.
Lot 856, Landscape after the Four Yuan Masters by Qian Weicheng (1720–1772), sold for HK$8,820,000 (US$1.1 million), in the vicinity of the estimates. One of the most important scholar-painters of the Qianlong period, Qian's scrolls, landscapes, and fans have seen enduring appeal. While other works were produced in the style of one or two of the Masters, it's rare to find a work that synthesises all four. Given the providence, rarity, and historical value of the lot, there was no surprise in how quickly the gavel fell.
Lot 829, however, created a heady bidding war. "Fu Di" Poems in Running Cursive Script by Wen Zhengming (1470–1559), inscribed and signed with five seals from the artist and dated 1557, was realised at HK$26,850,000 (US$3.4 million). Sold at more than 17 times its estimate, the scroll was easily the most valuable lot of the year's Chinese Paintings sale series.
Images courtesy of Christie's.
Bonhams
Yangcai Painted Imperial Poems and Landscapes Vase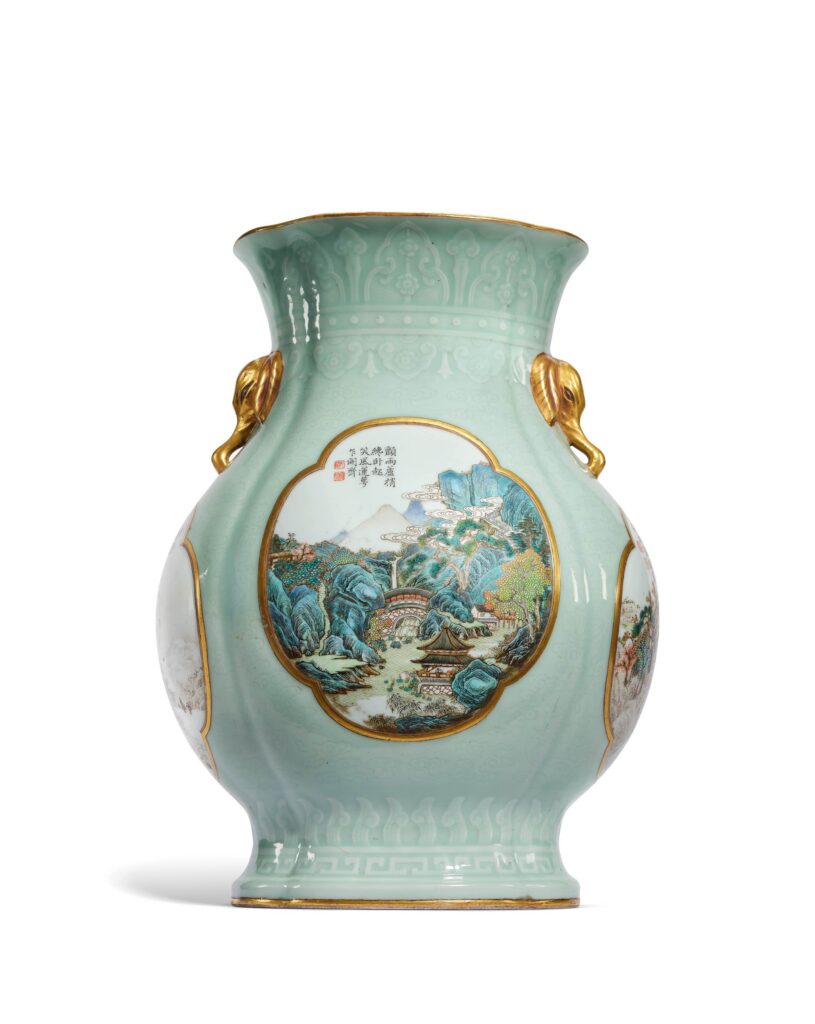 The most important transactions at Bonhams in 2022, arguably, had nothing to do with discernible lots. Rather, it was the acquisition of four major local auction houses around the world—Bukowskis from the Nordics; Skinner from the US; the Danish Bruun Rasmussen; and Cornette de Saint Cyr from France—that rounded out an impressive global-to-local strategy aimed at increasing the firm's varied foothold in each milieu.
However, one exemplar of discerning pieces that make perfect sense in time, place, geographical specificity, and ensuing provenance was the star lot in the house's recent Fine Chinese Ceramics and Works of Art sale. Held at the tail end of May in Hong Kong, the event featured a Yangcai painted "Imperial Poems and Landscapes" incised celadon-ground lobed oval vase, complete with a Qianlong seal mark. At a height of 35.5 centimetres, the exquisitely potted pear shape rises from a spreading foot moulded with key-fret band and upright lappets flanked by a pair of gilt elephant-head handles. The body is incised with ruyi-head clouds around four lobed panels enclosing landscape scenes and poetic inscriptions. The timeless beauty sold for HK$32,253,000 (US$4.1 million).
Image courtesy of Bonhams.
Sotheby's
Spider IV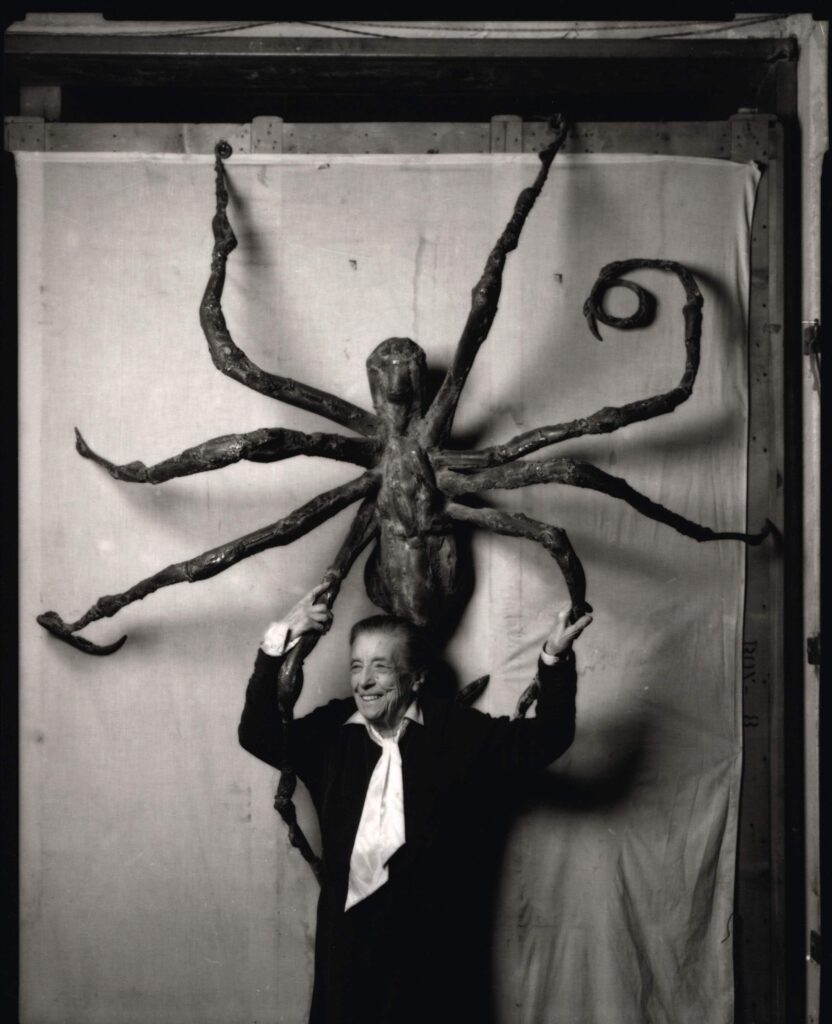 "She was deliberate, clever, patient, soothing, reasonable, dainty, subtle, indispensable, neat, and as useful as a spider," said artist Louise Bourgeois of her mother, the unlikely muse behind her arachnid-themed masterworks. Fourth in the series, Spider IV, at once menacing, impressive at two metres tall, and decidedly NSFW for arachnophobes, became the most valuable sculpture ever sold in Asia last April.
Also marking the first of the artist's famous Spider series to hit the auction block in the region, the 1996 piece is designed to be wall-mounted, a method of presentation particularly rare on the market—and a method especially dramatic as long, sloping shadows inch from the piece's spindly legs against an anchored spotlight. Spider IV is also intensely personal to Bourgeois, as the crawler was chosen by the artist to feature in the now-famous portrait photographed by Peter Bellamy; the artist, with a grin, wraps her fingers tightly around the piece's outstretched hind legs. At closing, it fetched a monstrous HK$129.2 million (US$16.4 million).
Image courtesy of Sotheby's.
Phillips
Untitled (1982)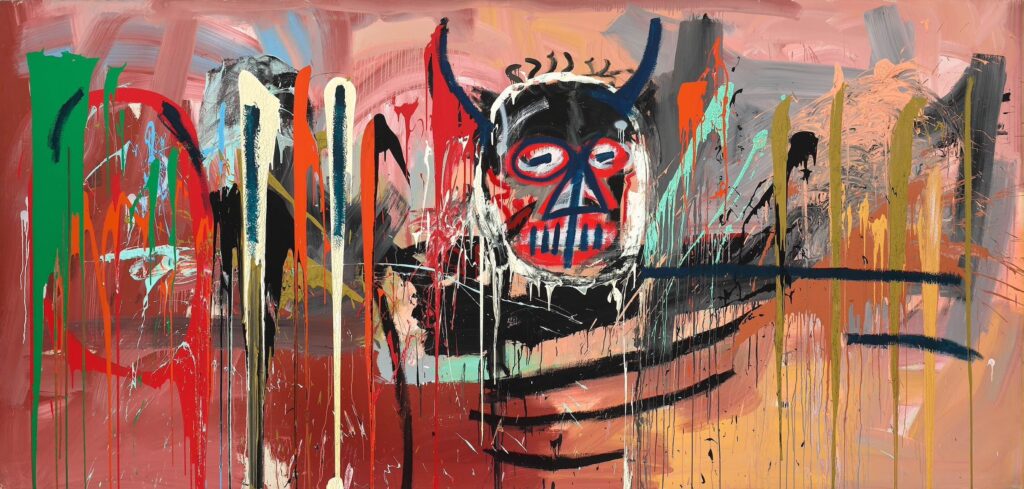 The name Jean-Michel Basquiat, right alongside his contemporary Andy Warhol, is practically an auction-house mainstay, a surefire entry into running bids that reach the stratosphere. One such case for Phillips this season was the artist's Untitled (1982), a horned devil acrylic-on-canvas manifesto from the collection of renowned entrepreneur and art collector Yusaku Maezawa, who purchased it for US$57.3 million (HK$449 million) in 2016. A mere six years later, the same painting, a tour de force at five metres wide, would close at US$85 million (HK$666 million)—the third-highest price ever paid for a Basquiat—with its winning bid from Asia.
And of the US$590 million accrued from the house's record-breaking spring season, which was up 30 percent compared to H1 2021, this Basquiat from the New York Evening Sale of 20th Century & Contemporary Art went on to top every realised lot, tallying up to the highest total in Phillips' history.
Image courtesy of Phillips.
Vox Pop: Kate Bryan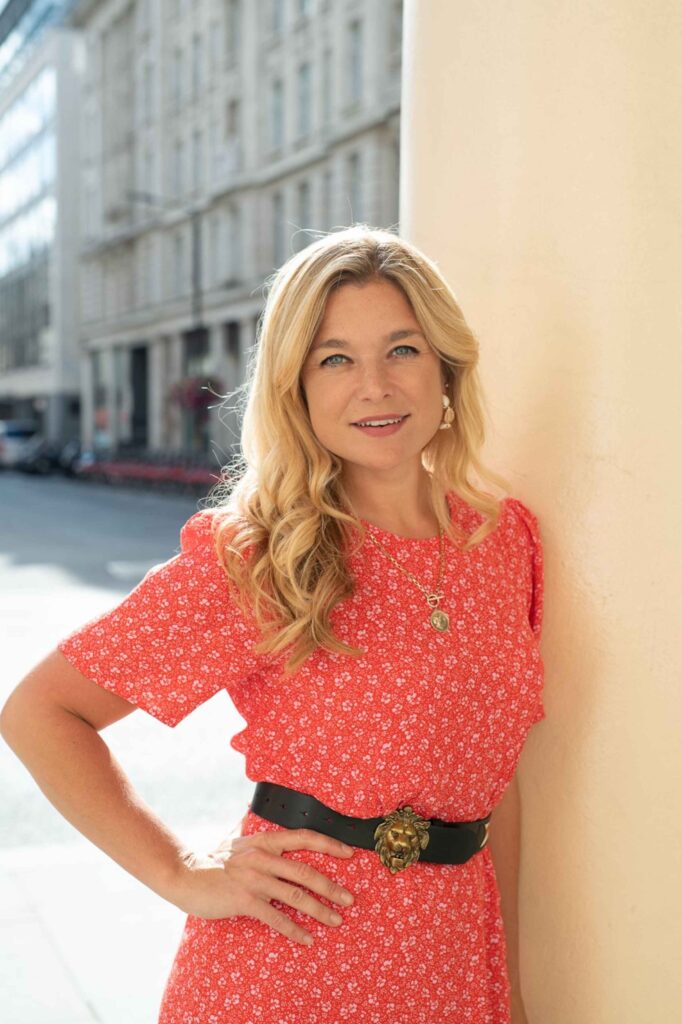 The art world now watches Hong Kong with a lot of interest. We really want to know what's going on in the local scene: the new museums, the new art institutions—we're extremely tantalised by all of it, those of us who have been at an arm's length during the pandemic. And seeing these auction results really compounds that interest because we know there's an enormous appetite in Hong Kong. I think it's a reminder to everybody that there are an awful lot of very young, very hungry collectors across Asia.
And there's also just a very young group of people across Asia that are now interested in art, and many wealthy people with an acute interest and investments in art. I think if you're living in a difficult, complex time like the pandemic, you might find some joy or fulfilment through art and culture.
A lot of people have invested very wisely in art in Hong Kong—I know that personally. I know the kind of artists they were buying back in the day, too: Hong Kong artists, people who are from Hong Kong, who trained in Hong Kong. Those artists were woefully underserved, underrepresented, and undervalued, and now hopefully they're getting their time to shine. And there are incredible galleries in Hong Kong, like Blindspot Gallery, that have great programmes of Hong Kong artists.
For people who are lucky enough to have wealth, I think it's becoming more and more normalised to have art—historic art, and most times contemporary art. People want to support art and culture, and for some there's a status attached to it. You only need to look at K-pop or Canto-pop stars: they're savvy, they talk about art in their music videos, they socialise and party with contemporary artists. It's a great world and scene to get into. It's very nourishing, and you can be a bit distinctive. There are only so many handbag companies in the world, but there are thousands upon thousands of museum-level artists you can adhere to. It means you can carve out a more independent, unique space for yourself, based on what your taste is, what your values are, and how the artist is manifesting those values.
By Kate Bryan, Global Director of Art, Soho House