One of Savile Row's most unique ateliers has a new outpost in Scotland.
Kathryn Sargent Bespoke Tailoring opened its first location in 2016, making Sargent the first and only woman master tailor to have her own shop on the famous London street. (Before this, Sargent made history as the first and only woman to become a head cutter on Savile Row, at her former employer Gieves & Hawkes.) Her second atelier opened on Monday in Edinburgh, where new and returning customers can commission luxe bespoke and made-to-measure suits.
Sargent says she decided to open the shop, set on Edinburgh's Howe Street, after noticing that clients from America and Europe to the Scottish capital for both business and leisure. Clients eventually began requesting tailored outfits and fittings for those trips, prompting her to take the next steps with the business. "Scotland has always been a special place for me in terms of the fact that I'm from the north of England," Sargent tells Robb Report over Zoom. "And there's a luxury customer in Scotland. I think that it deserves to have this kind of quality level of tailoring there."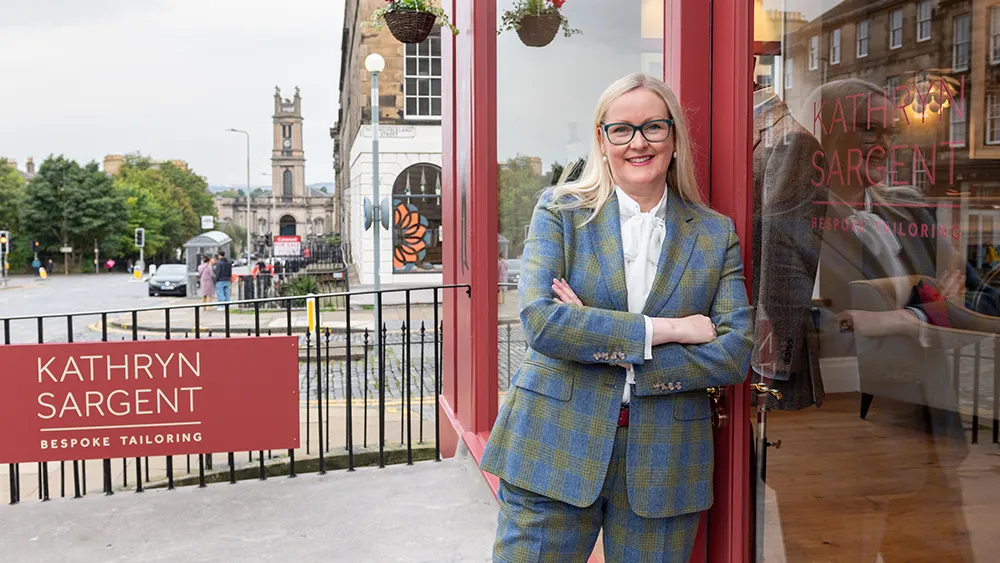 Of course, that's not her only link to the area. Her custom Harris Tweed is specially woven in the Outer Hebrides. Two new colorways of the design, in green and blue, will be available to customers at the Edinburgh location to mark its opening, plus a selection of tartans. "It's important to me where we source our fabrics," she says having visited the Isle of Lewis in Scotland, and its workforce of 120 weavers. "I want to shine a light on that, support them, and use their cloth for our tailoring."
As a board member of the Savile Row Bespoke Association, Sargent aims to create sustainable luxury garments. Bespoke tailoring is naturally eco-friendlier than anything you'd find at a big chain retail because it is made by hand per commission, just for you. And while a made-to-measure alternative may be produced in a factory, its pattern is adapted from an existing block to create a one-off—which also lessens the impact a garment can have. "Everything that we do, we just buy in what we need so we don't have to produce a whole collection and then try and sell it," she says.
Sargent will be popping in and out of the Edinburgh location as she makes her yearly trek to the U.S. to meet with clients in Chicago, Washington, D.C., and New York this month. Head cutter Alistair Nimmo will oversee the day-to-day management of the Edinburgh location. Sargent trained the native Scotsman with a Savile Row Bespoke Diploma for eight years. "He can take somebody through the whole process, cut and fit," she says. "Alistair also knows about Scotland and can advise on places to go, but also about style and about dress." "I'm proud to be heading up the Scottish arm of the business," he shares.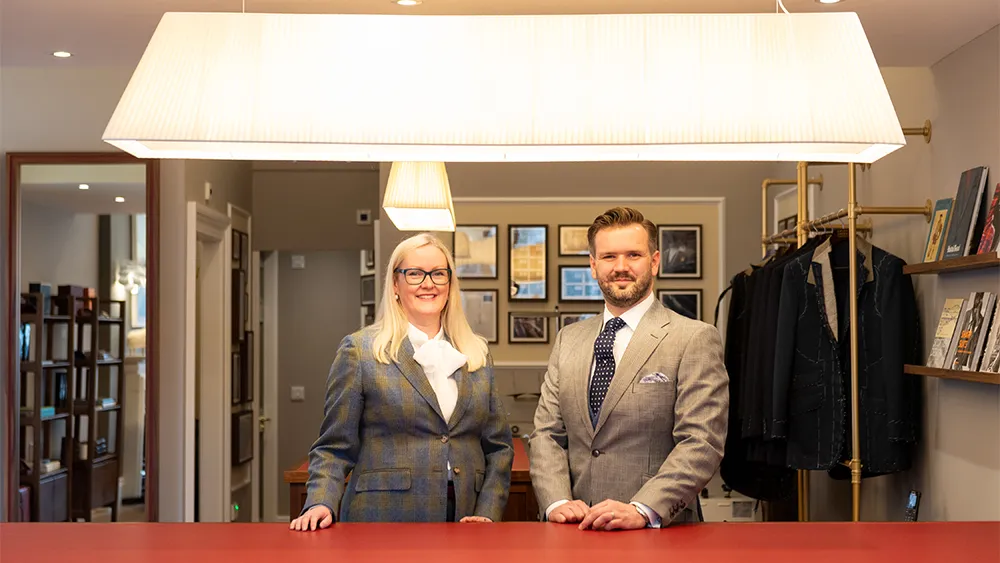 Sargent is the only Savile Row Bespoke Association board member to open an atelier and shop in Edinburgh. (There's an outpost of Hackett London on George Street nearby, but its offerings are ready-to-wear.) The city historically had a rich history of bespoke tailoring that has become mostly made-to-measure offerings today. It's most famously known for bespoke kilts, which Sargent reportedly intends to make for clients in due time.
Rounding out our chat, Sargent shares that local businesses like Gleneagles, the Balmoral hotel, and Gordon & MacPhail are now aware of her offerings. "The Balmoral have supported us, and we have mannequins in the lobby of the hotel at the moment, showcasing our tailoring," she says. "To be on the radar of their guests and just, you know, have that kind of excitement or buzz around our launch is a wonderful opportunity." One she hopes will redirect traffic to the shop and foster a community where local hotels and whiskey distilleries continue to partner with the business on special experiences for travelers and sartorial aficionados alike.