On Friday, 1 December, Rosewood officially enters New Zealand, and in a grand way, by assuming management of three of the country's best-loved lodges, adding "rural resorts" to its global portfolio.
New Zealand "does" lodges better than any other nation, anywhere. Typically, they are under 30 bedrooms and set in idyllic countryside, over hundreds or thousands of acres with no other buildings in sight. As would rightfully be expected in a country renowned for its sheep, an estate's population is considerably boosted by its wildlife.
Several prominent Americans have been active in New Zealand's real-estate market, but none made such an impact as Tiger Fund hero, the late Julian Robertson. Robertson Lodges will continue to be owned by his estate, and overseen by one-time on-site CEO, Julian Robertson's son Julian Robertson III, known as Jay, now based in Florida.
Here are the three lodges, which interestingly toyed with Capella back in 2015. The first two lodges are on the North Island. All their interiors were by queen of insides, Virginia Fisher—whites and pale colours, nothing grated, nothing stressful. (Imagine a metrosexual billionaire's weekend retreat.)
Rosewood Kauri Cliffs, named for the kauri tree, Agathis australis, is by the Hikarua river in the Bay of Islands. A panoramic view of some of its 6,000 acres awaits during the final three-mile drive from road to resort. Three beaches also await, as do 18 holes of David Harman golf. The oval infinity pool, with inset hot tub, overlooks its ninth hole. The four-room spa is reached via a 300-yard path through sky-high forest. Memories abound of creating your own salads and choosing the size of your rib-eye burger patty. 26 rooms are mostly in two-room villas: a favourite is room number one, nearest the main lodge.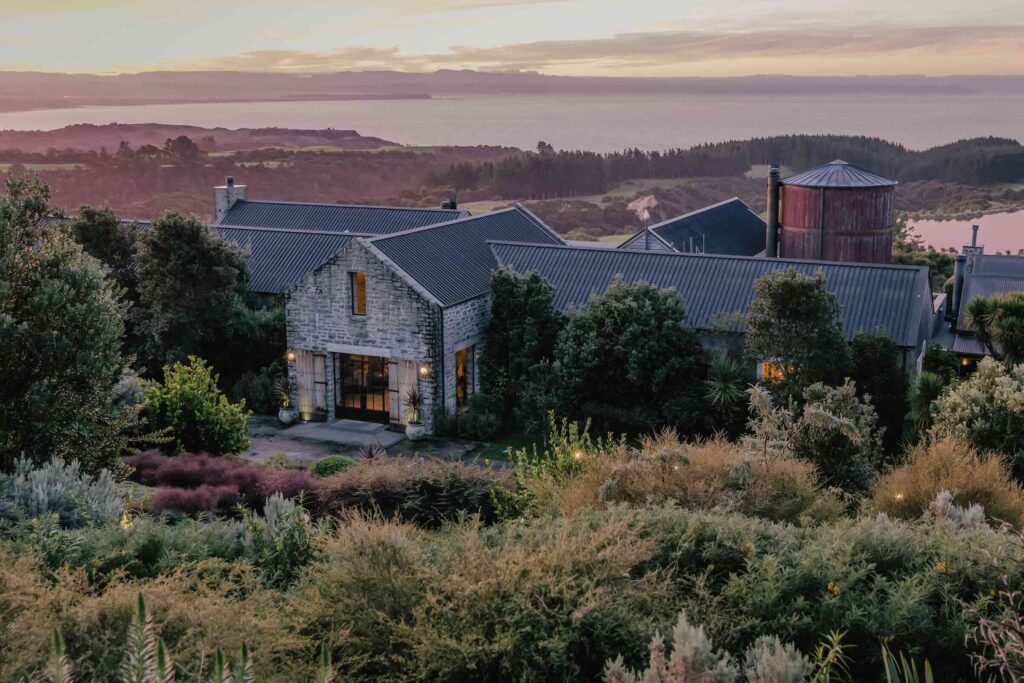 At the 24-room Rosewood Cape Kidnappers, connoisseurs might choose the 700-square-feet Lodge Suite, which has a working fire and 270-degree views. The total 6,000 acres include the largest privately funded wildlife sanctuary in the country, which includes the world's most important gannet colony. Think Tom Doak golf, ballooning, kayaking, winery tours, and a Montana-like cattle and sheep ranch that appears to plunge straight into the ocean.
Julian Robertson bought his third property, the 13-room Rosewood Matakauri Lodge on the South Island, from wellness author Yevrah Ornstein, author of such tomes as Forging the New Fathers: Why Contemporary Fatherhood Must Change. Go for the two-room Owner's Cottage, enjoy Lake Wakatipu and the surrounding Big Three peaks—Cecil, The Remarkables, and Walter Peak—and jazz it up in vibe-centre Queenstown, seven minutes away.
Expect Rosewood to offer three-property tours (Julian Robertson offered a nine-night Tiger Tour, three nights in each lodge). Hoss Vetry, Rosewood's Hong Kong-based vice president of operations for APAC, will oversee the three lodges. He says there will be a Rosewood GM for New Zealand, with one-property resort managers in each place. In 2018, Julian Robertson paid NZ$19 million for an 84-acre plot on Waiheke Island, off Auckland, and Vetry confirms that there are plans for further developments, which may well include owned residences. Yes, he says, Rosewood is really, really excited about New Zealand.
All images courtesy of Rosewood Hotels & Resorts.