In 2015, European winegrowers underwent a trial by fire, both metaphorically and literally, as the region experienced intense summer heat and severe droughts. It is not all bad news for oenophiles, however; most wineries were able to pull through the challenging harvest, producing exceptional vintages to add to their arsenal, though the effects of global warming on viniculture continue to be felt.
Despite heavy rain, hydric stress, and a warming climate, the year proved to be bountiful for fruit maturity, yielding exceptional aromas and powerful concentration. Moët & Chandon once again demonstrates its excellence in the field with the unveiling of its Grand Vintage 2015, made with grapes from a late summer harvest.
Benoît Gouez, cellar master of Moët & Chandon, considers the house's 76th vintage to be of "one of awareness and awakening towards climate change, both in the vineyard, and in the world. Grand Vintage 2015 is a champagne of contemplation—it marks the start of a new day."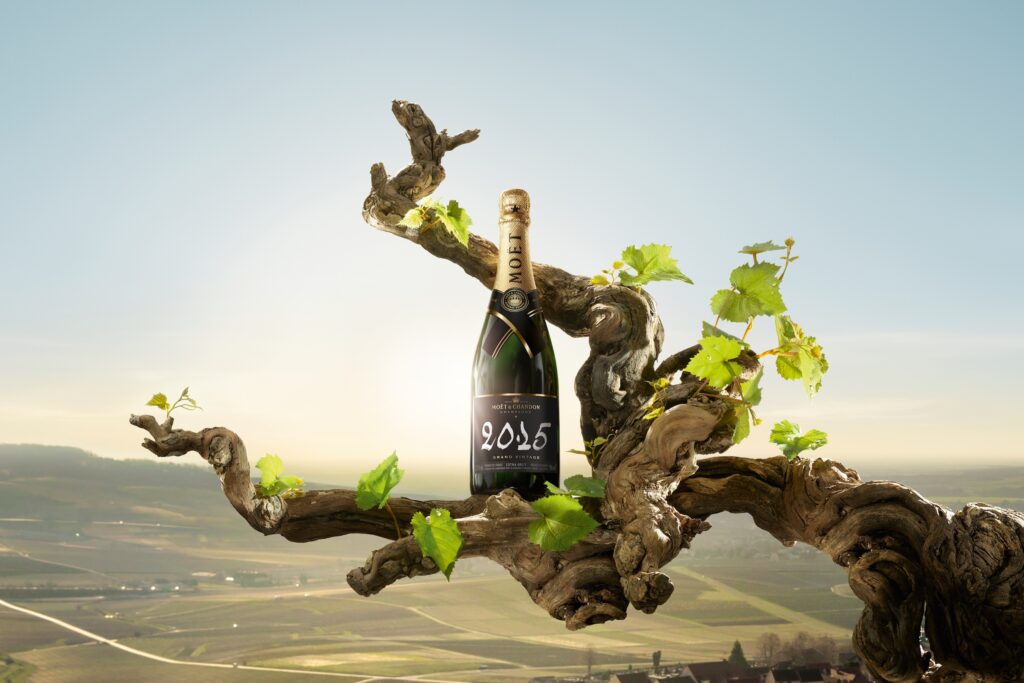 A notably tender and ripe rendition, the blend is characterised by a pleasant lemon-yellow hue, soft bubbles, lightness, and creamy foam, offering a diverse range of notes encompassing almond, baked bread, elderflower, jasmine, white peach, watermelon and more, born from grapes that surpassed arduous climatic conditions. Floral and spiced nuances intersect with a light bitterness for a lingering finish. Best suited to pair with delicate flavours and airy textures, the Grand Vintage 2015 is an ideal accompaniment to dishes that can match its ripe and tender qualities.
Each Grand Vintage is the cellar master's "interpretation of a specific year." In other words, the unique blend will appear only once in the house's repertoire. For Gouez, this is "a chance to discover the originality of a particular year through my eyes. Creating a blend for a Grand Vintage at Moët & Chandon is like working with negative film—you can see the shapes and contours, you can be confident in the result, but you do not know exactly how it will look until you develop the photo."
It is safe to say that the Grand Vintage 2015 is a blend to remember, even by the house's remarkable standards; upon tasting the still wines post-harvest, the cellar master and his team found the result to be "a well-ripened fruit that told a story of light, in a year marked by the brightness of an ardent sun." Moët & Chandon's pride in the Grand Vintage 2015 further reflects the house's commitment to sustainable practices as the largest landowner in the Champagne region. Preserving its unique terroir in a way that also benefits the environment, eliminating herbicides, and uplifting the territory's agroecology through the help of local winegrowers and partners are ongoing objectives of the house's biodiversity programme, Natura Nostra, ensuring that Moët & Chandon can continue to craft superb champagnes that honour its 280 years of enduring winemaking legacy.
Enjoy responsibly.
All images courtesy of Moët & Chandon.