Last week, after long—the pandemic screws with the concept of time altogether—Alfred Dunhill, now more mononymously famous as simply Dunhill, showcased a preview of its latest collection at the Four Seasons Hong Kong, with a pièce de résistance—the Alfred Dunhill Case of Delights—at the centre of the media melee.
Melee would be the wrong word, in fact, as it was more of a refined hush. Signature pieces on racks and on an impassive male model were brought to attention, and the key ingredients of the enduring brand (launched in 1893) were all there: the immaculate tailoring for the perfect fit, superior materials, sombre tones of greys, blacks, navy, and olive, the peacoats and jackets that can mix and match with anything, the strength in details, the zippers in opening pockets and the hardware studded at all the right places for strength and durability, the herringbone pants, the pinstripes—need we go on? It checks all the right boxes.

In the age of stealth wealth, Dunhill should have its renaissance this season. Or perhaps it never needed one, as the Etonites continued sporting the menswear brand in closed circles without fanfare. The essence of Dunhill has a patina of restrained luxury, in a "private club, members-only" way—it has always been in motion without brouhaha or a-dime-a-dozen, celebrity-endorsed affirmation. Ponder all that while looking at a cashmere turtleneck or the high-neck silk cotton jumper in emerald, with a barely visible stitched logo on the bottom left
lapel—so different from those brands that scream in headlights.
As we go to publish, the menswear looks are being kept under wraps till September, which gives us at Robb Report Hong Kong a great excuse to go at length at a limited-edition, black attaché case that can be yours for HK$273,950. One of only 10 made, this fine example of a Case of Delights was laid out front and centre and will be on sale in Dunhill's Central store.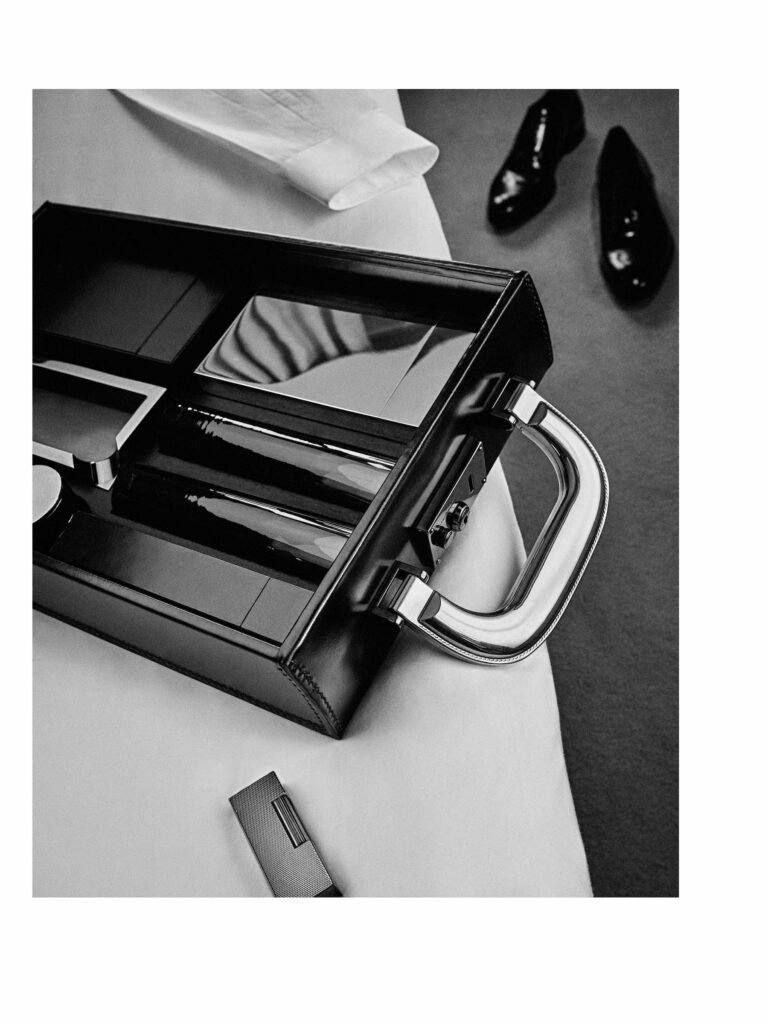 A beautifully constructed curation of items harking back to the rich archive of the luxury brand, this special case, handcrafted in England in bridle leather, is one to behold. When you open it—carefully—a wide range of key accessories from the 130-year old heritage brand is gorgeously displayed, items that include a galvanised black iteration of the iconic Rollagas lighter, a sterling silver-plated flask, a pair of shot glasses in smoked grey mineral glass, lifestyle products, travel sets, a White Spot cigar cutter (made in England and galvanised in Italy), an incense case, cigar case, ashtray, a White Spot pipe, and other accoutrements befitting the ethos of Dunhill: "Style, purpose, and personal luxury."
If anything looks nostalgically familiar, some of the items refer to the accessories made by Matteo Cellini for Dunhill in the 1930s. That handmade shot glass in smoked grey carrying the "Bando" mark is a nod to Cellini, with intention and respect.
Dunhill's menswear has seen so many iterations decade after decade, but it's noteworthy how often people inquired about the brand's golden Rollagas lighters, famous since the 1960s when a certain Bond, James Bond, lit up on screen with a sleek, instantly recognisable Dunhill accessory in Tomorrow Never Dies. For good measure, a special Aquarium table lighter was on display for HK$102,950 (though we found an enviable collection of restored Dunhill lighters at The Armoury, boasting an archive richer than the signature store's).

Over a century in existence, the storied book of Dunhill has many chapters and it recently started a new one; since we last wrote about the brand in Best of the Best 2023, Simon Holloway joined the British menswear house, another feather in the Richemont cap. Holloway's highly anticipated collection will premiere in February 2024 as he presents Dunhill's autumn-winter line.
For those looking for the cues in quiet luxury, kindly await the latest collection from Holloway who "will be instrumental as we evolve and expand our house's iconic codes in the context of today's client," says Laurent Malecaze, who joined the brand as CEO in January 2022. With chairs shuffling behind the seams, the only thing constant is the brand's "founding principles—innovation, functionality, British craft, materials, and makers. Throughout its lifetime, timelessness, finesse, and true luxury have been our house DNA."
Hear, hear.
But hush, please.
All images courtesy of Dunhill.