Audemars Piguet's newest timepiece is a real marvel.
The Swiss brand's new Royal Oak Concept Tourbillon features the superhero Spider-Man at the center of an open-worked dial. This is actually the second co-branded wristwatch to land in the AP x Marvel universe and follows in the footsteps of 2021's Black Panther tourbillion. (You might remember LeBron James rocking that beauty courtside shortly after its release.)
The newcomer pairs a 42 mm titanium case with a black ceramic bezel and crown to ensure your friendly neighborhood Spider-Man gets all the focus. The hero takes up almost all of the dial with his signature web-shooting pose.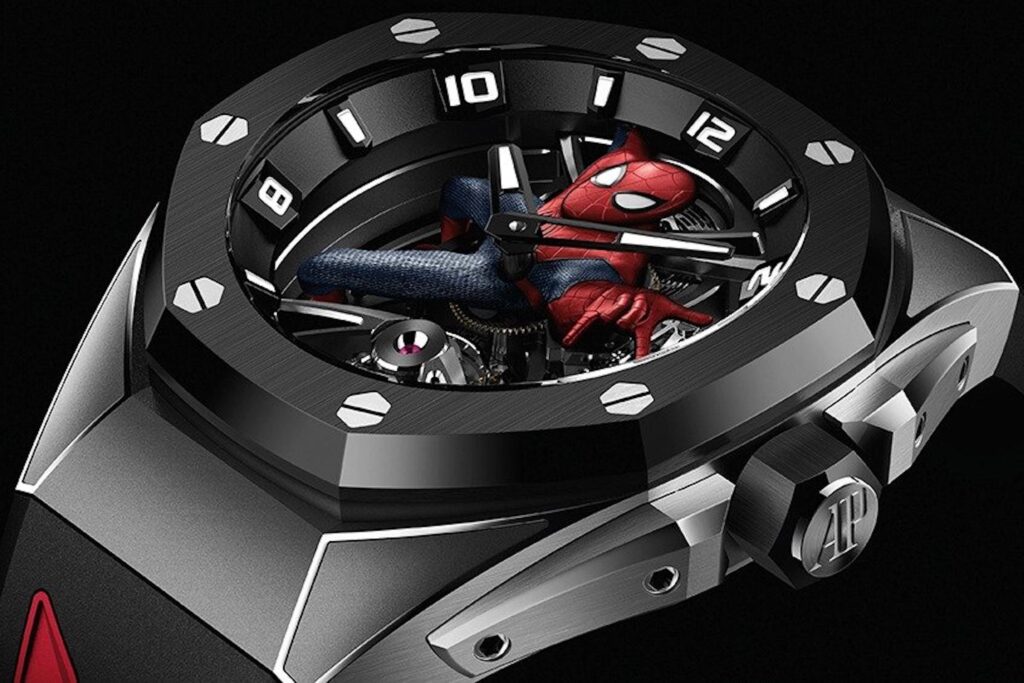 It took a heroic effort to make the mini Peter Parker, too. AP says each figure took a minimum of 50 hours of work to create. The silhouette was first cut from a block of white gold using a CNC machine, then the suit was laser-engraved to create texture. The final touch-ups were completed by hand, as was the meticulous paint job.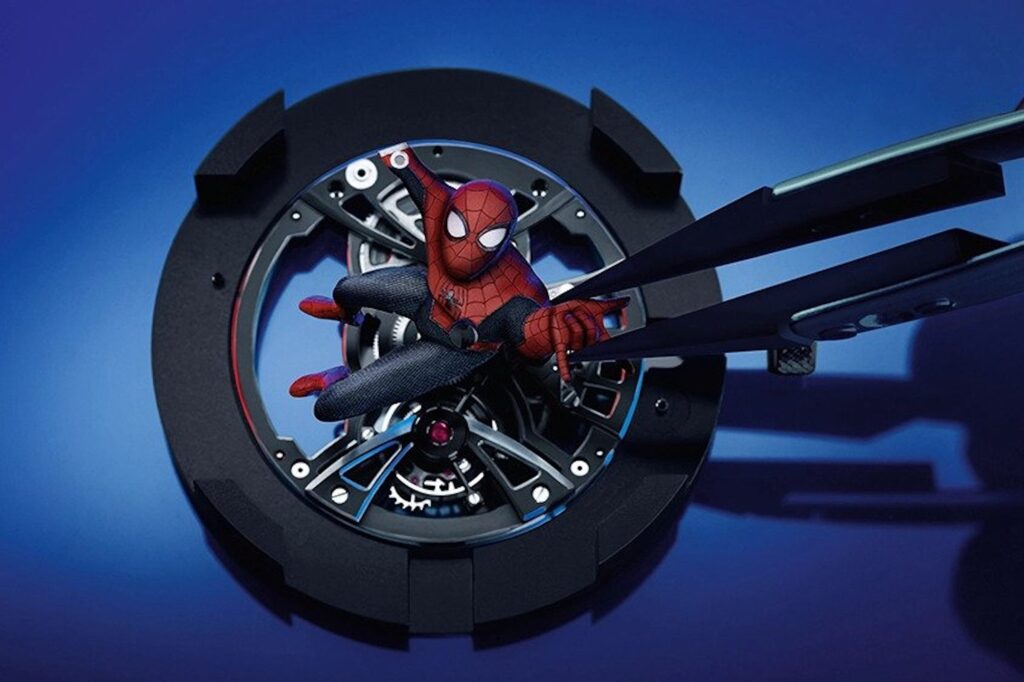 The skeletonized movement is another example of AP's clever craftsmanship. Based on the Calibre 2948, the new hand-wound Calibre 2974 has been stripped down to the bare minimum to create the illusion that Spidey is flying through the air—or floating beneath the sapphire crystal, at least. Other details include glow-in-the-dark hands and numerals, a transparent caseback, and an interchangeable strap system. (You can choose between a black-and-gray or black-and-red rubber strap.)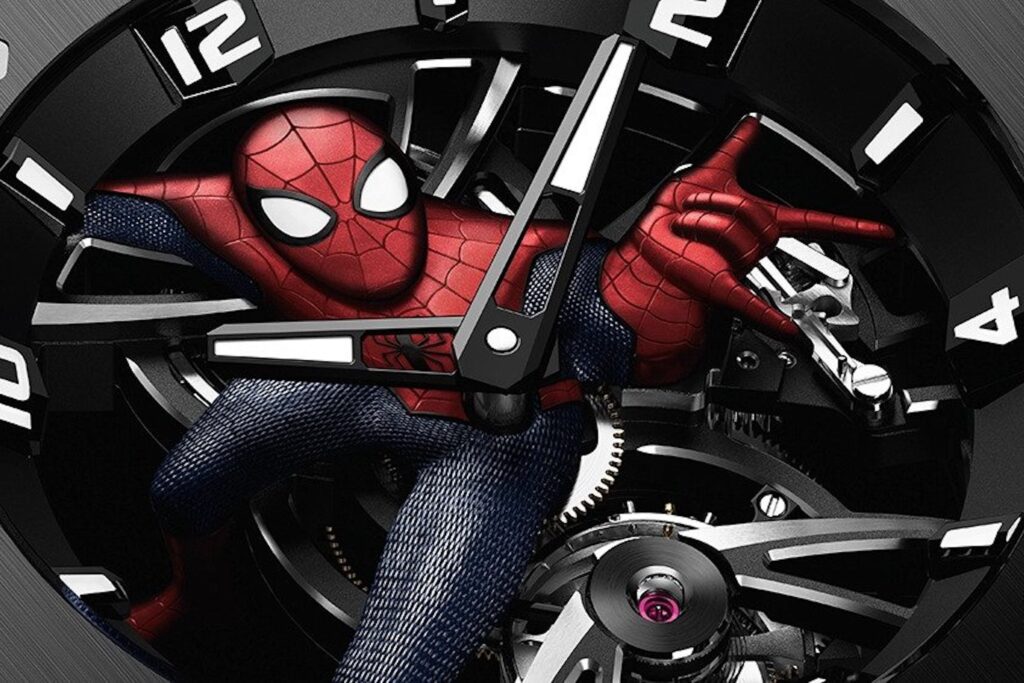 Once again, AP has given the Marvel release a charitable twist. The Swiss watchmaker has auctioned off a one-of-a-kind piece called the Royal Oak Concept Tourbillon "Black Suit Spider-Man" to raise funds for a nonprofit. Inspired by the black suit rocked by the superhero in some '80s comics, the one-off sold for US$6.2 million (HK$49 million) at a private event in Dubai on Thursday night, according to GQ.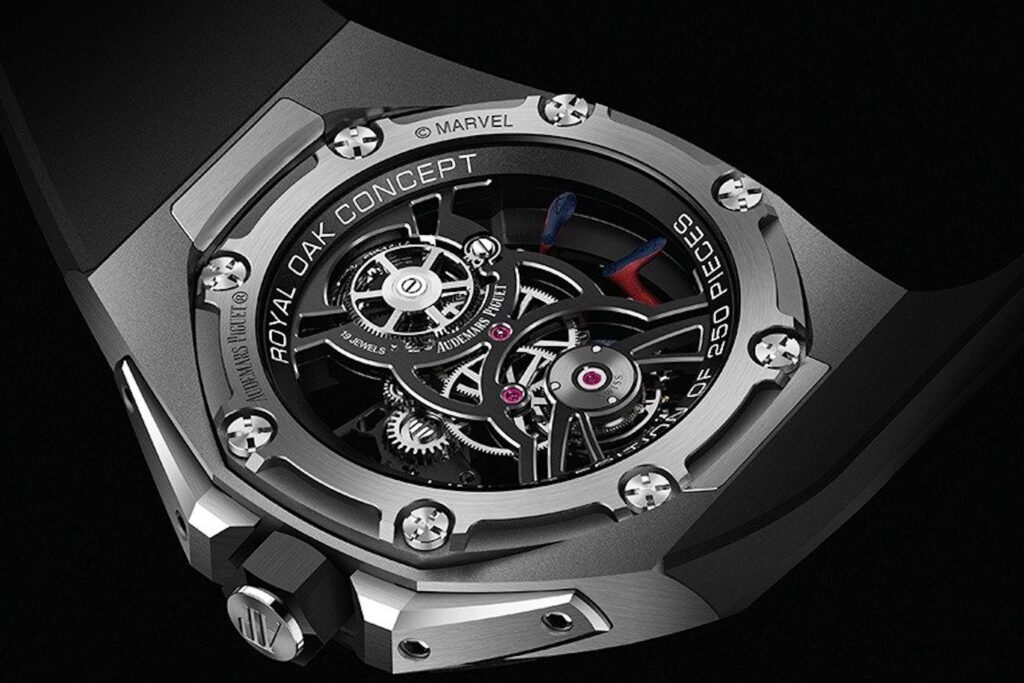 "For this second collaboration with Marvel, we want to pay tribute to Spider-Man, one of the most popular Super Heroes in the Marvel universe, who is aware that with great power comes great responsibility," outgoing Audemars Piguet CEO François-Henry Bennahmias said in a statement. "And, to mark the occasion, we are pleased to reiterate our commitment to First Book and Ashoka's work to empower young people to become agents of change; they are our real-life heroes."
Like its Black Panther predecessor, the Spider-Man watch will be limited to just 250. Each example will run you around US$215,000 (HK$1,683,709).