Cruise ships are responsible for titanic amounts of pollution. In fact, a recent study by Marine Pollution Bulletin says that a large liner can have a carbon footprint greater than 12,000 cars. Hurtigruten Norway is hoping to change that, though.
The Norwegian cruise line, which currently helms seven supersized vessels, just announced it will launch its first zero-emission cruise ship by 2030. It will then set about transforming its entire fleet into eco-friendly electric liners. (Two existing fleet members have already been turned into hybrids.)
The Sea Zero project was first floated in March 2022. Hurtigruten teamed up with 12 industry leaders and research institute SINTEF to pinpoint the green tech that will make its emission-free dreams a reality. Some technologies are at a relatively advanced stage, but others require further research and testing. However, the company is confident its first zero-emissions liner will hit the seas before the decade is out.
"We are committed to delivering a ship that surpasses all others in terms of energy efficiency and sustainability within just a few years," CEO of Hurtigruten Norway Hedda Felin said in a statement.
Spanning 443 feet, the inaugural electric vessel will feature 270 cabins for up to 500 guests and cabins for 99 crew. It will also have a large cargo hold and a space for cars. Hurtigruten says seafarers can expect superior comfort and spectacular views on board. You'll also be able to track your own water and energy consumption via an interactive mobile app.
In terms of power, the newcomer will be equipped with a 60 MWh battery pack that can be charged in port. The ship will be able to cover approximately 300 to 350 nautical miles per charge and the battery levels will be displayed on the hull sides.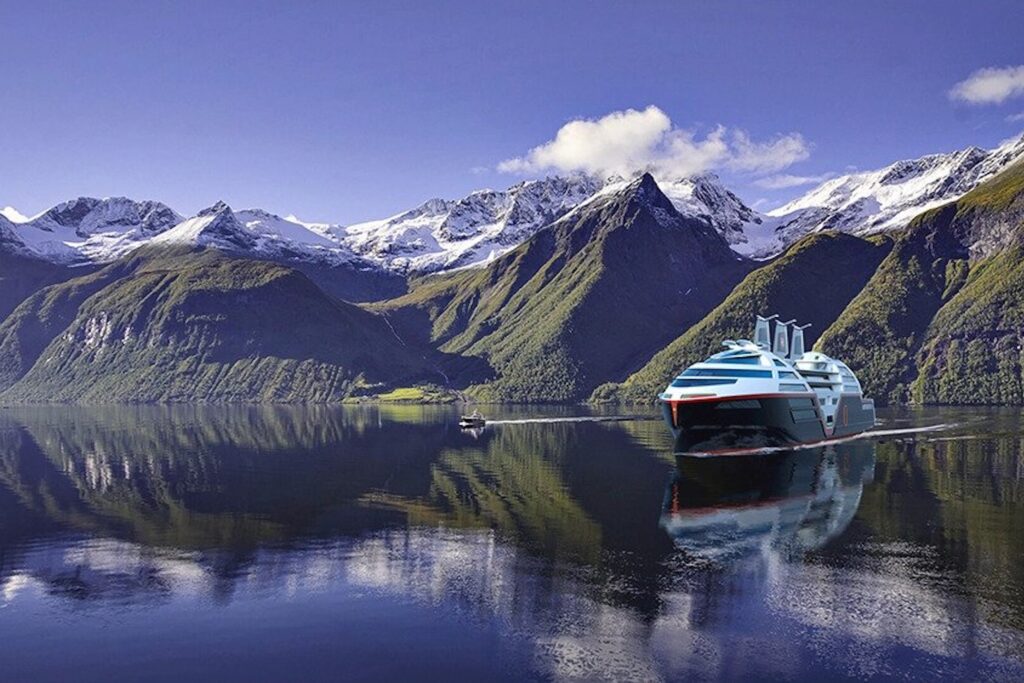 In addition, the vessel will be fitted with three retractable, autonomous wings. Towering at 164 feet, the rigs will comprise roughly 16,150 square feet of solar panels and offer a total wind surface of about 8,000 square feet. The set-up will generate additional green energy from the sun and extra grunt from the wind. The ship's streamlined shape will also help it save on power and sail more smoothly.
Hurtigruten says that only 0.1 percent of ships worldwide currently use zero-emission technology. As such, the company's electrification strategy could drastically improve the industry's sustainability record (and reputation).