If someone asked you to close your eyes and think of a tropical paradise, you might imagine palm fronds waving in the breeze, a pristine stretch of white sand, coconuts littering the beach, a swim-up pool bar, a macramé hammock slung between tree trunks, and a cerulean blue ocean.
Past the jetty, flaming red fire trees and bougainvillaea burst to life along the winding pathways between white-walled villas, while heliotrope trees cast tangled shadows through gnarled branches. A black tip reef shark swims lazy circles around the corals, and newly hatched hawksbill sea turtles push their way out of the nest, stumbling for the water.
If that description is getting a little too specific, it is because that tropical paradise looks a little something like Banwa Private Island. Well, to me, at least.
By now, the questions are bubbling. What is Banwa, where is Banwa, and indeed, how does one get to Banwa?
First, some facts. Banwa Private Island is a landmass of six hectares, sitting in the Sulu Sea off the coast of Palawan in the Philippines. Six villas are sprawled across the island, accommodating up to 22 guests. On foot, you can traverse the whole of Banwa in under one hour. What keeps the whole operation chugging along nicely are the ground staff, about 80 of them, to manage everything from guest relations to food and beverage, recreational activities, groundskeeping, housekeeping, eco-conservation efforts, and engineering. Around the island, in the waters that form part of northeastern Palawan's Coral Triangle, swim more than 2,000 species of reef fish, meandering through all kinds of aquatic flora.
Getting to Banwa is a scenic trek, no matter the form of transportation. Go by seaplane from a private hangar in San Vicente, and skim over the waves for an entrance to remember. Hop on a helicopter straight from Manila or from nearby Puerto Princesa for a dramatic landing on the centre of the island. For something closer to land and sea, there's the amphibious Iguana, a compact, white-and turquoise speedboat emblazoned with the Banwa brand that packs two powerful 350 hp engines for a thrilling overwater ride. If you want to go from door to door, it is only three hours via private jet from Hong Kong and then a helicopter ride.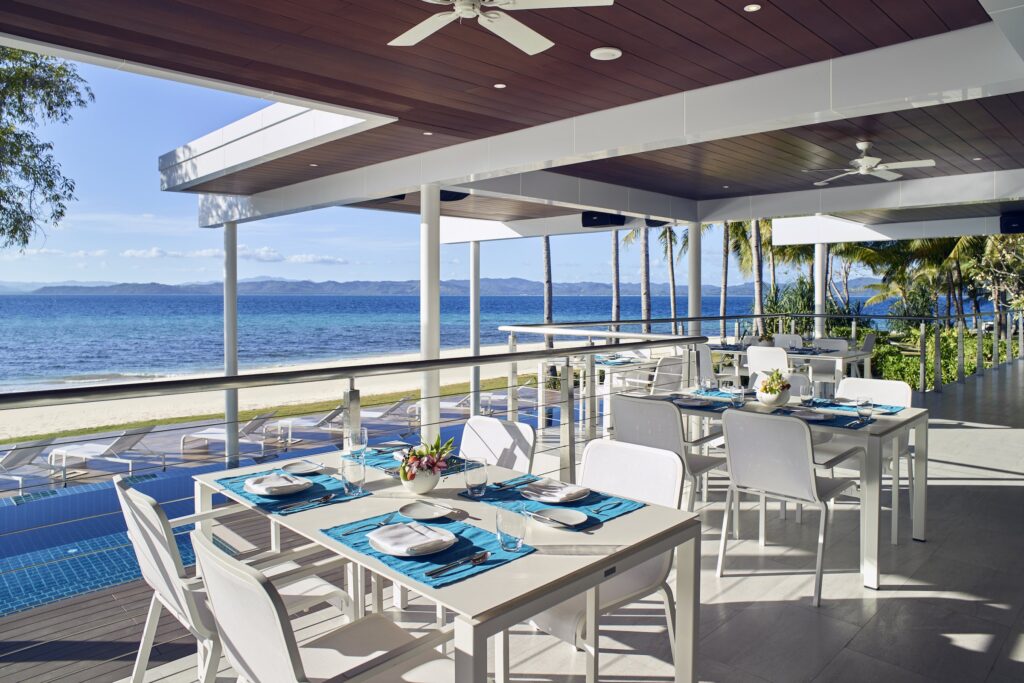 We take the long way there, setting out from Puerto Princesa for a three-hour-long drive, outstripping the multi-coloured, tuktuk-like tricycles that roam the city; these customised vehicles—little more than souped-up motorbikes with sidecars, but such unique works of art—keep us company until we peel off into the countryside. Emerald fields, undulating mountain slopes with forested cover, tall banana palms, and long winding roads roll past you like waves. Villagers dry their grains on the side of the road, the asphalt cooked by the sun.
From the Roxas Port beach, it takes 30 minutes to reach Banwa by Iguana, but what a glorious half an hour it is—the surroundings melt away to reveal clear blue waters and endless sky. It feels ok to use tropes and absolutes to describe the arrival experience, because everything here feels larger than life. You don't see where the water ends, the sky goes on forever, and there are no neighbours to speak of (the closest settlement is far away across the Sulu Sea). You are, truly, secluded and alone on a remote island—with a team of 80 to cater to your every whim.
As a fellow traveller puts it, with humour, "It's giving White Lotus vibes." Absolutely, it is, in the "paradise" sense, minus all the misbehaviour, the murders, the chaos, and the drama, of course.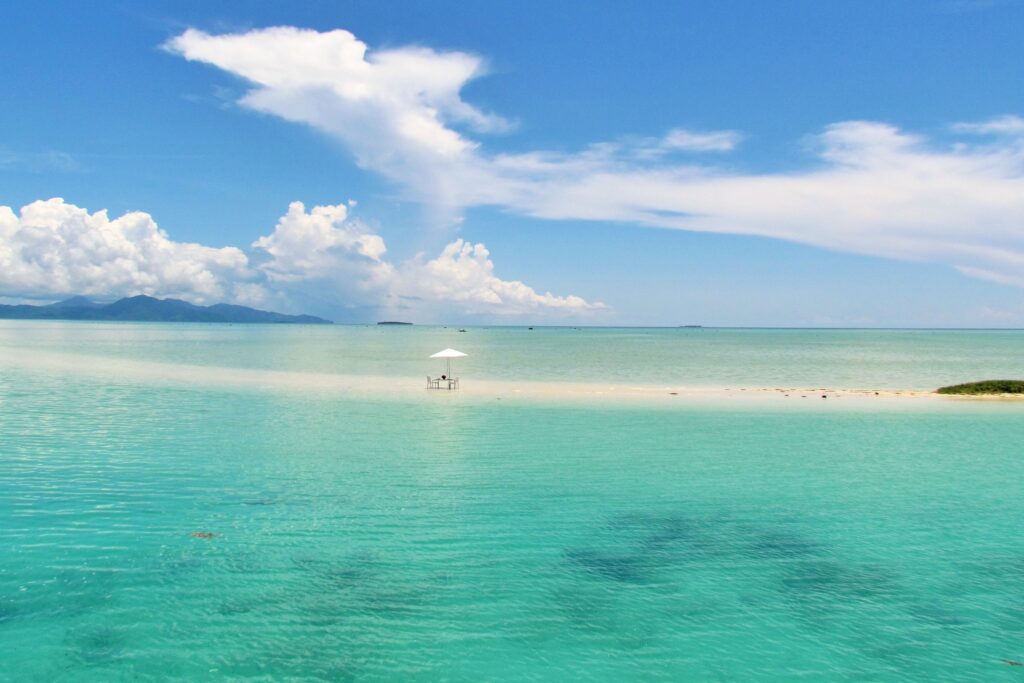 Banwa is an experience that will cost US$45,000 upwards per night if want the whole island all to yourself, and that's a discount, considering Banwa once made the news as the "most expensive resort in the world." And what did the most expensive resort in the world charge per night? A bonkers US$100,000 for an island buy-out. Now that's one for the books.
But the past is the past, and a long pandemic brings perspective. Banwa has reconsidered itself and is working hard to shed its former image. Sure, branding the island as the most expensive resort in the world makes for an irresistible headline (we would know; Robb Report featured Banwa when it first opened four years ago) but "that does not represent what the island is all about, at all," says Pamela Balce, commercial director of Banwa.
Even though it sounds like a sales pitch, there is more than just a grain of truth to it—the now-outdated label completely glosses over the years of laboursome marine conservation efforts, educational activities, and eco-conscious initiatives that Banwa actively engages in, and what the island should be known for, rather than just its price tag. Banwa is more than just what it looks like—and, yes, it does look very gorgeous in pictures and in real life—but the message here is that the island resort formerly known as the most expensive in the world packs a lot of substance underneath its glossy, well-tended surface.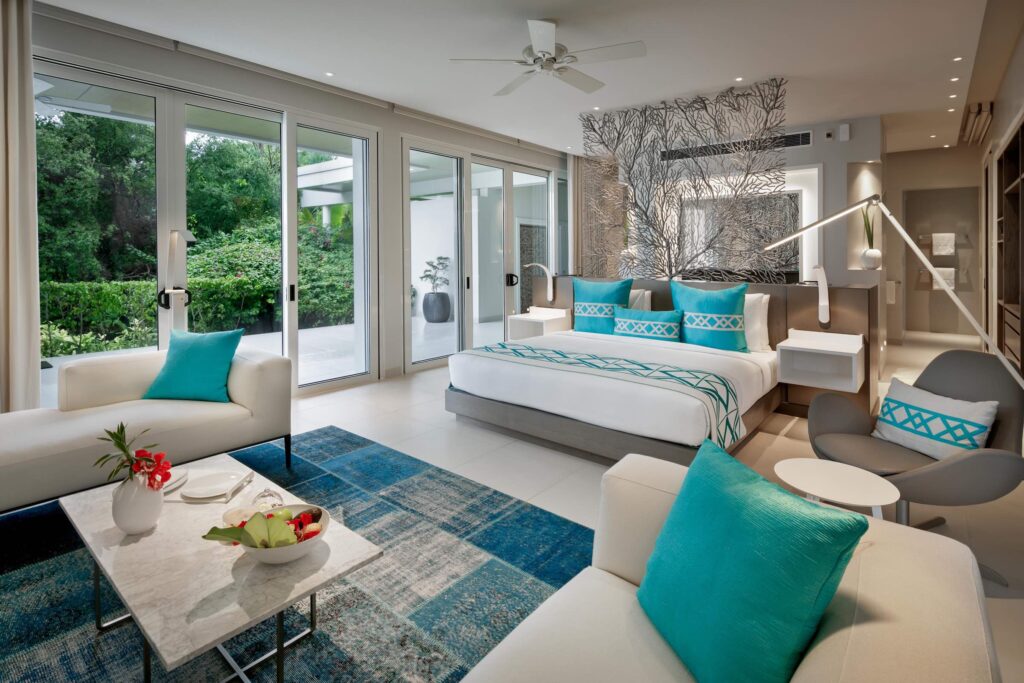 Denmark, our villa host, hands us freshly cut coconuts the size of footballs to sip from, harvested just that morning from the island grove, before we set off on a walking tour of Banwa's facilities. Nine-hole golf course, tennis court, spa, gym, wellness studio, restaurant and bar, and dive centre? Check, check, check, Banwa ticks all the requisite boxes.
When it comes to the villas, choose from one-bedroom, two-bedroom, or family-sized, each with its own pool and hot tub. Contemporary architecture is made uniquely Banwa through the blending in of local crafts and materials. Inside the rooms, the coral-shaped headboard is a strong statement piece that takes inspiration from the marine environment, and the geometric patterns and design details are derived from the indigenous Tagbanua—also known as Tagbanwa—tribe, one of several ethnic groups in the Palawan area, and one of the oldest in the Philippines. Large windows afford clear views of the garden terrace, pool sala, beach, and ocean. And then there's the quiet—Banwa is so beautifully, blissfully quiet. All of this translates into a space that is stylish, cosy, calm, and not so fussily overdone that you feel like you need to leave the place looking untouched after inhabiting it.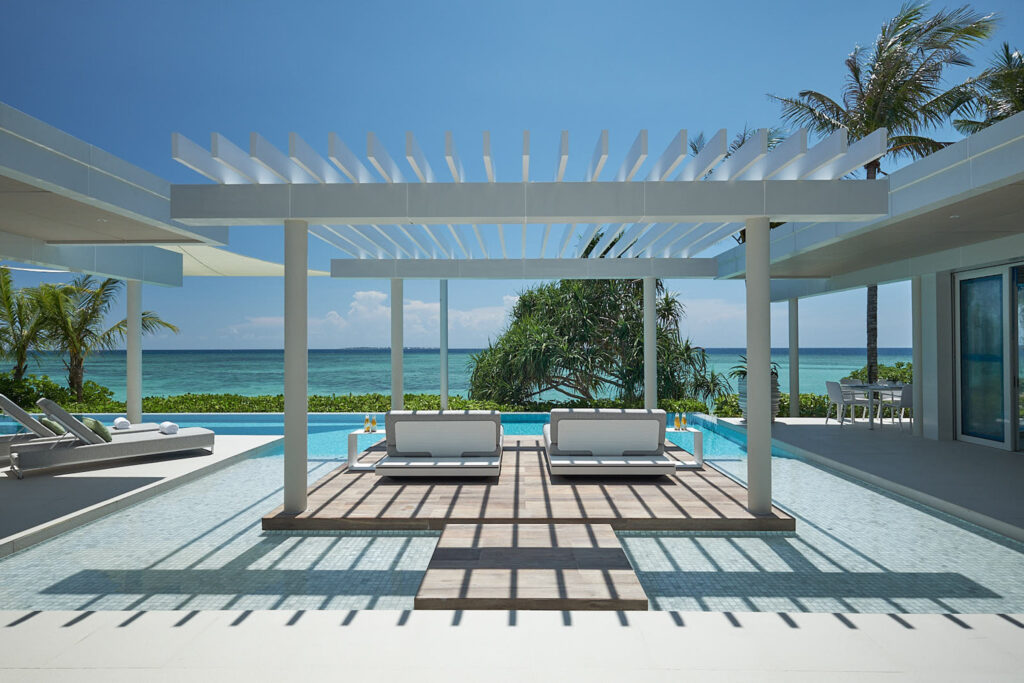 As much as possible, Banwa is run self-sufficiently. Water is drawn from the artesian well, which runs more than 150 metres under the island, and bottled and carbonated on-site. Fresh honey is collected from hives at the fringe of the golf course, used for the most incredible lemongrass tea—made to Banwa's own recipe and a firm favourite among the group, frequently requested. It even has its own weather station, which seems frivolous for an island of six hectares, but with the equipment, staff can "calculate the amount of water lost from the soil due to evaporation and plant transpiration." Irrigation schedules can be automated and adjusted, ergo no over-watering and wasting of natural resources.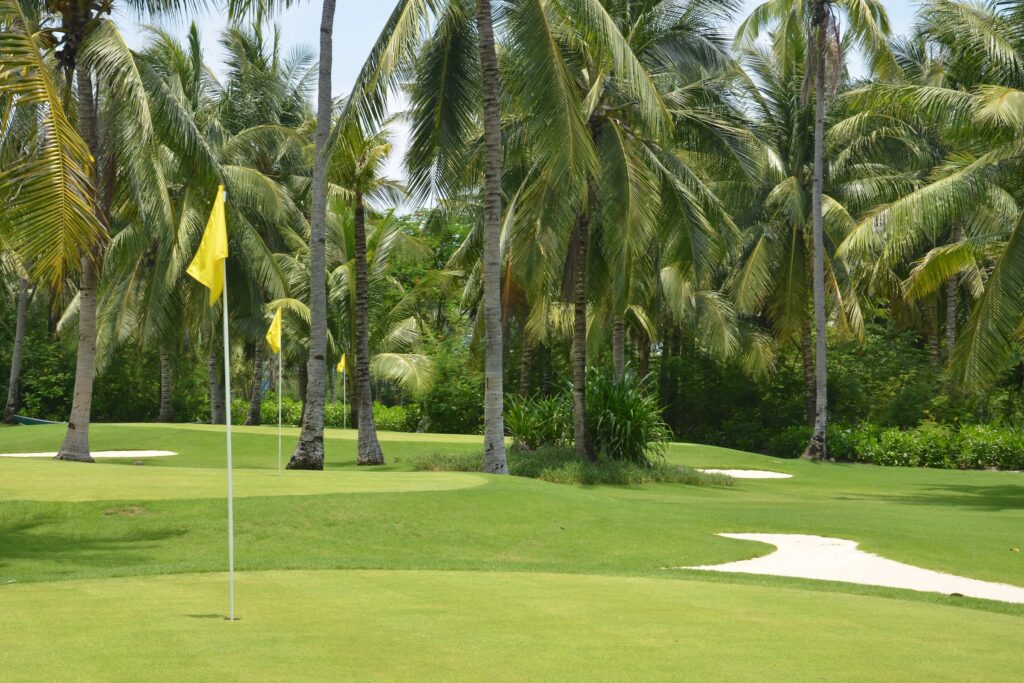 Going the extra mile to promote healthy eating habits, training opportunities, and sustainable practices, produce is grown on Banwa's own organic farm in the Palawan settlement of Tumarbong. Ingredients are sent to the island daily for the chefs to whip up plates like shrimp ceviche, cauliflower soup with garlic croutons, striploin with mashed potatoes, and even flourless chocolate cake. Fish and meat are bought from local farmers and fishermen to support the community. Name your diet and the rest will be taken care of. Go all out with your dining—Latitude Restaurant aside, meals can be taken almost anywhere on the island. Mention you like something—say, a freshly pressed juice or a specific cocktail—and your villa host will, at regular intervals, check in with you for a top-up. I must have devoured Banwa's entire supply of mangoes during my stay.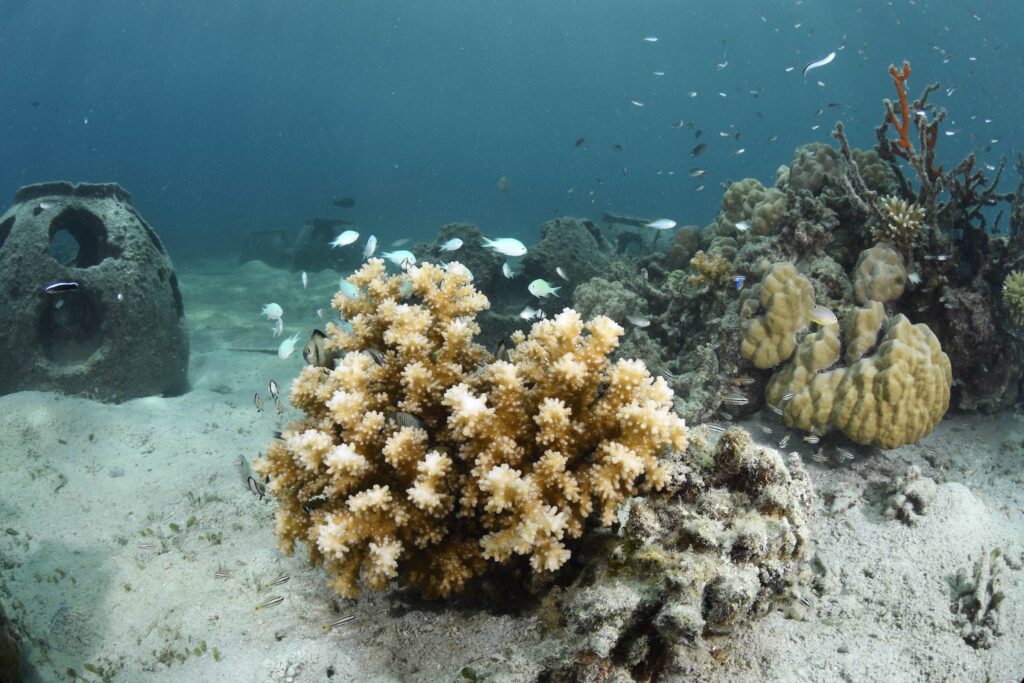 Banwa does much to keep its island in tip-top shape, and the courtesy extends to its surrounding waters with the Aquos Foundation. Set up to conserve and nurture the delicate ecosystem of the Sulu Sea, Aquos has facilitated the rehabilitation of marine life by creating natural protection boundaries at the edge of the reef so fish can thrive. Its Reef Balls programme deployed over 400 structures to promote coral growth, encouraging the return of endangered species. You can see the results of Banwa's efforts when diving in the area, where catsharks, groupers, and rays have been spotted. Back on land, Aquos has been successful in building a habitat for avian residents and diverse local flora.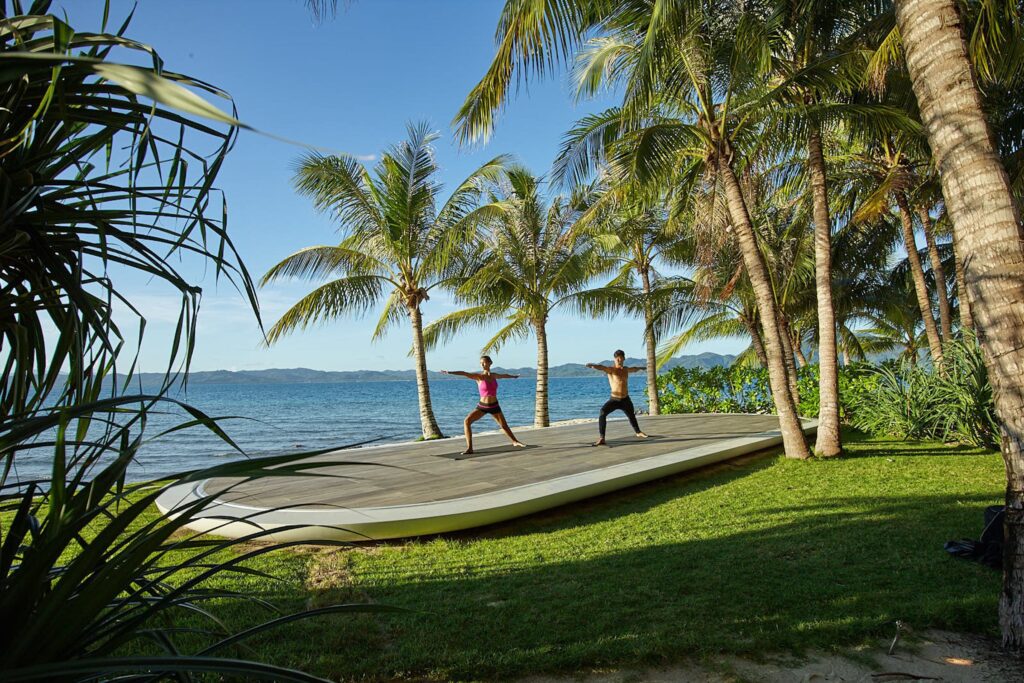 6 am is sunrise yoga time. We wake up our bodies with a gentle flow as the light kisses the shore. A strong breeze blows through the coconut grove, where exercise mats are laid out for our morning practice. Go through your practice with your eyes closed, and by the time you're done, the sun is in the sky. Is there anything quite like savasana by the beach, with the wind rushing through the palm trees and the waves rhythmically lapping the shores?
Not down for downward facing dog? It's just a hop and a skip to Banwa's nature reserve, an enclose for the flightless tabon bird, which uses the island as a nesting ground. Careful where you step as you make your way across the beach; hawksbill sea turtles also make their nests in these sands. Pick up the fallen fruits of the puzzlenut tree, a native plant that spews giant, round nuts that come apart in segments you can jigsaw back together. If you hear a hoot from the trees, that's probably George, Banwa's resident Mantanani scops owl.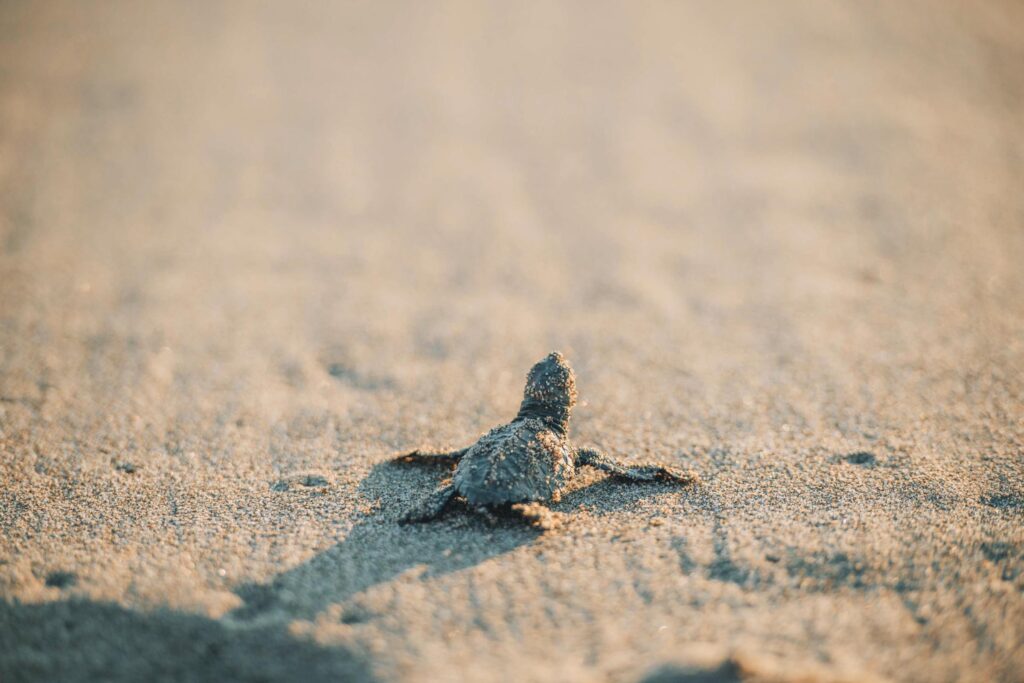 Over the course of three days, we practice scuba diving in the pool and in the ocean, go snorkelling around the house reef, take out the pedal kayaks for a spin, stargaze on the jetty, play I Spy with the tabons that scurry across the island walkways, go on boat tours, indulge in wellness treatments, and have many, many unhurried meals, all delicious, none repeated.
Best of all, if you're really looking to escape, from regular life as much as from people (like me), it's frighteningly easy to avoid running into anyone else on Banwa. Each villa is situated a respectable distance from one another, so your neighbours can be as close (or as far) as you want to keep them, and there are plenty of serene places in which to enjoy me time. Live out your Cast Away fantasies of being stranded on an island in the coconut grove, Wilson the volleyball replaced by a freshly cut fruit. Ponder on your survival strategies, and how well you can build a fire, while wandering the stretch of white-sand beach that encircles the entirety of Banwa. Well, until lunchtime rolls around, anyway, when a three-course meal of beef carpaccio, chicken gyro, and crème brûlée with an oversized macaron calls your name. Maybe leave the fire-making to the professionals and enjoy their excellent cooking instead.
On the other side of the coin, no audience means no judgment. Hop on a speedboat swaddled in a plush bathrobe and tour the archipelago, the way we did, and bask in the small pleasures of being able to indulge in luxurious fancies like these to the fullest.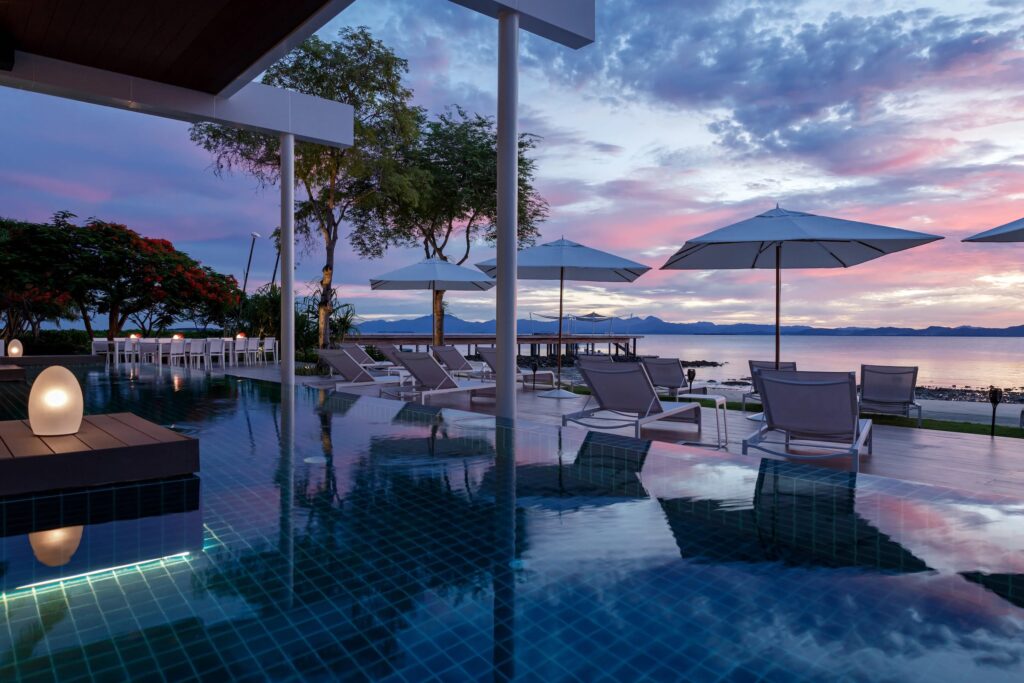 For me, the beauty of Banwa is that you can holiday however you want, and you can feel good about it. Maximise your itinerary with scuba dives in the nearby Tubbataha Reefs Natural Park, hike and explore UNESCO World Heritage Sites on Palawan, chase waterfalls around Mount Ilian, snorkel in the shallows around the island, cruise the Sulu Sea on a yacht, tour a maze-like mangrove forest on the Barbacan River, go Hobie Cat sailing—the list goes on.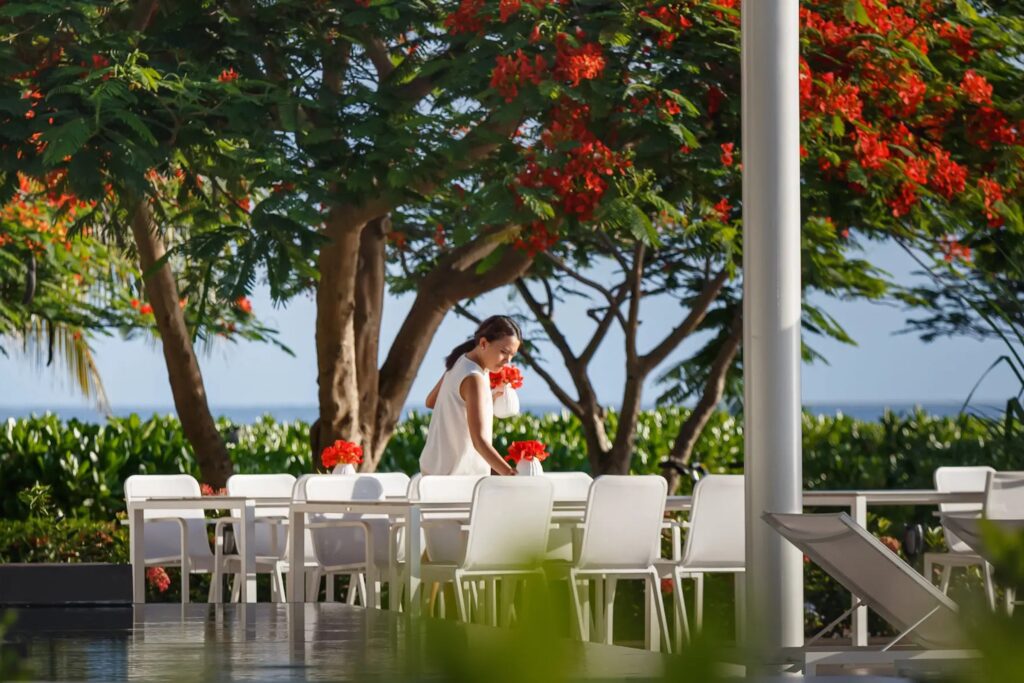 Or enjoy your days the minimalist way, with languid massages, picnics on sandbanks, stand-up paddleboarding, stargazing, learning about the regeneration and conservation efforts of the Aquos Foundation while tabon-watching, and practising your swing by whacking golf balls off the jetty. It's good for the surrounding marine life, too—the golf balls dissolve in water after 24 hours and the core is made of fish food. Your bespoke adventure can be big or small—or something in the middle, like mine was.
Just know that no matter how you spend your time at Banwa, how fast or slow you go, everywhere you turn, there's Denmark, with a bright smile and a fresh mango juice at the ready.
All images courtesy of Banwa Private Island.