Sometime around noon, I must have dozed off following an early morning drive through the bush. The sound of crunching leaves and a faint grunt roused me. It wasn't our host approaching my chalet. Sitting up slowly, I saw the trunk of an elephant pulling on a tree branch for its afternoon snack, outside a fenced window to my right. After filling up, it led its small family to the watering hole just ahead of my chalet. That's how you wake up in one of Zambia's most luxurious bushcamp stays.
Founded in 1999 by Andy Hogg and Andrea Bizzaro, the Bushcamp Company resides in South Luangwa National Park with six exclusive bushcamps and three lodges in the remote south of the park. The closest airport to its main grounds is Mfuwe International Airport. It's a 45-minute drive to the company headquarters, Mfuwe Lodge, our first night's stay. Hogg, a native Zambian, was there to greet us and give the lay of the land. Glancing around the open-air site set near two hippo-filled lagoons, I felt a world away from home as we began to embark on our four-site tour across the grounds.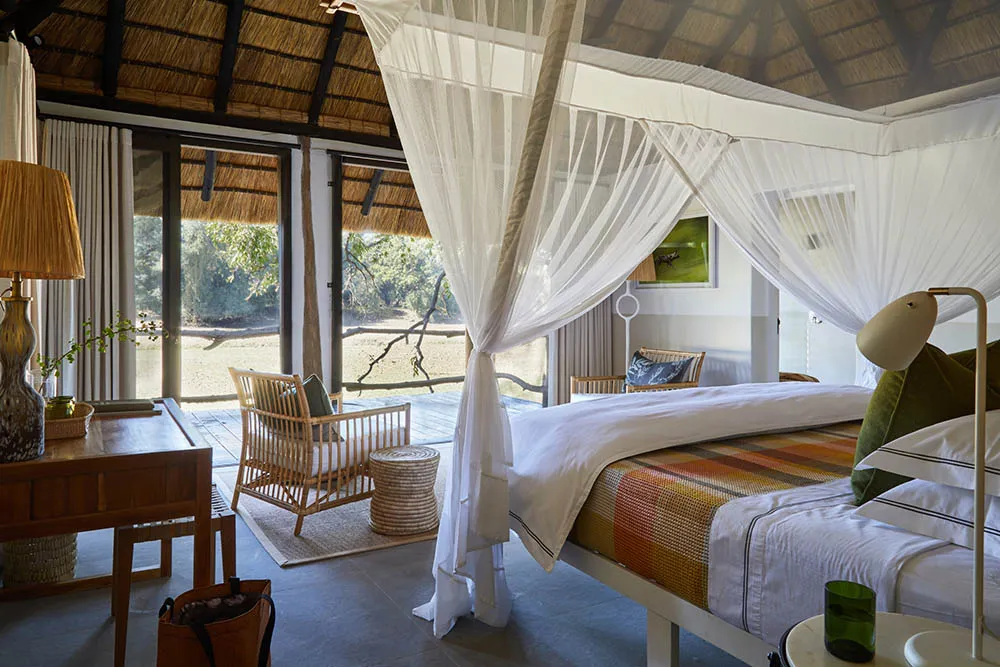 Mfuwe Lodge spans 18 waterfront chalets with a swimming pool and spa, bar, and dining area. My room had a king-size bed covered with a mosquito net and a modern bathroom with separate shower and restroom facilities. Although I had a run in with a large but harmless black spider in my room that evening, you'll want to brave the bugs on the outdoor patio overlooking the lagoon where hippos make their laugh-like croaks.
Following a scenic-view breakfast alongside a pack of impalas the next morning, our group left for the Zungulila bushcamp. Unlike the lodge where we had Wi-Fi and air-conditioning, it was set in a more secluded area of the park. Yet it supplied us with clean, regularly tested water sourced from deep boreholes (water wells) for drinking, showers, and meals prepared by head chef Wendy Dunn—like all nine properties in the Bushcamp Company fold. Solar panel displays on site here also helped to heat water for showers, fuel camp lighting, and power kitchen equipment.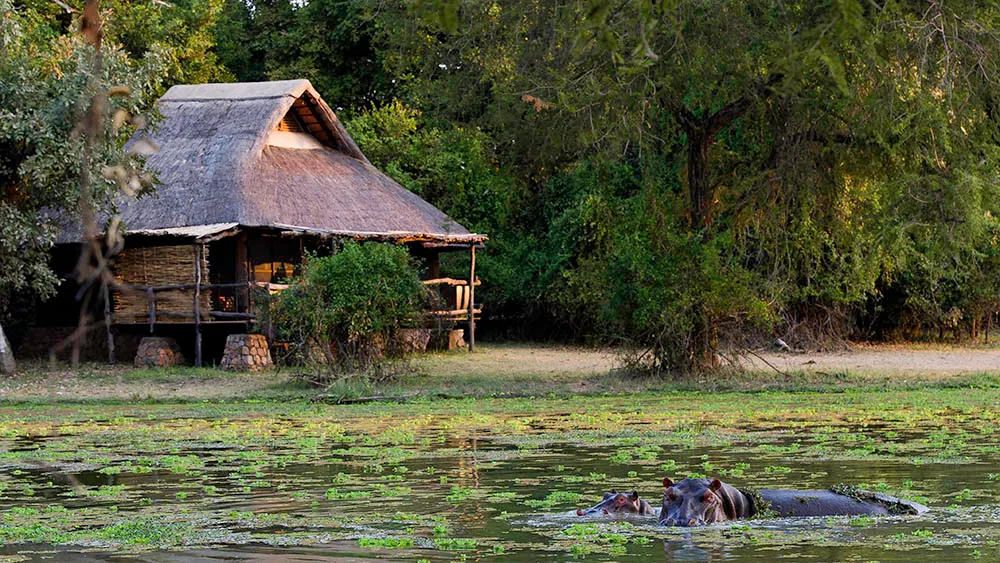 Zungulila was the most peaceful of the four sites I experienced, open April to January yearly with four chalets that provide stunning outdoor bathtubs and landscape views. You won't have charging outlets for your devices here beyond the central lounge, bar, and dining area, where we all scrambled to power things in the mornings and before bed. One evening, I forgot to charge my phone and it died back at my chalet: Not being able to recharge it and try checking in on emails or social feeds just made for a better night's rest.
The second bushcamp, named Bilimungwe, or Bili as Hogg calls it, is open May to December. This four-chalet outpost has watering holes placed behind each accommodation, which afford you unforgettable views of kudu, baboons, puku, elephants, and the occasional leopard. The site's quirky lodge manager Alex Stewart is a gracious host, sharing captivating stories of years past at the camp over dinners and during sunrise breakfasts overlooking the Luangwa River. This was the best stay of our tour because it offered both an exciting kind of peace and unfettered charm. One final note: Two of its chalets, including mine, had bats inside that came out at night, but hey—when in nature, right?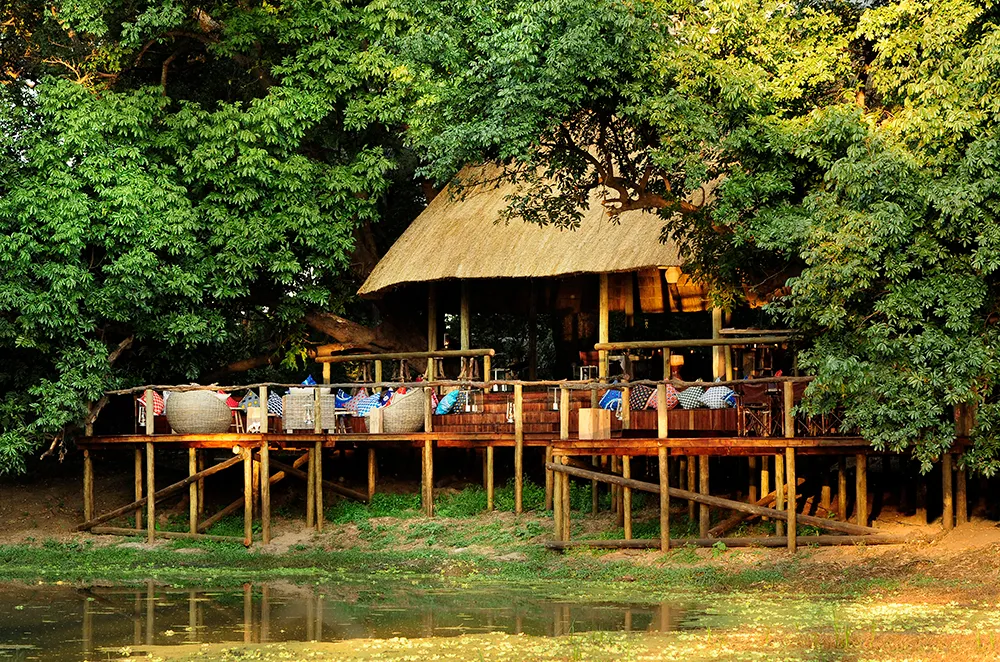 Robb Report was also one of the first to experience the newly opened KuKaya Lodge by the Bushcamp Company. Open year-round, it houses five tented villas with two separate rooms inside. A single-unit villa is also available to guests as a sixth room for a minimum of two guests. While its luxe facilities range from a kitchen with a stocked fridge to a fire pit and private swimming pool, it felt disappointingly generic and rather too similar to a luxe accommodation you could find anywhere—minus its ties to late Zambian president Kenneth Kaunda whose former holiday home resided here.
Despite this, KuKaya Lodge felt like the best accommodation for a large group or families. In fact, over dinner and drinks on a few evenings we were joined by one family who were happy with their stay. I also say this because aside from the baboons, I felt least aware here about what animals could be lurking outside my villa or potentially agitated by, say, the sounds of a crying toddler. Children under the age of 12 aren't permitted to join in on walking safaris in the park. You'll also need to reserve a private camp or hire a private guide and vehicle for the duration of your stay if you're traveling with children under the age of 11.
I experienced two walking safaris, both led by our amazing guide Fannuel Banda who has been with Bushcamp Company for 17 years. His expertise led us close enough to a giraffe for picture-taking one morning nearby the Kapamba River. We also trailed a pack of wild dogs and witnessed a leopard scale a tree to catch a baboon on separate game drives he hosted. It was spectacular. Night drives featured the famous "sundowners," or stops along the river at sundown for refreshments and a view. We also enjoyed special surprises which are factored into every guest experience. They range from a lunch in the bush to an evening kickback set in the river, complete with Dunn's delicious meals like chicken skewers with wine or family-friendly pizza and taco-making on site.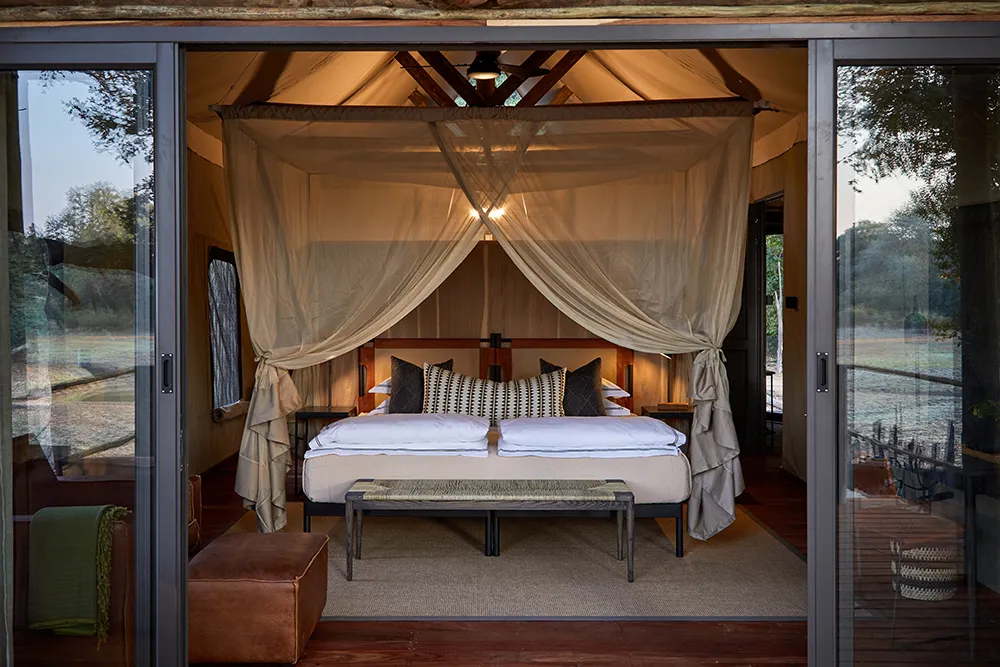 There is more to come here, though. Hogg walked us through a blocked off section of KuKaya Lodge where he's constructing an upscale boma/guest area overlooking the nearby lagoon. It houses a sunken rondavel section where Kaunda held private meetings; guests will be able to enjoy drinks here with their group. At dinner one evening, Hogg mentions one other natural perk he aims to factor into the guest experience.
"The annual bat migration at Kasanka National Park in Zambia happens each November," he says. "For discerning safari goers, the combination of the Kasanka bat migration and the Mfuwe Lodge elephants in reception will be an unforgettable experience."
Rates for all four locations range from US$480 (HK$3,754) to US$630 (HK$4,927) per person a night.