Welcome to Checking In, a review series in which our editors and contributors rate the best luxury hotels based on a rigorous—and occasionally tongue-in-cheek—10-point system: Each question answered "yes" gets one point. Will room service bring you caviar? Does your suite have its own butler? Does the bathroom have a bidet? Find out below.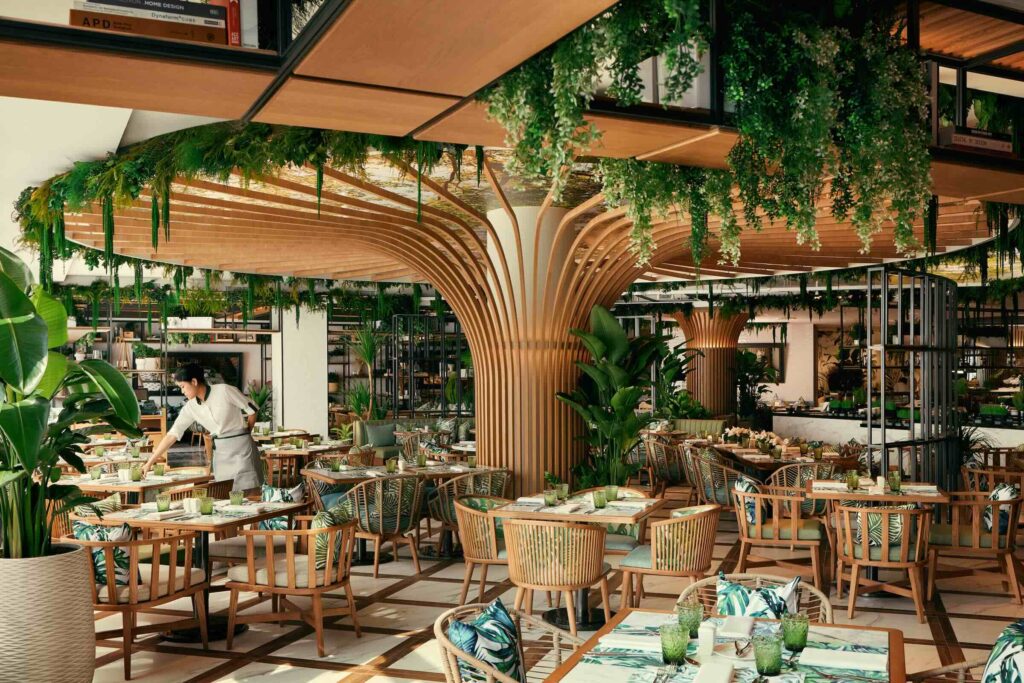 Describe the property in three words: Elegant. Luxurious. Vibrant.
What's the deal? Designed by late American architect John Portman in 1987, this iconic hotel, with its signature soaring atrium, has reopened following a six-month overhaul by Kuala Lumpur-based firm DesignWilkes. Inside, the once classic interiors have now been transformed into a light-filled, vibrant explosion of colour inspired by Mandarin Oriental Singapore's tropical location and its jaw-dropping views of Marina Bay.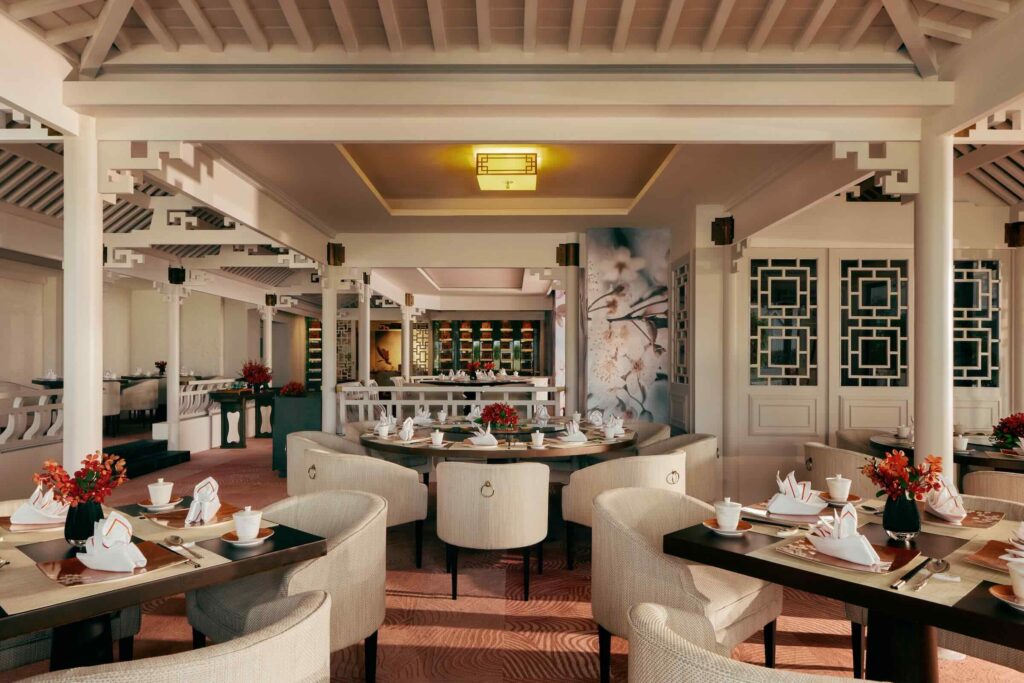 Of the 510 rooms, there are now 42 suites including a new Presidential Suite and a four-bedroom Royal Marina Bay Penthouse, plus 45 residential suites for longer stays. And, of course, the Mandarin Oriental Singapore's drinking and dining options continue to take centre stage, with a new Mandarin Cake Shop in the lobby, a newly reimagined all-day dining restaurant called Embu (inspired by the tembusu, one of Singapore's heritage trees), a new cocktail menu at MO Bar, and the addition of a completely refreshed club lounge.
The best room? The sprawling Presidential Suite or the Royal Marina Bay Penthouse with its private balcony that overlooks the Formula 1 track is no doubt a great option, but the magenta-hued Marina Bay Suites, their colours inspired by Singapore's national flower, the orchid, are perfectly proportioned and comfortable, with a living room, spacious bathrooms, and floor-to-ceiling windows that frame those panoramic views. Make sure to sleep with the curtains open so that you can wake up and watch the sunrise from bed.
Does the hotel have a standout perk? Like all Mandarin Oriental hotels, there is a Club Lounge level, which guests have access to, depending on the room category booked. This one is called Haus 65 and alongside a complete interior refresh, they have also smartly teamed up with Mandala Club—a local private members' club—to curate the space, which now includes a dedicated wine cellar and a library. Mandala Club members have access to Haus 65, as well as the hotel's other facilities like the pool (and vice versa) and like all of Mandarin Oriental Club Lounges, guests can enjoy daily breakfast, afternoon tea, and evening aperitifs here, too.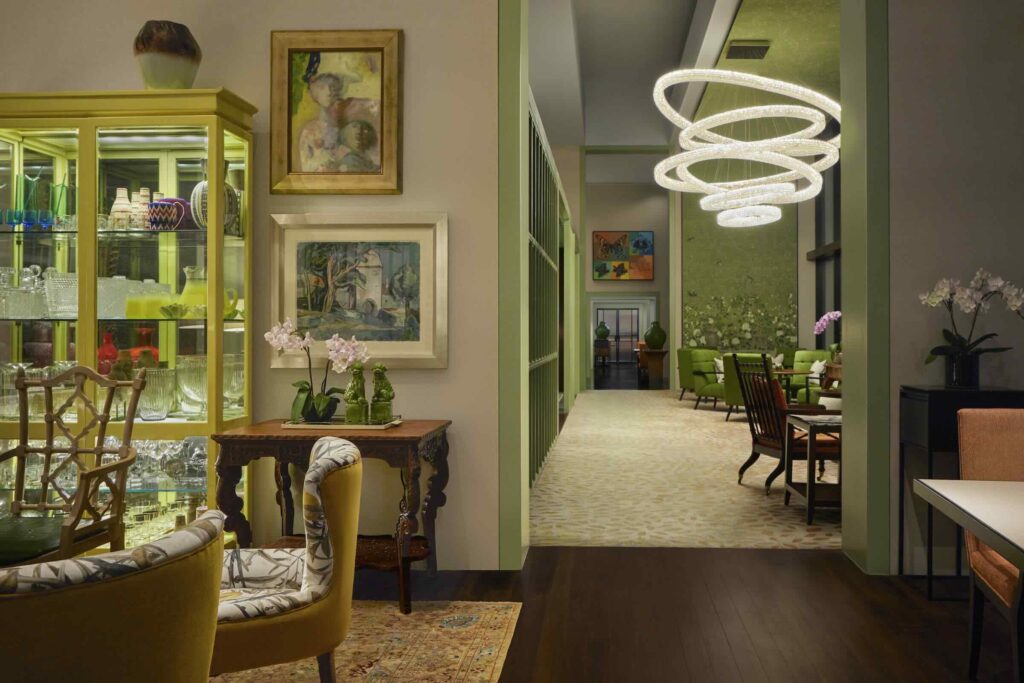 Did they greet you by name at check in? Not at first (which is very unlike the brand) but once they had my name, I was swooped up by a guest services representative and was able to check in within the privacy of my suite.
Was a welcome drink ready and waiting when you arrived? In a word, no. But after I checked in, I received some homemade chocolates.
Is there a private butler for every room? The hotel doesn't have private butlers, per se, but for the suites and Marina Bay View rooms, guests have access to Haus 65, where a team of MO Curators are on hand to help organise experiences and attend to guests during their stay.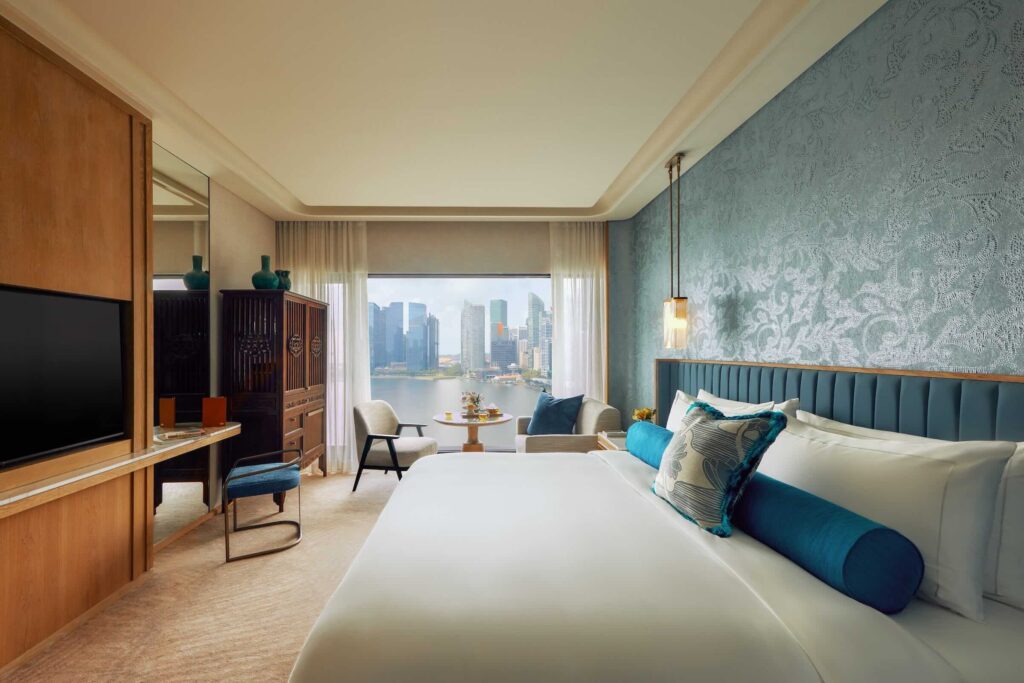 Is the sheet thread count higher than 300? Yes; Mandarin Oriental Singapore sources sheets from Quivera, the American brand of fine bedding. The rooms use 330-thread-count sheets, while the thread count for the suites is 530.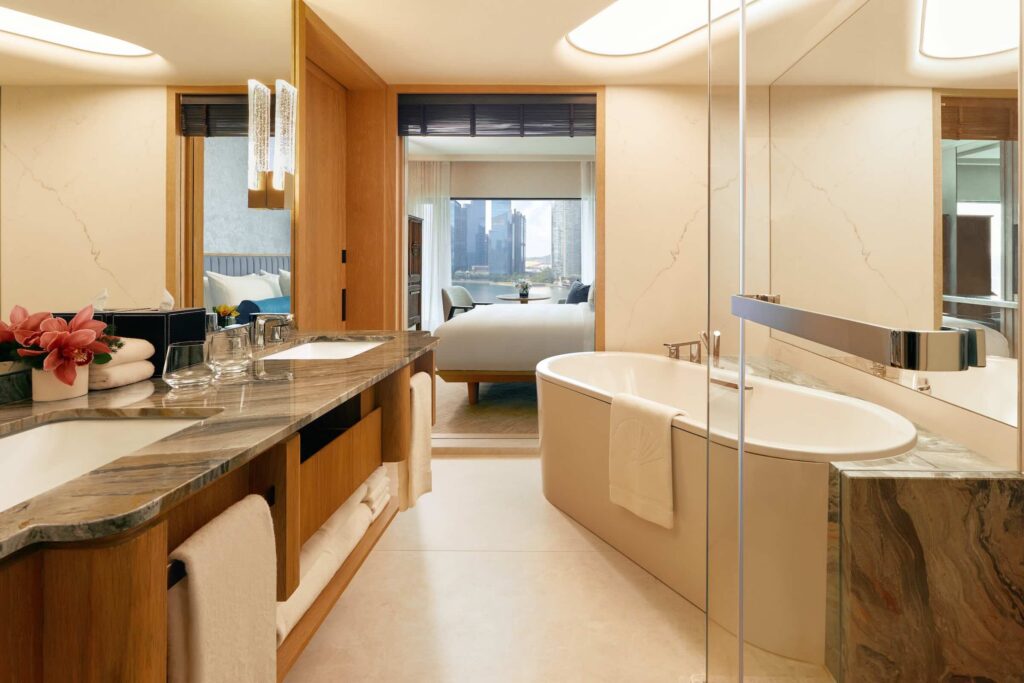 Is there a heated floor in the bathroom? What about a bidet? Yes and no; the floor isn't heated and there isn't a bidet, but there's a Japanese toilet by Toto that comes with all the bells and whistles alongside a heated toilet seat. These are only available in the Marina Bay View rooms and the suites.
Are the toiletries full-sized? Yes. For the suites, Seaview Rooms, and Marina Bay View Rooms, the hotel uses Barcelona brand Natura Bissé, while the Deluxe Rooms and Residential Suites use Diptyque toiletries.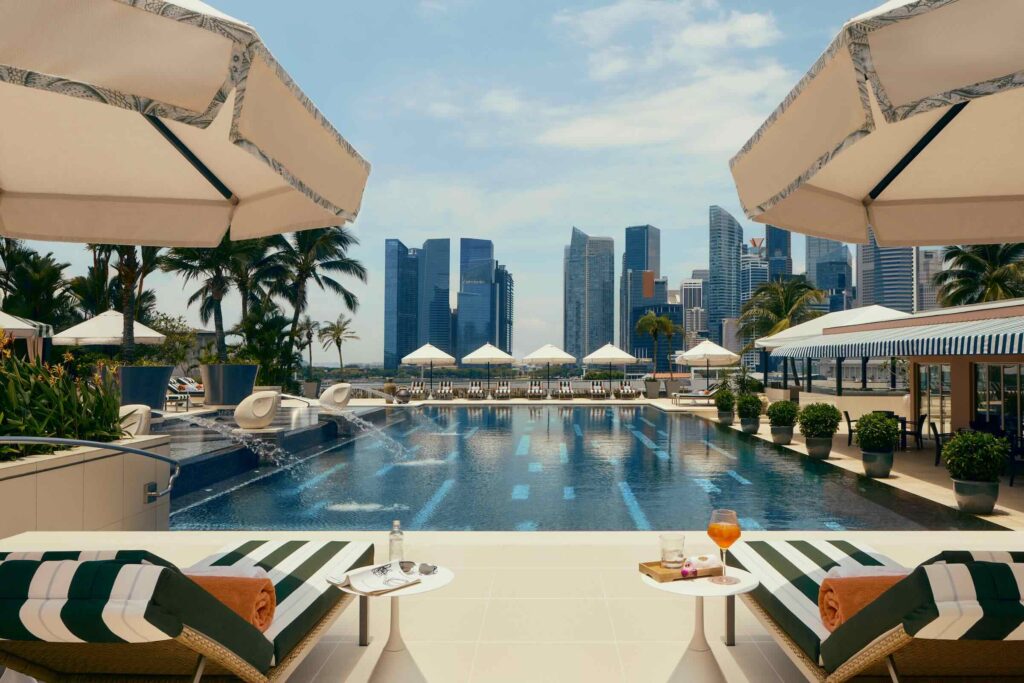 Is there a private pool for the room's exclusive use? Mandarin Oriental being an urban hotel, there are no private pools, but the main 25-metre swimming pool is perfect to do laps, or just laze around while soaking up the spectacular views.
Is there caviar on the room service menu? Caviar is served as part of the dishes, like the Champagne and Caviar breakfast set, which includes Champagne, fresh fruit, juices, farmhouse eggs of choice, smoked salmon, cold cuts, cheeses, and freshly baked breads and pastries.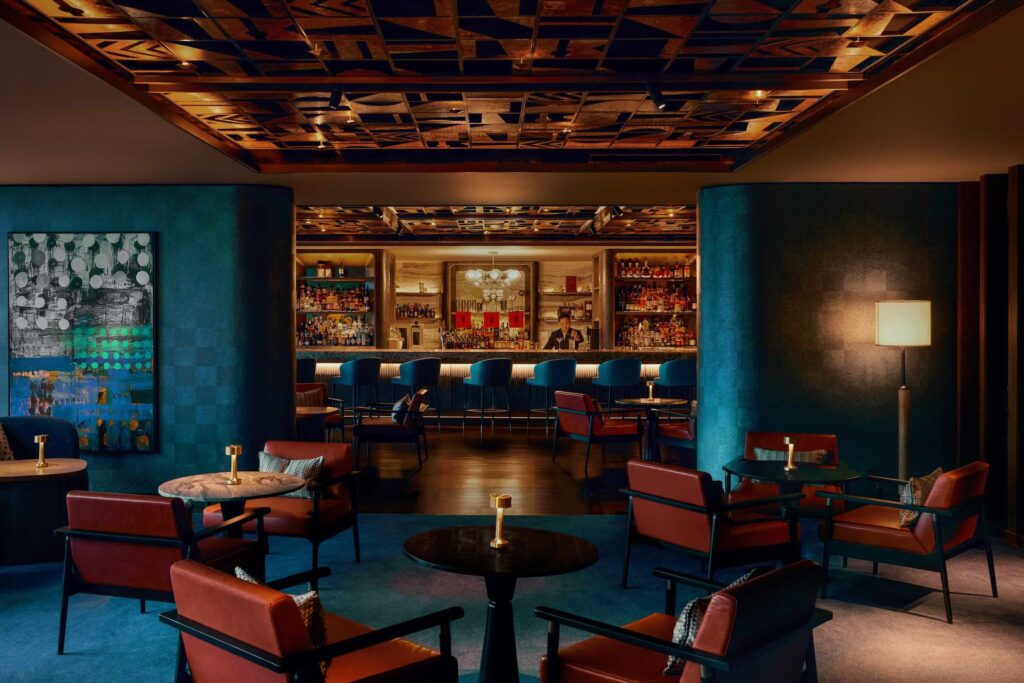 Do you want to spend Friday night in the lobby bar? It's not located in the lobby, but the newly refreshed MO Bar is the perfect venue in which to spend a Friday night, or any night, for that matter. Here, against skyline views, is a new menu concept that has been inspired by Singapore's history and location. Highlights include the Reclaimed Slings made with cherry and pineapple, a futuristic take on the cocktail that is synonymous with Singapore, or the White Rabbit inspired by the famous candy, but with a citrusy, local twist. Pair this with a snack menu that includes delicious laksa fries.
Would you buy this hotel if you could? I'm not sure I'd want to buy it, but if I could, I would happily live in the Residences.
Total: 8
What Our Score Means:
1–3: Fire your travel agent if they suggest you stay here.
4–6: Solid if you're in a pinch—but only if you're in a pinch.
7–8: Very good. We'd stay here again and recommend it without qualms.
9–10: Forget booking a week. When can we move in permanently?
All images courtesy of Mandarin Oriental Singapore.