"Welcome home."
A mellifluous chorus greets me as I walk through the courtyard of Amankora Thimphu, a spacious entrance tiled with tidy grey stones. Minimalist in a decisive way, the space is punctuated by a lone, spindly tree in a patch of green and a trio of ornate prayer wheels. All is quiet, serene, and cedar-scented. It paints an auspicious picture of the week to come.
It is my first trip to Bhutan, a landlocked Buddhist kingdom high up on the Himalayas' edge that's best known for its radical Gross National Happiness index, unspoilt landscape, and adventurous treks, but luxury hospitality and wellness brand Aman is no newcomer to the country. It made its first entry into Bhutan with a location in Paro in 2004, at a time when few upscale hotel options were available in the "Land of the Thunder Dragon."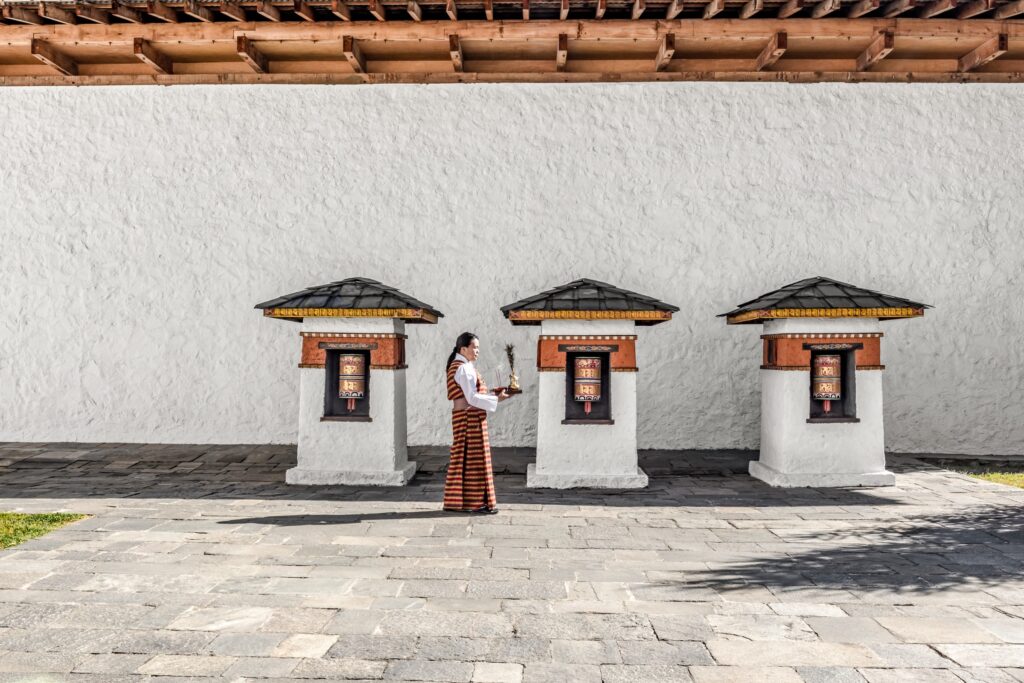 Amankora is made up of five lodges, each located at a strategic point in the country with the intention that guests experience all of them in turn as they traverse Bhutan from east to west, or vice versa. Thimphu, in the east, serves as an entry point for travellers to acclimatise to the destination after arrival. Punakha, in the warm valley, shows off the splendour of the lush countryside, while Gangtey's claim to fame is as the winter nesting grounds for the migratory black-necked cranes. Bumthang is deep in the spiritual heart of the land. Paro, closest to the airport, allows guests to indulge in the unique Amankora experience one last time before departure.
Of the packaged stays offered by Amankora, the six-night Cultural Sojourn focuses on the western part of the kingdom, with stays in Thimphu, Punakha, and Paro, where cultural heritages and landmark sites reign supreme. For travellers with more time to spare, the comprehensive 13-day Amankora Journey packs in the absolute best of Bhutan and then some, covering all five lodges. Pilgrims wanting to tick off Tiger's Nest can opt for a bite-sized, three-night teaser to the country, centred around Amankora Paro. Return visitors are also well-catered to with the Return to the Kingdom adventure, which goes deeper into the eastern valleys to traverse the lesser-visited Bumthang and Trongsa.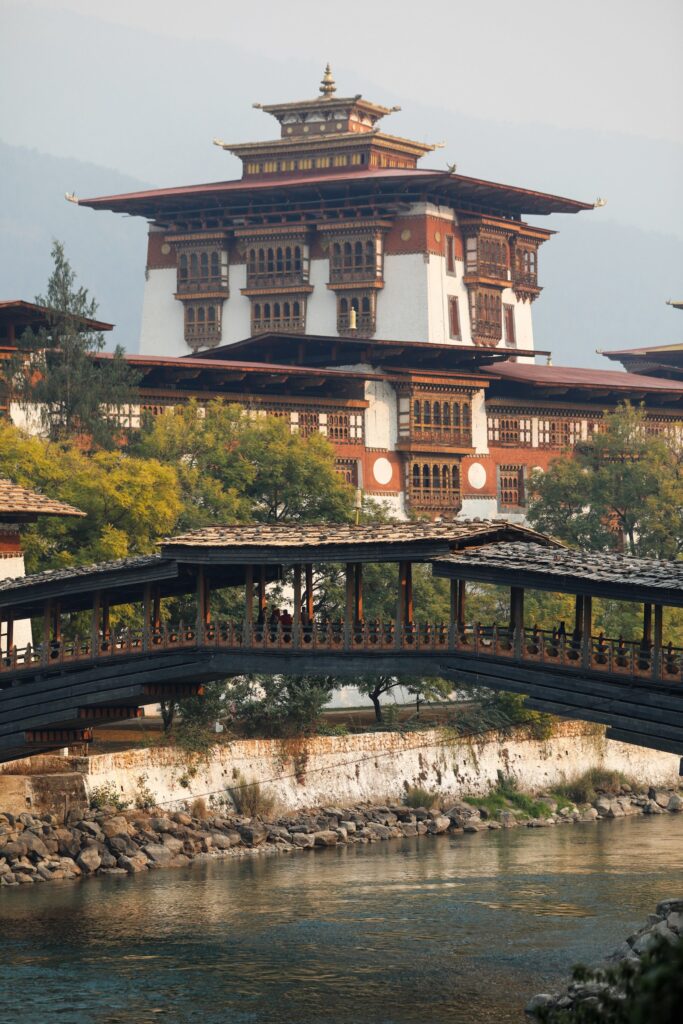 Perched high up on the mountainsides of the Motithang area, Amankora Thimphu serves as the introduction to Aman's luxury wellness experience in its Bhutanese iteration. Built in imitation of a traditional dzong (fortress)—in a subdued style to better suit the brand and its "back to basics" approach—the white-walled, timbered structure feels at home in the surrounding landscape, its long, narrow windows serving as geometric accents. It perfectly encapsulated Aman's ethos—to be at one with nature, to provide a home away from home for travellers, and to offer a transcendent experience that connects guests to their destination. All of this, of course, perpetually hand-in-hand with Aman's trademark ultra-attentive service and unrivalled hospitality.
I am shown to the guest suite, one of just 16 laid out in a horseshoe shape around a grassy courtyard punctuated by a stone-laid terrace. Behind it, a dense pine forest serves as a backdrop. A communal living and dining area heated by two fireplaces, a library, a boutique shop, and a three-room spa round out the facilities. Each open-plan room is well-appointed with a king-sized bed, window seat, ensuite bathrooms with a freestanding tub, and a bukhari wood stove (I ask for mine to be lit at night when the temperature dips).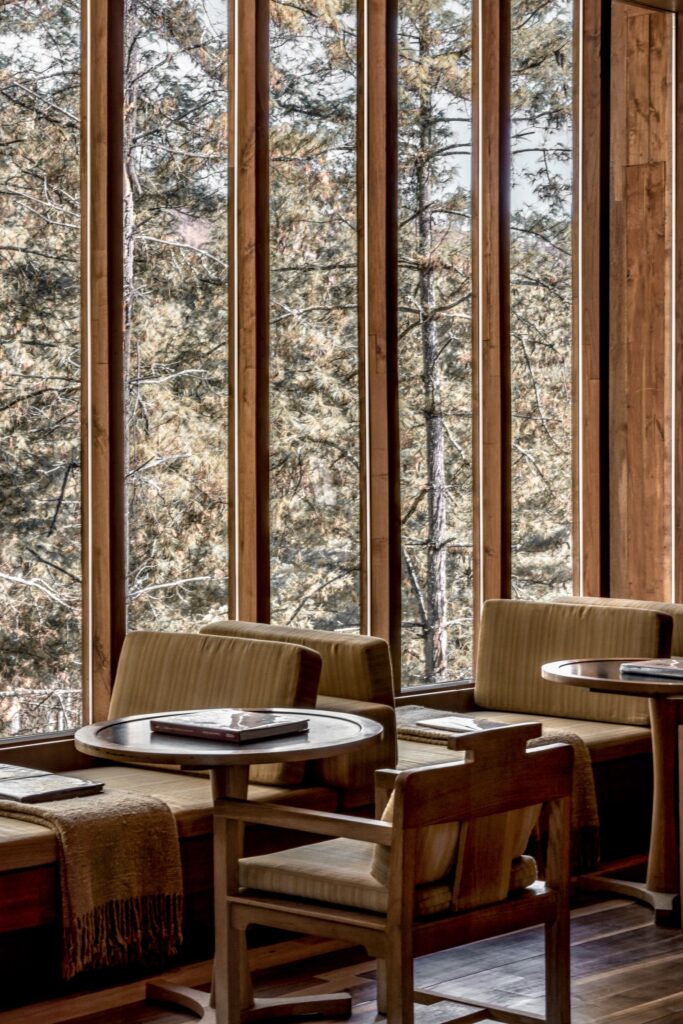 A focus on well-being and immersion into local culture is what Aman does best, and Thimphu's recommended activities reflect that. Monasteries abound in the area for those who enjoy temple-hopping, while downtown Thimphu entertains with its retail opportunities, restaurants, and nightlife. Pick up the country's national sport, archery, or join a rinpoche (reincarnated spiritual leader or lama) for a private talk on the relationship between Bhutan and Buddhism.
I opt for a slow afternoon of pottering around the property, taking Assam tea on the terrace, and sampling traditional Bhutanese cuisine, which sees me putting away liberal portions of locally grown chillies and red rice with locally cultivated cheeses from cows and yaks. A piping hot cup of suja (butter tea made with black tea leaves, yak butter, and salt) is never far. The air is clean and crisp, and I am comfortably bundled up against the cold. Your own little slice of Himalayan paradise feels within reach within the "fortress" walls.
Amankora's connection to Bhutanese spiritualism follows me from one lodge to the next. A young monk stands by the courtyard prayer wheels on the day I set off for Punakha, ready to perform a Buddhist ritual at a moment's notice. I am to go on a four-hour hike on a section of the newly restored Trans Bhutan Trail, and so he chants a melodic mantra for protection while draping a colourful, knotted nylon string—a srungkue—around my neck. Imbued with spiritual power, the srungkue will keep me from harm while I trek across the countryside. I march at a more reckless pace that day, knowing that I have the blessing of a monk on my side. (I soon find out that the only thing I need protection from is Bhutan's wildly fluctuating temperatures.)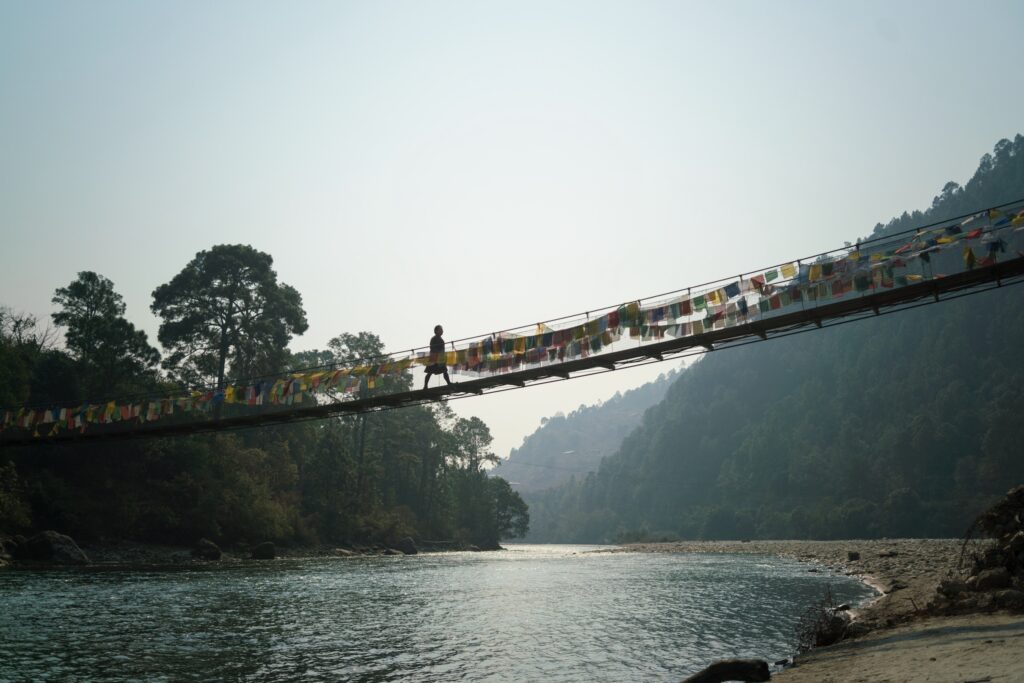 Amankora Punakha, meanwhile, promises an entirely different kind of experience, and not just because of its sub-tropical valley climes. I stand at the mouth of a suspension bridge while the currents of the "mother" river Mo Chhu slosh not so far beneath my feet. Night has fallen, and there is only moonlight (and my indefatigable Bhutanese guide) to lead me from one shore to another, for this is the way to enter the resort. No doubt this pathway is meant to reinforce the seclusion of the Punakha lodge, and traversing it under cover of darkness, with the footbridge wobbling beneath my feet, elicits an adventurous thrill that's apt for a journey into the unknown. I would only come to appreciate the beauty of the crossing by daylight the next morning, emphasised by the multi-coloured prayer flags fluttering in the wind, but for now, the immediate goal was to not misstep and plunge into the waters below.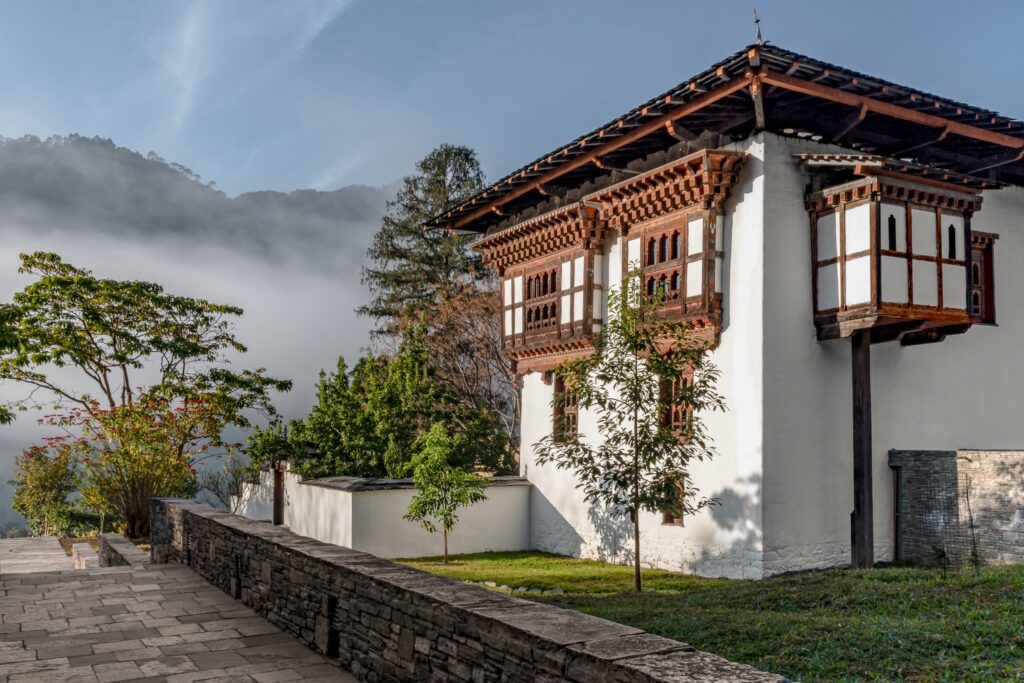 A driver and golf buggy await on the other side to take me up to the lodge proper. We wind our way through a rugged, forested hill—the ride takes about five minutes—and emerge into an orderly clearing. Flagstones set into the grassy earth lead to a wood-framed doorway, behind which stands a spacious courtyard and a multi-storey yue chim (farmhouse) in the local architectural style. It's a hulking structure that was built by a former chief abbot of Bhutan, and retains much of its original grandeur under Amankora's care. In the courtyard, a musician tenderly strums the dramyin, a seven-stringed Bhutanese lute, while guests lounge on cushioned armchairs under the night sky. A lively bonfire crackles nearby.
Dinner is a traditional Bhutanese meal, shared between six guests at a family-style table. Solar (buttermilk soup) whets the appetite; the main courses follow in quick succession in a collection of rustic wooden bowls. I go for a bit of everything—the gobi ki subji (a sautéed cauliflower curry with tomato, onion, garlic, and cumin) and the kaloo dal (black lentils simmered in tomato, garlic, ginger, and butter) are particularly delicious. Ezay, a type of local chilli chutney, is served on the side to enhance the flavours of the dishes.
It takes me until Punakha to get around to what Aman built its reputation on: its spa and wellness treatments. Each lodge offers Amankora signatures alongside location-specific wellness rituals, and Punakha's 90-minute nourishing face ritual is both tempting and rewarding. The treatment, infused with brightening and moisturising ingredients, leaves me feeling rejuvenated, with a noticeably freshened complexion that lasts well into the next day.
I had to skip dessert to fit in the spa appointment, but nothing gets past the staff. A spiced pear tart with vanilla ice cream was waiting for me back in my room, along with a fresh pot of tea—the same kind I was drinking when I first arrived at the hotel. Detail is everything at Aman, and no detail is too small, with a thoughtfulness that's difficult to match. Fresh from an hours-long trek through the mountainside, my muddy gear was discreetly spirited away for a cleaning and reappeared shortly after in pristine condition (only for me to dirty them again the very next day; the process repeats through the week).
One might imagine that this level of intense scrutiny feels out of sync in a place like Bhutan, where untamed wilderness reigns, but it has a deliberate and mindful quality to it, resonating deep with the Buddhist legacy of the country. It speaks of intent rather than control, and enhances the hotel experience in a way that assures your needs are being met before you even think of them. Pieces of literature and small gifts are given to guests to encourage a deeper understanding of Bhutan, its local culture and customs, and the country's history.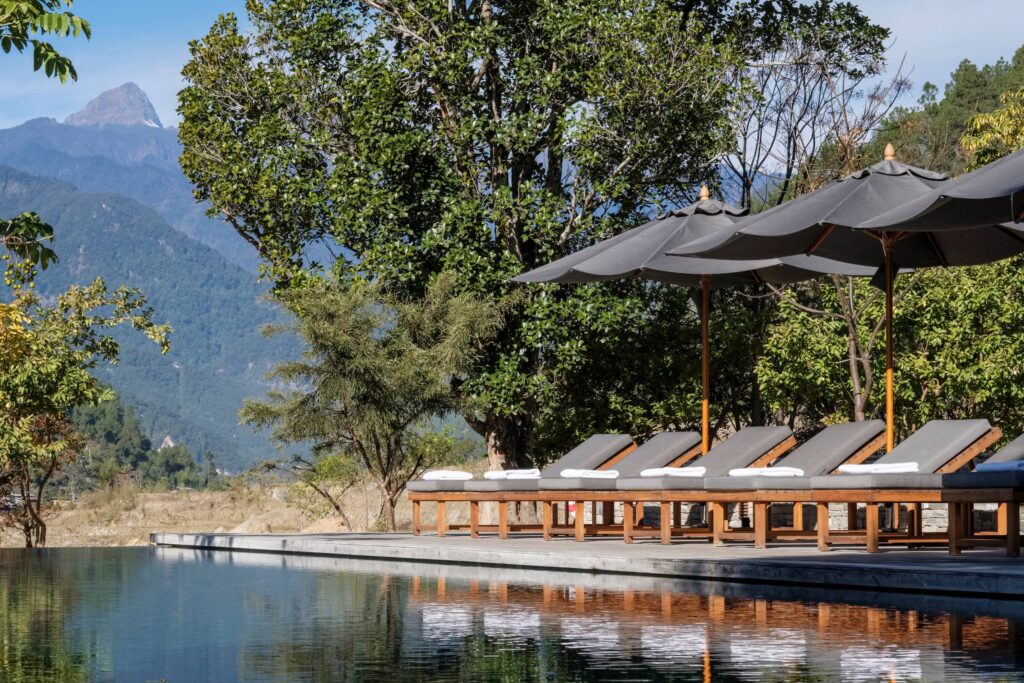 While the 12 guest suites at Punakha follow the same design thread as the other lodges, the room layout differs, and suites are grouped together into a handful of standalone buildings, spread out across the property amidst an orange orchard. All paths lead to the 30-metre infinity pool, looking out at a panoramic view of emerald green rice paddies. In the early morning, when the mist rolls down the mountains and into the valley, the scene is other-worldly. I consider taking my breakfast—zecha gyem (scrambled eggs with local farmer's cheese, onion, garlic, and tomato) and thukpa (Bhutanese rice porridge)—on the terrace.
Punakha is known for a slew of cultural landmarks and stunning landscapes. It is also where the "mother" and "father" rivers, Mo Chhu and Po Chhu, meet. Picnic tables are set out on the bank of the Mo Chhu, at the foothill of the Amankora property, for barbecue meals. Bhutanese cooking classes are held at the lodge proper, preceded by a guided visit to the morning market with the chef. Punakha Dzong, Khamsum Yulley Namgyal Chorten, and the esoteric Chimi Lhakhang are all within an hour's drive—perfect for leisurely day trips.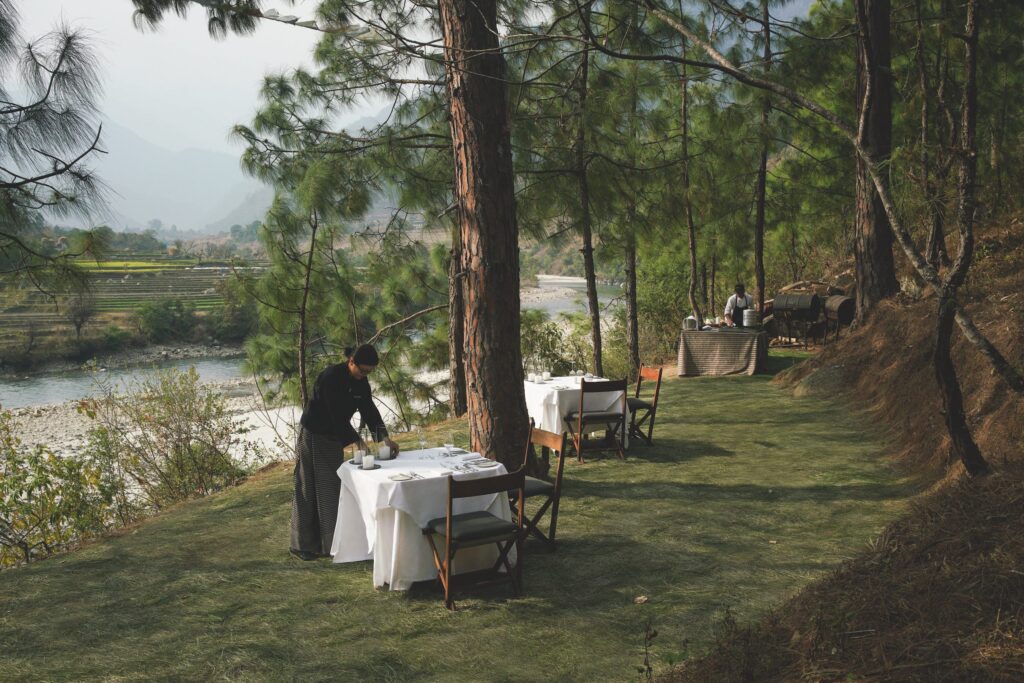 However, out of the monastic bodies that define the image of Bhutan outside of its borders—and this is a place that has no lack of spiritual sites—nothing quite rivals the striking image of the richly decorated, gravity-defying monastery jutting out of a cliffside. Paro's iconic Taktsang Lhakhang (Tiger's Nest Monastery) is calling—and I heed the call as I transfer from Amankora Punakha to Paro. After all, can one truly say that they have been to Bhutan if they have not hiked to Tiger's Nest? It is a rite of passage, a pilgrimage, and a challenging three- to four-hour hike to the top, but the pay-off is well worth the effort. A steep, continuous incline takes me up 900 metres from basecamp, through a coniferous forest of blue pine trees and prayer flags, across a cascading waterfall and ravine, all before arriving at the roughly hewn stone steps of the monastery.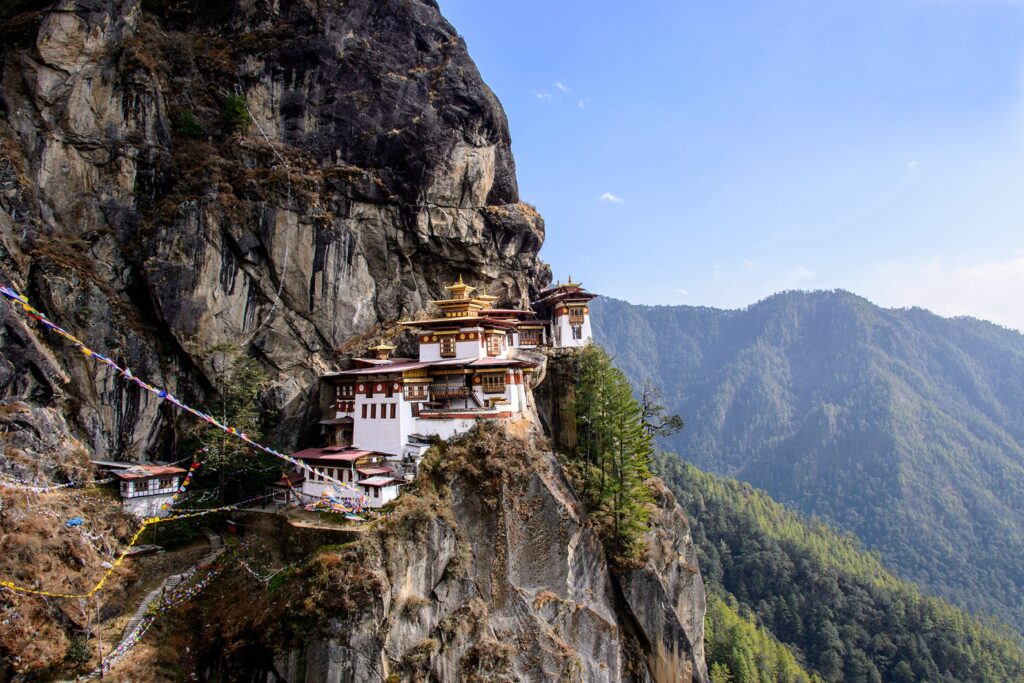 Whatever modicum of spirituality I carried within me before starting the climb felt multiple times amplified once I got to Tiger's Nest. It seems, to me, impossible to not be moved by the sight of such an improbable holy site, clinging to the side of the mountain as a testament to the architectural prowess of seventeenth-century Bhutan. Hours later, as I pelt full speed back down the mountain, dodging pack mules and their droppings on rocky outcrops, I contemplate the symbolic lessons of Vajrayana Buddhism and local culture that I have soaked up in the past few days, and, with a bittersweet note, my final "home" for the week.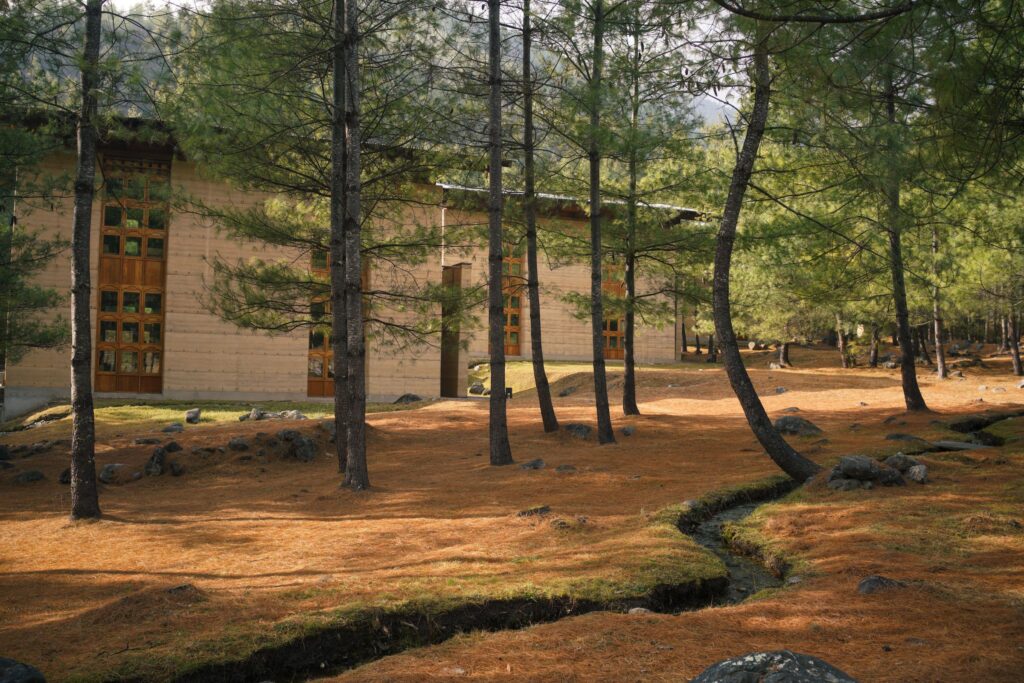 Paro, the largest of the lodges with 24 suites, is my last stop on the Amankora tour. I follow the gho– and kira-clad welcome committee through a thick blue pine forest, my footfall completely muffled by the heavy layer of fallen pine needles. It feels like I am passing through a veil. Sound is dampened—the traffic from the highway fades into nothingness. We emerge from the tree line and into the main courtyard of Amankora Paro, which branches off into a reception hall on the left and a living room lounge and lobby straight ahead.
Size is amplified here; where Thimphu and Punakha felt intimate, Paro feels expansive, its suites spread far apart from each other across a maze of well-kept grounds, artfully designed with idyllic placements of a cluster of boulders here, a winding rivulet there—a picture-perfect curation of nature. Recent rain had come and gone, and the sky was clearing to a frosty blue. In the distance, the snow-capped Jhomolhari mountain winks in the sunlight. I take my time to wander through the property, impressed with its scale and rustic aesthetic.
A signature Amankora holistic massage treatment takes off the ache of the Tiger's Nest hike, though I am also recommended that the traditional hot stone bath does wonders as a therapeutic treatment. Heated river stones are combined with herbs and minerals to impart healing properties. I imagine one might look and feel as if you're being parboiled for dinner (in a good way). (Hats off also to the spa team at the Amankora Paro lodge, who were highly responsive to my casual Instagram direct messages for a last-minute spa appointment.)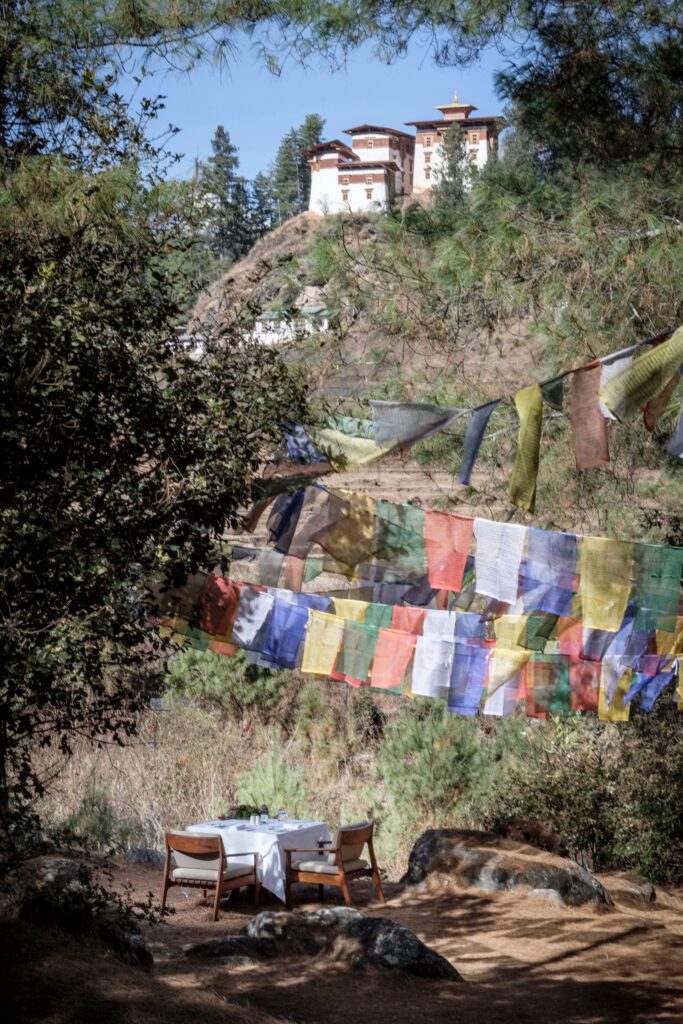 I learn to appreciate the feeling of intention the Amankora experience instils within me. I slow down and become more conscious of my movements, more deliberate in my actions. For a week, at least, I am not racing against the clock to maximise personal efficiency. But I remind myself that mindfulness is not perfected in a day. Luckily, there are few places that make clearing the jumble in your head as effortless as a garden chair on the edge of a manicured pine forest, with a burbling creek behind you happily gurgling away. Ahead, framed by rainbow-coloured prayer flags rippling in the wind, the outline of the restored Drukgyel Dzong rises in the distance.
If Bhutan is the land that time forgot, then Amankora must be the place where time has stood still. Leaving it feels like waking up from a dream—I feel discombobulated as I settle back into "modern" life. But I take comfort in the fact that, as prophesised during my arrival at Amankora Thimphu, I will have a place that feels like home for the next time I return to Bhutan.
All images courtesy of Amankora.