Last August, Anthony Glasson of M51 Concepts unveiled a volcano-inspired explorer yacht called Forge. Now he has revealed a "less extreme" follow-up concept for more reserved seafarers.
Aptly christened Forge II, the 269-footer has the same angular silhouette as its predecessor but is a skosh more subdued. Penned inside and out by the Hong Kong studio, the vessel features an ice-class steel and a lightweight aluminum structure. The exterior is finished in subtle metallic grays rather than the obsidian black and bright orange that covered the original Forge.
Glasson, who spent more than a decade working as a superyacht engineer before starting M51, says the main distinction between the two designs is the aft deck. Forge II forgoes a helipad and storage hangar in favor of a giant swimming pool that measures roughly 25 by 11 feet. (That's about the size of a large one-car garage.)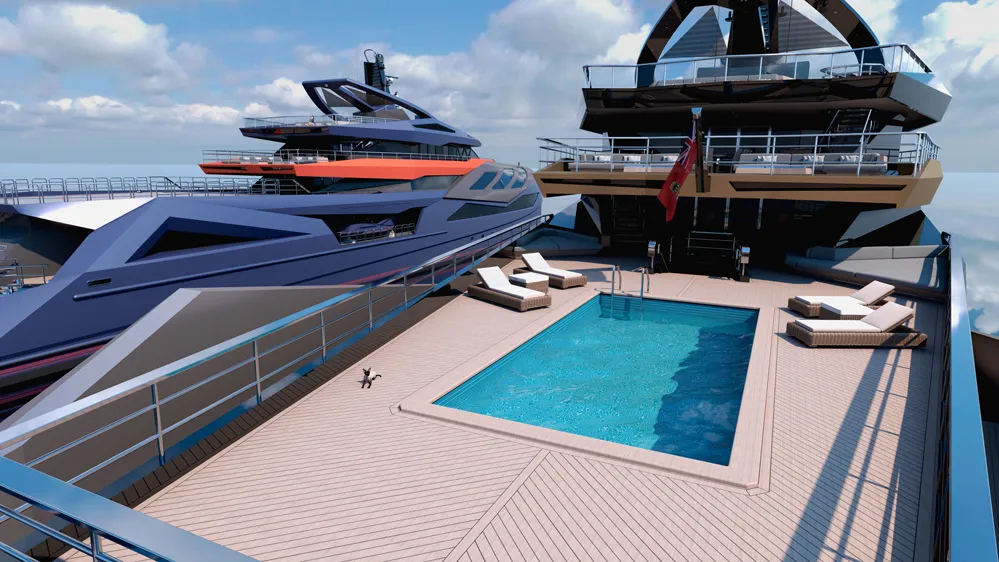 The main deck is also home to a semi-enclosed dining area and lounge that can be enjoyed in any season. Elsewhere outdoors, the sun deck is equipped with a hot tub, a BBQ, a bar, and day beds, while the bridge deck sports a more formal 14-person dining table.
Inside, the superyacht can accommodate up to 12 guests across two VIP suites and four twin cabins. It can also sleep 25 or 23 crew depending on the configuration of the crew quarters. Having two VIPs rather than an owner's suite makes Forge II particularly suited to charter. The VIPs are located on either side of the upper deck and feature expansive, floor-to-ceiling windows. The remaining guest cabins are located on the main deck.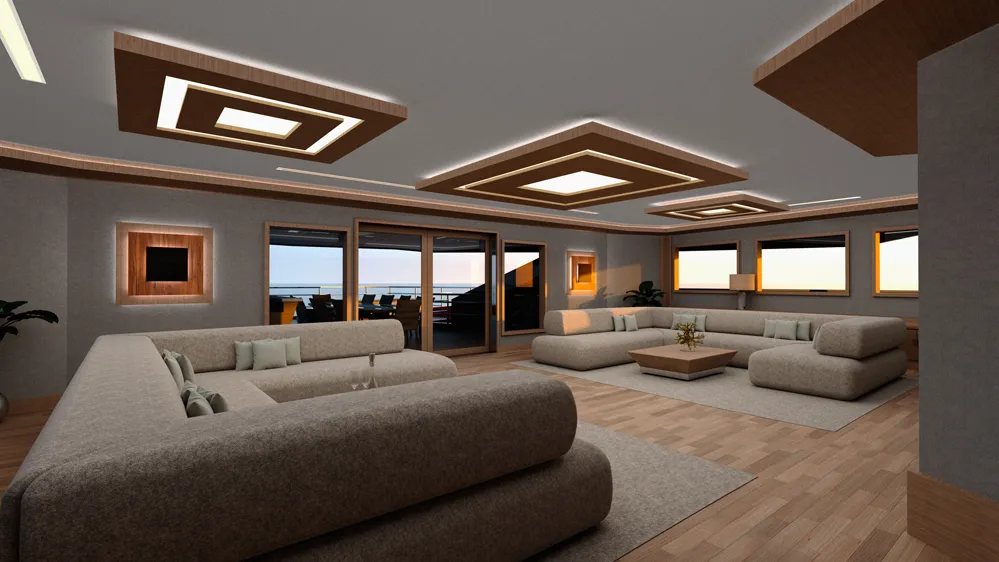 In terms of decor, the living quarters have a traditional minimalist design, with a soft palette and an array of natural materials. Conversely, the cabins have a modern feel and pair dark surfaces with bright furnishings. Other highlights include a gym, spa, and fully stocked tender garage.
Glasson says Forge II would be powered by engines running on Hydrotreated Vegetable Oil (HVO) and batteries. He expects a go-anywhere range of 5,000 nautical miles.
"I set out to design a yacht with an imposing presence and a look that is meant to inspire a go-anywhere confidence," Glasson said in a statement. "It ended up being quite an aggressive boat."
Just imagine Forge III.
Click here to see all the photos of Forge II.