The instinct for adventure is engraved in our DNA, always motivating us to try something novel and exciting. When it comes to aviation, some inspired engineers have conceived many exciting concepts that are absolutely breathtaking, while others are simply out of this world. How we will fly in the future is (thankfully!) nothing like the present; luxurious cabin experiences, high-tech amenities, futuristic aircraft designs and even that final frontier; space travel.
Here are eight aviation concepts that have raised the bar for near-future air travel.
Explorer
Lufthansa Technik, Germany's flag carrier, Lufthansa's aircraft maintenance arm, has unveiled its brand-new, wide-body VIP cabin concept called the "Explorer."
The inspiration came from superyachts, one of the concept's highlights is the cabin experience enhanced by large-scale integration of a unique cabin projection system developed by Diehl Aerospace (a joint venture between Diehl Aviation and Thales). The system covers huge areas inside the cabin from the window belt to the entire ceiling in the multifunctional lounge area. This will allow passengers to change the cabin's overall look by the flick of a fingertip, with the use of pictures and even moving images to show virtual content. You can transform your cabin into an underwater aquarium if you want to see fish "flying in the sky," or into a disco when you want to throw a party mid-air.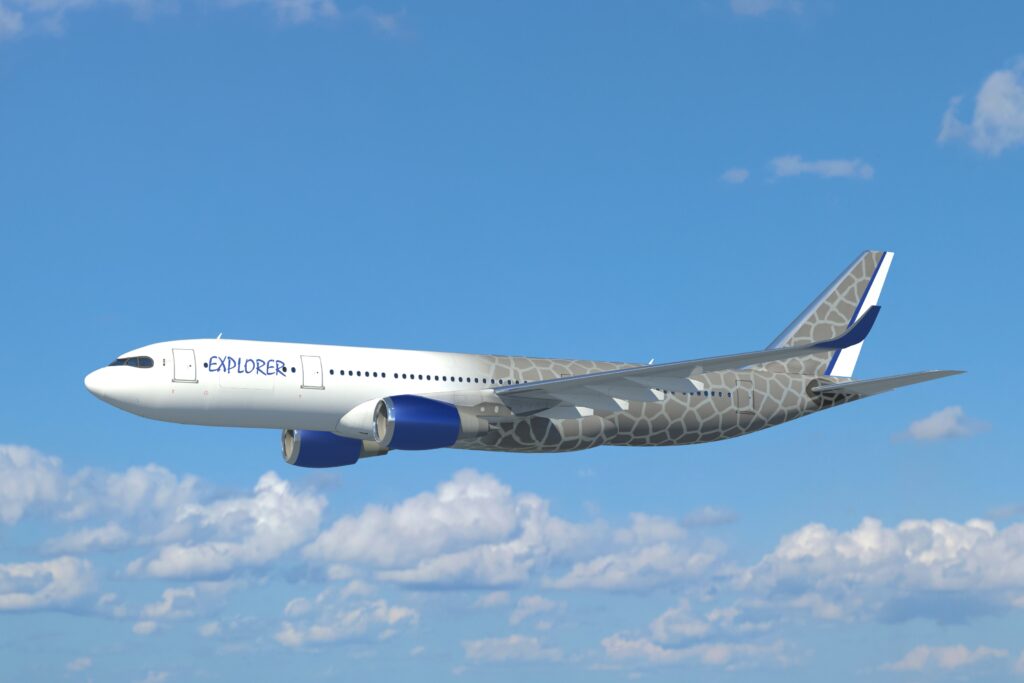 Above: All images courtesy of Lufthansa Technik.
The concept would be something aviation geeks interested in plane spotting would probably go for—a spectacular open-air seating area extended from the aircraft. In this concept, the floor in the forward fuselage area can be extended outward from the parked aircraft to form a spacious veranda. The retractable, open-air platform allows passengers onboard to enjoy more intimate views of the airport and its surroundings at a height of around four metres above the tarmac.
SkyDeck
For some star chasers, seeing the sky through the small side windows of an aircraft is barely enough. The SkyDeck, conceptualised by US-based aerospace company Windspeed Technologies, is going to give you a panoramic view above the clouds.
The SkyDeck is in fact a "viewing platform," a semi-external location that will be generally positioned towards the rear of the aircraft. The platform, which can seat one or two people in a teardrop canopy design, can be accessed via either an elevator or a retractable staircase. The seat can be rotated 360 degrees to guarantee a complete panoramic view. While you may have concerns about fogging and UV issues, the company promises that the canopy will come with an anti-condensation film and UV-protection coating.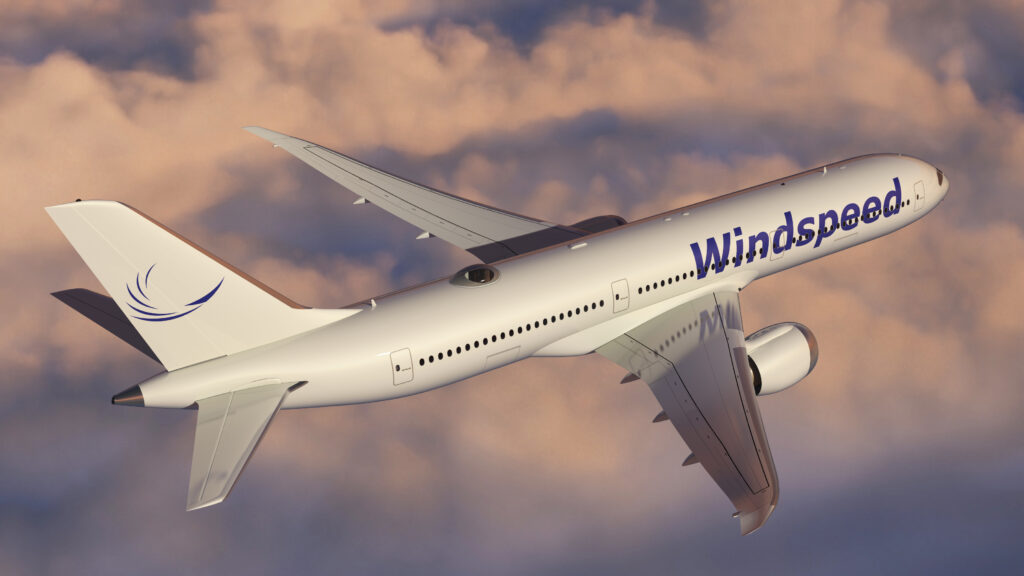 Above: All images courtesy of Windspeed Technologies.
The company says SkyDeck can be installed on a variety of aircrafts from wide-bodies to smaller executive jets "to provide a higher level of entertainment to reduce the boredom of long flights." The only drawback may be that you could be charged on a pay-per-view basis.
Ixion
If you happen to be a bit acrophobic, don't worry. There is another way to appreciate the stunning view outside the aircraft without having to climb up to an upper-level platform. However, this time, don't get claustrophobic by the idea of embarking a plane without windows.
British company Technicon Design has come up with a concept for private jets, where conventional windows will be replaced with screens that can display the aircraft's exterior environment with a pair of cameras mounted on the jet's wings. The jet's interior cabin walls will be lined with flexible, high-definition screens, projecting a 360-degree, real-time view of what is outside the aircraft.
The company adds that removing the windows from the aircraft would actually bring more benefits, because it would not only reduce the weight of the jet and make it more fuel efficient, but also help simplify construction and allow greater flexibility for interior layouts.
Airlander 10
At theme parks, like Ocean Park, you've probably experienced a cable car ride in a compartment fitted with a glass bottom, or stepped on the glass floor of a skyscraper, allowing you to look down for the view below. Now, the Airlander 10, a blimp-like hybrid airship developed by British manufacturer Hybrid Air Vehicles, is going to take this experience and amp it up by multitude.

Above: All images courtesy of Hybrid Air Vehicles / Design Q.
Seen from the ground, the airship looks like a gigantic shark swimming in the sky, with the gondola-like cabin nestled beneath the hull. The extensive "Infinity Lounge" features glass floors, while full-height windows that serve as side walls allow you to enjoy a much broader, "horizon-to-horizon" view onboard. A variety of layouts and amenities can be accommodated, and other interior highlights will include private ensuite bedrooms and the "Altitude Bar" offering drinks along with stunning views of eternal skies.
Retreat
Imagine your private jet as a place of retreat, not on the ground but mid air. Seattle-based Greenpoint Technologies' Retreat concept creates the experience of a luxury spa in a private jet. This award-winning concept was curated for a jetsetter focused on health and self-care priorities by the company, which drew inspiration from biophilic design and wellness trends.
Passengers enter the aircraft through a rotunda featuring a topographical-inspired accent pendant and an internally lit terrarium, where a tropical environment is housed. The cabin ceiling, inspired by flowing water, features a panel system with a high-gloss metallic finish, reminiscent of a river meandering throughout the interior.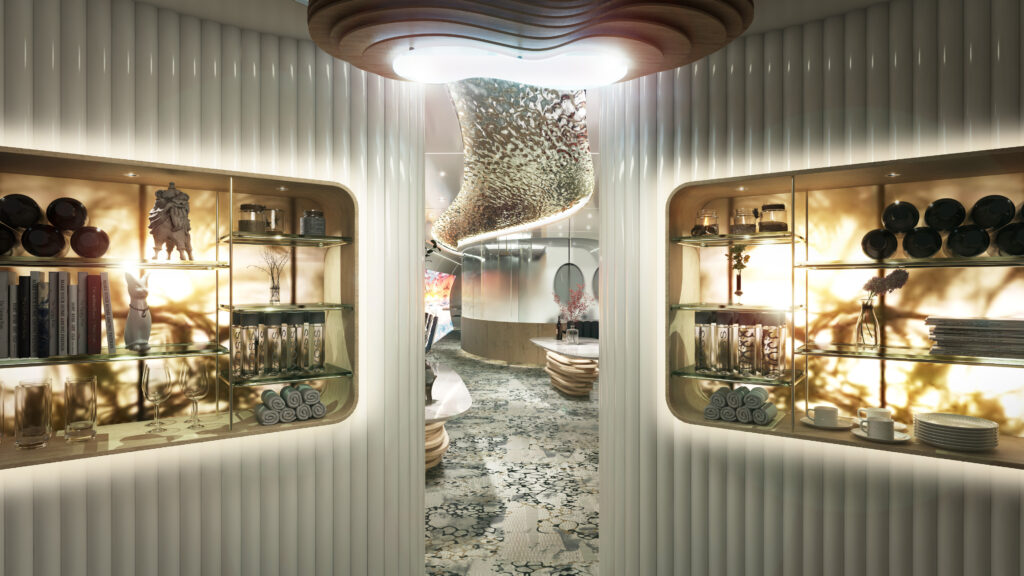 Above: All images courtesy of Greenpoint Technologies.
The cabin is further divided into several areas. Highlights of the forward lounge include the oversized, outboard-facing OLED panels that can display videos of the destination or views from external high-definition cameras, soft LED lighting and organic greenery, as well as the white, high-gloss architecture accented by sustainable oak and tactile velvets. Encased in gradient, opaque glass walls, the master suite is fitted with a king-sized bed with a wrap-around headboard and a private, oversized rain shower with heated flooring. The aft spa lounge features modern chaise seating.
The Maverick Project
This concept, co-developed by SkyStyle, Rosen Aviation and KiPcreating, has a futuristic feel with all the high-tech features in the cabin. The entire in-cabin experience is enriched through these smart surfaces and the integration of virtual and augmented realities.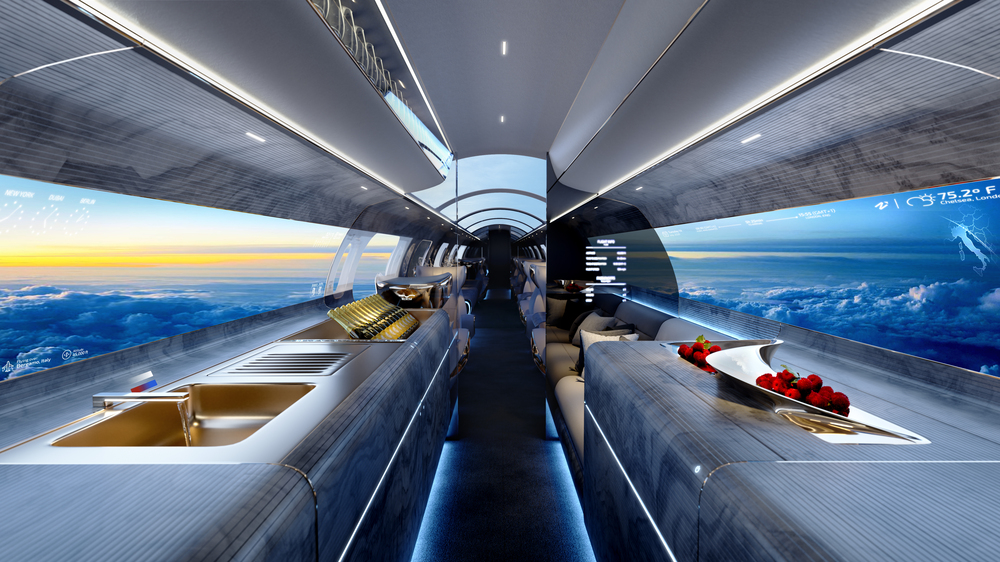 Above: All images courtesy of SkyStyle / KiPcreating & Expressa Studio.
Ultra-thin OLED screens can be found almost everywhere in the aircraft from the OLED virtual window showing information with geo-positioned augmented reality, the transparent OLED panel, the retractable curved OLED headrest display to the roll-down home theatre. With holographic controls and keypads plus proximity driven touch sensor with haptic feedback, you can completely get rid of physical buttons. Other notable high-tech features in the cabin include gesture control electro-luminescent shades, NFC activated automatic heating and cooling cup holders, and embedded personal beam-form audio.
Sky Cruise
Have you ever imagined staying on a floating hotel above the nebulous clouds? The nuclear-powered Sky Cruise, originally designed by Tony Holmsten, reimagined by Hashem Al-Ghaili, is a hybrid of a plane and a hotel big enough to accommodate up to 5,000 people.
According to the designers, the sky hotel will never run out of fuel thanks to the nuclear power source and can "remain suspended in the air for several years without ever touching the ground," while supplies and guests will be delivered with the help of electric commercial airliners and private jets.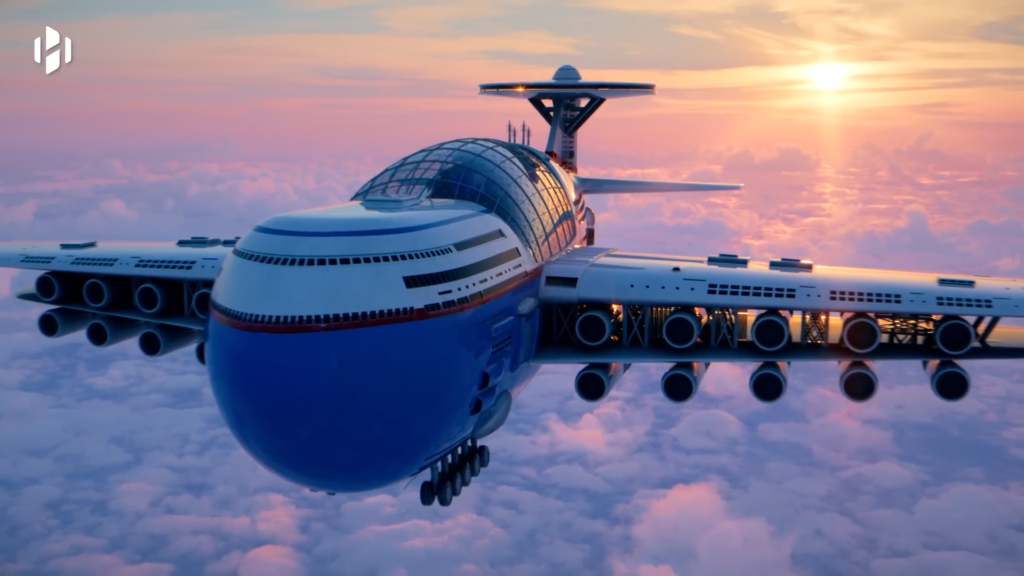 Above: All images from YouTube @ Hashem Al-Ghaili.
The main entertainment deck is where all the recreational activities will take place, with a wide array of leisure facilities including shopping malls, sports centres, swimming pools, restaurants, bars, playground for children, theatres, and cinemas. There is even space for business meetings and events, as well as a wedding hall.
The Panoramic Hall perched at the rear of the aircraft and connected to the main entertainment deck via an elevator will offer a 360-degree view of the surroundings. But this is not the only sightseeing spot onboard. There are also two external elevators connecting the floors of the main entertainment deck, and three balconies reviewing domes on each side of the Sky Cruise that allow guests to go stargazing and watch the aurora borealis closely.
Spaceship Neptune
And finally, the last frontier. Surely, the future of aviation lies in space. If you are not fascinated by the idea of booking a staycation at the aerial resort, will you then perhaps be intrigued by the opportunity of participating in a six-hour, round-trip journey that will take you to the very edge of the atmosphere for a unique near-space travel?
Florida-based Space Perspective is aiming to take humanity to the stratosphere by the end of 2024 with its Spaceship Neptune. The futuristic aircraft is made up of a SpaceBalloon the size of a football stadium, propelled by renewable hydrogen. The diamond-like Neptune Capsule is where passengers will be accommodated, and the Reserve Descent System is how the entire thing operates. The proprietary splash cone will ensure its ocean landing, as water is deemed a low-risk way to return and land a spacecraft after orbit according to the company. The whole spaceship will look like an enormous balloon soaring to the skies, touching space.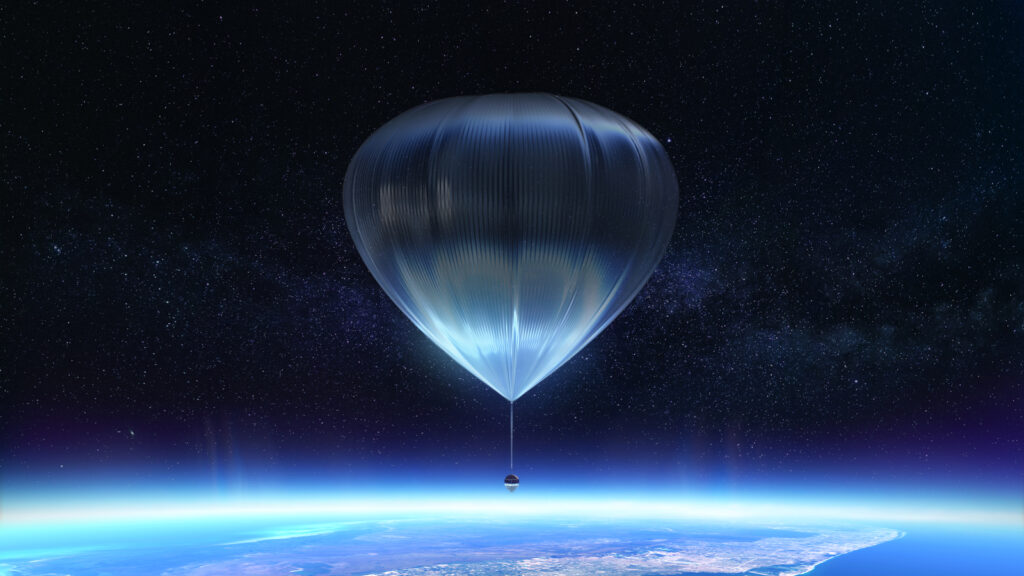 Above: All images courtesy of Space Perspective.
Aptly dubbed "Space Lounge," the roomy interior of the climate-controlled, pressurised capsule will be fitted with 360-degree panoramic windows, dark and tactile materials that reduce glare and reflection, a fully-stocked bar, plus nine reclining seats for eight passengers and a pilot. It also includes a restroom featuring massive windows too. Reflective coated windows and centre section will limit solar gain and ensure interior comfort. A thermal control system also insures comfort and ease.
There will even be plants and herbs growing on board, such as lavender, basil, and rosemary, that can be used in food and drinks. The cabin can be further reconfigured to accommodate a special event like a dinner for two or even a wedding! Truly a once-in-a-lifetime experience.