By Anthony Lam, contributions by Michael Verdon
The Big Idea: Under Green Skies
Private jets account for only a single-figure percentage of total aviation industry carbon emissions, but emit far more carbon per passenger than commercial flights and are rapidly growing in number. Because of this, both business jet companies and their customers are eager to reduce their environmental impact.
Some private operators, such as VistaJet and Executive Jet Management, work with third-party offset programmes that funnel funds directly into specific environmental projects like reforesting schemes that remove carbon from the atmosphere. VistaJet reports that more than 85 percent of its members have purchased such credits.
At the industry level, business aviation organisations worldwide have agreed on reaching net zero emissions by 2050, an aspirational goal they intend to achieve through a combination of approaches, the most promising of which is the popularisation of Sustainable Aviation Fuel (SAF). Made from sustainable sources such as biomass and steel mill gases, SAF can potentially reduce lifecycle greenhouse gas by up to 80 percent compared to conventional jet fuel. Although SAF is currently much more expensive than regular jet fuel, many private flyers have shown a willingness to pay the cost—which should drop as production scales up. Currently, the amount of SAF produced is just a drop in the bucket of total jet fuel production, and ramping up output to the necessary scale will require massive investment as well as the support of governments.
Other innovations the industry sees as key to the net-zero target include sustainable propulsion systems that power aircraft with electricity or hydrogen fuel cells. A few such aircraft are already on the market, but they're likely still decades away from achieving the power and performance of fossil fuel-powered jets, so will only begin replacing the latter for short-range trips.
As it turns out, the biggest sustainability innovation in private aviation in coming years will likely not replace private jets at all. Named for their ability to manoeuvre like helicopters, electric vertical take-off and landing aircraft (eVTOLs) are expected to start transporting millions of people on trips that are mostly too short for private jets altogether, ushering in a whole new era of private aviation for the masses.
The eVTOL industry has been fermenting for years, its start-ups attracting billions of dollars in venture capital. Major names include US-based Joby Aviation, which counts Toyota and Uber among its strategic investors, and Germany-based Lilium, whose investors include Tencent.
eVTOLs will surely be available for individuals to purchase, but investors' most ambitious plans involve building giant fleets to serve as air taxis. The quiet electric motors and the small spaces required for take-off and landing seem to make them perfect for this role.
Uber is said to have already integrated Joby aircraft into its app for the markets where Joby is scheduled to launch fleets in 2024, and the aviation industry has identified ride-sharing apps in general as an innovation for boosting sustainability via both eVTOL taxis and traditional charter flight services.
VistaJet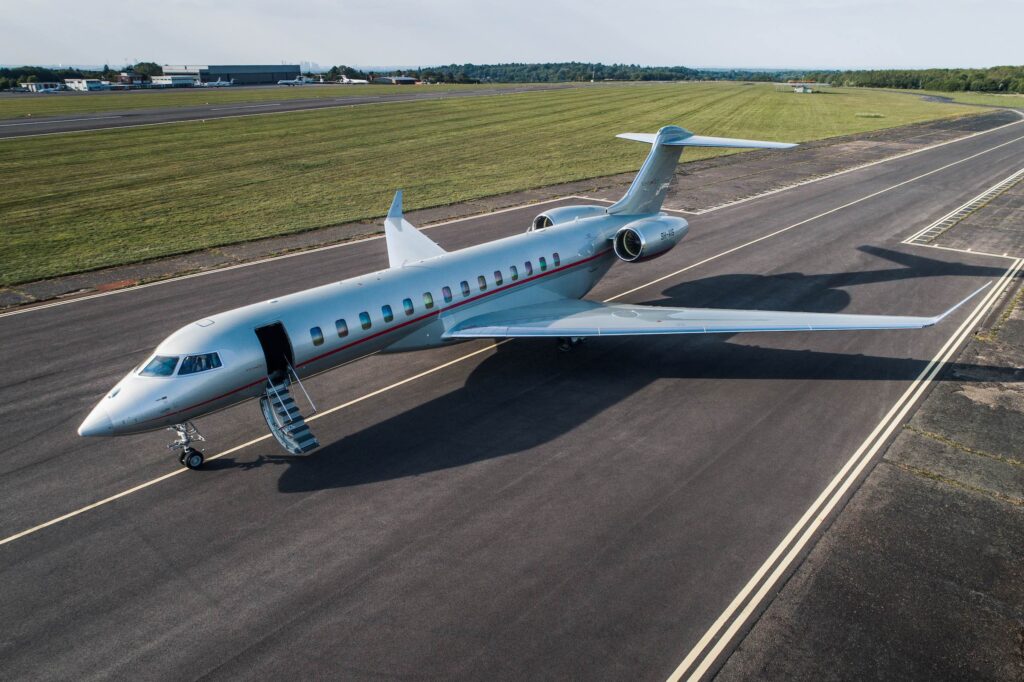 With about 350 planes and growing, Malta-based VistaJet is unique among large charter jet services for owning its fleet, giving it optimal flexibility in deployment. The firm has raised US$750 million over three rounds of funding to finance the purchases of its aircraft, which are easily distinguished by their uniform silver exteriors highlighted with red detailing.
Founded in 2004 by Swiss businessman Thomas Flohr, VistaJet can put some substance behind its claim of being "the first and only global private aviation company": its offices span key regions across the world, including its Asian headquarters in Hong Kong, which opened in 2008.
VistaJet offers direct booking to the public, but is focused on marketing its membership programmes, which range from a simple 25-hours-per-year package to bespoke packages for more frequent flyers and corporations.
The company offers a carbon offset programme, which has proven popular, while members enjoy a host of thoughtful value adds, from exclusive access to art, golf, wine, and other events to pet training that helps four-legged friends stay calm during flights—and, of course, the freedom to take off on a whim.
Image courtesy of VistaJet.
Airbus Corporate Jets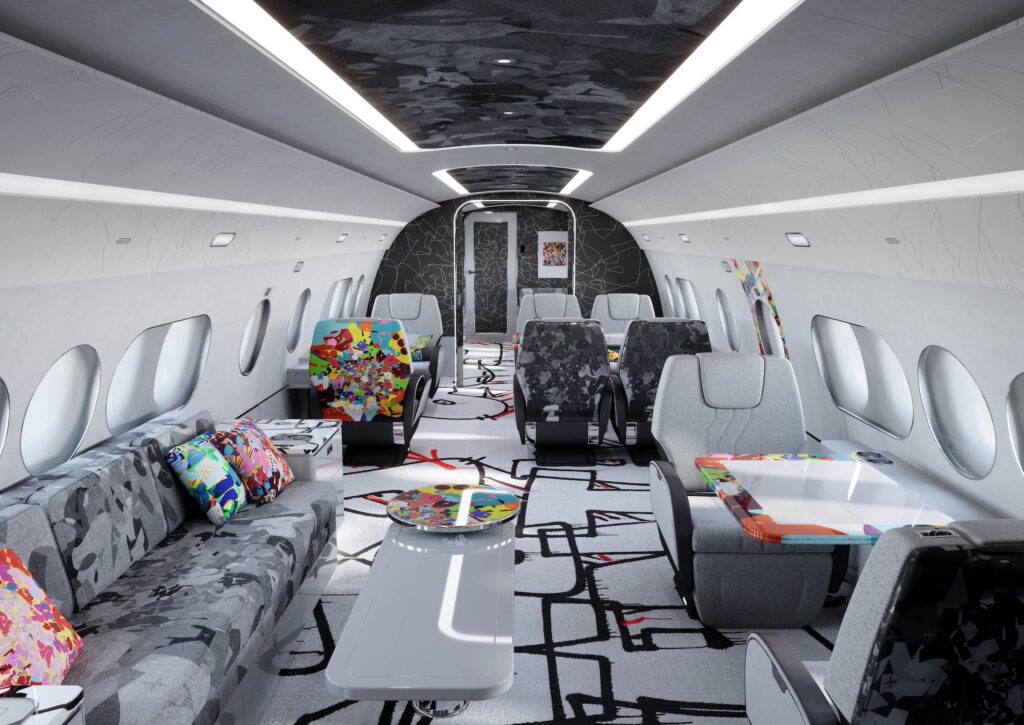 One of the best-known brands in aviation with a century of history, Airbus is famous for its giant commercial airliners.
Similarly, business jet division Airbus Corporate Jets sits at the pinnacle of luxury aviation, offering the most commodious, comfortable, and high-performance business aircraft on the market. When you purchase a craft from ACJ, you're essentially buying a luxury home with wings, one you can customise to your heart's desire.
Take the ACJ TwoTwenty, whose cabin can be divided into numerous rooms—lounge, bedrooms, office, gym, spa—each with its own luxuriously customised interior and separate climate controls. Advanced cabin humidification and air filtration systems prevent your nose and eyes from drying like they do on ordinary flights, and advanced air filtration ensures no unpleasant fumes or smells. It's quiet, so it's great for sleeping, and can fly nonstop to virtually any destination on earth… or maybe you'll just want to head to the clouds for a night of sweet dreams.
The company has continued to push its offering forward, in 2022 introducing ACJ TwoTwenty Creative Studio, its in-house design service that allows customers to participate in the cabin design through VR technology and a material library that wouldn't be out of place in an interior design studio.
Image courtesy of Airbus Corporate Jets.
Sino Jet
Specialising in business jet management, consulting, and charter, Sino Jet is notable for its large Greater China network, which includes twin headquarters in Beijing and Hong Kong, and bases in Shanghai, Shenzhen, Guangzhou, Xiamen, Zhuhai, and Chengdu. With an impressive range of about 40 aircraft models under management—an Airbus ACJ319, a Boeing BBJ, and multiple Dassault, Bombardier, Embraer, and Gulfstream craft—Sino Jet is arguably Greater China's leading business jet operator.
Sino Jet, which also has a presence in Singapore, consists of separate Beijing and Hong Kong companies, ground services company Far East Aviation, and members' club Geostar. The group is led by president Jenny Lau, a former wealth management adviser who has played a leading role in the development of business aviation in China, in particular by bringing luxury lifestyle elements into the mix. Lau is also the chairwoman of the Asian Business Aviation Association, the peak body for Asia's private jet industry.
Geostar markets itself to elite entrepreneurs, offering access to exclusive networking and international lifestyle events and experiences. Previous adventures have been as diverse as participation in Alaska's famed Iditarod long-distance dogsled race, an automobile caravan that drove around the coast of South America, and a campsite at the Burning Man festival—all part of helping Geostar clients live life to the fullest.
Image courtesy of Sino Jet.
Gulfstream
G400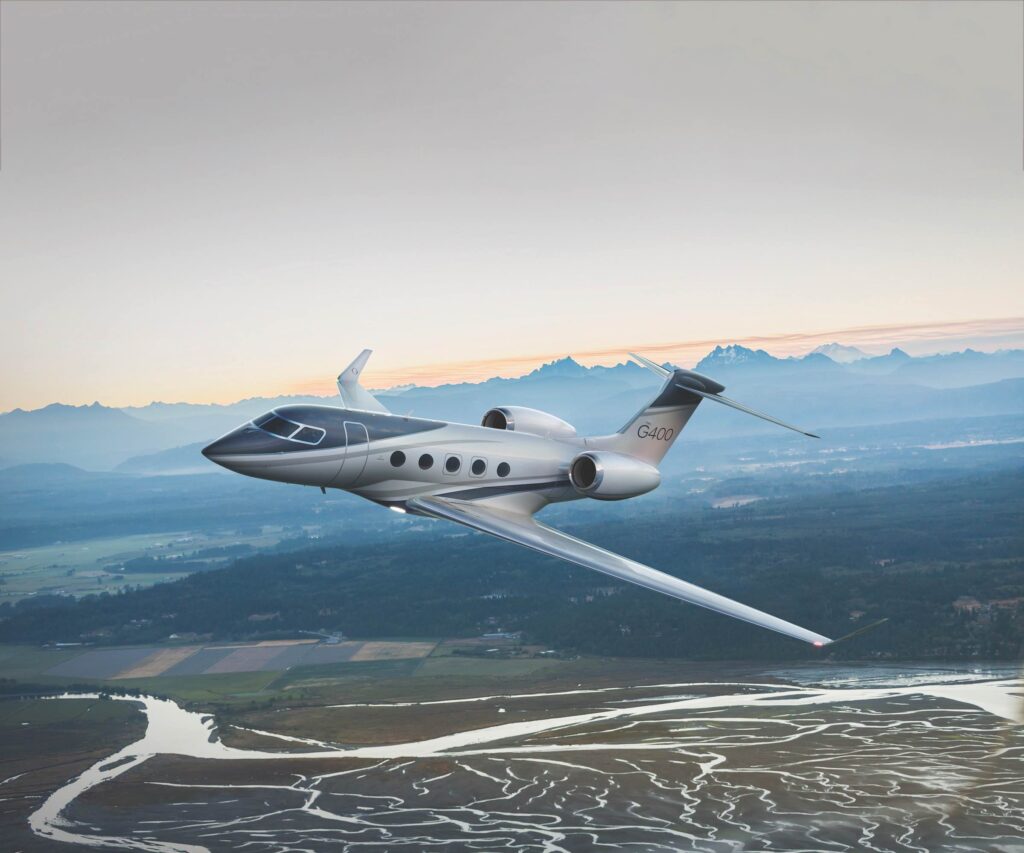 Gulfstream began planning the G400 as a best-in-class business jet back in 2009. With certification expected in 2025, it's the smallest member of an aircraft family that includes the G500 and G600.
In the initial designs, clients mandated space, comfort, ergonomics, and technology; they essentially wanted a modern jet with transcontinental range. The final rendition includes a spacious cabin, with choices of luxurious materials and mission-specific configurations across two and a half zones. The layouts can include seating for up to 12, lounges with tables, an office area, and sleeping for five.
The G400 is part of the large-cabin category, but its fuselage is smaller than its siblings', though with the same cross-section and headroom. The design includes advanced soundproofing for a quiet ride, with 10 windows that Gulfstream claims are the largest in business aviation.
The cockpit has Gulfstream's Symmetry Flight Deck, a shared platform across the newest generation of Gulfstreams, with active-control sidesticks and touchscreen displays to ease pilot workload. With its Pratt & Whitney PW812GA engines, the G400 has a range of 4,200 nautical miles at Mach 0.85 and max cruise speed of Mach 0.90.
Image courtesy of Gulfstream/Andrew Hertzog.
HK Bellawings Jet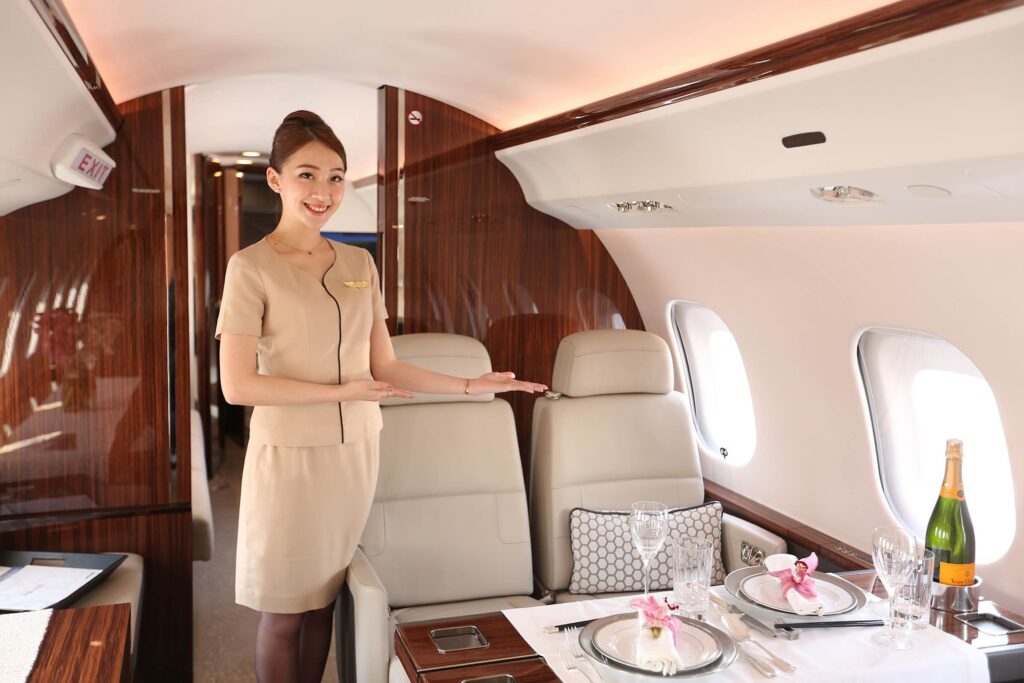 Aircraft management and consulting company HK Bellawings Jet was founded in 2014 and currently manages about 20 mostly large jets, including an Airbus ACJ318, a Boeing BBJ2, and various Bombardier, Dassault, and Gulfstream jets.
The firm provides a full suite of aircraft and flight management services, from flight planning and scheduling to maintenance, staffing, transaction management, and ground services such as the arrangement of limousine rides and special baggage arrangements. It has also earned International Standard for Business Aircraft Operation Stage 3 certification for top-class safety management, an impressive feat for a relatively young company.
In addition, the company's clientele enjoys access to a host of lifestyle experiences and services through the Bellawings Club, where personal concierges assist members in selecting and arranging bespoke journeys to unique travel destinations, private dining provided by Michelin chefs, expert investment and collection advice, beauty and medical services, and more.
Image courtesy of HK Bellawings Jet.
Executive Jet Management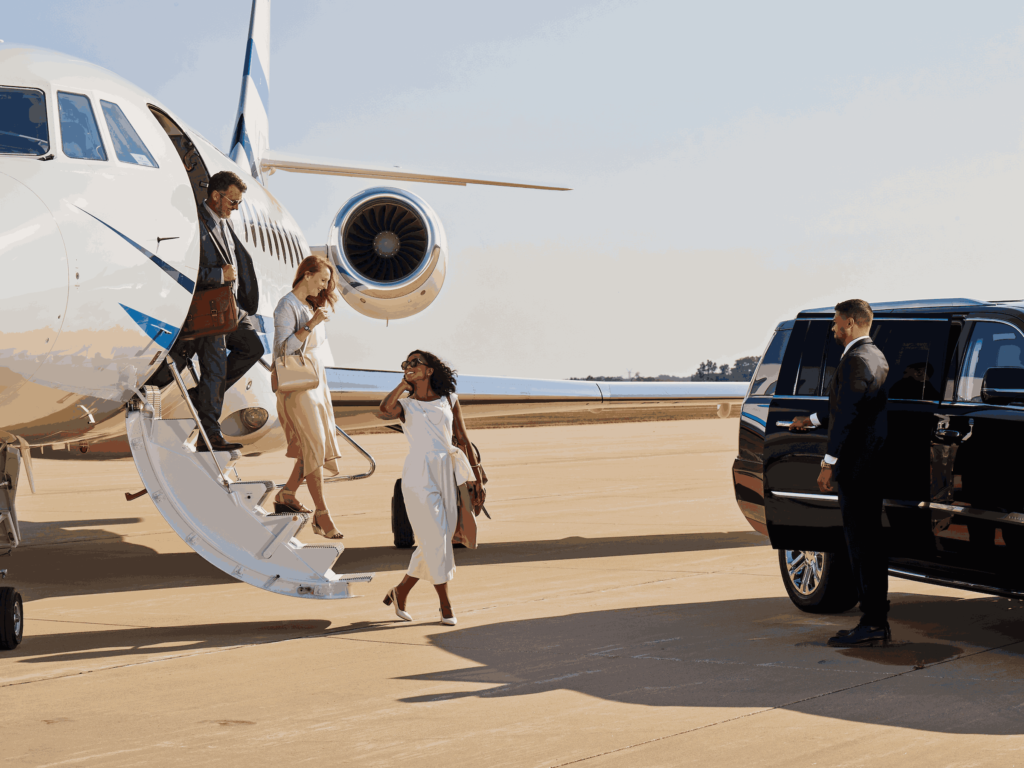 Based in Cincinnati, Ohio, aircraft management and maintenance specialist Executive Jet Management is owned by Warren Buffett's Berkshire Hathaway, which purchased EJM's parent company NetJets in 1998. With more than four decades of history, the company is a long-standing leader in the field of private aviation.
EJM manages aircraft on behalf of owners, with much of its business coming from the NetJets fleet of more than 800 aircraft. The fleet includes several categories, from light jets seating up to seven passengers to long-distance models that can carry 14 people on 12-hour jaunts across the globe.
Although EJM's ground operations are in North America and Europe, its charter service can pick you up virtually anywhere in the world, with access to more than 5,000 airports across more than 200 countries and territories.
Many EJM customers choose to purchase carbon credits to offset emissions from their flights. The credits are available through a programme run by Climate Impact Partners, which supports specific environmental projects such as a grassland conservation effort in the US, electric railway construction in India, and land restoration in Uruguay.
Image courtesy of Executive Jet Management.
Metrojet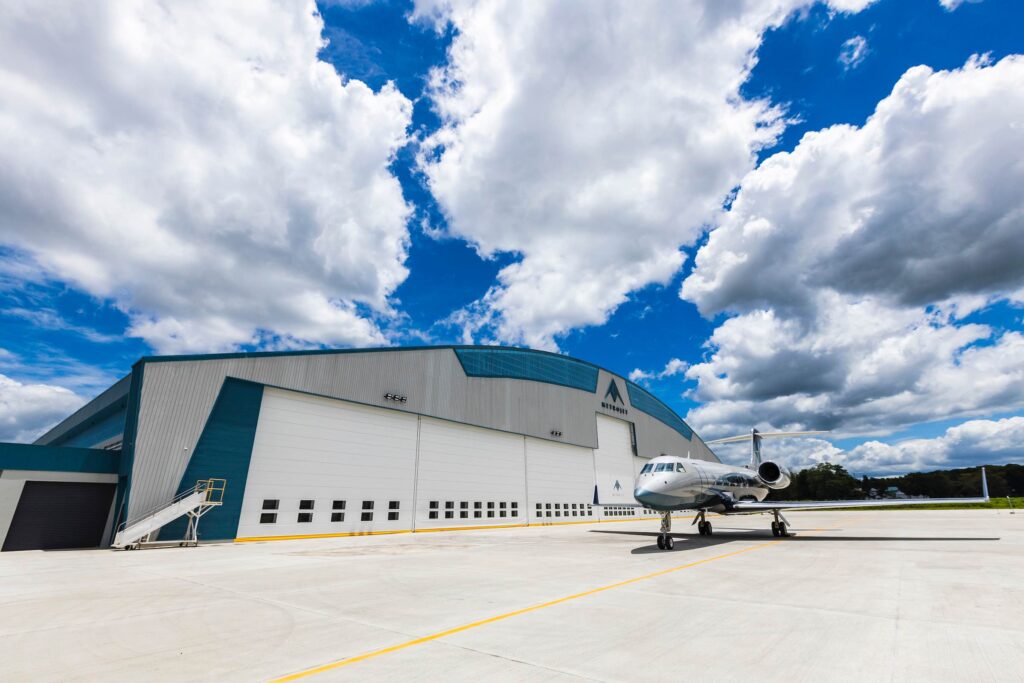 If any company could be considered to have contributed the most to the development of business aviation in Hong Kong, many would say it's Metrojet, a one-stop shop servicing all the needs of private jet owners, potential buyers, and charter flyers.
Founded and owned by the Kadoorie family, of Heliservices and of course the Peninsula Hotel Group fame, Metrojet set a model that others would follow when it launched in 1997 as Hong Kong's first business jet operator. Four years later, it opened the territory's first Maintenance, Repair, and Overhaul (MRO) station, paving the way for Hong Kong to develop into East Asia's premier business aviation hub.
Metrojet boasts several distinctions in the area of safety, including the Flight Safety Foundation Business Aviation Meritorious Service Award and the International Standard for Business Aircraft Operation Stage 3 certification.
The company has expanded beyond Hong Kong, and now has an MRO in the Philippines and a presence in Vietnam. On the Chinese mainland, Metrojet recently acquired a significant stake in Shenzhen-based Funian Aviation, which operates a fleet of Gulfstream G450 and G550 jets.
Image courtesy of Metrojet.
HondaJet
Elite S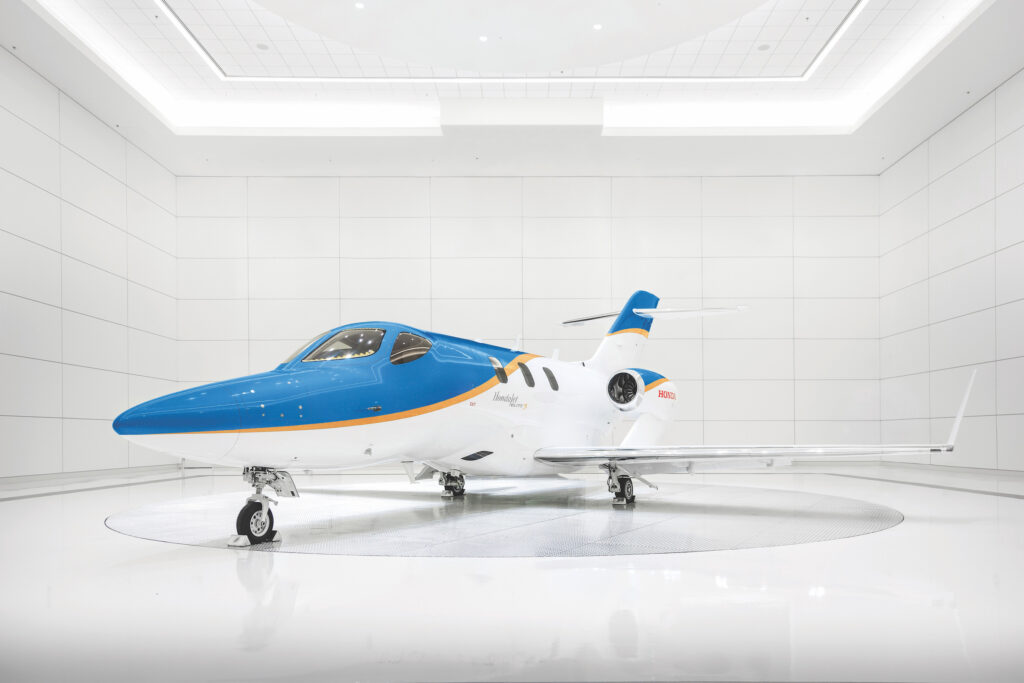 Over its 20-year history, the HondaJet has moved into an evolution based on a revolution. When it made its first flight in 2003, the HondaJet was an efficient but funky-looking very light jet, with over-the-wing engine mounts, four seats, and an all-composite body. Announced in 2021, the eight-person Elite S is a step change from the previous Elite, with 90 kilograms of increased payload and more advanced avionics.
All HondaJet models have the same best-in-class cruise speed of 780 km/h at 9,100 metres. The 1,487-nautical-mile range is also top of its category, as is the flight ceiling of 13,100 metres. But the Elite S has automatic flight controls, which take over if the aircraft moves outside the safe-flight envelope, as well as under-speed protection that prevents stalls. The S also boasts new data-comm functionality that turns voice controls into text-based messaging with air traffic control and ground operations.
The company partnered with Bongiovi Aviation on a speaker-less cabin sound system integrated into the panels. The livery even received a shot of pizzazz with new deep sea blue, gunmetal, and luxe gold options.
Image courtesy of HondaJet.
TAG Aviation Asia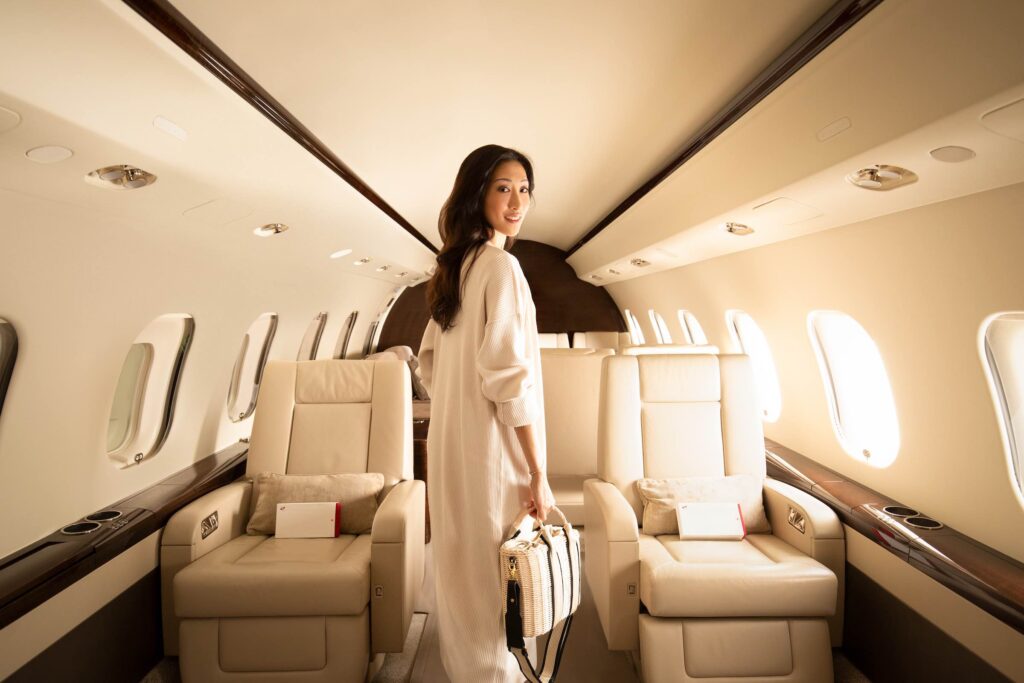 With a history stretching back 56 years, Geneva-based TAG Aviation is one of the most widely recognised brands in private air transport. Its name is an abbreviation for Techniques d'Avant Garde, and avant-garde techniques have surely been key to it having survived and thrived for so many years.
TAG's original incarnation, a firm named Aeroleasing, garnered attention in the 1970s and 80s by running high-profile missions for organisations such as the Red Cross and the United Nations peacekeeping force, and by transporting renowned actors, filmmakers, musicians, and sports stars.
TAG Aviation Asia launched in 2006 with the opening of its Hong Kong office, and the company has expanded its regional footprint with an engineering workshop at Chek Lap Kok airport, a Fixed-Base Operator (FBO) in Macau, and offices in Beijing, Shenzhen, Singapore, and Bahrain.
Reflecting its corporate maturity, TAG Aviation is also a major provider of industry training for both pilots and cabin crew, with a dedicated ground-course training centre in Farnborough, UK, and a flight training school in Adelaide, Australia.
Image courtesy of TAG Aviation Asia.
Hongkong Jet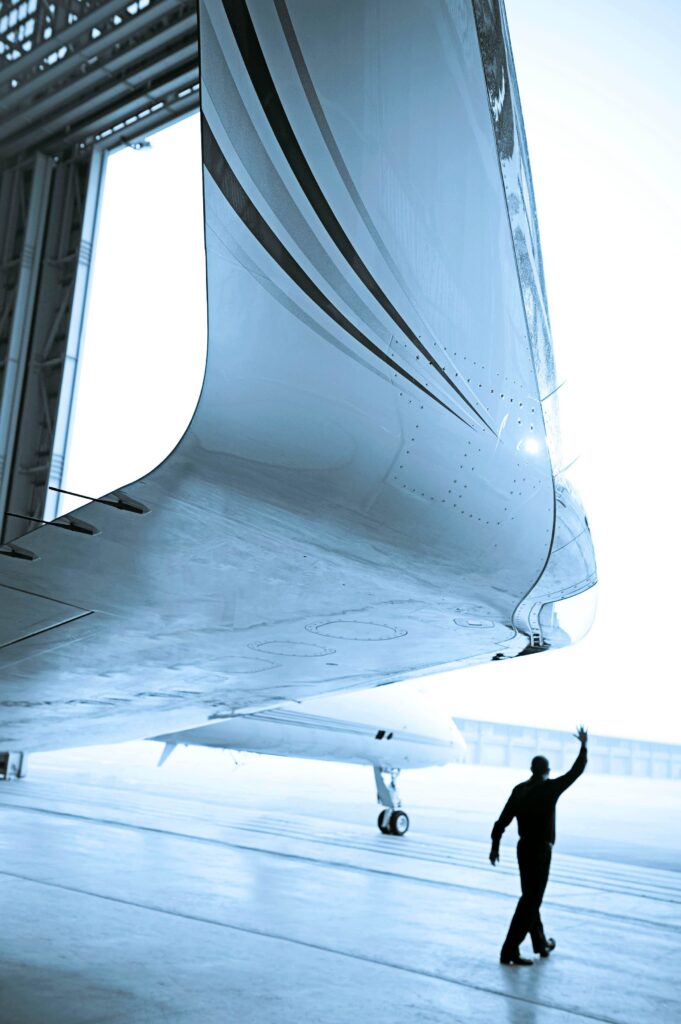 As part of the HNA Group, Hongkong Jet provides aircraft management, maintenance, and charter services in conjunction with a group of other HNA companies including Deerjet, UAS, Asia Jet Malaysia, and Business Aviation Services Guernsey.
With access to the extensive resources of these firms and the greater HNA Group, Hongkong Jet positions itself as a global business aviation company offering services from locations in Hong Kong, Beijing, Shanghai, Kuala Lumpur, Dubai, and Guernsey. As would be expected from a company with such a background, Hongkong Jet holds International Standard for Business Aircraft Operation Stage 3 certification.
In terms of its charter fleet, Hongkong Jet leases out aircraft owned by its HNA partners as well as those it manages for independent clients. The fleet includes a full range of forms and sizes, from narrow-body jets to a Boeing 787 Dreamliner and even helicopters. The firm also partners with Aman Resorts to offer its charter customers luxury packages combining private flights and accommodation at the famously exclusive resorts.
Chairman and CEO Alex Jiao is bullish about the future. "Hong Kong is one of the main financial centres in the world," he says. "Based on the new runway and the expansion of the Hong Kong Business Aviation Centre, we're optimistic about business aviation, especially private jet charter flights."
Image courtesy of Hongkong Jet.
Dassault
Falcon 10X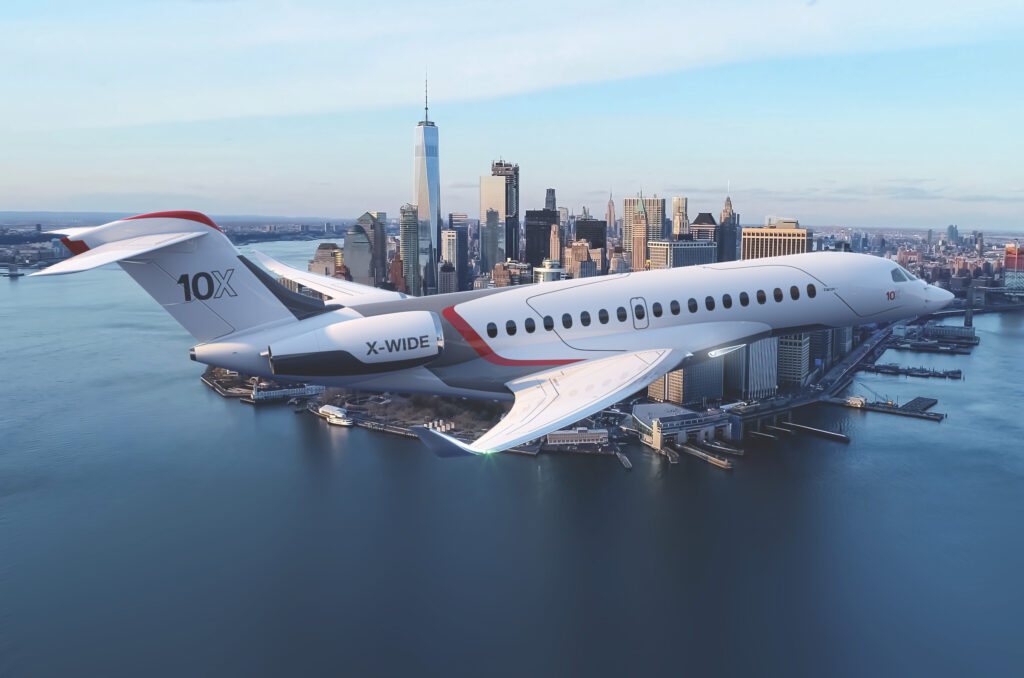 Dassault's new flagship is going after the Bombardier Global 7500 and Gulfstream G700 to claim the title of the world's largest business jet. The French airframe maker says the 10X will have the largest interior in its class. The cabin width of 2.8 metres—about 35 centimetres wider than the Global 7500—is one stat Dassault points to, but the 10X also has two metres of headroom.
The ultra-long-range jet can fly for 15 hours, with a maximum range of 8,631 nautical miles at Mach 0.85, which translates to nonstop flights from New York to Hong Kong or from Los Angeles to Sydney. Also notable: a flight ceiling of 15,500 metres lifts it above most weather.
The four-zone interior can be customised with lounge and entertainment areas, work space, and a bedroom with shower. The 10X's advanced technology also keeps it competitive with Bombardier and Gulfstream, which are investing heavily in digitising and simplifying cockpits as well. Dassault has borrowed features from its Rafale fighter jet, such as heads-up displays and digital flight controls that correspond with the new single power-lever Smart Throttle to ease pilot workload. Its FalconEye is a vision system to identify obstacles for take-off and landing in poor weather conditions. Expected certification for this next-gen jet is 2025.
Image courtesy of Dassault/Galyna Andrushko.
Vox Pop: Let's Take Off in the Blue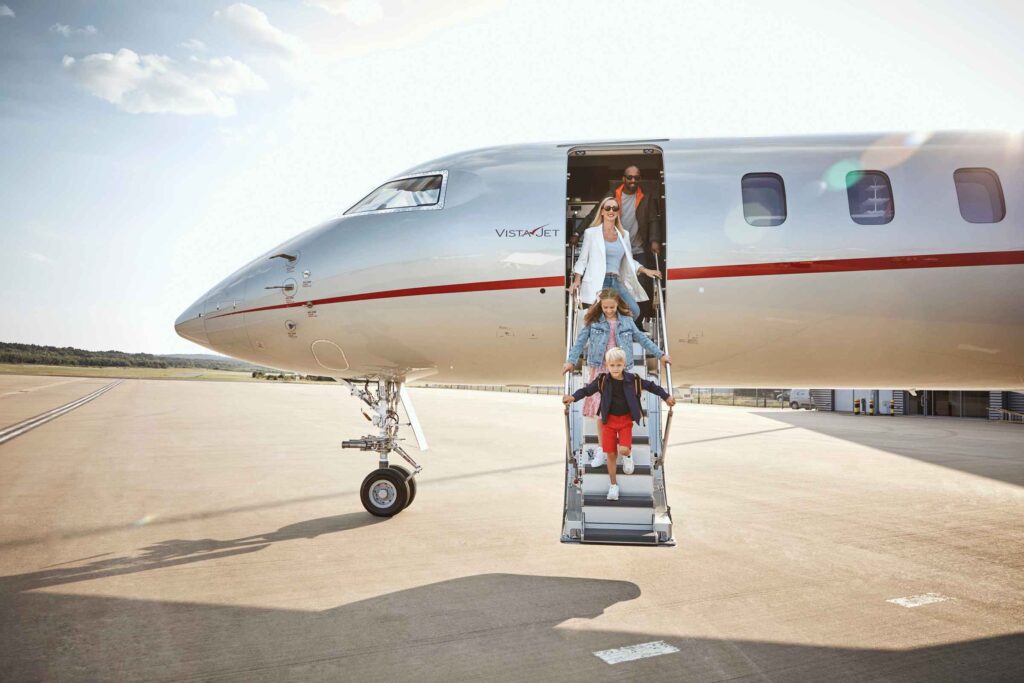 Among the many pandemic-wrought changes to the travel industry, it seems that a whole new demographic of mostly younger individuals is realising that they, too, can enjoy the safety and time-saving benefits of private jet travel. And with purchasing a jet representing a significant financial commitment, many start out by chartering. Private aviation companies are making this easier than ever: as Metrojet CEO Gary Dolski says, "All the client has to do is sit back, relax, and enjoy the flight."
Most charter and management operators own only a small portion of the jets in their fleet, if any. The planes are instead typically owned by corporations or individuals who charter out the aircraft to offset the costs of purchase, maintenance, and operation. While this may sometimes limit the operator's ability to book the jet you want for the time you want it, VistaJet has changed it up by owning its entire fleet. Chief commercial officer Ian Moore tells us that the company's members can enjoy guaranteed flight availability with as little as 24–48 hours' notice on a fleet that covers 96 percent of the world.
And if you are indeed ready for ownership and its host of considerations—delivery, staffing, certifications, maintenance, inspection, and so on—companies like Metrojet are able to provide the full range of services.
However you jump in, you'll be part of a growing community in Hong Kong and the greater region. According to Moore, VistaJet has recently seen a 77 percent increase in hours sold for its programme memberships in Asia. Likewise, Dolski observes, many who previously flew first class are now willing to pay a premium for the flexibility and safety of private. "We're seeing more interest in both basic and block charter, fractional ownership, and a willingness to move towards a pre-owned acquisition or in some instances jumping right into a new aircraft," he says.
As more than one insider points out, between the growth of UHNWIs, the third airport runway, and the Hong Kong Business Aviation Centre's expansion project, the future of private jet travel in Hong Kong and the region is bright. Looks like the pre-flight checks are done.
Image courtesy of VistaJet.