By Dan Wells, Oscar Lee, and Viju Mathew
The Big Idea: Shifting to Neutral
After decades of fits and starts, electric vehicles are now squarely in the automotive firmament, with even the combustion-loving likes of Rolls-Royce, Bentley, and Lamborghini embracing a battery-powered future. So what's next? Enter the climate-neutral car.
Most EVs are not as clean as the brochures would have you believe, considering the immense carbon footprint of battery manufacturing, plus the fact that much of the energy grid is still plugged into coal-fuelled power plants. In theory, a climate-neutral car would not just forego tailpipe emissions, as with a standard EV, but would also be net-zero when it comes to all harmful greenhouse emissions, from production as well as operation.
Yet according to Brett Smith, director of technology at the Center for Automotive Research in Ann Arbor, Michigan, "There's so much heavy manufacturing that goes into a vehicle, very few suppliers will be capable of meeting the goal in the next five to ten years." Smith adds, "To know that a car will never use coal-powered electricity is still decades away in the United States."
Undeterred, one player leading the charge is Polestar, aiming to be the first to release a climate-neutral production car, in 2030. Hans Pehrson, head of the endeavour Polestar has dubbed the 0 Project, acknowledges the difficulty. "I really compare this to when JFK said it was time to put a man on the moon," says Pehrson, adding that "those involved knew they couldn't do it on their own; they needed collaboration."
Suppliers that have already signed on with the Swedish marque include SSAB, a steel manufacturer that's developed a fossil-free version of the alloy, and Norway-based Hydro, which is working on carbon-neutral aluminium. Most importantly, Polestar plans to bring this to fruition without resorting to offsetting, a way of cooking the environmental books. "The most common form of offsetting is to pay someone to plant trees somewhere else," says Pehrson, "but if we continue to let out CO2 emissions, the PPM [parts per million] level will not stop increasing." He's aware that electricity will not be 100 per cent clean by the 0 Project's target date but emphasises that, for the first time, there would be the "possibility" of net-zero for the consumer.
Also in the neutrality race is automotive designer Henrik Fisker, who cites 2027 as his team's deadline "to build a vehicle that is climate neutral through the life cycle of the car." He breaks that sequence into five parts: upstream sourcing, manufacturing, logistics, the use phase, and end-of-life recycling. Recognising the battery as an Achilles' heel, Fisker is "looking at innovative ways to source as much non-primary, recycled content as possible, including that of the minerals still crucial to effective batteries."
Lecedra Welch, environmental-sustainability manager at the Michigan-based Automotive Industry Action Group, is quick to distinguish these long-term efforts from sleight-of-hand greenwashing. "Our industry understands how important climate change is, and companies are actively working with competitors and their suppliers to address these challenges and mitigate risks," she says. It's a sentiment shared by Smith. "Small automakers with very low volumes are in an intriguing position to do this as a test-case exploration," he says. "It's pushing the boundaries to figure out what the solutions can be."
Bentley
Continental GT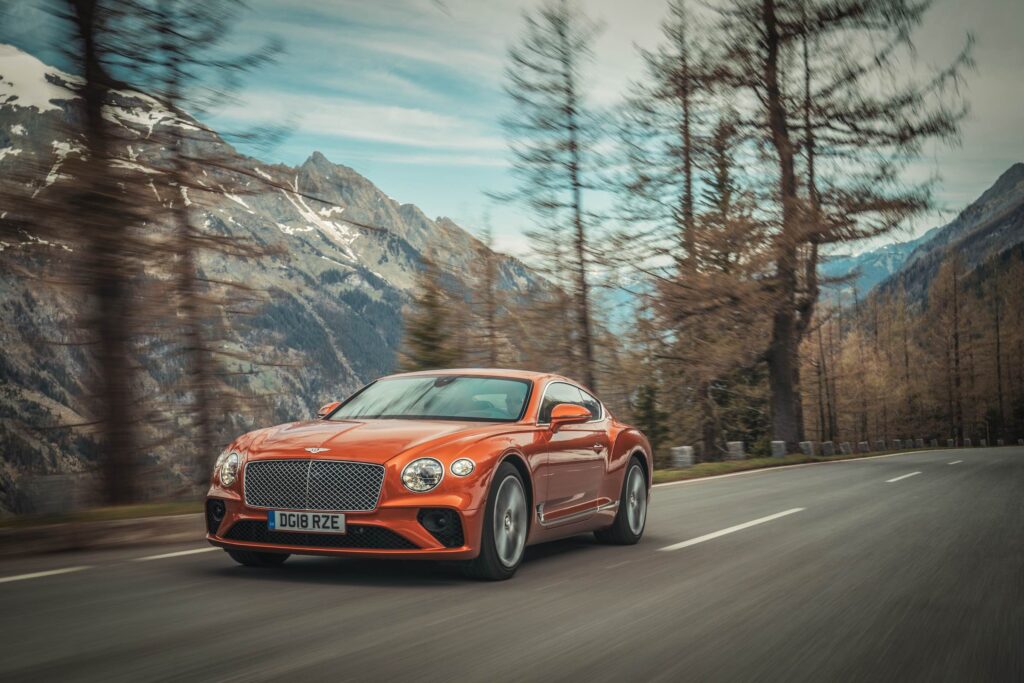 In the very depths of the old English countryside resides one of the most historic automakers around. With a history stretching back to 1919, Bentley has created some of the finest super luxury cars to date, and is no stranger to racing either, with the marque dominating Le Mans in the late 1920s via the legendary "Blower" Bentley and Bentley Speed series. Multiple generations of fast Bentley road cars developed over this distinguished century have led to the birth of the Continental GT.
The new generation is offered in two distinctive power trains: a twin-turbo V8 producing 404 kilowatts (542 horsepower) and 770 Nm of torque, or the ludicrous twin-turbo W12 producing 485 kilowatts (650 horsepower) and fully 900 Nm of torque. The base model offers a top speed of 318 km/h and the W12 335 km/h, and if you want the ultimate Bentley expression you can opt for the ultra-luxe Mulliner specification for either model.
Inside, one of the unique options is the rotating centre display, which allows drivers a choice of three faces in the cabin: a digital display, three analogue dials that hark back to the 1930s, and a clean veneer surface for the ultimate minimalistic look. Overall, the super cruiser line offers a unique sporting attitude with a high emphasis on interior and ride quality, sitting between a sporty Aston Martin and a softer Rolls-Royce. If you want both worlds, it's a hard one to top.
Image courtesy of Bentley.
Maserati
MC20 Coupe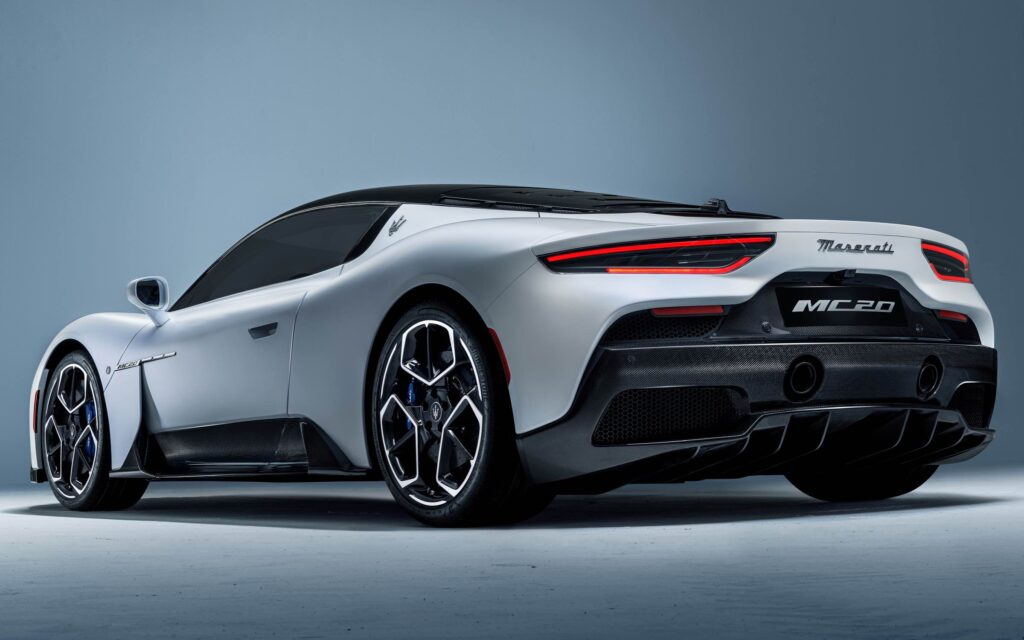 Maserati's resurgence is being led by its new flagship supercar, the MC20. Powered by a twin-turbo V6 and mated to a Dallara-developed carbon chassis, the MC20 promises to be a lightweight mid-engine sports car that harks back to the MC12 Ferrari Enzo-derived halo car.
The MC20 is well-balanced, and more relaxed than you might imagine. Elements such as the lightweight Lexan polycarbonate engine cover give the car a lightweight presence. However, despite the extensive use of carbon fibre, the MC20 isn't exactly a lightweight, coming in north of 1.5 tonnes. In essence, while it's quick—accelerating from 0–100 in 2.9 seconds and bringing a top speed of 325 km/h—it's an excellent grand tourer designed for long journeys with a sporting DNA. But despite what could be considered a lack of true thoroughbred driving feel, the brand and design is still one of the most seductive and alluring badges on the market today. It also remains a wonderful alternative or complement to the flashy world of Ferrari, with which it often shares key components.
Image courtesy of Maserati.
Mercedes-AMG
EQS 53 4MATIC+
Mercedes-Benz is in a full electric push these days, with the introduction of the EQS in late 2021 and the addition of the Mercedes-AMG EQS 53 4MATIC+ as the new, and range-topping, model in the lineup. The positioning is reflected in the price point, with its main segment rivals including Porsche's Taycan Turbo, though the EQS's bespoke chassis gives it a very different underpinning. Boasting a whopping 560 kilowatts (751 horsepower) and 1,020 Nm of torque in the fully optioned version, it's one powerful electric cruiser. Weight does remain something of an issue, with the machine coming in at a mighty 2.6 tonnes.
The EQS 53 naturally has the Mercedes touch inside, with high-quality materials throughout. The sports seats feature the Affalterbach logo embossed in the headrest, just to remind you of the car's birthplace and heritage, while the expansive MBUX Hyperscreen allows you to control functions, comfort, and infotainment. You can also option the interior with funky lighting solutions to entertain your passengers while you drive in blissful silence—or select the drive sound "performance" and you'll be delighted with Star Trek-like space noises that will propel you to warp speed in no time at all.
Image courtesy of Mercedes-AMG.
McLaren
Artura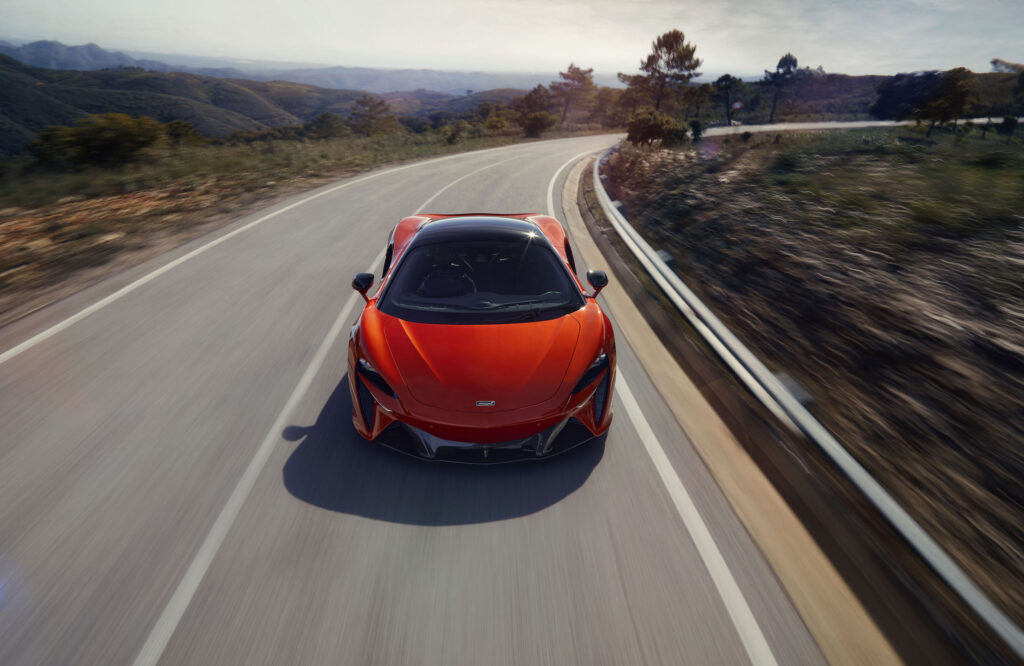 The Artura marks a truly exciting new era for McLaren. With an all-new carbon fibre monocoque, the platform, like existing McLarens, is designed with ultimate performance in mind. The marque ditched its ageing twin-turbo V8 and opted for a smaller and lighter V6, whose 120-degree V angle breathes new life into the Artura; it brings a whole new sound signature for McLaren, plus of course the inherent benefits to mass reduction created by deleting two cylinders and allowing for a shorter crankshaft.
All this means that the Artura can add an exciting new hybrid system to fill in the turbo lag without adding a tremendous amount of weight relative to previous models, as the V6 was very light to begin with. New tech such as an e-differential has also been added. It's worth remembering here that a decade ago McLaren built the P1, the gold standard for hypercar tech. With that experience in hand, the company is now able to offer what's essentially a junior P1.
There are some refined competitors in this class, such as the Ferrari 296 GTB, but the Artura has its unique carbon shell at its core, its class-leading hydraulic steering just wriggling with feel, and comes in significantly lighter on the bank balance than some.
Image courtesy of McLaren.
Rolls-Royce
Phantom Series II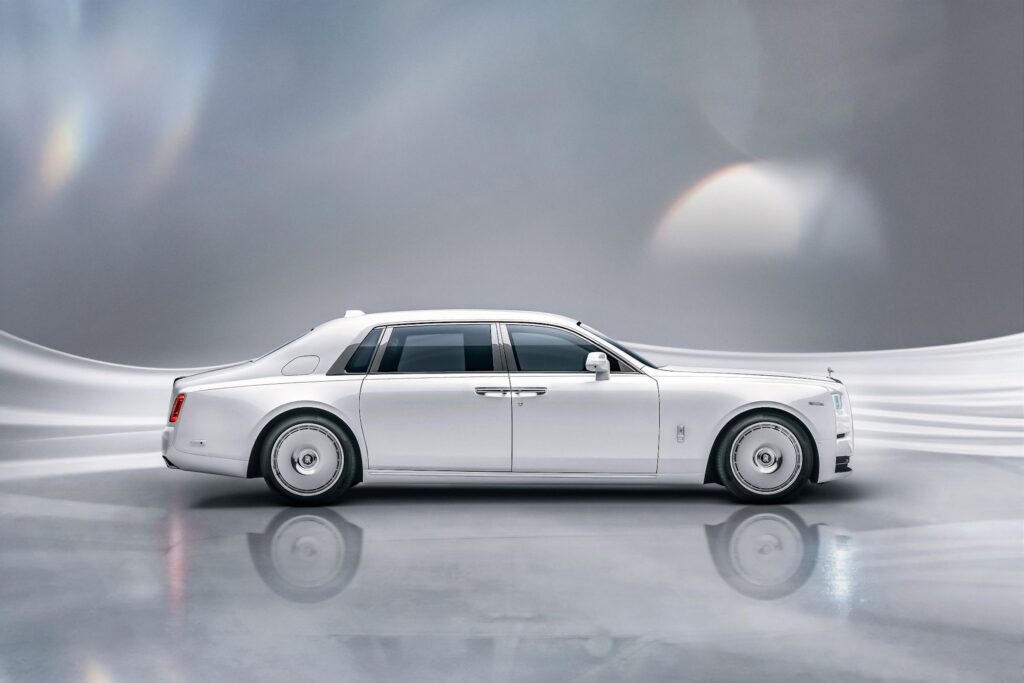 Nothing says luxury like the spirit of ecstasy virtually floating down the road, signature wheel caps staying perfectly centre as you drive for all to see the famous logo. Rolls-Royce has always been the benchmark of super luxury, and the Phantom has always spearheaded that lavish crusade. Since 1925, the flagship has undergone eight generations, and this most recent iteration doesn't fix anything that isn't broken, giving a timely refresh of the Series I that's partly based on owners' feedback. She features new and improved headlights, a revised grille with a clearer connection to the running lights that helps define the shape of the nose, optional black lacquer wheels or retro versions that evoke the 1920s series, and some other refreshments, while sharing the same 6.75-litre, 420-kilowatt (563-horsepower) V12 as the Series I.
Founded in 1906, Rolls-Royce has been on an unending quest to refine the automobile. No other manufacture has been able to copy its trademark ride quality, and today this is what the Phantom represents: the pinnacle of British executive heritage.
Image courtesy of Rolls-Royce.
Aston Martin
DBX707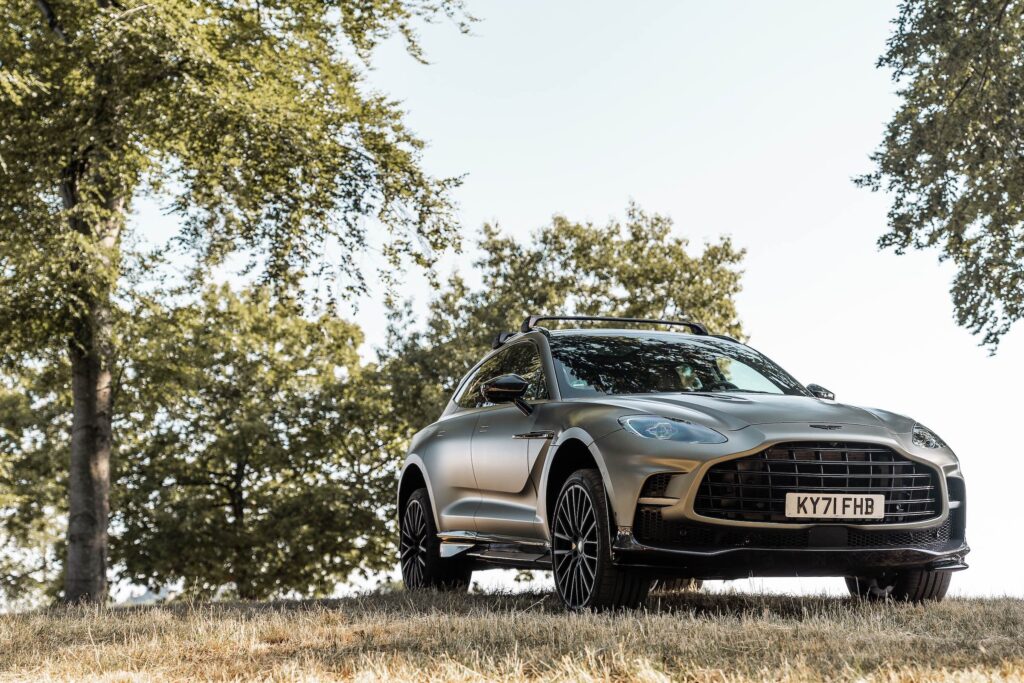 The fastest, most powerful SUV to ever exist: the Aston Martin DBX707. The DBX was the heritage marque's entry into the long list of ultra-fast super sports SUVs, and with the likes of Lamborghini and Bentley creating their own entries into the hot segment, Aston Martin wanted to create a more powerful version. Thus, the DBX707 was created, and as the name suggests, the car boasts 707 PS (520 kilowatts, or 700 horsepower), adding to 900 Nm of torque from its twin-turbo Mercedes-AMG-derived 4-litre V8.
The car is stiffer than the regular DBX, with revisions made to tighten the suspension, and it's had some tweaks to Aston Martin's Electronic Active Roll Control system that enable flatter, faster cornering. The interior includes sports seats as standard to hold you in place during high-G manoeuvres, and carbon ceramic brakes are standard too—you'll need those if you're going to be visiting its 310 km/h top speed.
Overall, the DBX707 sets itself differently to its rivals as a classy gentlemen's sports SUV. With its elegant proportions and sleek design, all Aston Martin hallmarks, the car is sure to stun the crowd at your local valet stand.
Image courtesy of Aston Martin.
Mercedes-Maybach
GLS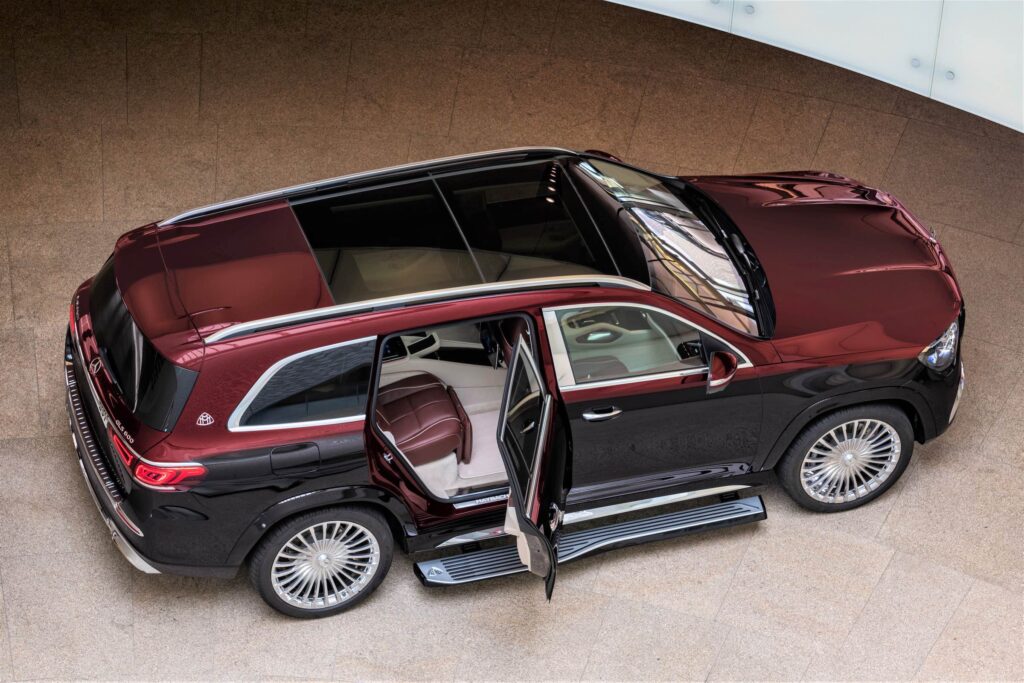 Mercedes's Maybach range is the highest tier of luxury in the German automotive segment. Originally a separate entity, the company tastefully overhauled Mercedes vehicles to an even higher standard of opulence: as founder Wilhelm Maybach famously described his goal, "to create the very best from the very best." The Maybach GLS is roughly twice the price of the standard GLS, but offers the world's finest materials inside. Imagine sitting on handmade leather massage seats engulfed in soft music provided by Burmester audio, also known for its full systems for Bugatti.
If that wasn't enough, ambient lighting throughout the cabin, a bespoke fragrance from the onboard fragrance dispenser, and the signature Maybach fully active suspension below combine to create a marvellous experience—what many call "the Maybach experience." You'll feel like you've been transported by a cloud to your destination. A bespoke tour de force of luxury with the underpinnings of Mercedes-Benz, this is a special machine, no doubt.
Image courtesy of Mercedes-Maybach.
BMW
i7
German powerhouse BMW is solidifying its position in an electric future, and now it's the turn of the 7 series. This has always been the marque's flagship executive saloon and S-Class competitor, with the capacious cabin, luxury features, and distinctive design that mantle entails. The all-new electric i7 carries this forward on all fronts: you can see it on approach, with the evocative expansive grille from recent models creating an even greater monolithic effect, and the slim lights adding a touch of boldness.
Range is in excess of 600 kilometres, with 10 minutes of fast charging enabling up to 100 kilometres. Following recent BMW innovations, the driver will be pleased to see a one-piece high-resolution display that includes the dashboard with the main media and map screen. Tech doesn't stop there, with the "Sky Lounge" panoramic glass sunroof with adjustable LEDs adding a unique touch. And the body styling overall evokes the maker's new design language, carrying through the theme of contemporising the long-standing and loved 7 series.
Image courtesy of BMW.
McLaren
Solus GT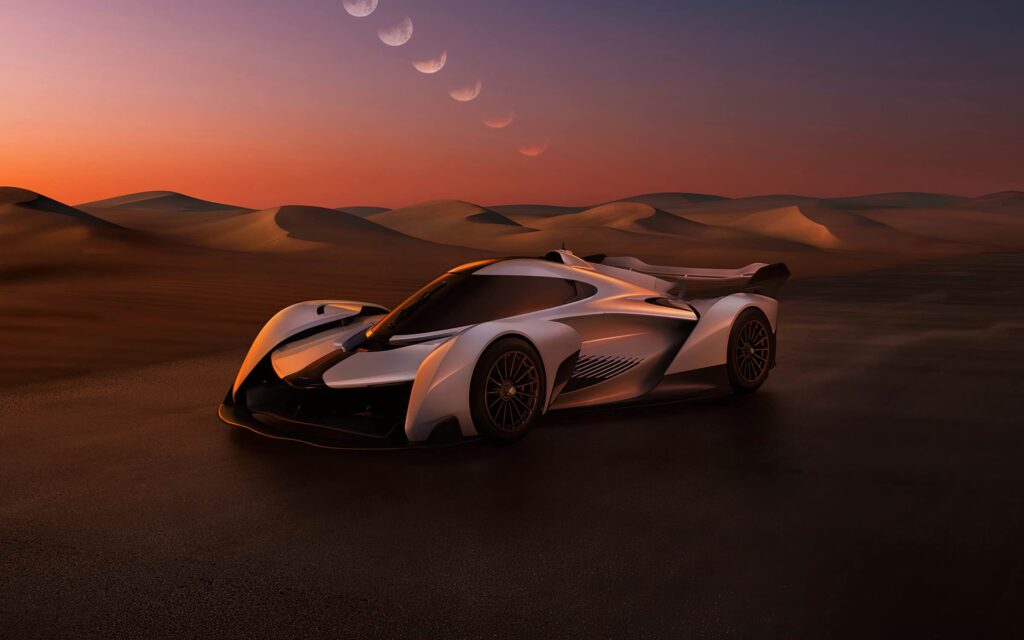 Joining McLaren's Ultimate Series is the Solus GT, and as with the previous machines in the series, the headline figures will make any car enthusiast's knees tremble: 1,000 kilograms. 1,200 kilograms of downforce. 10,000 rpm redline. Beyond 600 naturally aspirated kilowatts (800 horsepower) from a Judd GV5 V10-derived engine. This is one serious piece of kit, and certainly not for the faint of heart.
The concept for the Solus germinated in the Gran Turismo Vision GT programme, a conceptual gaming vehicle programme for automakers to come up with their craziest ideas and turn them into virtual reality cars for the titular game. The fine workforce at Woking then decided to create the vehicle for a limited production run of 25 units. Rumours circled before the Solus's debut that it would be used for McLaren's return to Le Mans. Unfortunately, this turned out to have no substance: the single-seater track-only vehicle will be used only by those who wish to experience Le Mans-prototype levels of performance on their track days.
From end to end and top to bottom, everything about this car screams performance without compromise. The Solus GT is truly a rolling design study at the most extreme level.
Image courtesy of McLaren.
Porsche
GT3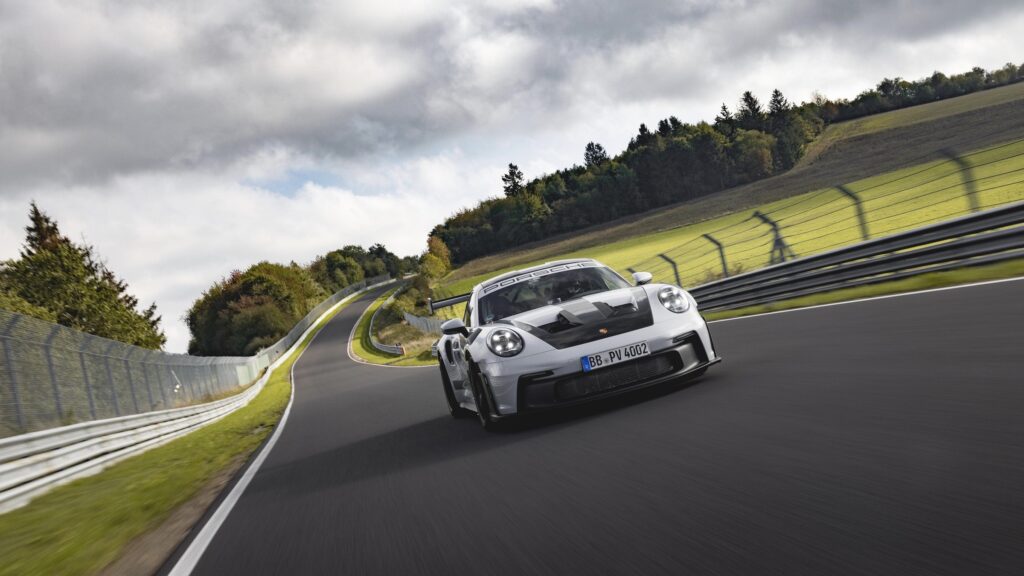 Every couple of years, Porsche builds a GT3. And every time, they get larger and marginally heavier. But they also get faster and faster. The new 992 iteration is no exception. Wider track all around, downforce levels of the 991.2 GT3 RS, and a chunk off its big brother's lap time at the Nürburgring—no easy task.
Porsche engineers provided a new double-wishbone front axle derived from the Le Mans-winning 911 RSR, giving this 911 a front end like no other. Carbon fibre roof, carbon ceramic brakes, and carbon bucket seats are all options for buyers to choose if they desire the ultimate lightweight package, in addition to the material being used on the bonnet and rear wing as standard. That rear wing is gooseneck mounted, and combines with an expansive underbody diffuser to give the car high-speed cornering ability to which very few street legal cars can compare.
The car retains its naturally aspirated flat six that produces 375 kilowatts (503 horsepower), and can be optioned for the first time since the 997 generation with a six-speed manual as well. Manual enthusiasts rejoice! And if all this doesn't excite you enough, the recently announced GT3 RS is shaping up to be the ultimate street-legal track day weapon, with on-tap suspension adjustors and a Formula 1-style active Drag Reduction System enabler.
Image courtesy of Porsche.
Vox Pop: Creating Classics
Few auto manufacturers have achieved the status of global icon. Historically, those that succeeded did so as a result of a motorsport profile, clear passion, and a flamboyance that demanded attention, creating cars that exhibited speed and style.
There are still many who believe the pinnacle of excellence and desirability was achieved in the 1920s and 30s: we were graced with such machines as the "Blower" Bentleys and Duesenbergs, which defined the 20s, and the likes of the Bugatti Type 57SC Atlantic and Alfa Romeo 8C 2900, which defined the 30s.
Later decades saw an appetite for science fiction and futurism. Of course, cars are responsive to external design trends, and various modernist styles emerged that had a major influence on car culture. Art Deco morphed from its earlier form under US influence in the 1950s, and cars like the 1955 Mercedes 300SL represent the school well, embodying clean lines that have endured today. The minimalism of the 60s took this and added a slightly straighter style that epitomised simplicity and restraint from overdesign. This renaissance of elegance inspired by pre-war cars includes the Lamborghini Miura and Ferrari's superb 250 GT series, which characterised an era of hand sculpting and laid the foundation for a standard of craft that persists even now.
The 70s saw a different form as Brutalism filtered into car design, chiefly embodied in the wedge that began with cars such as the mighty Lancia Stratos and Lamborghini Countach. But by the 80s, designs began softening again, with the likes of the Ferrari F40 mitigating its wedged front end with softer lines. The McLaren F1 exemplified the 90s desire for performance and beauty so captured by the earlier cars, but with a keener sense of modernism about its execution.
Every automotive generation tells a unique story about its time. Fashion designs come and go, and so do car styles. Modern machines are defined by their desire to be futuristic, but can feel over-styled. The most successful designs are those that acknowledge the heritage and DNA of previous designs, but understand that inspiration and ethos continually requires new and fresh expression. It's a tricky balance, but fortunately, there are a few who get it right—some are shown in these very pages.
Image by Roberto Cerruti/shutterstock.com