You might be familiar with a trending meme on social media that makes anyone over a certain vintage smirk with reluctant agreeance: "I'm looking for a moisturiser that hides the fact that I've been tired since 2010."
Pause for effect… I think I have found it.
Available for the first time in Asia, the acclaimed Dr Burgener medi-spa line of Switzerland is exclusively on offer at the new Yun Wellness at the Island Shangri-La. Offering a range of facials for both men and women, the carefully curated and faultless treatments feature the usage of products from the Dr Burgener line with "active ingredients such as peptides, amino acids, and hyaluronic acid, as well as the best of Switzerland's natural resources." As per the literature—and my, what a comprehensive booklet it is—"Dr Burgener's products encourage cell regeneration, collagen production, and the reduction of wrinkles, spots, and pigmentation."
With pages of white coats, labs, and uniforms, and language and esoteric terminology riddled in the copy, I am forced to believe the science. Like its Korean and Japanese counterparts, Switzerland's dedication to skin care (skin being the largest organ in the body and often neglected for superficial reasons) is beyond compare. On the menu, you'll find a dozen facial treatments, including the promising Dr Burgener's Lifting and Firming Collagen Facial, the indulgent Repairing Gold and Green Caviar Facial, and the Brightening AHA Facial. And then, there's the bold type: Dr Burgener's Million-Dollar Men's Facial.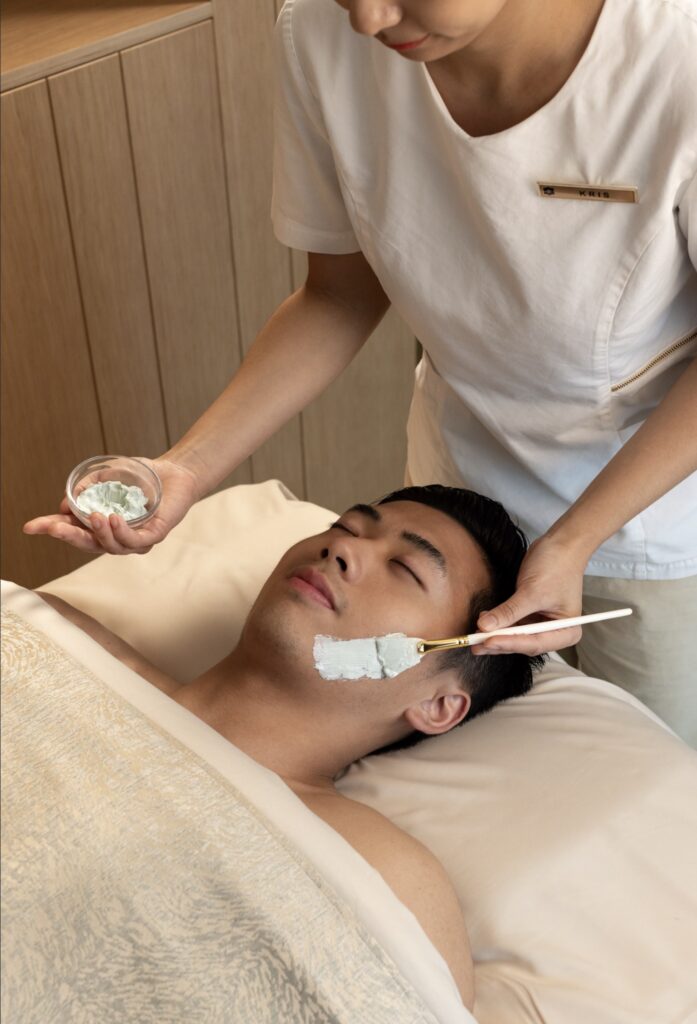 A million-dollar facial—well, now. So reads the subscript, "Perfect for men's skin, this facial is cleansing, healing, and oil-controlling. The application of white and grey clays deeply cleanses and aids in the absorption of oils and sebum. Hyaluronic acid-rich serums restore hydration and soothe irritation."
In full confession and right of information, the treatment itself does not cost a million dollars (in fact, it is a perfectly reasonable HK$3,300 for a 90-minute experience) but you do end up feeling—if not looking—like a million bucks at the end of it.
Before the treatment, I had the pleasure of an exclusive chat with the good doctor about the need to heal original skin. "After the age of 40, men really should have a skin regiment and programme," says Dr Pauline Burgener, who continues to shoulder the family business and legacy with elegant ease.
Dr Marc Burgener, a plastic surgeon, founded the company back in 1955. Pauline, his able daughter-in-law, obtained her PhD in Biology and used her advanced medical knowledge to develop, enhance, and globalise what is now the impeccable and coveted Dr Burgener Switzerland skincare brand. "Normally, men come to just relax at wellness centres, but men really need to self-invest in skincare. The skin is so important—it's the first thing that you see on any person, especially in business. You need to look good and healthy—and that starts with your face," she says.
There are machines and gadgets with software at the wellness centre that can study pigmentation and the amount of melanin in your skin to wisely and scientifically adjust the treatment programme to suit individual needs. We may all be born the same in the eyes of the law and lord, but sun damage affects skin very differently. While some tan, others burn; some have a natural mat of oil, others get freckles and spotted pigmentation. Sunscreen and a silent prayer are not enough. That's when you need some "haute skincare," as the Swiss brand has been labelled by some notable beauty editors. Like haute couture, the haute skin care is a personalised service crafted for the individual; they offer no blanket treatment for all and sundry.
"With our technology, we measure if you have enough melanin," says the skin specialist, panning over my nasolabial folds (that cheek crease you get with age). "The software will calculate how much auto-protection you have with your melanin so, for example, if you are out for an hour in the sun in this region, how much SPF do you really need. Protection isn't vanity; it's avoiding damage to your cells and avoiding cancers when you expose yourself to the sun."
Everyone has skin challenges of one kind or another; either hyperpigmentation or spot pigmentation, dehydration, or a sebum surplus, depending on gender, hormones, and how much you're out in the sun. There are very few that walk the earth with perfect skin, a notable indicator of one's overall health.
"The treatments that we are developing here is quite the same that we have in Europe, which is cleaning the skin first, peeling it gently, and leaving enough for it regenerate for a healthy glow and taut, protective epidermis," assures Burgener.
People should really have a monthly treatment, ideally. The tools used at the centre are unique for "the ultimate personalised skin care experience," using ultrasound and vibration "to separate the cells that are not quite connected. And this is the best way, not a very aggressive measure, to clean the cells and to push the regeneration of the new cells coming out," the good doctor explains about the regiment on what this "million-dollar" facial entails. "Then a good massage to activate the circulation and then go through ultrasound regeneration of the skin. And then finally, the treatment always ends with a mask, and with a cream that is adapted to polish, hydrate, and heal your skin."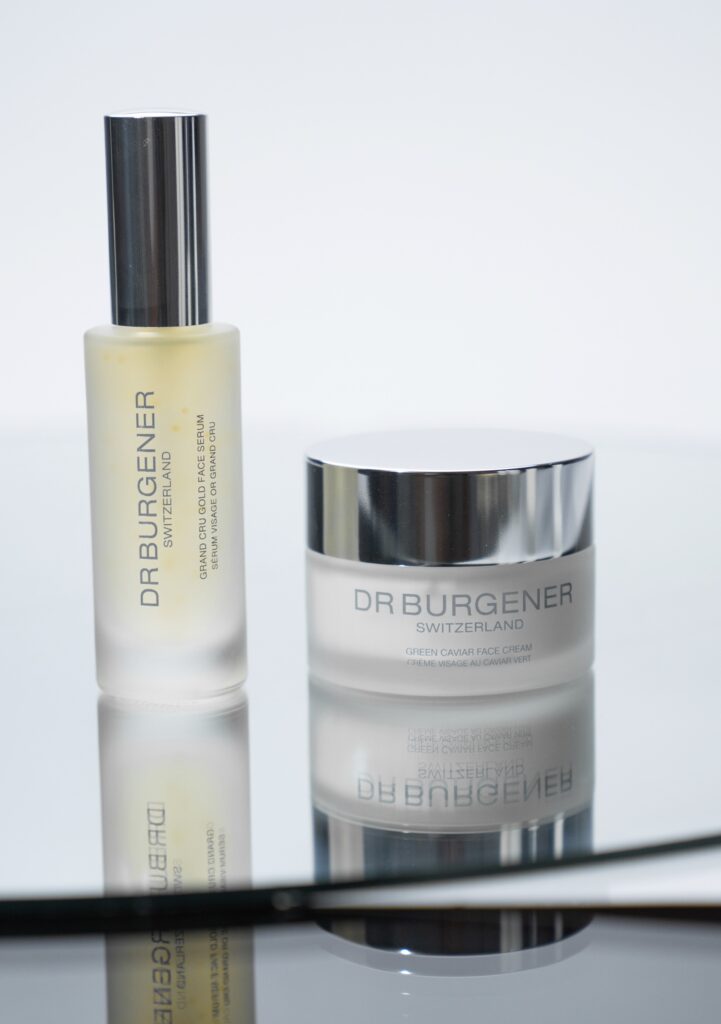 And this is where the green caviar comes in, used in the facial programme. Pray tell, what is green caviar?
"The green caviar is a caviar from Japan—Okinawa, in fact. We studied biologically why people there have such amazing health and good skin," explains the doctor on the research and development the team has been doing for the past 60 years-plus in anti-ageing medicine. "We were studying zones worldwide, especially the 'blue zones' where people are living long, healthy lives up to age 100 or more. We looked at statistics and the global population and we were interested in why they are living so long and so well. Of course, it came down to lifestyle, because they are on an island, they are eating very well, and moving a lot as they have to fish. They were also eating this green algae, which is called green caviar because they are like small pearls. It is not from the fish but from algae and plankton. We extracted this caviar, we studied it in the lab, and we saw that it is repairing the damages of DNA with time and age."
Enriched with Caulerpa lentillifera from Okinawa, this luxurious face cream features "two hyaluronic acids that work together to hydrate and form a protective film." As the index at the back of the tube reads, "With a patented polyactive oily agent that wraps and protects your skin, this face cream will leave you feeling refreshed and revitalised."
All the products from Dr Burgener Switzerland are a tier above the range that's sold in mass markets globally. In fact, it is available at only few-and-far-between establishments on the planet, such as Six Senses, the Royal Savoy, the Royal Mansour, and in Hong Kong, but only at the Island Shangri-La—the range is haute to touch. To top it all off, replenishing stocks of the potions, lotions, cream, and "caviar" don't come cheap. But what is the true cost of skincare and your health?
8/F, Island Shangri-La, Supreme Court Road, Admiralty, Hong Kong
Tel: (+852) 2877 3838
All images courtesy of Island Shangri-La.