This story is part of a series of features covering MGM x RR1 Culinary Masters Macau, hosted at MGM COTAI in Macau on 10–13 August 2023.
Day three of MGM x RR1 Culinary Masters Macau culminated in a spectacular gala dinner hosted by chef Massimo Bottura and his team from the award-winning kitchen of Osteria Francesca. How Bottura and his chefs garnered those three Michelin stars and stripes was proved on the plate and palate for an exclusive group of guests. But before the final table was set, it was an eventful day for all at MGM COTAI. Here's a look back at the day.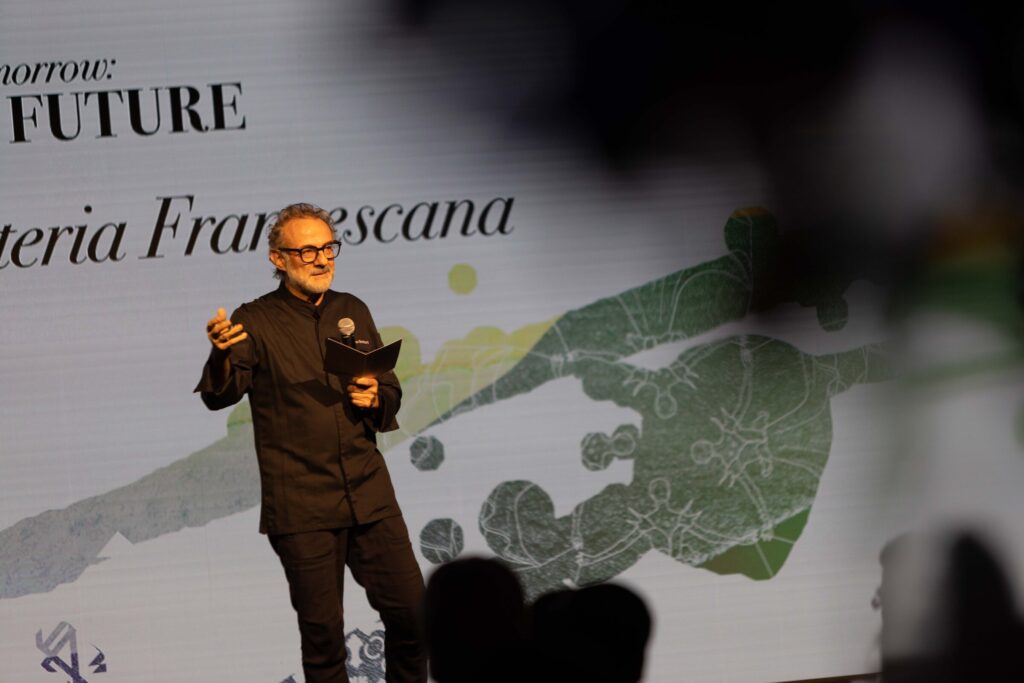 A sun-kissed Saturday started by the palm fronds at the poolside as four-time wushu world champion Li Fai led a second group of tai chi classes to rouse the body. A series of cooking classes with the Culinary Masters followed: chefs Yang Dengquan, Palmira Pena, and Shane Osborn led a crew of budding chefs through their respective cooking classes and demonstrations.
New to the day's activities was a cooking class with chef Homan Tsui of Imperial Court, who skilfully demonstrated a Lingnan speciality—shrimp-paste-stuffed, pan-fried Glacier 51 toothfish with maitake mushroom and soy sauce—to a group of enraptured students.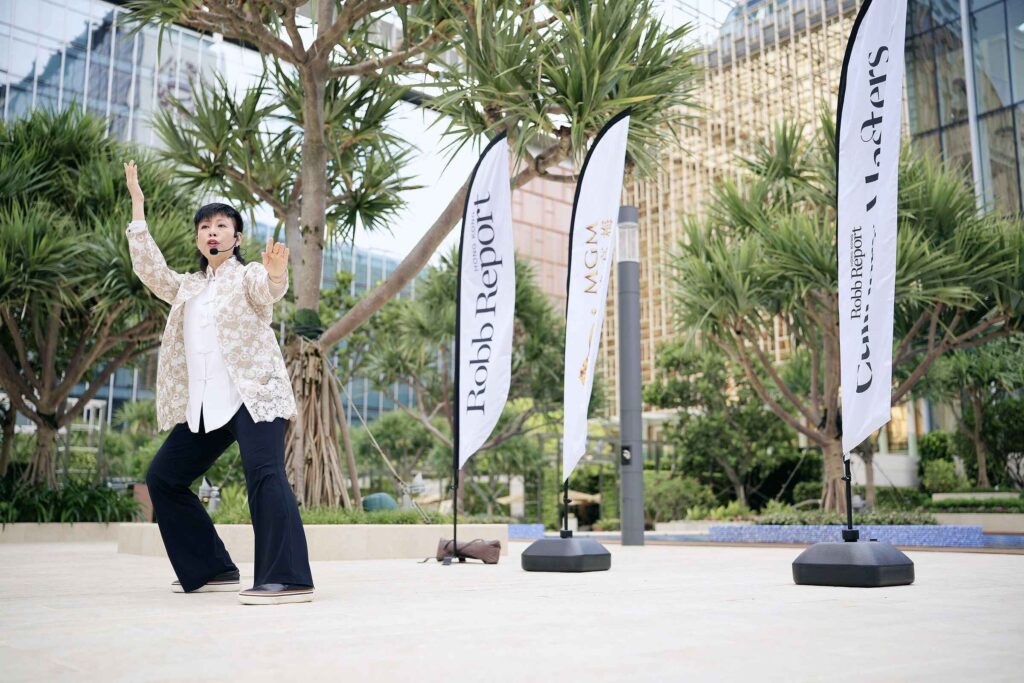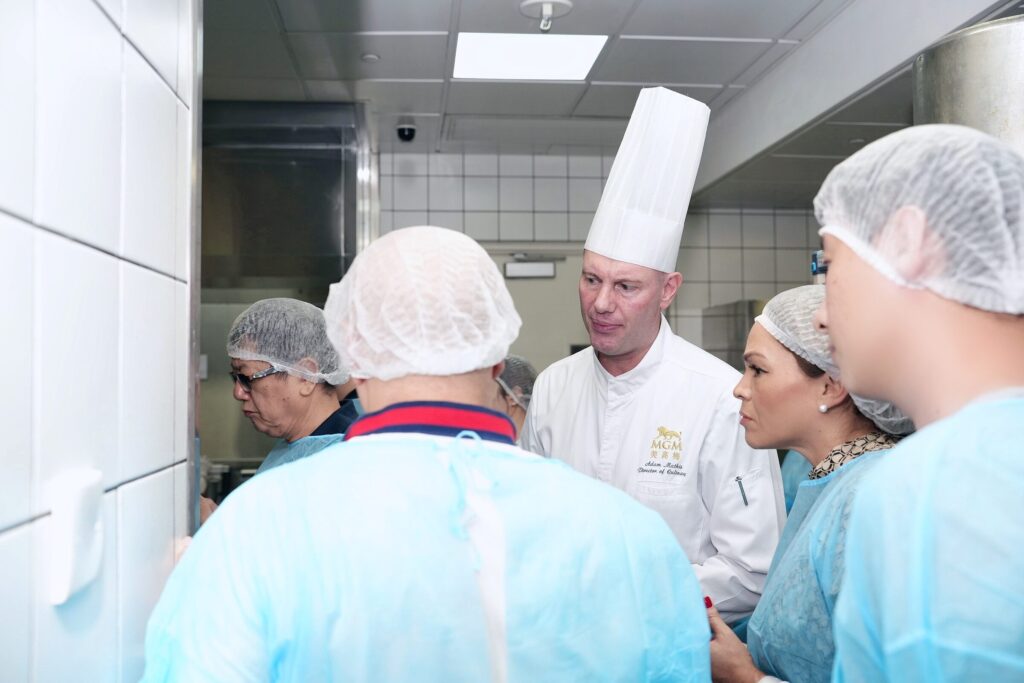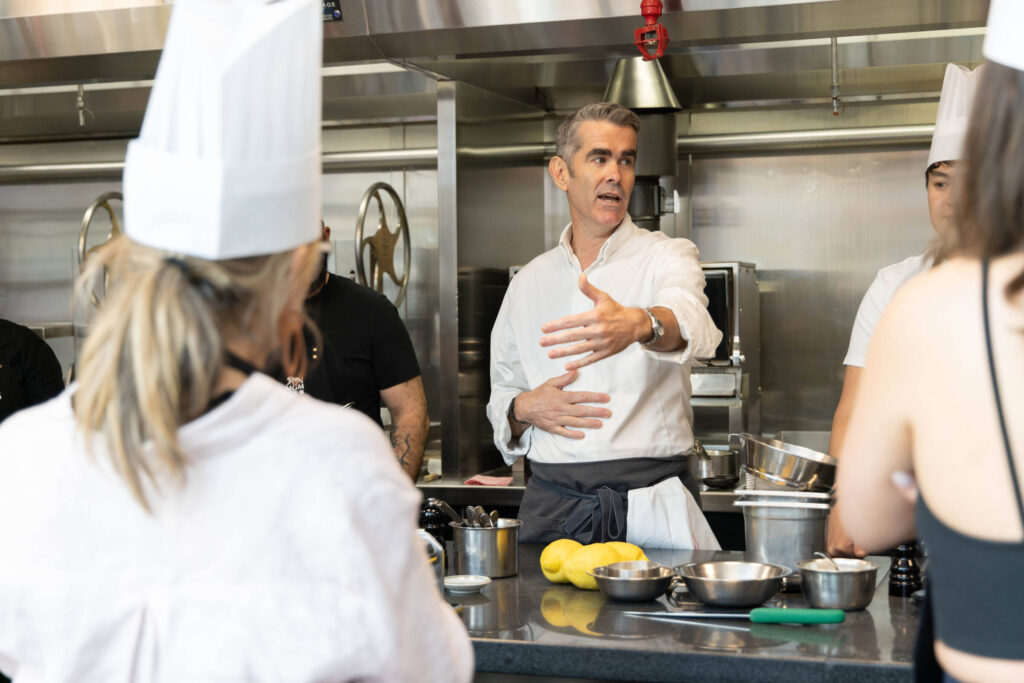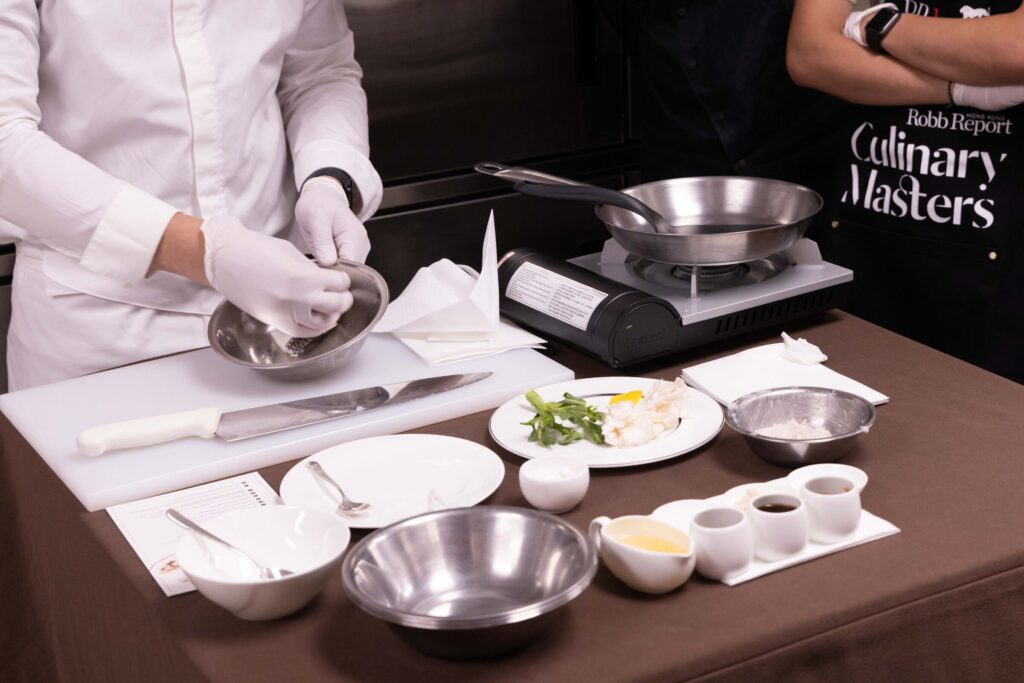 Libations were aplenty at Clément Robert's wildly popular masterclass, who led two back-to-back classes featuring Liber Pater and Boërl & Kroff, and Iwa sake, Szepsy sweet wine, and Dom Perignon champagne, respectively. Guests travelled the world with the master sommelier one sip at a time.
Chef Yim Jung-sik reprised his role in a soju pairing masterclass with deceptively strong drinks and expertly matched with small bites that best complement the unique and rich notes of soju. Bar Patua played host to a pre-dinner cognac tasting presented by Louis XIII before guests dressed for the day's finale: a grand dinner presented by Massimo Bottura.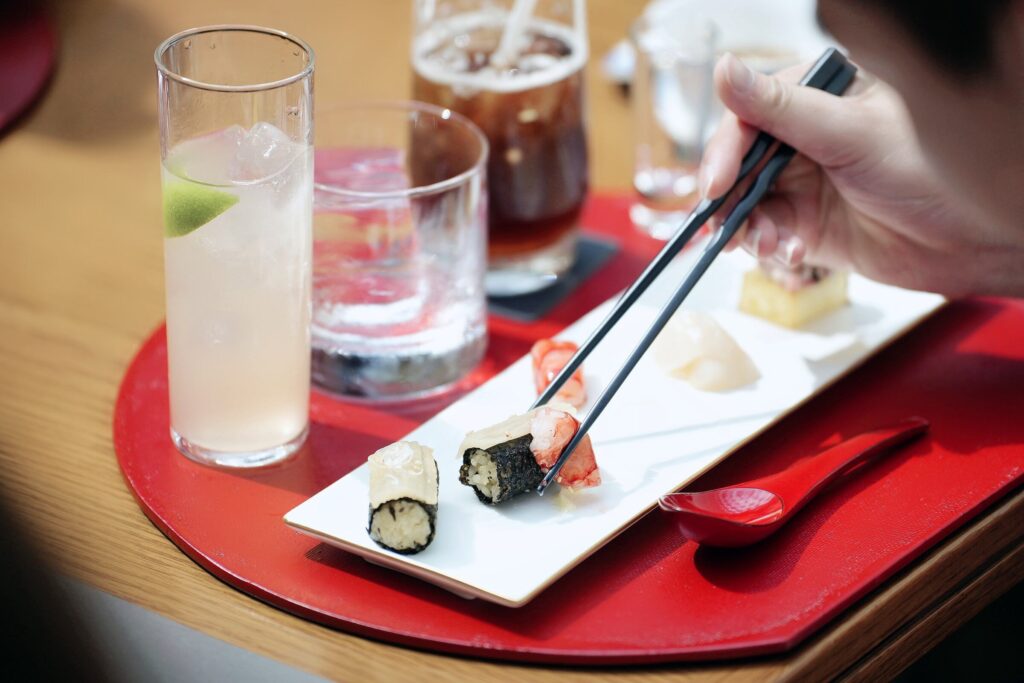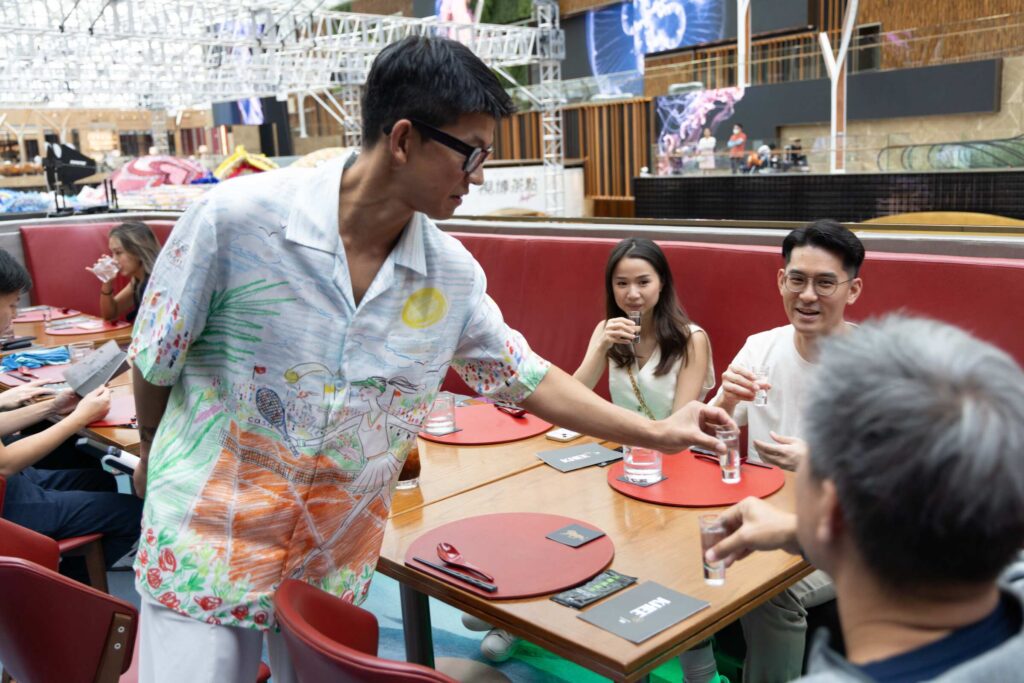 He and his incredible team brought the treasures of Modena to Macau through a dinner themed around "The Flavours of Tomorrow: Savouring the Future"—aptly titled "An Italian Night at Osteria Francescana"—highlighting the most elegant and refined Italian cuisine reinterpreted by the iconoclast chef who's been breaking bread and barriers with equal ease, deconstructing age-old recipes and adding contemporary dazzle with panache and artful presentation.
Master sommelier Clément Robert had the tall task to pair each dish with a complementing wine and he hit his global library, bringing into the mix rare labels to enhance the flavour profile.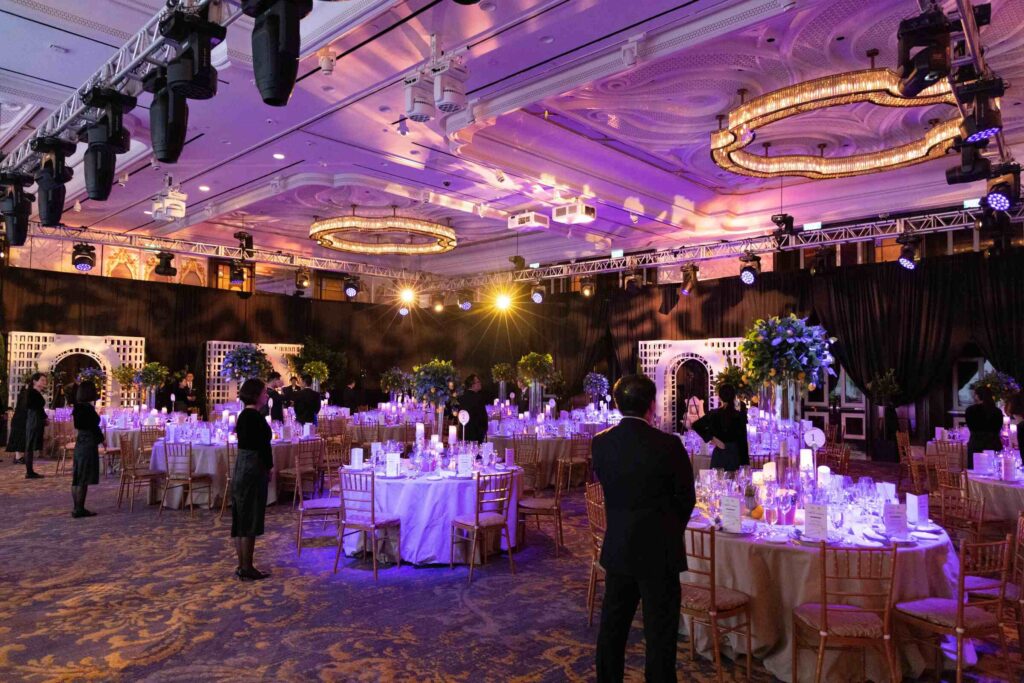 The first dish to arrive was the deconstructed Pasta al Pesto in Abstract. Putting a spotlight on the individual ingredients in the traditional Italian recipe, the Ligurian pesto is "reimagined without the pasta," says Bottura. A flan of Parmigiana Reggiano and pine nuts is layered with brunoised green beans and potatoes, served with basil oil and miso pasta al pesto sauce, and paired with a 2019 Gladstone 340 Blanc Waitarapa from New Zealand.
The Baccalà Mare Nostrum followed. A baccalà filet floated in a lava-like broth of Vesuvius tomatoes and green olives infused with Sorrento lemons, wild oregano, and Villa Manodori extra virgin olive oil, paired with a 2018 Vincent Girardin Puligny-Montrachet Vieilles Vignes.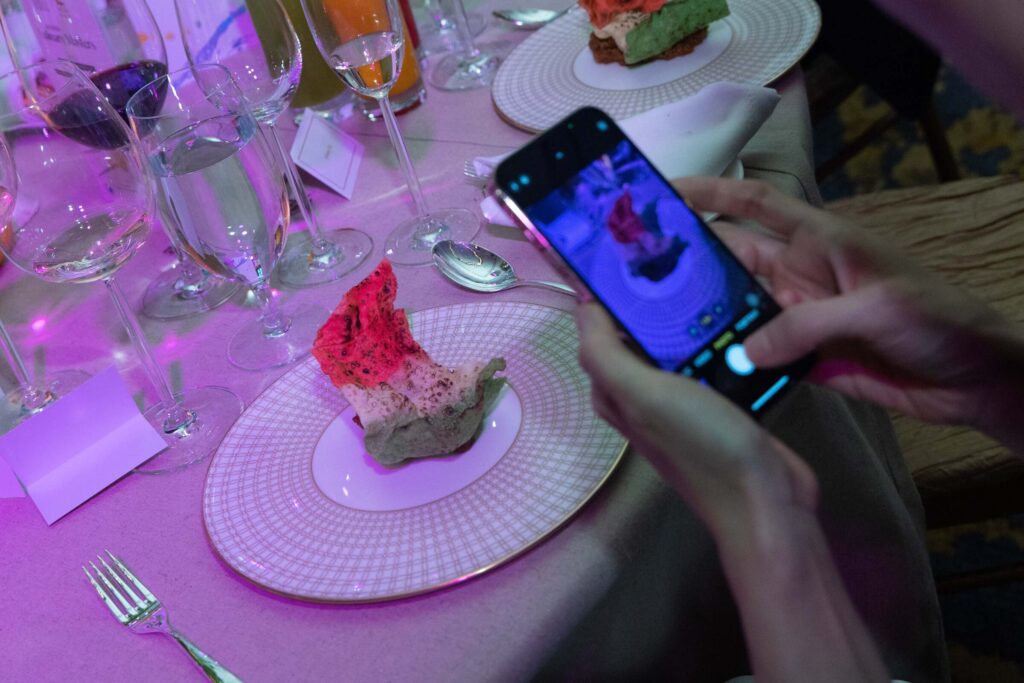 Diners broke into a smile at the entrée, cheekily titled The Crunchy Part of the Lasagna. A sheet of tricolour pasta was delicately perched on hand-chopped meat ragù and béchamel. In this modern take on a family recipe, Bottura transforms the Emilian lasagna recipe. The dish was paired with a 2015 Château Talbot Saint-Julien.
Bottura often speaks about how inspired he is by great art and grand canvases, and he brought that ebullience to the Beautiful, Psychedelic, Spin Painted Veal, Charcoal-Grilled with Glorious Colours as a Painting. Unsurprisingly, the dish is a tribute to Damien Hirst's spin-painted canvases; the veal is brushed with vegetable charcoal for a faux-grill effect, then cooked at low temperature and dressed with chlorophyll, creamy potatoes, a purée of orange and yellow peppers, red beet reduction, and extra old Villa Malodor balsamic vinegar.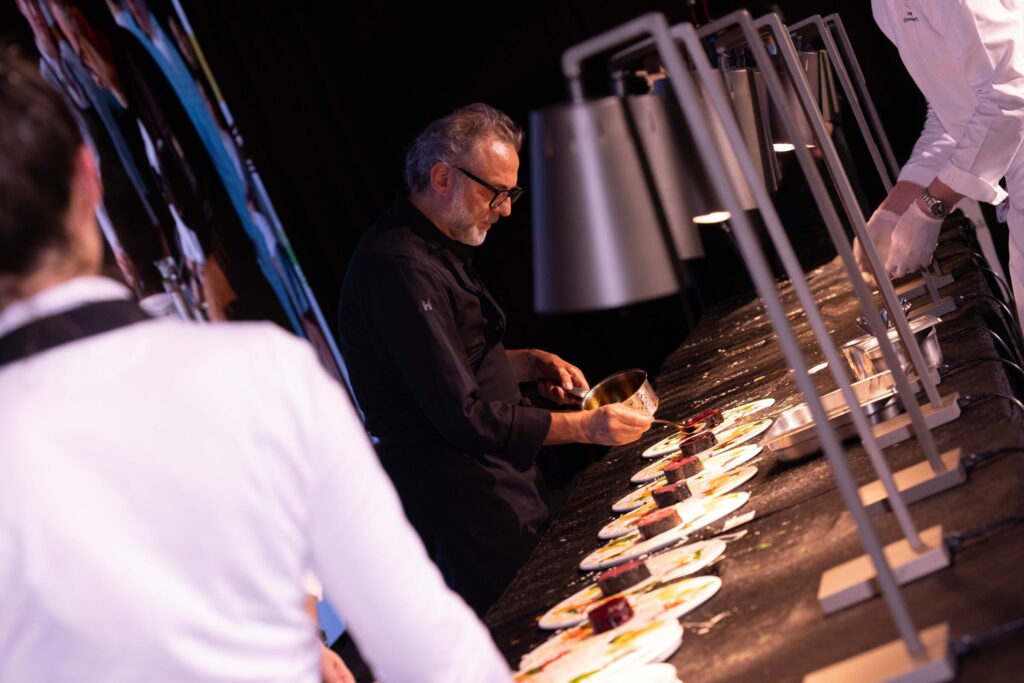 In a theatrical move, the chef brought the plating of this course to the front of the ballroom, showcasing to the guests in attendance how to consider the dish as a canvas. To complement the vivid splashes of colour, a sip of the 2015 Château Talbot Saint-Julien.
Ever amusing, Bottura brings not only his signature style to classic dishes, but also his sense of humour to the names; the next course was titled This Little Piggy Went to the Market. A single "piglet" of sanguinaccio dolce—Neapolitan black pudding—is placed in the centre of the plate on a biscuit-like toasted corn crumble base and accompanied by criollo Original Beans chocolate sauce. With the pork came a chilled 2009 Château d'Yquem Sauternes.
And finally, Bottura turned the tables and ended the meal with… a salad. Aptly titled Oops! I Forgot the Caprese Salad, the well-known Italian antipasto finds new life as a dessert. In this homage to French pastry chef Cedric Grommet—famous for his true-to-life dessert recreations of fruit—the white chocolate "tomato" hides a heart of red berries, dressed in tomato and buffalo mozzarella sauces, and drops of basil oil.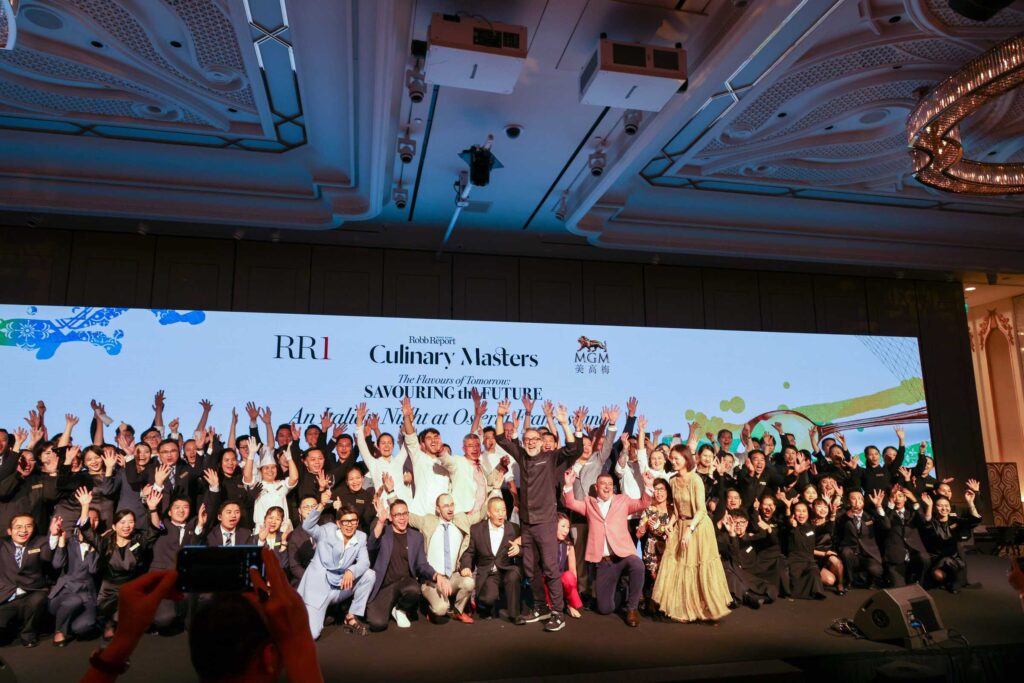 By the time Bottura took centre stage and brought his impeccable team to the forefront for a bow, the guests initiated a standing ovation for the masters who've elevated dining to an epicurean journey, transporting taste buds on new adventures. The night ended on a high note with an afterparty at the Spectacle, under the "Valkyrie Miss Dior" exhibition.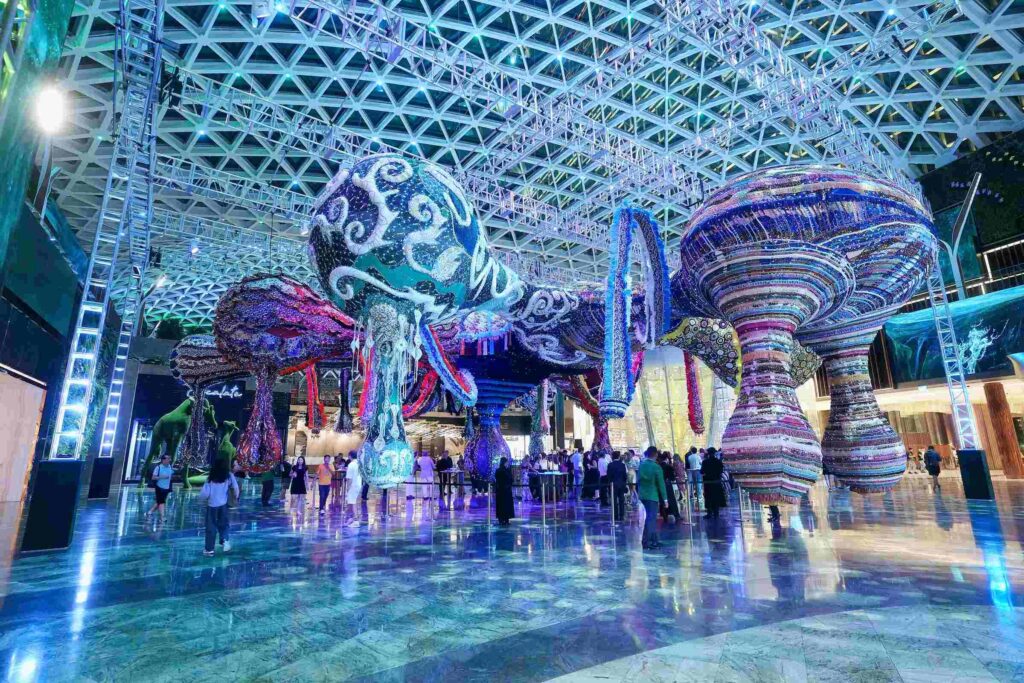 Tune in for the exciting wrap-up of day four tomorrow.