For Adrien Castillo and Romain Dupeyre, good things came in fours.
First, their fortuitous meeting. In their teens, the two youngsters from the south of France met in the kitchen of La Chèvre d'Or, becoming bosom buddies. Second, several years later, they chanced upon each other again at another restaurant job—Shangri-La Paris. By now, you may have an inkling as to how the rest of the story goes: third, they reunited at the reopening of the Ritz Paris. Eventually, Castillo and Dupeyre found their separate ways to Hong Kong to work at Caprice and Petrus, respectively. It took a journey across continents to create this fourth instance of reconnection and spell the birth of Racines.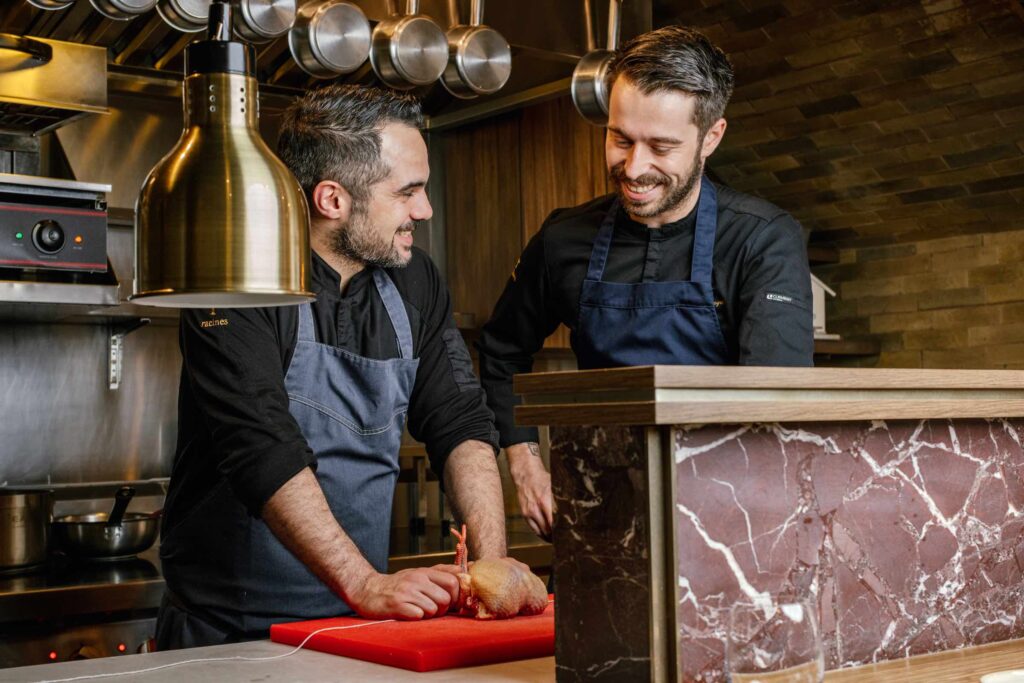 A cosy restaurant—we're talking just 18 table and counter seats in snug formation—set on a sloped street in the upper reaches of the Sheung Wan neighbourhood, Racines is a project rooted in the strength of a decades-long relationship. After sharpening their skills in Michelin-starred kitchens, Castillo and Dupeyre cast a longing gaze back to home, heritage, and history, drawing on the culinary wealth of le Midi and their racines—"roots"—to shape a gastronomic experience that is deeply personal, intimate, and memorable.
Racines drips in nostalgia; it proudly wears its hearts on the walls, in the menu, and even on the cutlery. Choose your weapon, Dupeyre urges, flourishing a wooden case. Inside, a row of six handcrafted knives, each engraved with the name of a person or place that holds significance to the chefs or plays an important role in their shared histories—Périgueux, Castillo's hometown; La Chèvre d'Or, where Dupeyre and Castillo first met; the list goes on.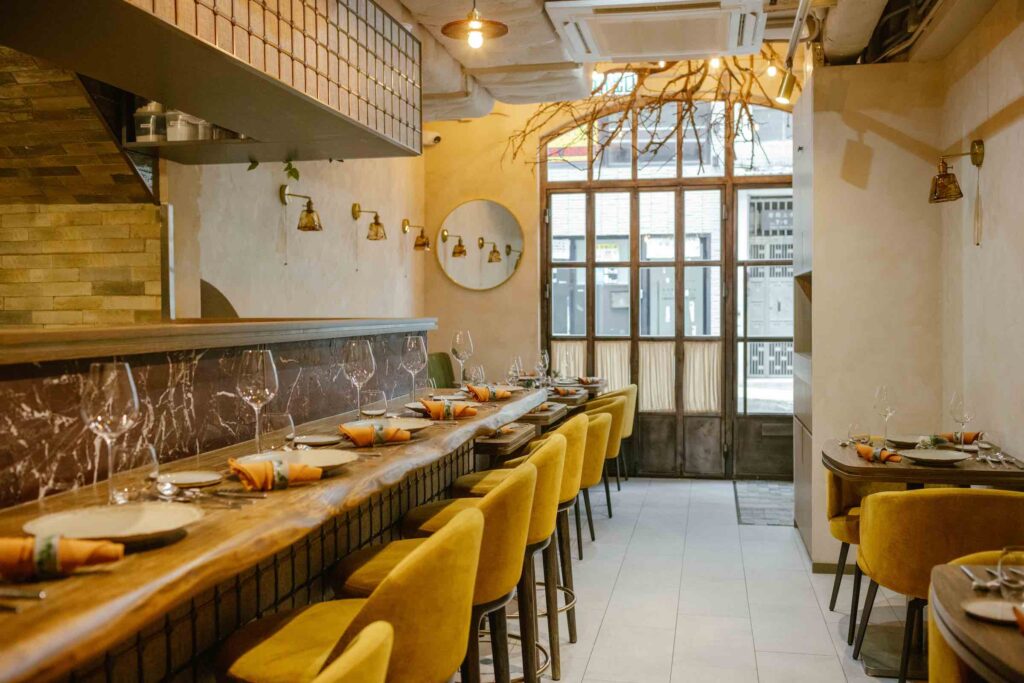 Even the interiors echo moments in their shared history. Gnarled branches installed over the dining room recall the restaurant concept; textures and muted earth tones hark back to the warmth of rustic French homes, with striking natural wood and marble details. Dupeyre and Castillo drew inspiration from the ancient borie dry-stone huts from southern France for a humble, rural touch, while also paying tribute to Èze, where La Chèvre d'Or is located.
"At Racines, taking pride in our roots means honouring tradition while embracing innovation. It's about respecting our culinary heritage and infusing it with a contemporary twist," the executive chefs tell Robb Report Hong Kong. "Our culinary creations draw inspiration from childhood and kitchen memories, as well as classic and familial southern French recipes." But tradition without modernisation will only allow you to go so far. Blending their global experiences into the culinary ethos, Castillo and Dupeyre "strive to reimagine and innovate, infusing [our dishes] with new flavours, techniques, and presentation styles."
On the multi-course dinner menus—five or seven courses—this marriage of old and new takes shape as dishes that are equal parts rustic and refined. Produce is primarily sourced from France, with seasonality as the key driver behind the development of new recipes. Oohs and aahs are already in the air during the bread course, a signature sourdough recipe made with raw oats, black sesame, linseed, and wheat germs, with a crust that crackles delightfully and an umami smoked butter with plum jam as spread.
A trio of colourful amuse-bouches—red pepper tartlet, chicken liver parfait with strawberry jam, and cod fish croquette—tantalise the palate with a lively play between texture and flavour, while the oyster, smoked pork, green peas, and horseradish packs the brininess of Mediterranean Tarbouriech oyster and richness of pork ragu with a citrusy kicker.
With so much personal history embedded into the restaurant, the dishes themselves have stories to tell. Family and childhood are recurring themes; Dupeyre's especial fondness for the artichoke, caillette, girolles, and pickles course stems from memories of his father. "It's a popular Provençal dish that originated from where he was born; the traditional recipe uses a Swiss chard leaf. At Racines, we cooked it inside an artichoke to add even more earthy flavours and paired it with a pickle salad of different vegetables and fruits to create an interesting contrast." Finished off with an intense cazette hazelnut powder, Australian truffle purée, olive oil, and Barolo vinegar, the dish "reminds me a lot of Sunday brunches we used to have as a family when I was younger; the smells immediately bring me back home."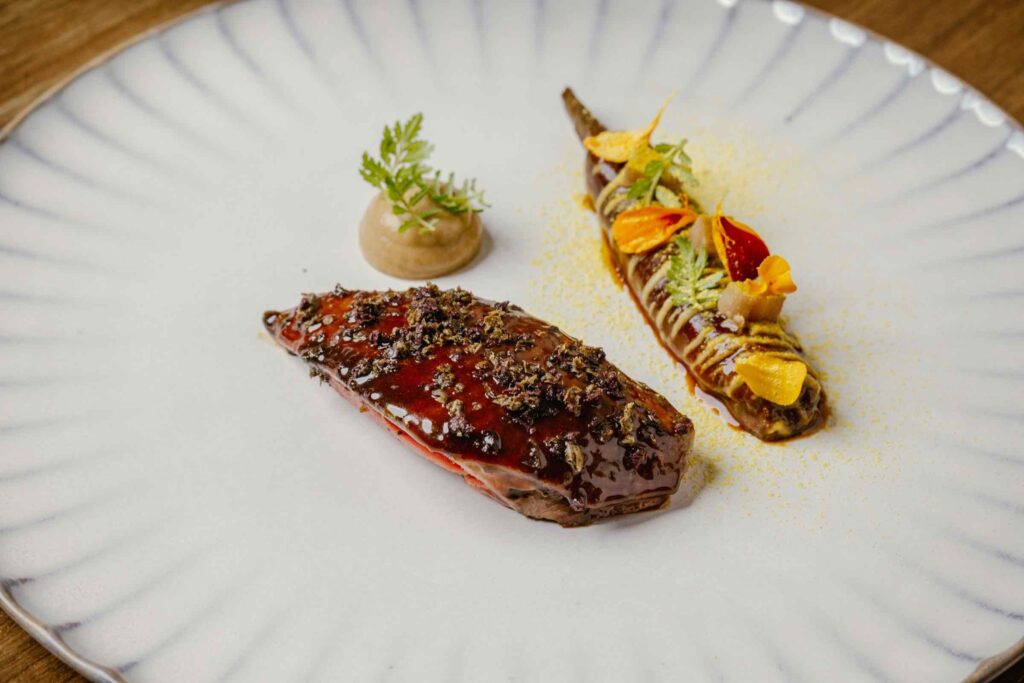 Castillo's favourite, the pigeon, eggplant, liquorice, and olives, transports him back to his grandparents' farm, where the dish was prepared by his grandmother "in different ways throughout the year, depending on the available produce." Gently roasting the bird in liquorice butter to tease out a crispy skin and distinct flavour, the dish is completed with a jus of liquorice and Spanish Jerez wine, and Thai eggplant stuffed with pigeon heart and liver.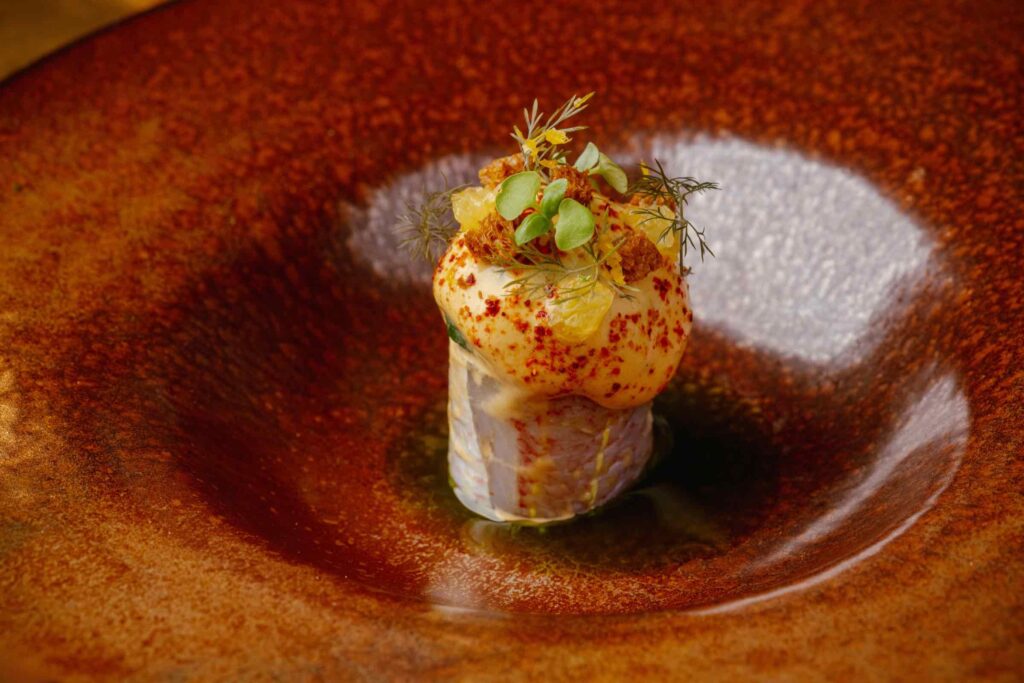 Even the classic bouillabaisse is reimagined and reconstructed into the red mullet, bouillabaisse, Ratte, and fennel course, prepared in escabeché style with a seafood stuffing of octopus, cuttlefish, and prawns, and a basil-wrapped vegetable ravioli filled with tomato concassé, Ratte potatoes, and fennel confit. By far the most intriguing ingredients in the Brandt beef rib-eye, Green Zebra, and anchovies dish, slow-cooked in a hearty barbecue sauce, is the fermented Kampot pepper from Cambodia; it retains notes of soft fruitiness without the heat, a complex addition to balance the savoury meat.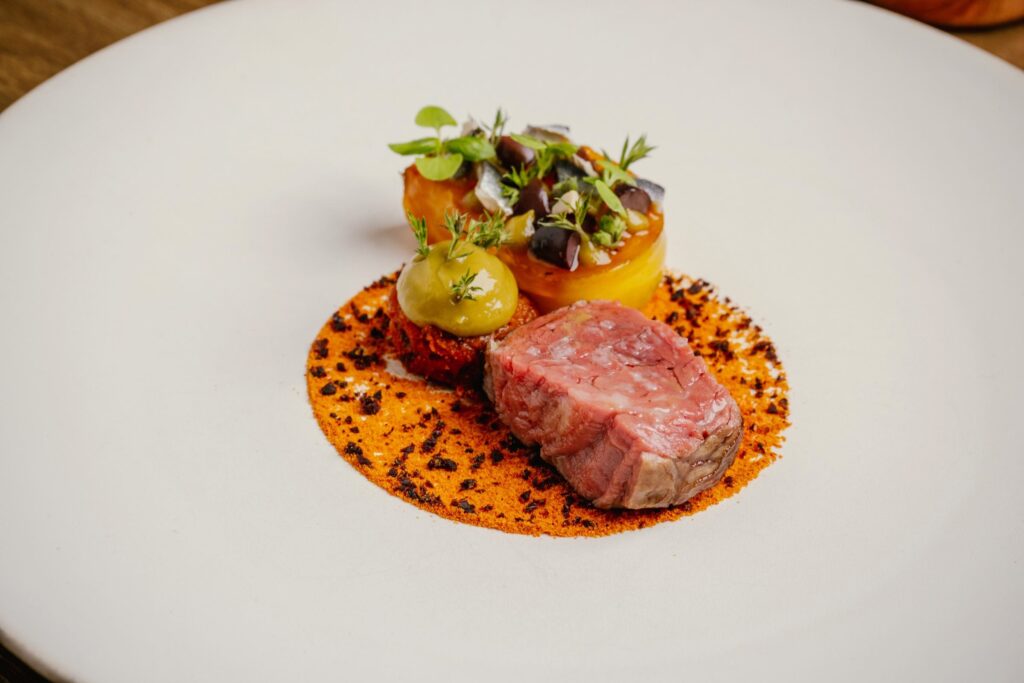 "We love to pair salty ingredients with meats, rather than simply flavouring with salt. Olive and anchovies play a crucial role in our main course dishes, such as beef and pigeon—these two ingredients are traditionally used extensively, often in the form of condiments, and have proven to be an essential flavour combination throughout our menus," the chefs say.
However, for us, it's the finisher that seals the deal: the fennel, kumquat, meringue, and sorbet dessert, a creative East-meets-West dish pairing the unlikely duo of tart kumquat in sorbet form and sweet fennel marmalade, with light meringue for an added crunch.
While there can be such a thing as too many cooks in the kitchen, that's not the case at Racines. Castillo and Dupeyre agree that two brains are better than one—working together in various professional kitchens has given them "a shared experience and perspective on cooking styles and methods. We have developed a strong similarity in our approach to creating new dishes, which allows us to work together seamlessly in the kitchen."
Plus, the distinct differences between the southeast and southwest of France shape Racine's unique culinary vision. Castillo's background in Toulouse combines strong Spanish, Catalan, and Basque influences from the neighbouring regions, while Dupeyre's experience in Nice draws inspiration from a rich tapestry of food traditions, such as Italian, Provençal, and Corsican, and even from Mediterranean countries like Greece and Morocco.
It's not just mutual respect that makes the dream team work—the two chefs share "a deep personal bond… We have always respected and admired each other's talents. Even during our time at La Chèvre d'Or, we talked about opening a restaurant together someday. Now, we finally had the opportunity to make that dream a reality in Hong Kong."
22 Upper Station Street, Sheung Wan, Hong Kong
Click here to make a reservation.
All images courtesy of Racines.