It's difficult living next to a famous neighbour.
At least, that could be one way to explain why Nara has slept in the shadow of Kyoto, even with a longer history, more nature, and more world heritage sites. Kyoto excels at the game of branding—it even claims the nickname of "Japan's temple city." Most travellers see Nara as worthy of a day trip to temple-hop and feed the signature roaming sika deer that cohabit the city, but not much of a full-fledged destination in and of itself. Other attractions are little mentioned. Even local delicacies—Miwa somen and narazuke—are not much spoken of.
However, this perception of Nara could soon change for the better with the continued presence of JW Marriott Nara, the city's first international luxury hotel.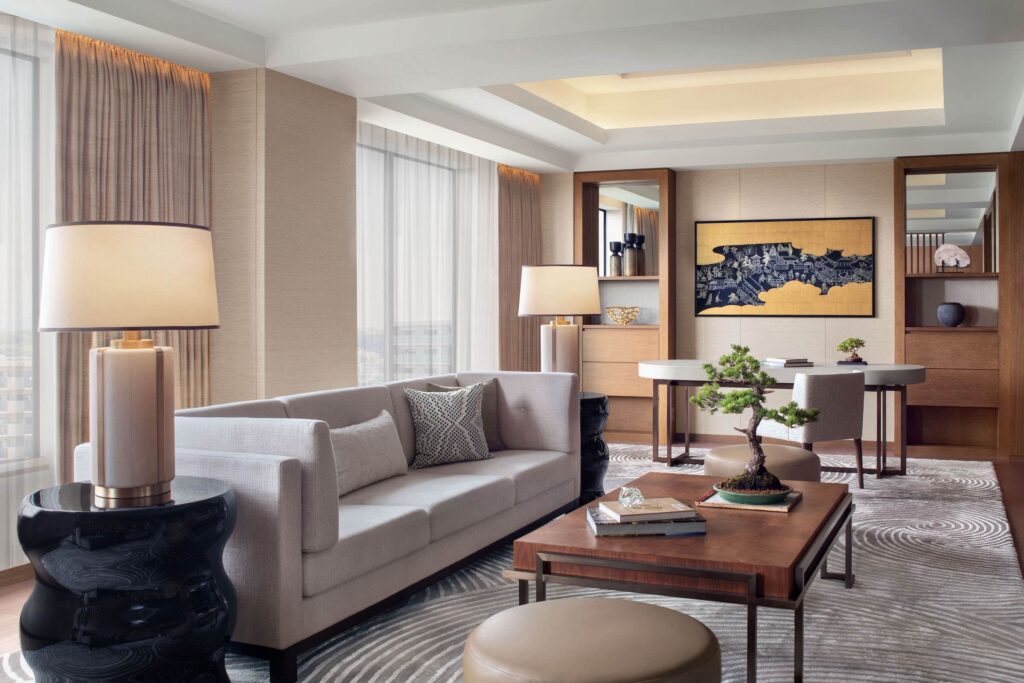 Look up "the oldest city in Japan" and results tend to be divided. One thing that's certain is that Nara was established long before its neighbour and even served as the country's first official permanent capital. (As we now know, it would not be the last to have that honour; Japan's ancient governments liked to shift their seats. As to which city is actually the "oldest," some believe it to be Fukuoka.)
As a former base of the emperor, Nara enjoyed rich cultural and spiritual development, which it retains to this day. One simply has to circumambulate the imposing Daibutsu (giant Buddha) in the burnt-down, built-again Todai-ji temple and gaze up at the enormous bronze—the largest such statue in the world—to feel the significant national role the city must have played in its past.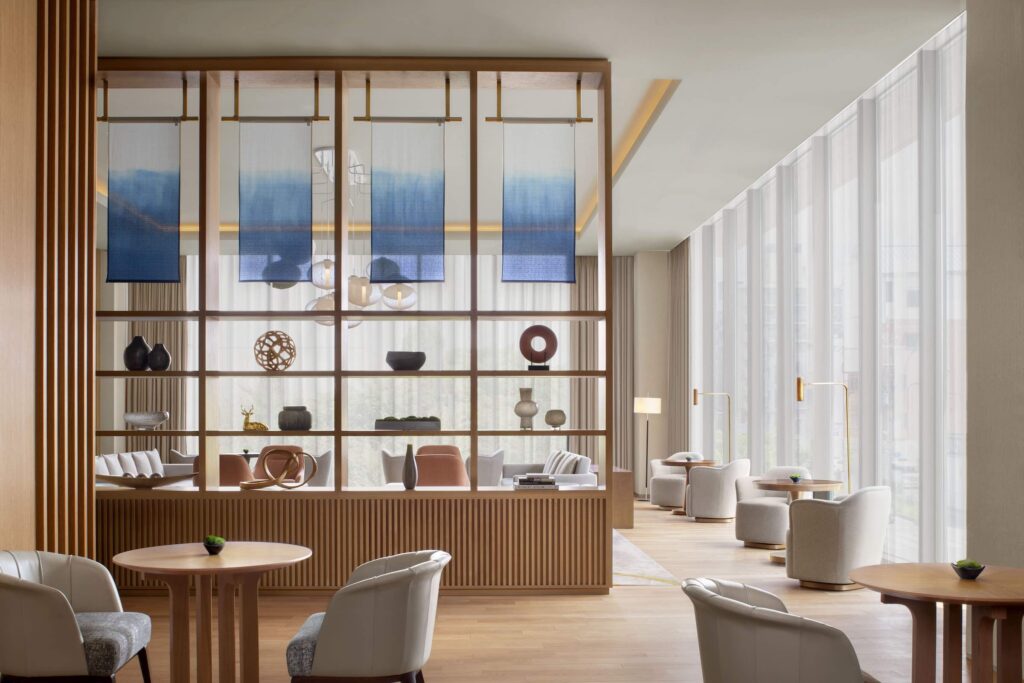 Now, this dignified, noble, and mindful side of Nara is exactly what JW Marriott wants guests to embrace when they stay at the hotel. It has not been an easy journey. JW Marriott's entry into Nara—and Japan as a whole—happened in the summer of 2020, in the middle of the global pandemic. Due to Covid-related restrictions, the hotel saw little action from an overseas crowd, but there was a silver lining: JW Marriott Nara developed a strong following within the domestic market, cementing the brand with Japanese travellers looking for an "at-your-service" stay in the historic town. Not a bad way to while away the time while the country is under lockdown. With tourism in full swing again, the hotel is looking to attract international visitors already familiar with the JW brand of hospitality.
Nara may seem like an unusual choice for JW Marriott's first foray into the country, but it was a deliberate one. "It is a perfect fit," says Sherry Mizoguchi, director of sales and marketing at JW Marriott Nara, citing the nature, the scenery, and the slower pace of living as strong reasons. "JW is about slow enjoyment and nourishing your soul, and Nara perfectly provides the ideal setting for the debut of our mindful brand in Japan."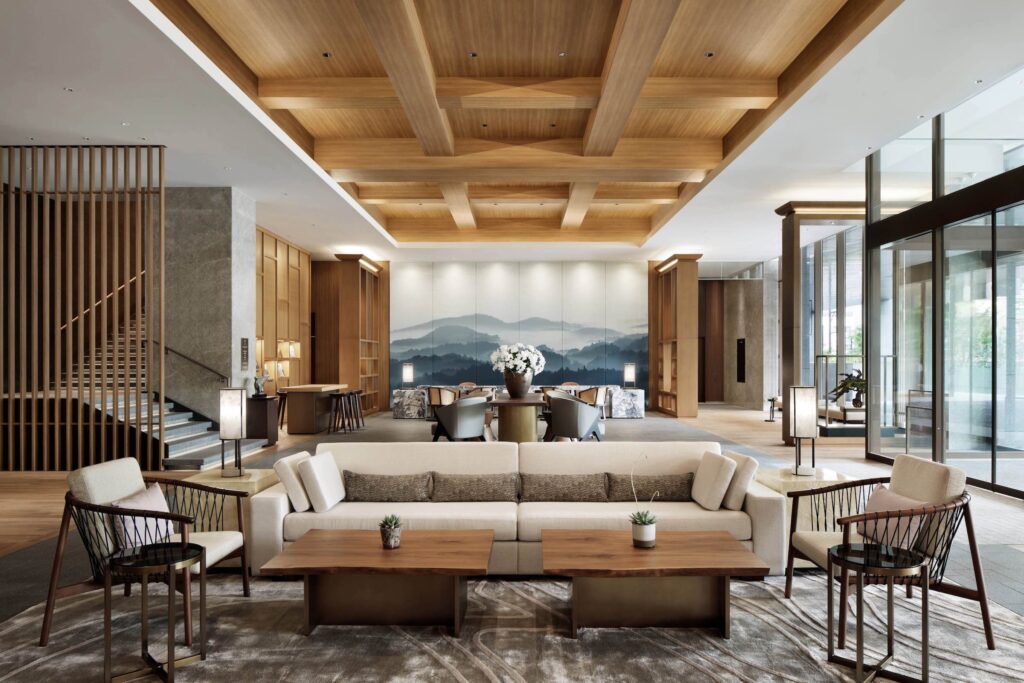 Guests feel this soft, gentle welcome immediately upon entering the lobby, where neutral tones are supported by natural wood, warm greys, and delicately marbled stone. A mural stretches across one wall, recalling the blue-hued mountains hugging Nara. Across the room, antlers, dramatically rendered in the sumi-e ink painting style, are connected to a larger-than-life silhouette of a deer. It rises in the distance, framing the Flying Stag bar. Artistic homages to Nara, big and small, are all around, rendered in loving detail—a tender tribute to the city.
Immersion was key to understanding the design needs of the hotel. Joanna Biggs from GA Group spent a month uncovering the particular characteristics of Nara to develop the design scheme, travelling around town and countryside to bring the region's distinctive nature into the hotel. Flames in the fireplace, inspired by the Wakakusa Yamayaki annual mountain burning festival, flicker merrily in the lobby. Wind chimes, tapping out a crystalline rhythm of good fortune and well wishes, flutter above your head, the tinkling sound hypnotic and soothing. "Every detail in the design has meaning. Sometimes, hotels are just buildings, but this hotel is more than that," says Mizoguchi-san as she points out the features.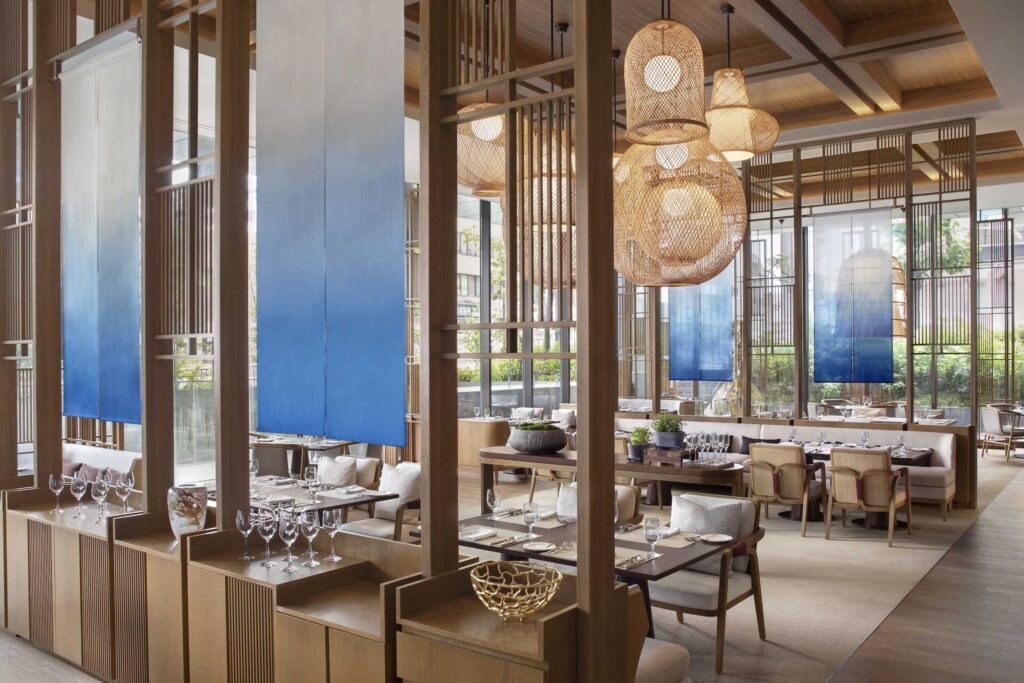 Look down—there's significance in the carpet design. It is believed that Nara was the final stop on the legendary Silk Road route, a hub for trade and cultural exchanges. Crisscrossing lines on the rug imitating these "roads" all converge at Silk Road Dining. East and West are blended in the restaurant's all-day menus, with Nara-sourced ingredients as the highlight. A maritime theme is woven into the venue, with natural materials supporting Japanese-inspired design details.
JW Marriott Nara makes a conscious effort to support the local community and its producers. A highlight of its beverage programme is the partnership with Tea Uekubo, a well-respected boutique farm run by the one-man team of Junichi Uekubo. Uekubo-san produces in small batches and supplies exclusive matcha and hojicha to the hotel so guests can taste top-prize-winning blends through the unique collaboration. Ceramics, handcrafted in the homegrown Akahada-yaki pottery style, serve as drinking vessels. JW Marriott Nara's chefs bake the tea into confectionaries for the pastry cart. Meanwhile, the hotel restaurants work with local farmers to secure produce from the region.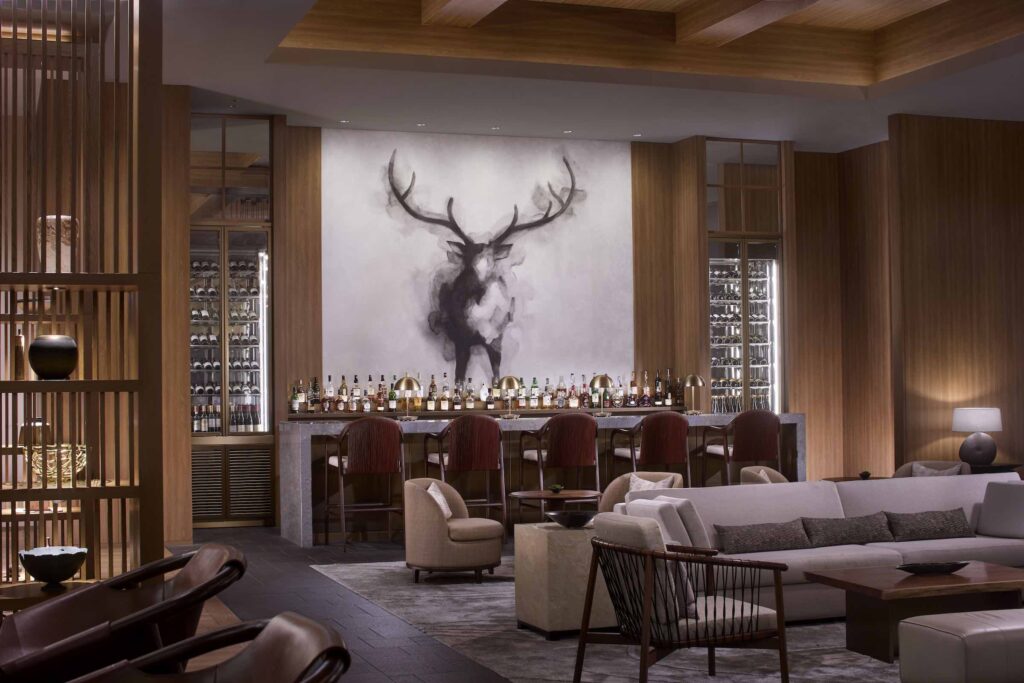 A stop at the Flying Stag before dinner is a must. Bartender Hironori Otsuka shakes up a mean cocktail—the very same that earned him a finalist spot in the Marriott Japan Cocktail Competition 2022. He laments not ranking first, but his creation—a refreshing yuzu fizz with Roku gin, sweet sake, sencha, lemon juice, and Appletiser—is lip-smackingly good anyway, with or without a trophy.
Dinner is served at Azekura, the signature restaurant of the hotel, split into sushi, teppanyaki, and kaiseki areas, with private rooms available for an additional level of intimacy. Go for the teppanyaki meal, where creamy uni over radish, Welsh onion, and spinach dressed in soy sauce and vinegar will awaken your palate. Winter is the season for kinmedai, a big-eyed swimmer lured from the depths of the ocean. Its tender flesh, served with an equally flavoursome dashi broth, flakes apart at the barest touch, wrapping your taste buds in umami tingles.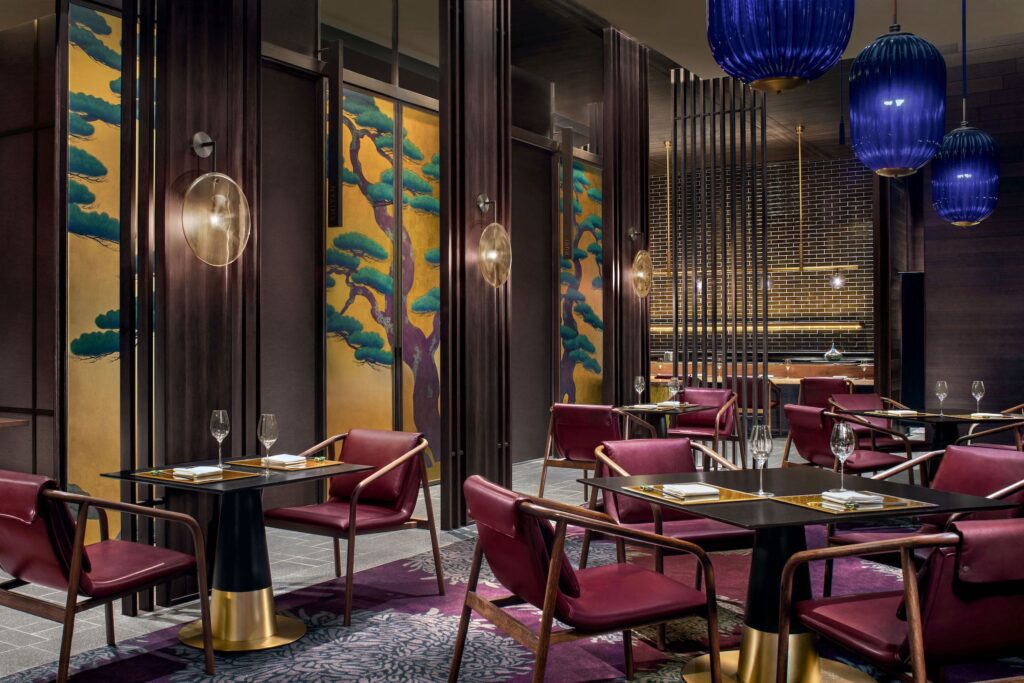 Chef Wang Yu-wen's skills at the teppan grill makes Oita beef sing melt-in-your-mouth notes. It's just the right touch to delicately tease out the natural flavours of the prized meat. He preludes the tasting with an explainer that Oita beef does not need much other than its own savouriness to make an impression—I am instantly convinced. A pinch of Okinawan sea salt crushed with corals here, a dab of freshly grated Shizuoka wasabi there, and a main course is made.
But the dinner is not just sensory enjoyment; it is also culinary education. I learn about moromi, a by-product of soy sauce production, and taste it as a condiment. Fruit cultivated in nearby Wakayama is unexpectedly diverse and memorably delicious. What does the meal conclude on? A perfectly steeped cup of Uekubo-san's award-winning tea, of course. Kakigori is also served at the hotel year-round, underscoring the unique position Nara enjoys as the home of the Himuro Shrine, the first dedicated to the Japanese deity of ice.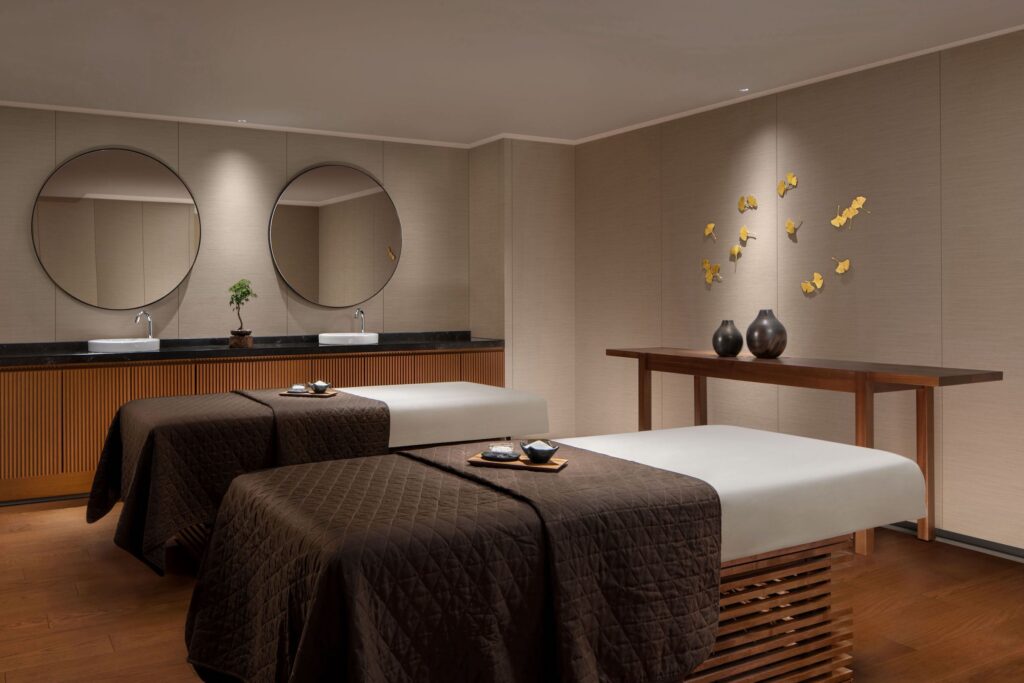 Nara has a deliberately unhurried personality that is thoughtfully reflected throughout the hotel. Bask in this change of pace with the ultimate aromatherapy experience at Spa by JW, a 90-minute full body treatment guaranteed to saturate your weary bones with restorative wellness. Allow your daily stressors to melt away even further in the steam room and sauna after your massage.
JW Marriott Nara's 142 rooms and 16 suites, starting from the Deluxe Guest Room to the capacious Presidential Suite, strike a balance between practical and relaxed. Earth tones and pops of warm colour work together to impart a polished atmosphere, recalling the Nara deer and Wakakusa Yamayaki as inspirations.
In the smaller rooms, space is malleable; the open bathroom design creates the illusion of a larger room; doors and walls are opened up to eliminate enclosed areas. In the suites, full-length windows look out across the city; the bedrooms and living rooms embody a modern "home-away-from-home" comfort; leather and timber accents pay tribute to traditional Japanese dwellings.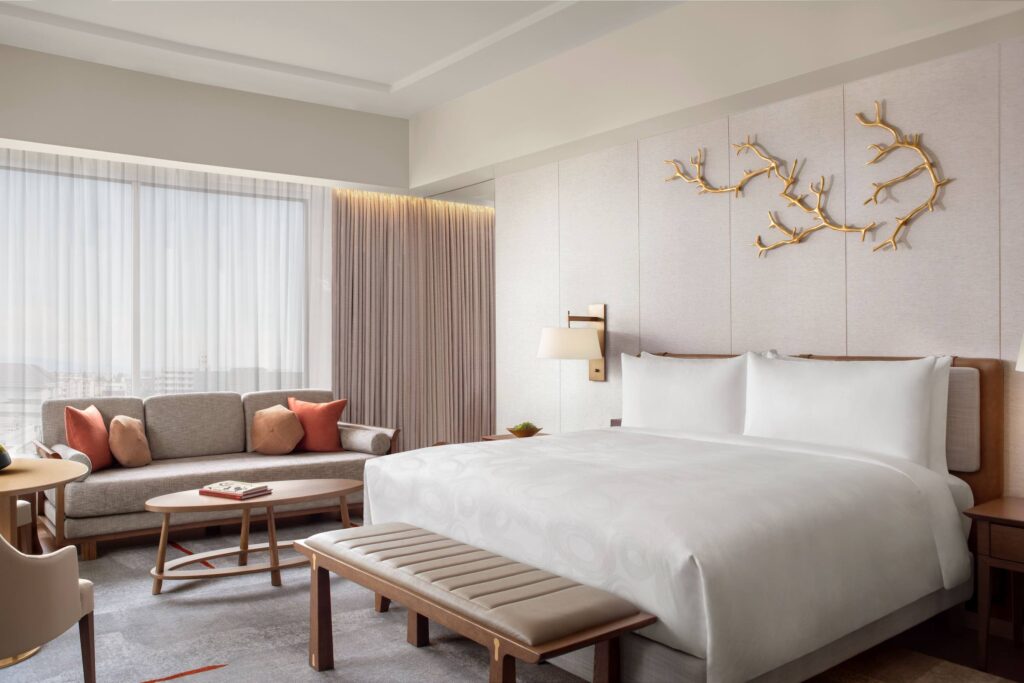 Different seasons offer different delights. Springtime in Nara sees cherry blossom buds bursting with exquisite blooms, transforming Mount Yoshino into a blush-hued painting. Inside the property's Yoshino ballroom, bride and groom celebrate with a reception—the hotel makes it easy with a dedicated wedding boutique. Summer serves as a witness to the birth of the next generation of sika deer; in future, they will torment hapless visitors who don't feed them senbei fast enough. I envision balmy nights spent in the JW Garden, surrounded by organic herbs and other plants. Autumn's foliage takes over Nara Park with stunning intensity. Next door to the hotel, connected by a walkway, programmes are in full swing at the Nara Prefectural Convention Centre. Wintertime may see you walking on snow-dusted grounds through the untouched, untamed Mount Kasuga Primeval Forest. Nara shines all year round; there's no bad time to visit.
Mizoguchi-san reflects on the holiday season just gone by, during which the hotel encouraged travellers to play Father Christmas to a Nara orphanage. "We collected a wish list of presents from the children in need and hung them up on our festive tree in the lobby," she recalls. "Just two weeks later, all the wishes were fulfilled through generous donations from our guests." It was a valuable demonstration of JW Marriott Nara's commitment to connect with the local community, and its proactive initiatives to give back to its residents.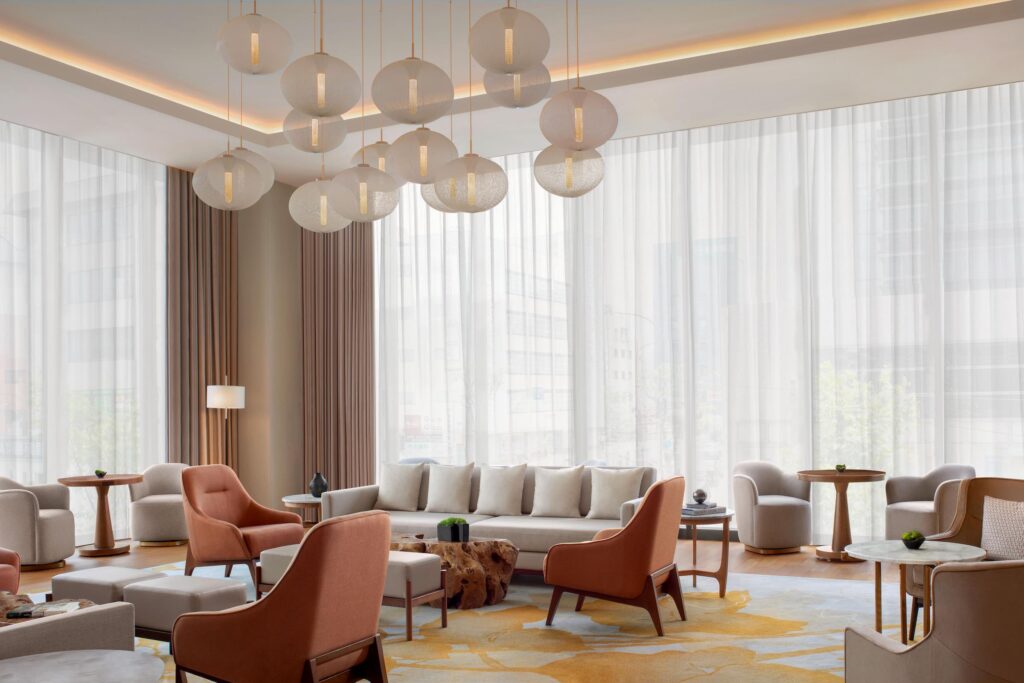 "People here feel a lot of pride about being the first capital of Japan," Mizoguchi-san goes on to explain. And with that notable legacy comes great responsibility to uphold the deep-rooted identity of the city. Rather than positioning its shrines and temples as transactional—more business than worship—the spiritual sites in Nara foster a profound respect for heritage and culture. JW Marriott, in turn, does the same to honour that history. "It's not a marketing gimmick. It's an experience, and so with the hotel, we have a different mentality, too."
Of course, where would a hotel, its goodwill programmes, or thoughtful design be without exceptional hospitality to back it up? It's the people at JW Marriott Nara, above all, that leave a lasting impression and elevate the experience from a good one to a great and memorable one. Genuine warmth and enthusiasm envelops you, whether you're sampling tipples at the bar, receiving a hot stone massage, tucking into a multi-course kaiseki meal, or sharing a small moment of excitement with front desk staff over rare snowfall. Feeling at ease in this space is effortless, guided along by attentive ministrations. And it's not just the guests that the hotel cares for; there is a clear love for Nara and its community, too.
I find that Nara cannot be fully appreciated in four hours. It cannot even be fully appreciated or understood in two days. Its languid pace invites you to peel back the layers, one by one, leisurely, and uncover the subtle beauties that others miss when they run from one temple to another in a packed half-day itinerary. It's only when you dive deeper into Nara that you begin to see the majesty of this former capital, and the impact it has made on shaping national cultural identity.
In this, JW Marriott Nara is much the same as its host city. Its gentle, mindful rhythm is a slow burner, but the well-rounded experience and impeccable service sear themselves into your mind, evoking deeper appreciation long after departure. It takes time to sink in and settle; it does not want to be rushed. And to slow down and luxuriate in the moment is precisely how to experience the ancient city of Nara the JW Marriott way.
All images courtesy of JW Marriott Nara.