Inside Steve Leung's Niseko home, what's missing is a trophy shelf—to house the accolades he has accumulated over the years with his eponymous company, Steve Leung Design Group. But knick-knacks, award paraphernalia, and shiny tchotchkes don't blend with the natural flow of the minimalist elegance of this house on the hills. And yes, the whole thing is exactly as dreamy as it sounds.
The multi-hyphenate founder-architect-interior-designer used his myriad skillsets to see a dream realised: a holiday abode in Niseko, the Asian ski capital of the world, or—that Western deployment of meta metaphors—"the Aspen of Asia."
To blend into the scenic background in perfect unison and harmony, Leung created a family "dream home," as he describes it often, and named it Ooak Niseko. Built far from the madding crowds of tourists that usually flock to (as travel statistics show) Tokyo, Osaka, Kyoto, and Nagoya, in that hierarchical order, Leung found in Hokkaido what we lack most in Hong Kong: space, privacy, and peace.
"As a frequent visitor to Niseko for over three decades, I have witnessed its growth as an international resort destination," says Leung of the town in Shiribeshi Subprefecture. "Owning a holiday home in Niseko has always been a cherished dream of mine, and now, I can revel in the joys of bonding with loved ones over snow and ski trips and vacations throughout the year. It is a truly blissful experience."
"Throughout the year" is a key phrase to note. As migration patterns show, most travellers flock to the mountain region only in winter to ski, but there's so much more to the idyllic, open spaces and the segueing seasons that provide ample reason to stay: the blossoming spring months, boating by the lakes in summer, autumnal walks in lavender fields as far as the eye can see… Why not visit year-round?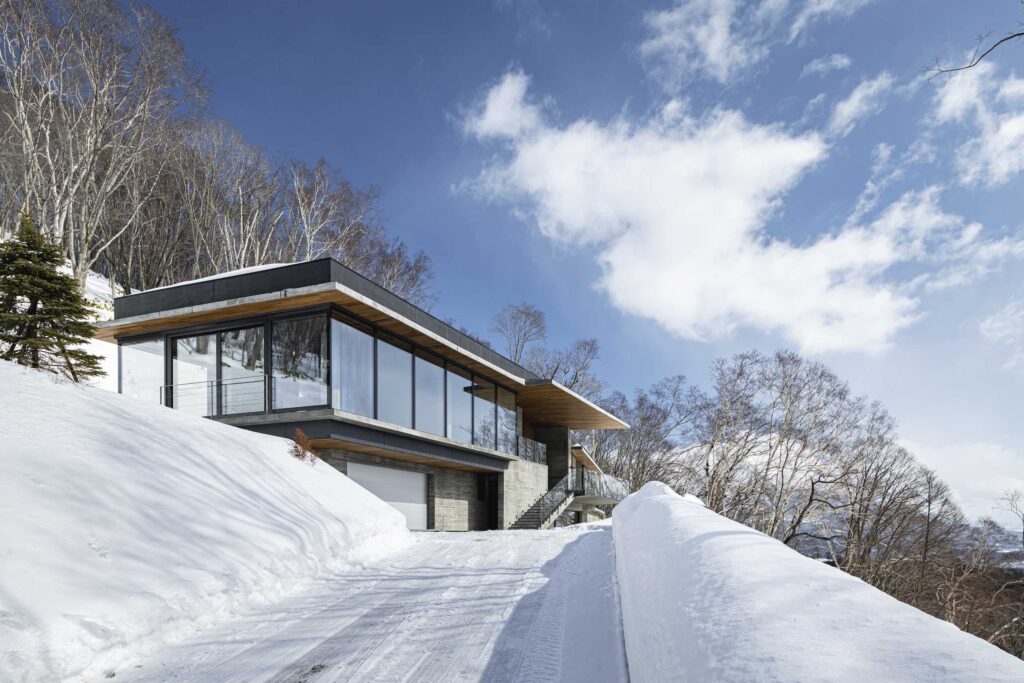 An acronym for "one of a kind," Ooak Niseko came to light, keeping in mind Leung's personal philosophy and his "Enjoy life, enjoy design" motto that looms large over his entire portfolio. Being in Hong Kong (especially during the stagnation of the pandemic), Leung collaborated with fellow architect Makoto Nakayama and found their bilingual mindsets came to fruition with a new, unique design language.
"At first, I was a bit wary about working with another architect with a clear vision and opinions about design, but the collaboration was a wonderful and educational experience, and resulted in a more personal work that had a feeling of completeness to it," says Nakayama. "Steve Leung is a highly sensitive designer who goes through iterative stages, exploring the design from all directions. He makes decisions by considering over and over again with the scale ruler and sketches. This manual style is more disciplined than how I work, and I remain deeply impressed."
Leung chimes in, "I am thrilled to share my design journey and legacy from a very intimate perspective. Working on my dream home with Nakayama-san, a prominent architect and one of the best, and throughout this meaningful journey, I have learned so much from him and I hope I have returned this great favour."
From vision to execution, the project came into being within two years (that's remarkable Japanese efficiency for you). Leung acquired the land, designed the house, and oversaw its construction to create a bespoke living space. Nestled on a hillside with no other residences in sight, this tranquil retreat offers an unobstructed, panoramic view of breathtaking mountains. His two-storey house, with two hinged structures, is designed with the natural topography in mind.
Avoiding a rude interruption to the postcard-perfect locale, the architect(s) opted to eschew alien-to-the-region raw materials, and use only those borne of the land. Leung's utilisation of local materials included the natural selection of wood, stone, and tiles. Nine-tenths of the entire building material and household utensils were sourced locally. "We were able to create a building that is visually appealing and blends seamlessly into its surroundings. The use of locally sourced materials also supports the local community and economy, while minimising the environmental impact of transporting materials from far away," Leung says.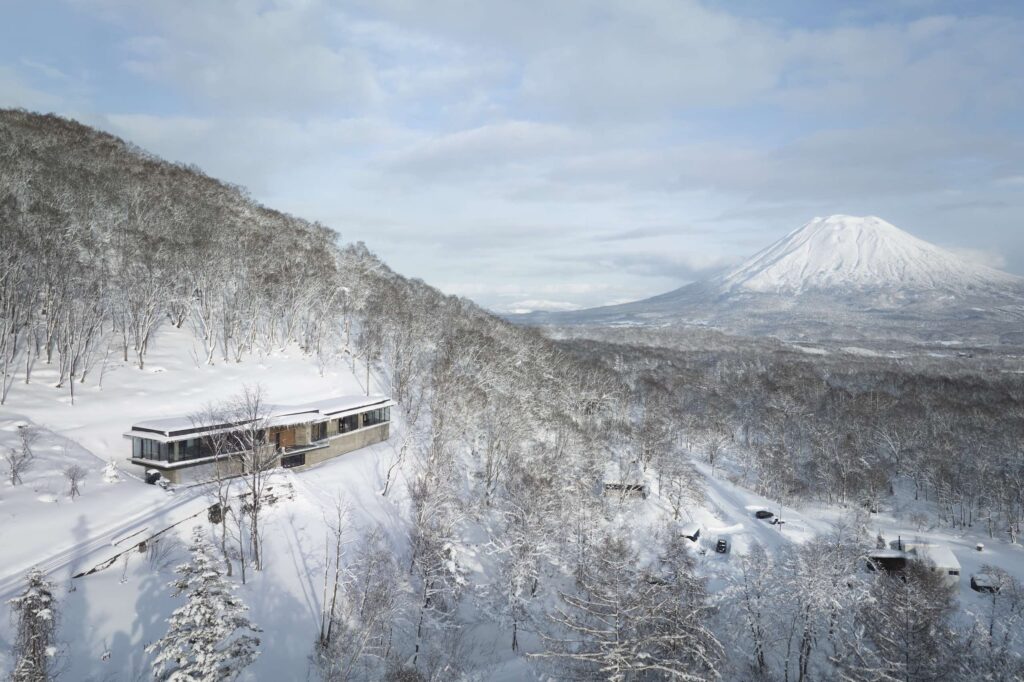 In addition to the aesthetic benefits, there were practical advantages, as the base of natural fibres had the ability to respond to inevitable seasonal changes with ease. "By selecting low-maintenance materials, we were able to reduce the long-term costs of maintaining the property while ensuring that it remains in excellent condition, even during periods when it is not occupied. This approach aligns with our commitment to sustainability and responsible construction practices."
Following the natural elevation, the duplex residence features two hinged wings. To minimise internal organic heat loss, part of the lower floor sinks into the terrain. Clean lines and simple forms pay homage to the long-established Shinto belief in embracing nature through contemporary space. Even from a bird's-eye view of the area, the housing structure camouflages itself into the colour scheme of the local geography and geology. "I incorporated a flat roof design with clean, unique structural lines, as opposed to a traditional Japanese house with a sloping roof. The interior features a minimalist aesthetic that reflects both Japanese and international cultures, resulting in a fusion of Chinese and Japanese styles."
"My approach to building a house revolves around human-centric design, where functionality is just as important as aesthetics," says Leung, a long-time advocate of green living. "My designs always come from my daily life, the geographical location and culture of the project, environmental sustainability, and the needs of the users."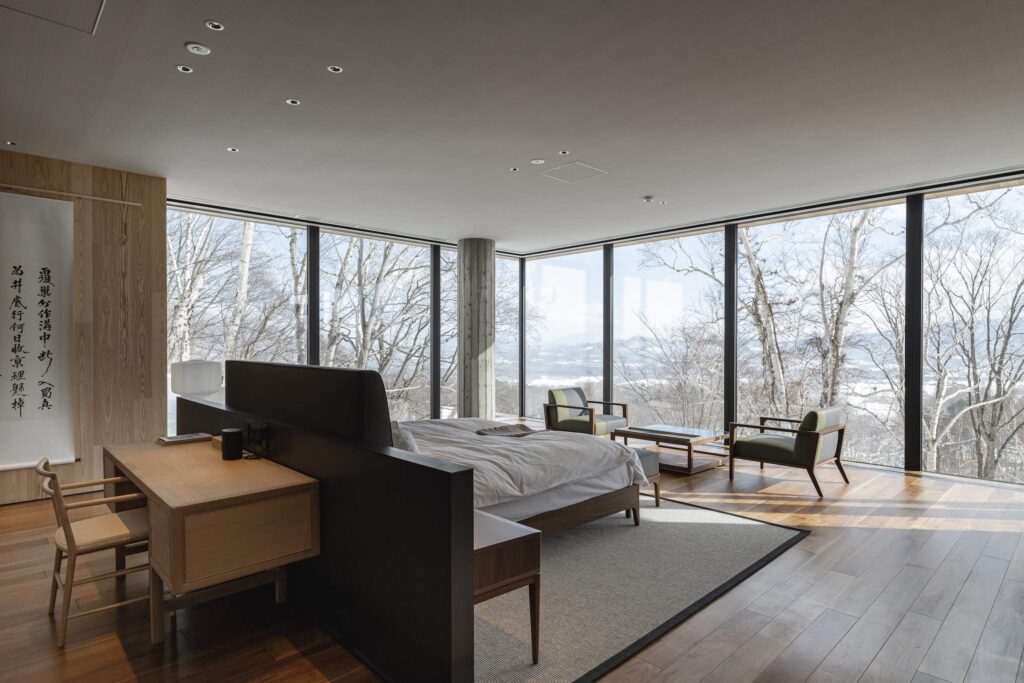 For all its impeccable construct, one is constantly cognisant that this is someone's home, not an impersonal hotel to be peopled by strangers. "I carefully considered the needs, habits, and hobbies of my family to create a layout that would perfectly suit our lifestyle. In addition to the vast living and dining space and three large en-suite bedrooms with huge Japanese-style baths, we included lifestyle spaces such as a tatami-built massage room that can double as a fourth bedroom, a ski room, and a dedicated entertainment room."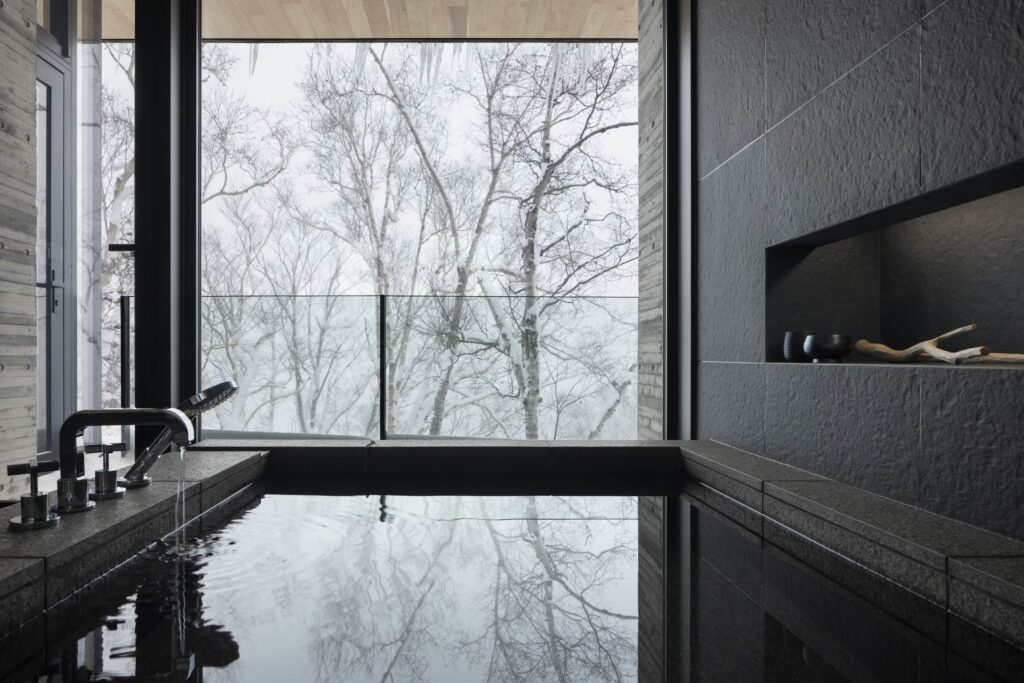 Within the 600 square metres of living space, find a spacious living room, dining area, guestrooms, and a 94-square-metre master suite, while on the upper floor, look beyond the three-sided, uninterrupted floor-to-ceiling windows for a polyptych of au naturel alpine vistas. There's a spa room for massage, an entertainment room for karaoke, and an open-air dining area, but Leung's personal favourite isn't the obvious.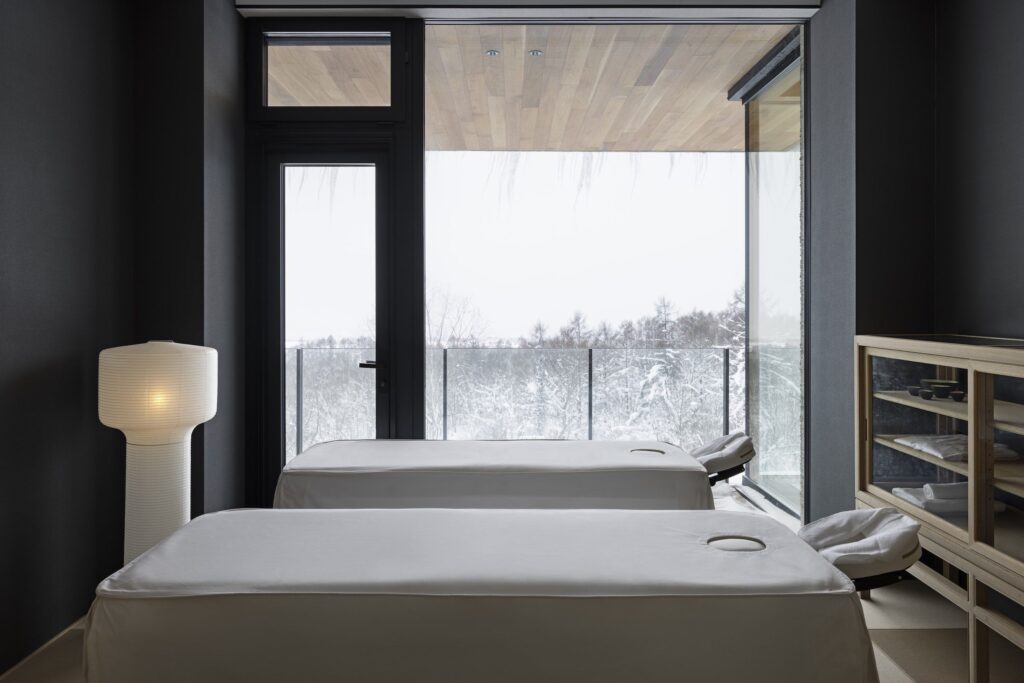 "If I had to choose, the living room would definitely be my favourite room in the house. Unlike a typical hotel room, the living room features a spacious, open kitchen and dining area, which creates a warm and welcoming atmosphere. This setting is perfect, providing a homey feel that is unmatched by even the most luxurious hotel accommodations. With amenities such as a cosy fireplace and music system, the living room is the ideal space for hosting gatherings."
The interior space boasts a dark grey floor, wooden ceiling, cement stone pillars, and a sophisticated mix of Japanese and modern furniture. "I incorporated two major furniture brands in the home—HC 28, a Chinese furniture brand available worldwide, and Time & Style, a renowned Japanese furniture company. Their wardrobes, bookshelves, and other furniture can be seen throughout the house, complementing the overall design."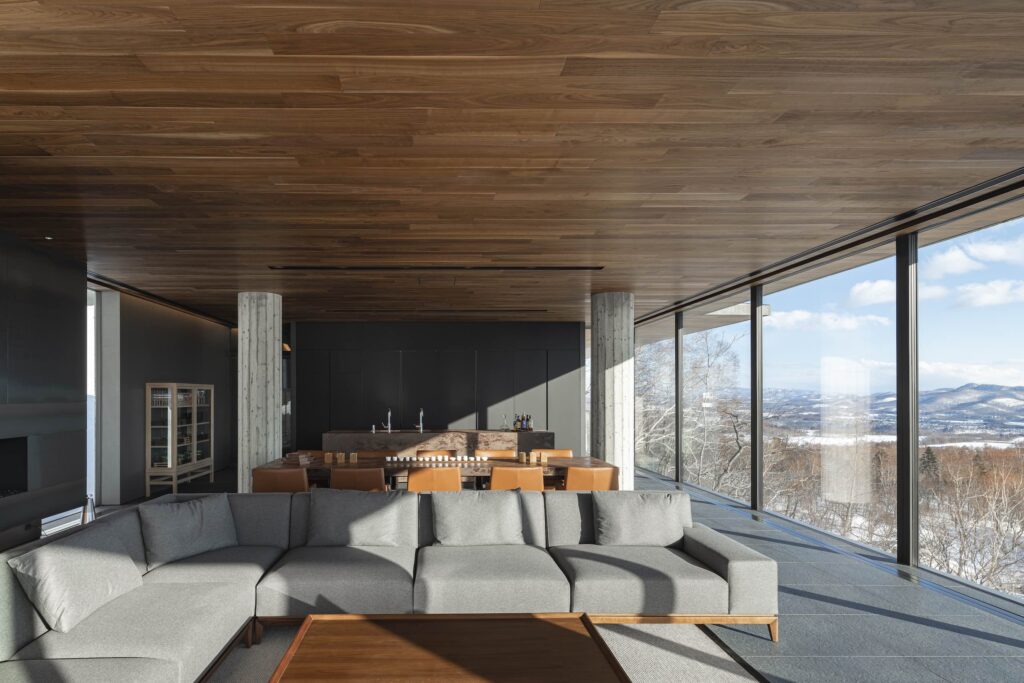 As serene as minimalist elegance is, there are some practical aspects of function that can hinder fluid design: wiring, dustbins, day-to-day chores, and necessary undesirables. Leung used a clever design to hide things in plain sight: "For instance, the dustbin is designed as part of the cabinets located under the kitchen sink, with different compartments based on Japan's specific household garbage categories."
"As part of the design process, I always give due consideration to the essential but often overlooked elements. I make sure that they are placed appropriately, in line with usage habits, and seamlessly integrated into the overall design."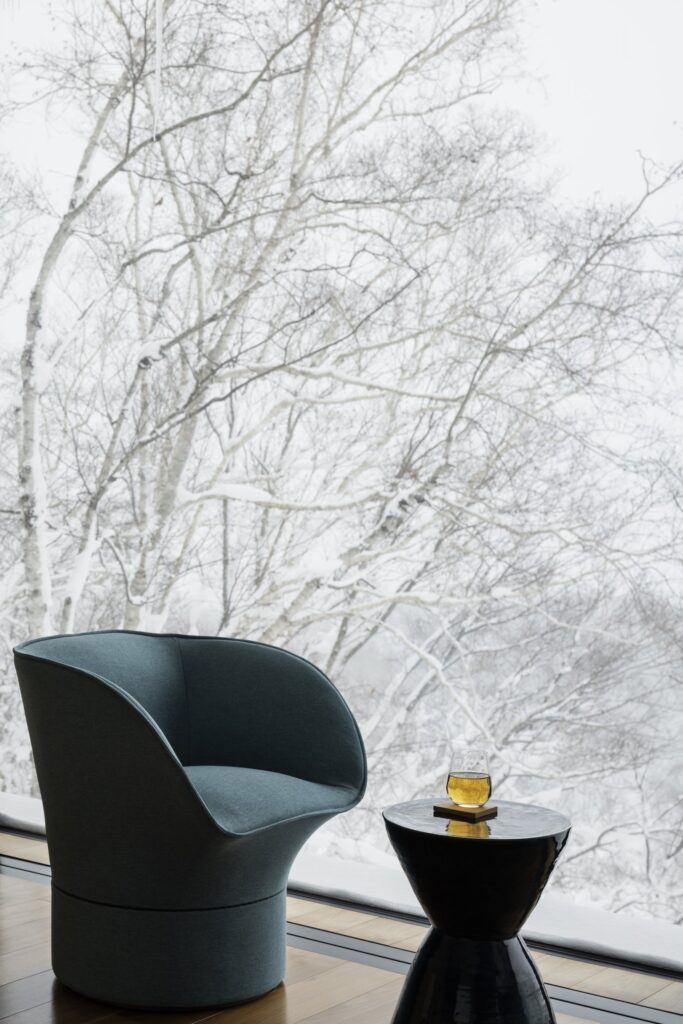 There are other key sensory aspects that were incorporated as well, be it a sense of touch, sound, or even the olfactory. "Crafting spatial spaces is not just about visual aesthetics, but also about creating a comfortable, functional, and immersive environment that engages all the senses. When you step into a space, it should be a holistic experience that stimulates all of your senses. Rather than emphasising a specific element, I strive to balance all the senses in the space, including lighting, sound, texture, scent, temperature, and more, so that they complement each other and create a fully immersive and multi-sensory experience."
Before his family or friends joined the final product, Leung lived in the space for a fine case of trial-and-error check. "After my stay, I did not find anything that requires amending or changing. The house was fully equipped and built to a high standard."
Whether it be gathering around the fireplace or sharing meals in the open kitchen and dining area, this property is built to last and for lasting memories: "Every element of the house exudes absolute perfection and represents my personal taste to a tee. I am absolutely thrilled with everything that has been built, and there is not a single aspect of the house that falls short of my expectations."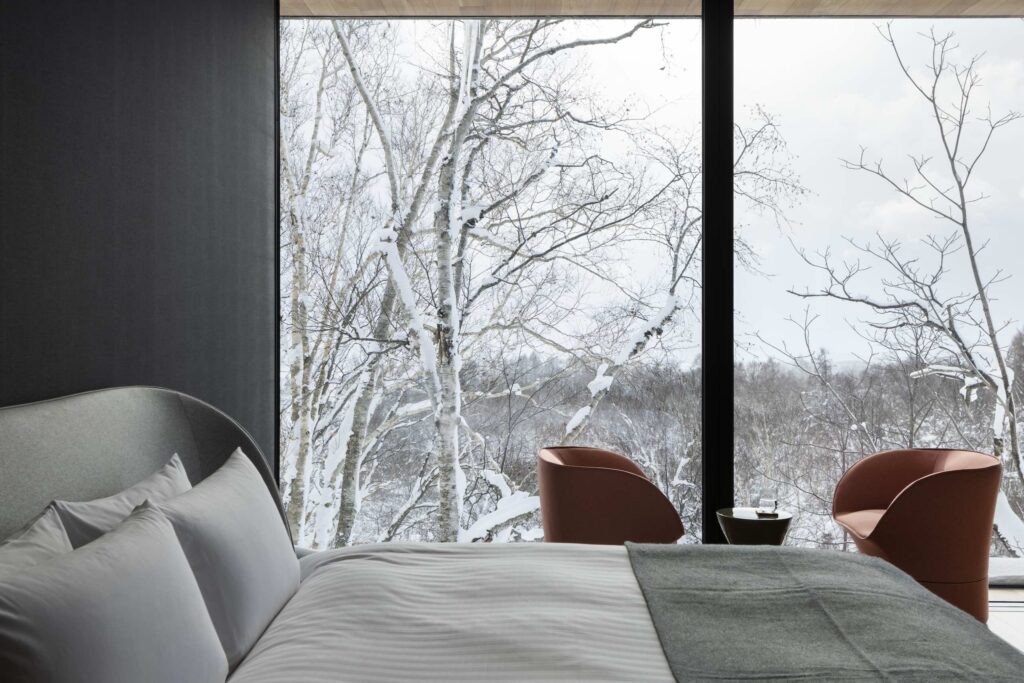 "I must confess that I have no intention of visiting the property alone yet at my age, as it would be an injustice to keep such a splendid location to myself. I intend to invite friends and family to visit. This secluded space offers an ideal environment for all of us to gather—the house is designed to foster togetherness."
All photography by Sohei Oya and Ikuya Sasaki.