The pandemic-inspired surge in superyacht demand prompted a corresponding jump in refit work, as owners unwilling to wait three years for a new build are instead opting to commission late-model makeovers. Case in point are two craft, a 238-foot Lürssen, launched in 1994, and a 184-foot Benetti from 2005, each with vastly different refurbishment objectives. Christened Coral Ocean and Galaxy, respectively, the former was considered something of an artifact while the latter, though well-built, was completely forgettable.
"The last thing we wanted was a boat that age," says Ian Malouf, owner of Coral Ocean, "but it had a fantastic original structure and was due for a generational change." Yet what was intended as a quick US$5 million (HK$39.25 million) remodel grew into a two-year, US$35 million (HK$274.75 million) metamorphosis for the eclectic Jon Bannenberg–designed yacht.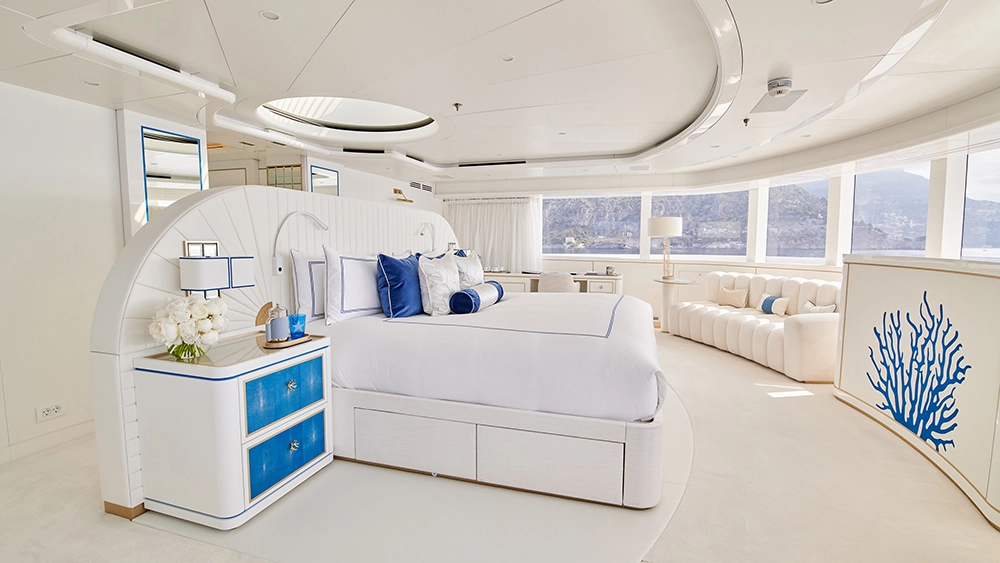 "We renovated the entire interior, and at one point the upper decks were down to the bare aluminum, like a new build," says Will Kaye, Coral Ocean's captain, who oversaw the project at Mallorca's STP yard. "We added 150 gross tons, or about 10 percent, to the boat's volume."
A total of 35 welders worked on the yacht, while 150 contractors were eventually hired to help reenvision a majority of the upper three decks. The square footage of the top deck nearly doubled, and a massive, glass-heavy hardtop was added as its new crown. Removing the plunge pool and stairwell dramatically expanded the owner's suite.
As for the ambiance, H2 Design and Ian's wife, Larissa, created a more subdued modern interior that features off-white hues, thick carpeting and contemporary decor to replace an island aesthetic replete with tribal masks and driftwood paneling.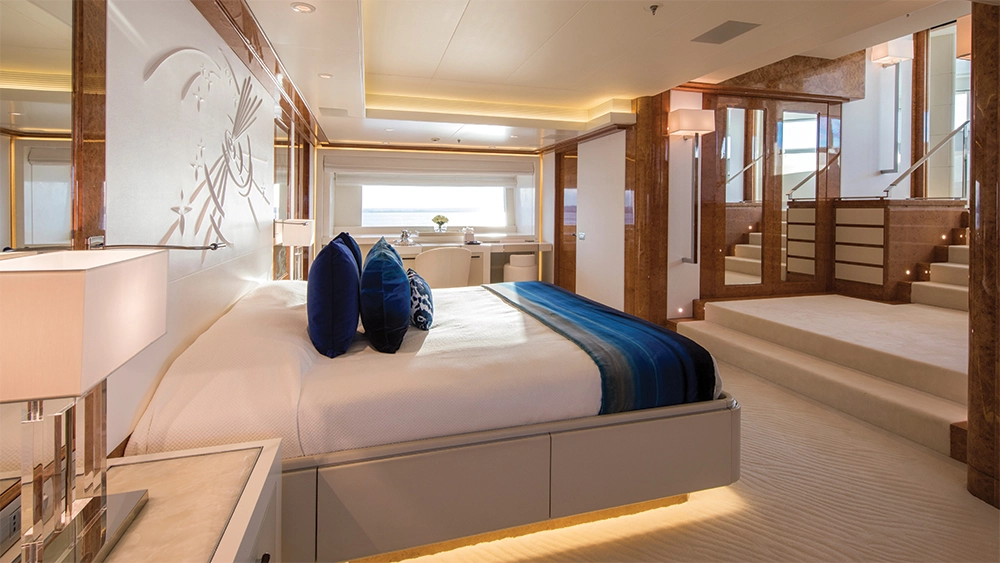 Taking a diametric tack, Galaxy owner Dave Hagewood, who purchased the yacht in 2020, decided to transform the rather nondescript interior into a fantasy world that jibed with his career as a gaming entrepreneur. "My wife, Danielle, and I wanted to go crazy with concepts of space, energy and life," he says. "We had ideas, but didn't know exactly what we wanted."
Fortunately, London designers Albin Berglund and Marie Soliman had the perfect next-level looks in mind. The pair, who along with partner Sarah Colbon cofounded Njord by Bergman Design House, conceived wild, artistic notions never before seen on a yacht. They even hired Dylan Cole, an artist for the movie Avatar, to create a moody, otherworldly forest for the main salon's walls, hiding miniature versions of E.T. on a bike throughout the canopy.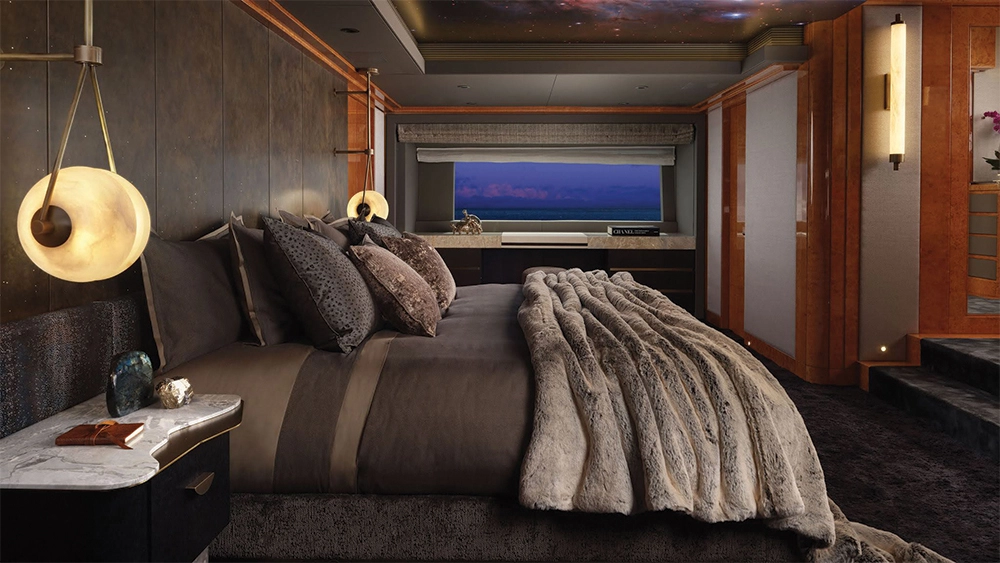 Adding to the galactic theme is a large special-effects spiral near the stairwell that resembles a portal into another dimension, while sculptor Joseph Klibansky's The Thinker portrays an astronaut pondering the universe. Even the wooden flooring has waves designed into it. This not only extends the otherworldly look, but feels good underfoot.
Capturing the couple's party side, evocative lighting also delivers a private-nightclub vibe at the bar while the outer aft deck includes a DJ station and dance floor to sate Dave's passion for music, which likewise explains the recording studio integrated into his office. In the main suite is a custom backdrop piece of art over the bed that shows the couples' star signs in lights, while overhead is a galaxy mural, also illuminated with sparkling LED lights.
Galaxy was reinvented with bold colors and myriad dramatic flourishes, including a painstakingly hand-painted dining table, white grand piano and large paintings on the upper deck—all done while being mindful of conservation. "We took care to use the existing structure," says Soliman. "We repurposed everything."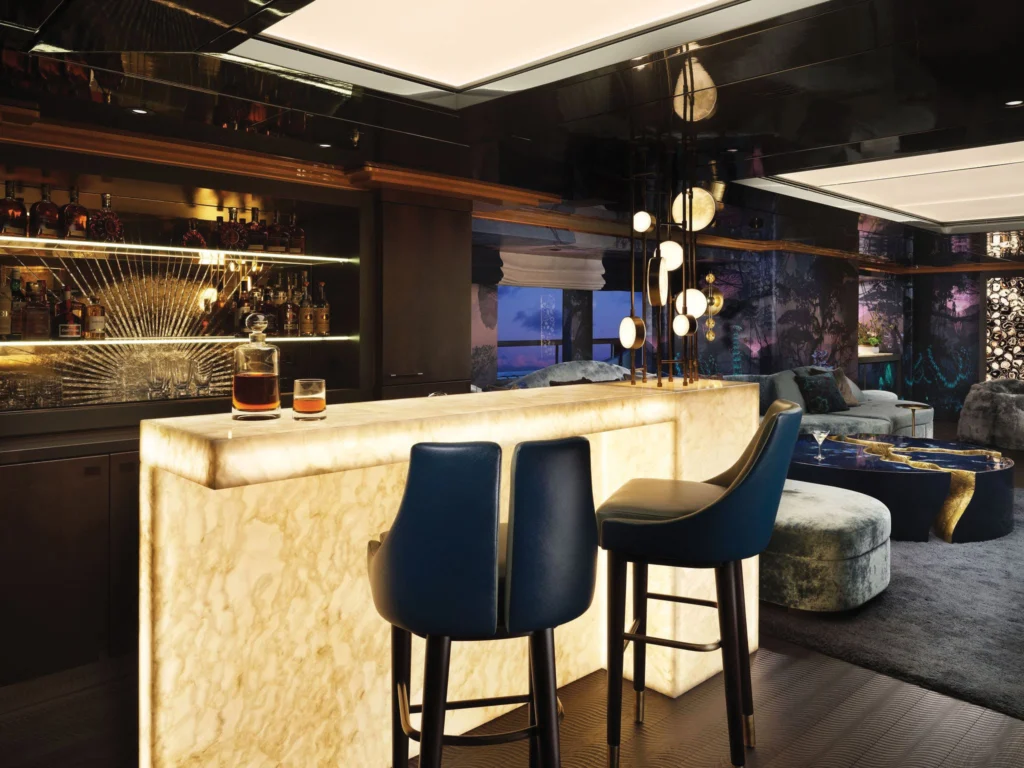 If the decision to refurbish was ever questioned by the Hagewoods, any doubt was scuttled the first time they stepped on board.
"When Dave walked in, he didn't say a word," says Soliman, though the eventual tear in his eye was their answer. "Gobsmacked" is how Berglund describes the reaction. "So overcome, he couldn't speak." That silence speaks volumes for the refit potential.