If we return to the Mercedes-Benz 300 SL Coupe and Roadster frequently, it's simply because they're some of the best built, most user-friendly old-timers ever made. Firmly in the million-dollar-plus category, these popular Silver Stars represent a solid blue-chip investment. And while we advise against viewing a passion purchase like a classic car as an "investment," it's nice to know that the money spent is not likely to swirl down the drain when the time comes to sell. That's because both versions of the 300 SL have, for decades, remained top collectibles for their beauty, reliability, and rewarding drivability.
Following World War II, Mercedes-Benz built much of its postwar reputation on the W194 race car, which saw great success on the track, and which spawned a road-going model at the urging of U.S. Mercedes-Benz importer Max Hoffmann, father of the Porsche 356 Speedster and BMW 507. Exactly 1,400 examples of the 300 SL coupe, unofficially called the "Gullwing," were made from 1954 to 1957. Inspired by California's convertible market, Mercedes-Benz changed over coupe production to the 300 SL Roadster in May of 1957, manufacturing 1,858 through early 1964, and of those, it's estimated that about 1,500 remain today.
As A+ collectibles, these are relatively plentiful numbers, ensuring that collector demand remains unabated. Part of the popularity is down to the performance, which, in the context of today's cars, still seems remarkably modern. Both model variants are powered by a 3.0-liter, straight-six engine that makes about 225 hp at 5,800 rpm. Also featured is Bosch mechanical fuel injection, which was radically advanced for the time. And an un-fussy four-speed gearbox, independent suspension, and hydraulic drum brakes on all four corners, were best-in-class for their day.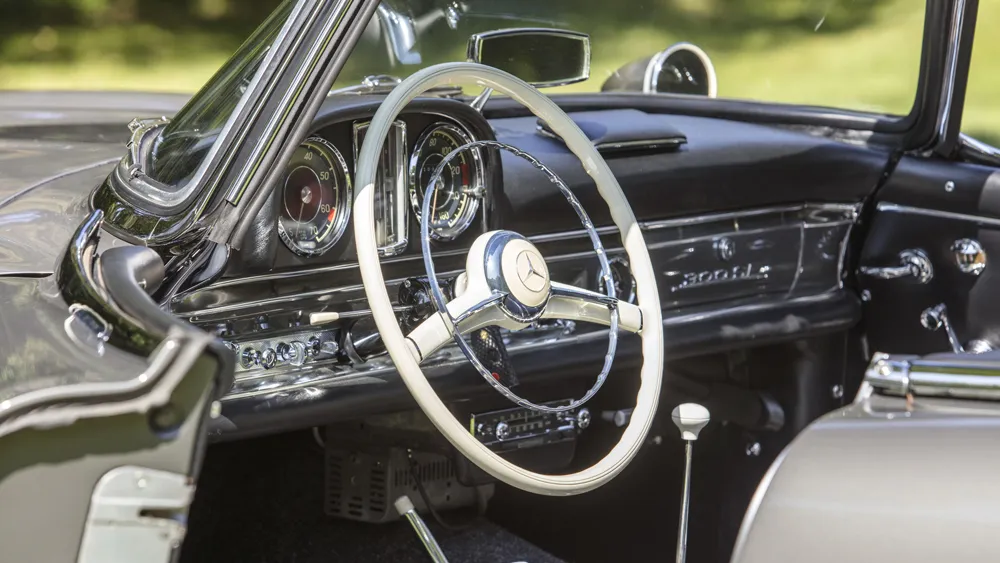 Underpinning the flowing bodywork was an elaborate tube chassis. The Roadster is quite a bit more comfortable to drive than the Gullwing, with regular doors, roll-up windows, and importantly, improved handling characteristics at high speeds thanks to a revised rear swing-axle.
On September 29, this 1960 Mercedes-Benz 300 SL Roadster—a lovely example of a classic's classic—will be offered at Bonhams' Audrain Concours Auction in Rhode Island. It's part of a 22-car collection from the estate of James Messenger that includes European, British, and stateside classics, all selling at no reserve.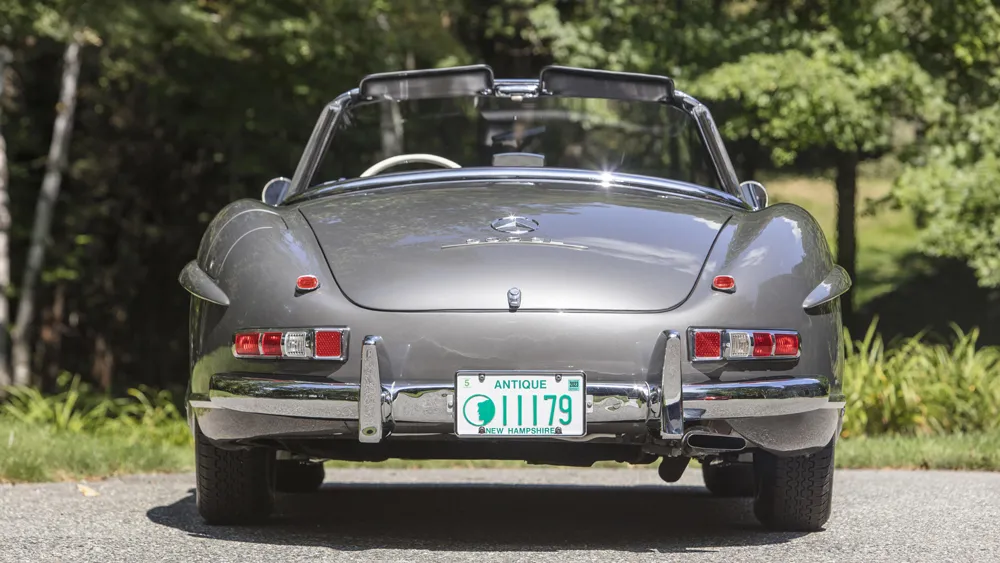 Finished in Mercedes-Benz's DB172G Anthracite Metallic, and maintaining its original chassis (No. 002689), engine, and body numbers, the car was restored by marque specialist Scott Melnik Auto Engineering of Calabasas, Calif. The project spanned the years 1997 to 1999. Interior appointments include recent retrimming in black leather, charcoal square-weave carpet, the correct ivory steering wheel and gear knob, a Becker Mexico radio, lift-latch competition-style lap belts, and restored factory switchgear and instrumentation. Although crossing the auction block at no reserve, this star lot is estimated to sell for between US$1.2 million (HK$9.39 million) and US$1.4 million (HK$10.96 million).
Click here for more photos of this 1960 Mercedes-Benz 300 SL Roadster.