Known for its novel ideas for jewellery, mix of colours, variety of quality stones, and a distinctly Italian style, a treasure trove of accessories from Villa Milano, a heritage brand that has been around since 1876 and is now in fifth-generation hands, is now available at the newly refurbished Joyce boutique in Pacific Place.
From statement necklaces, earrings, and signet rings to a razzle-dazzle of colours, innovative twists in drop earrings, and surprising turns in jewellery, you will find a cherry-picked collection at the boutique, but there's something a little different about the entire display: there's not a single sight of the most popular stone in the world.
"Diamonds are so boring."
Alice Villa, co-owner and designer at the maison, says this with a smile, and pinpoints the conspicuous absence of the often-coveted gleaming rock—not one shimmering white stone on the lot. "I have to say that diamonds are boring because it's a very definite word. Of course, there's a market for it, but I think that it's not as romantic as finding a nice beautiful coloured stone. It can even be semi-precious, but if you find the best semi-precious stones, like a rubellite, for example, or tourmaline, I think it really makes a difference because it's just so beautiful, so different, so interesting. I think there's an energy that you put into finding that specific stone, from the cast to the final customer. I love coloured gems like sapphires, emeralds, and rubies, but with diamonds, it's so cold. It's kind of always the same."
Upon inspection, you will find diamonds in the mix of Villa Milano, but hidden, used sparingly, and often as a binding stone. "Good eye, yes, but we use it a lot for the frames of jewels to add a bit of light to our mounted larger pieces. We sometimes use it when it's completely in contrast with the mounting stone that is around it. So if we need something very bright and strong and sometimes important, we use the diamond because it's a precise choice that we make. It's common for us to use diamonds and central stones, but not as the main character, not the hero in jewels."
Speaking of heroes, the hero in the story of Villa Milano are the two women who've brought the brand into the new century with such elegant ease. Sisters Alice and Francesca Villa now head the company—first in generations to be led by women—and they are yanking Villa Milano to the new age, marrying modern collections with time-honoured traditions of crafting exquisite jewellery with technical finesse and polish that only a heritage centurion brand can boast.
During Villa's Hong Kong sojourn, Robb Report Hong Kong was the first to meet the fifth-generation heir (who also designs for the company) ahead of a trunk show at Joyce, where she opened a heavy folder with some fragments of paper that really belong in a museum: gorgeously scripted, hand-written notes in cursive, and even orders for engagement rings from 1879! Charts and accounts of size, date of collection, stones, pencil sketches of patterns and motifs, ink-stained permanent blueprints of jewellery, isometric projections of personalised signet rings, and orders of machines and equipment from the early part of the last century make up some of the relics. Villa Milano's famed craftsmanship can be historically traced back 147 years with accuracy and proficiency.
As part of the trunk show, from its vast archive and contemporary collection, Villa brought only a handful of the maison's exquisite creations exclusively to Joyce. Along with her sister Francesca, the duo represent the family business, and Villa carries the weight of such a legacy with a firm hand, "Villa Milano was born in 1876 with my grandparents; they won the gold medal at the Paris Exposition in 1889. In the beginning, perhaps we were more goldsmiths, and then with the third generation, we moved to stones. Now we have a store in Milan and we produce everything. Where we make the jewellery is right next to the store—we take customers to see where we actually do the creation and they can see it through the windows. It makes them feel more interested because they can see the person crafts it just for them. It makes it unique—more of an experience than just buying a piece of jewellery."
This symbiotic relationship between jeweller and customer is one to note—Villa Milano has had loyal customers for generations, not just years. When asked who the muse for the brand is, Villa says it's every woman of every age—and men, too. "When I designed the rings, I didn't expect so many men to like and buy them. I never project who it's for—it's for anyone who walks in." Be it cufflinks, ear studs, or rings, there's something for a gentleman of discerning taste.
It's a question of the chicken or the egg but we ask what comes first: the design or the stone? "Each piece is different. Sometimes, the stone inspires a design; other times, there's a design I made years ago that I've been waiting to find the right stone for. Before starting sketching and designing things, I usually look at old catalogues. It kind of refreshes your mind with the pieces that were done in the past, so that you can still keep a link between what was done by my grandfather, father, and uncle. It's the most important part: to keep something from the past with us."
On one side, you will find fancy-coloured, modern chokers studded with jade, aquamarine, and sapphires, and on another, heirloom keepsakes and rings studded with rubies and emeralds of notable size.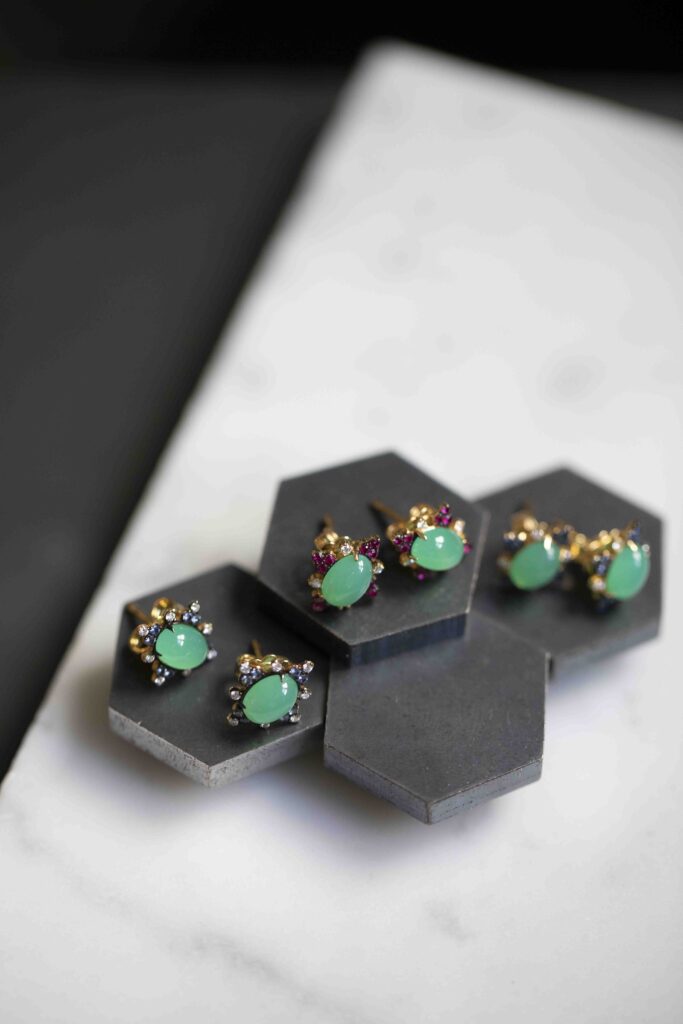 "I get sentimental with the jewellery that I own, the pieces that I created, and the ones created by my family members in the past, so I strongly believe in the sentimental value of jewels. It's why I love meeting customers and being part of their sentimental moments. I love to make engagement rings especially—I sit with the couple, and we make something unique together. I am equally bound to them as they are to the jewellery. We are part of their story, and they are part of our history."
Villa Milano trunk show
5 July–30 August 2023
Joyce, Shop 201, 2/F, Pacific Place, Queensway, Admiralty, Hong Kong
All images courtesy of Joyce.