Don't worry, you're not seeing double. Amels really did just launch two Limited Editions at once.
One Amels 242 and one Amels 200 hit the water in tandem this week, marking a major achievement for the Dutch yard: It is the first time in the Amel's history that two superyachts have been launched on the same day.
The semi-custom newcomers, which span 242 and 200 feet, respectively, both showcase sleek exteriors from the drawing board of respected British designer Tim Heywood and elegant interiors by Winch Design. Interestingly, the owners could have commissioned any studio to bring the living quarters to life, but both entrusted Andrew Winch's eponymous British studio.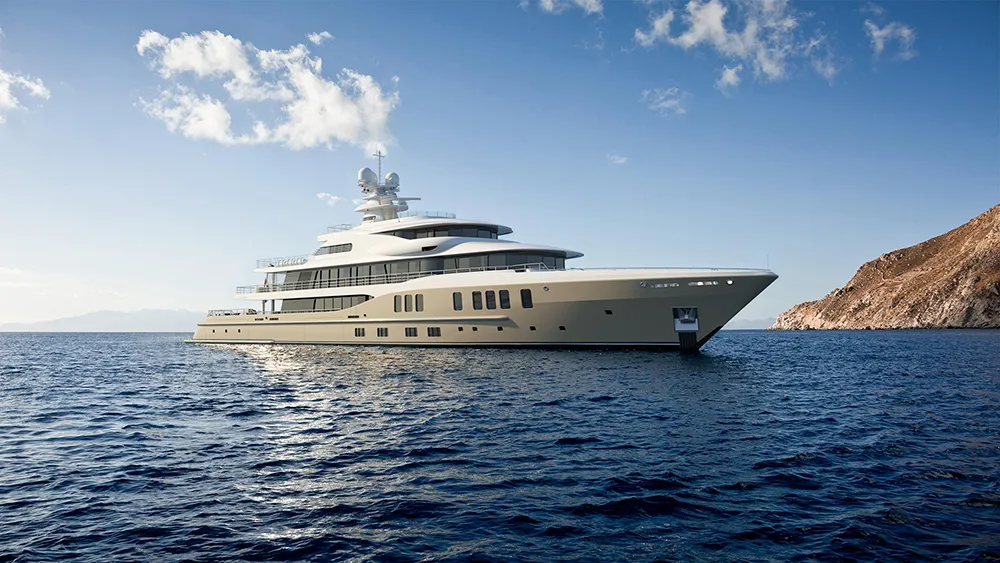 The new Amels 242 is the eighth hull in the series. As the owner requested "an eye-catching exterior color scheme," the vessel features a Flag Blue hull, an Oyster White superstructure, and dark gray accents. This striking palette has been cleverly incorporated into the interior decor, with an abundance of blue marble featured throughout. There is also a wall of semi-precious blue agate in the main entranceway and blue mosaics in the wellness area.
"The owner wanted something different, and that is certainly what he has achieved, especially with the variety of marbles," Damen project manager Peter Dijkwel said in a statement.
The yacht offers ample space for lounging, dining, and entertaining, as well as six staterooms for 12 guests. Other highlights include a dedicated owner's deck with a Jacuzzi, a large aft swimming pool, and the aforementioned wellness area. Damen says the 242 has been created entirely on schedule and will be delivered to its owner on June 1, 2024.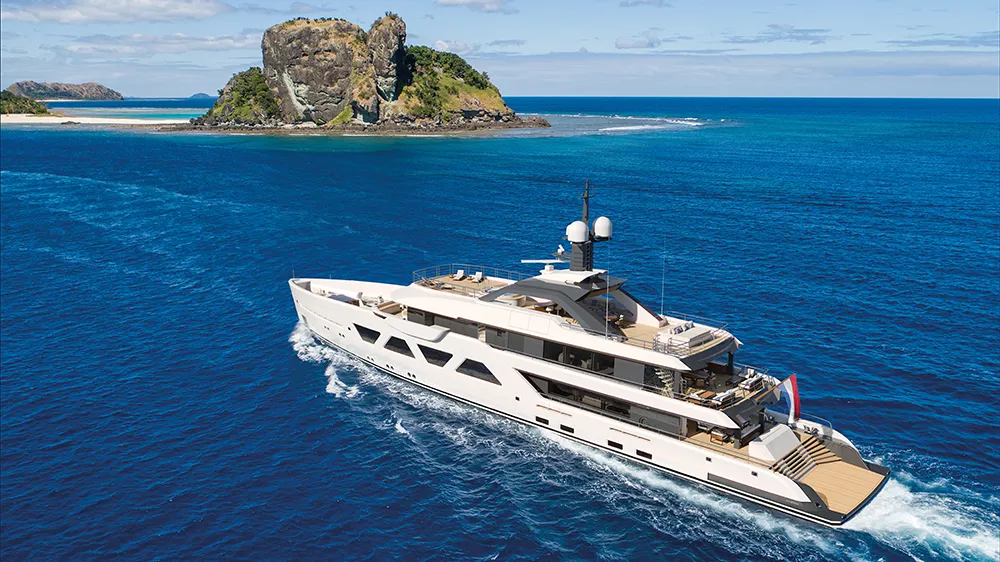 The new Amels 200 is the fourth hull in the series and is once again distinguished by a few custom touches. Most notably, the owner decided to add a balcony to the main deck and an outdoor bar to every level. They also opted for a distinctive exterior paint job. The hull, curves, and arches are colored Whisper Gray, while the windbreakers are finished in a dark-gray tone that matches the windows.
"This yacht perfectly reflects the owner's unique vision," adds Damen project manager Tom Oomkens.
No delivery date was announced for the 200, but it likely hit the seas with the 242 mid-next year.
Amels, which is helmed by Damen Yachting, introduced the Limited Editions line back in 2007 as a means to speed up and simplify the bespoke boatbuilding process. There are now some 50 Limited Editions cruising the world's oceans. The yard recently introduced two next-gen hybrid models to the range, too. Perhaps sometime in the future, we'll see the new Amels 60 and Amels 80 launch on the same day.