Attention, coin collectors—there's a new (and exclusive) kid in town. An exquisite trio of pink diamond-studded coins has just arrived in Hong Kong.
As the name implies, the Opulence Collection, produced by the Royal Canadian Mint, is nothing short of luxurious. What sets the numismatic pieces apart is that they are adorned with fancy vivid and fancy intense pink diamonds—a real rarity, as these constitute less than 0.1 percent of all diamonds mined worldwide.
Adding to the scarce nature of the pink gemstones used on the coins is their origin: the now-defunct Argyle diamond mine located in western Australia. It was once famous for producing 90 percent of all the pink diamonds in the world for nearly four decades before it was shut down in 2020—and its closure has made the precious stones even more coveted. Highlighting the blushed hues of the diamonds, each coin is crafted with cherry blossom motifs on the reverse, while the obverse memorialises Her Majesty Queen Elizabeth II with an artistically rendered profile.
Leading the collection is the Splendour, with a retail value of HK$1,565,000. Measuring at 76.25mm, the coin is the Royal Canadian Mint's first-ever 10-ounce 99.95 percent pure platinum creation and comes in a limited edition of just five pieces. With a 24-carat pink gold outer ring, the coin features a finely engraved cherry blossom enclosed in a lacework of vines, while 64 hand-set pink diamonds, which have a total carat weight of 1.2, are added in a lattice frame.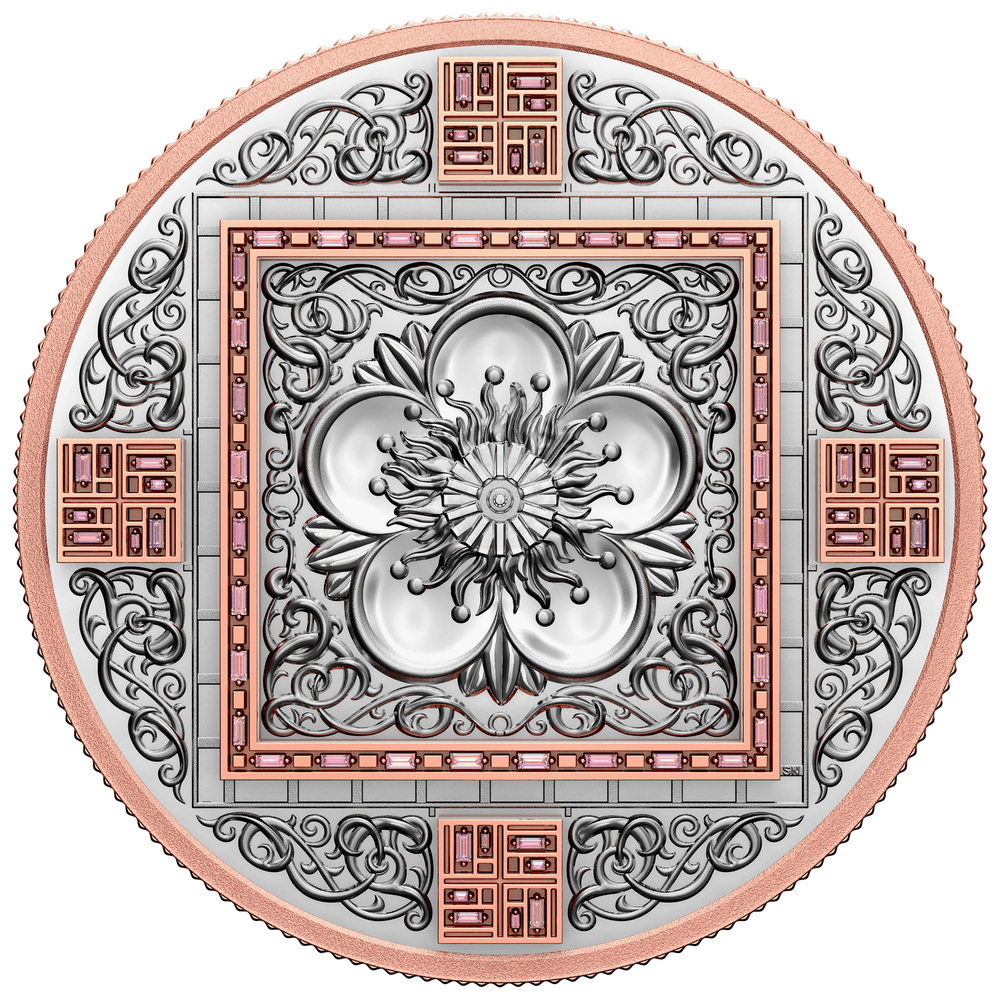 Also made of 99.95 percent pure platinum, the Grandeur has a rose gold-plated rim. On this 42mm coin, a cherry blossom design takes centre stage, with 30 hand-set pink diamonds contributing to a total carat weight of 0.34. With a mintage of only 30 pieces, the Grandeur is sold for HK$352,000.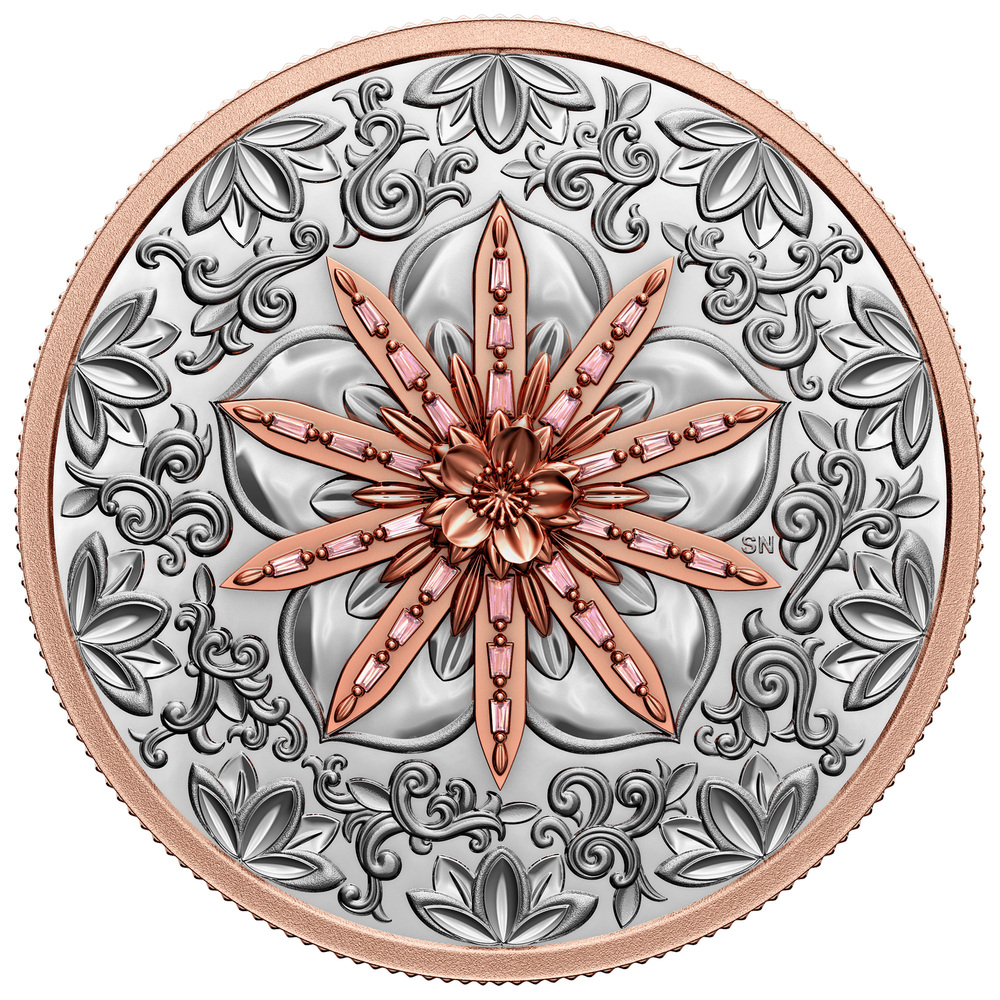 Last but not least, the Treasure is made from one ounce of 99.99 percent pure gold, with only 400 pieces available worldwide. Inspired by Art Deco architectural features, such as arches and filigree, the rose gold-plated, platinum-cast coin shows a cherry blossom with swirling petals adorned with five hand-set pink diamonds that have a total carat weight of 0.06. It retails for HK$82,000.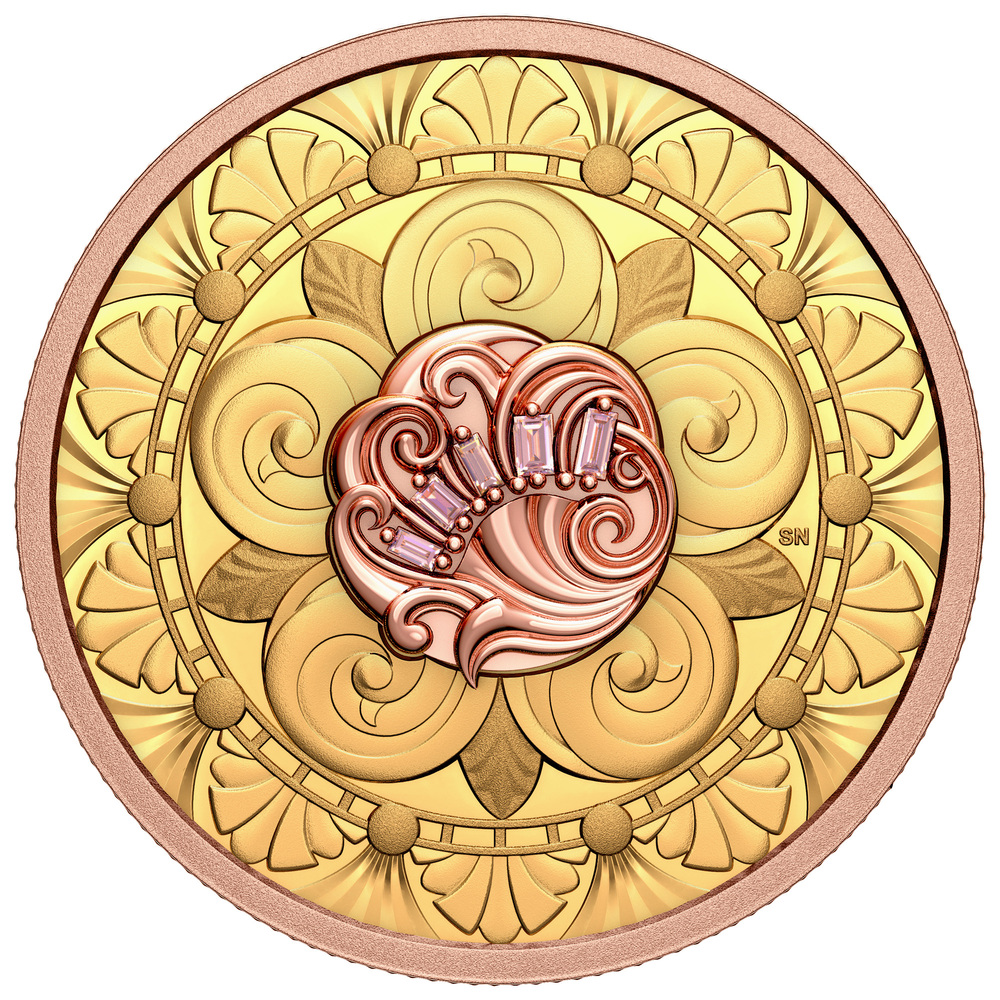 All three coins come in a black presentation case with a lockable compartment and a removable coin tray, allowing for an upright display. 
Although no longer available for purchase, the Opulence Collection also contains the Ultimate, the Royal Canadian Mint's first-ever one-kilo 99.95 percent pure platinum coin. It was sold in May 2022 for CAD1,261,250 (HK$7,230,360), creating a new record for a coin offered at auction in Canada. 
Besides the minting and distribution of circulation coins, the Royal Canadian Mint also crafts unique collectible coins and pieces, such as this diamond-shaped marvel released in 2020. The Opulence Collection is now available in Hong Kong via its official distributor Aurom, a Kunming Diamonds company.
All images courtesy of Aurom and The Royal Canadian Mint.