Signet rings have long been worn by men of power and influence throughout the centuries and their significance has shifted with the times. Originally intended as a symbol of status, the little accessory has since become more of a fashion statement with jewellers creating genderless takes, while others continue to wear them as family heirlooms.
The rings are traditionally worn on a pinky finger and are called "signets," as Obellery Studio founder Bellinda Chang, explains, "Signet rings were a form of personal signature or symbol of family heritage for an official seal."
The ancient Egyptians are believed to have innovated transferring wax/clay seals onto rings, a practice later adopted by the British monarchy according to British jeweller Neil Rayment, who creates bespoke rings for families of note till date.
Chang continues, "A design was usually engraved into the metal of the ring and then pressed into wax or clay. Every ring was unique, some of them were simple monograms or icons which (represented) their family." They were typically associated with the upper echelons, dating as far back as 3500 BC with pharaohs and queens using it to sign important documents. "As with a wax seal, the ring's engraved pattern would have been stamped into hot wax or clay on important documents," explains Chang. ""Authentic antique signet rings are rare and valuable as they were often destroyed when their wearer died!"
Nowadays however, signet rings have become more associated with fashion jewellery according to Chang. "Very few of us have a crest of our own to pair with the ring."
They've also remained a popular choice amongst men as a distinctive and minimal unisex item. Chang offers signet ring making classes at Obellery Studio. While there's less need for wax sealing documents nowadays, jewellers have found new ways to revive the practice. Some have leaned into their connotation of wealth with impressive stones, others have brought Chinese heritage to the forefront by transferring family chops and emblem onto rings, while others have also created beautiful everyday pieces with enamel designs.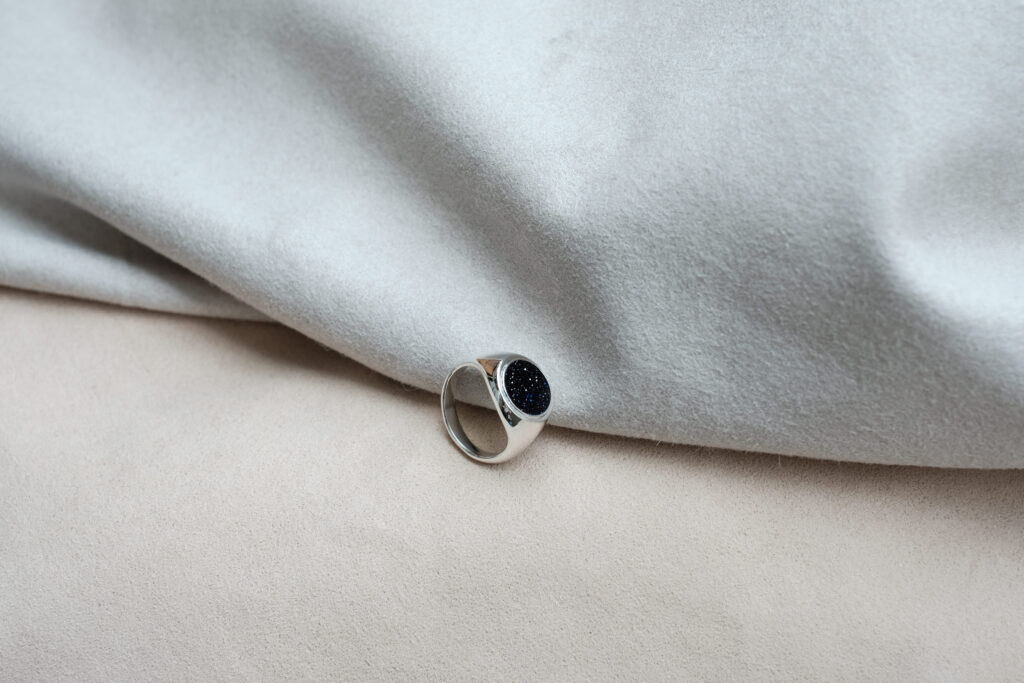 Here are a few of our favourites:
The Shark Anchor Signet Ring – Cece Jewellery
Created by a former Christie's and Sotheby's art historian, Cece Feig Hughes, Cece Jewellery's range of delicate enamelled rings bring tattoo-inspired motifs to the classic silhouette.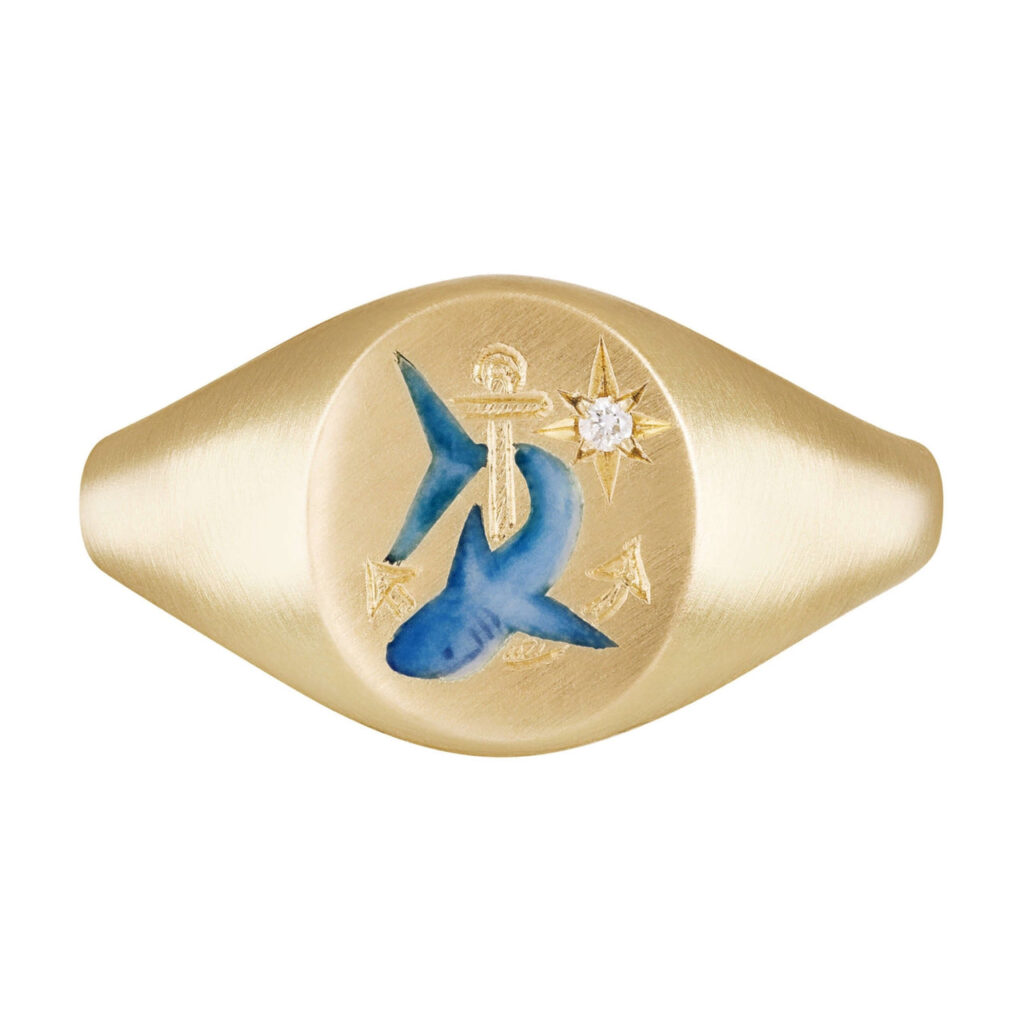 Available at Cece Jewellery here.
Bleue Burnham The Portrait Signet Ring
While most signet rings focus around the central engraving, this Bleue Burnham ring takes a modern approach by focusing on negative space with its empty engraved frame.
Available at Farfetch here.
A Little Something Bespoke Signet Rings
Local Hong Kong jeweller A Little Something creates stunning custom signet rings, which pay homage to the traditional family chop. Their rings are entirely bespoke and interested parties should get in contact for exclusive accessories.
Available at A Little Something here.
Niin Sisu Cube Cocktail Ring
A slab of smoky quartz brings rich tones to the traditional signet ring, creating a modern yet timeless look.
Available at Niin here.
Bellinda Chang Nox Signet Ring
Drawing inspiration from Greco-Roman history, this silver signet ring created by a local jeweller features a starry blue sandstone night as its central motif.
Available at Obellery Studio here.
The Collection by JLG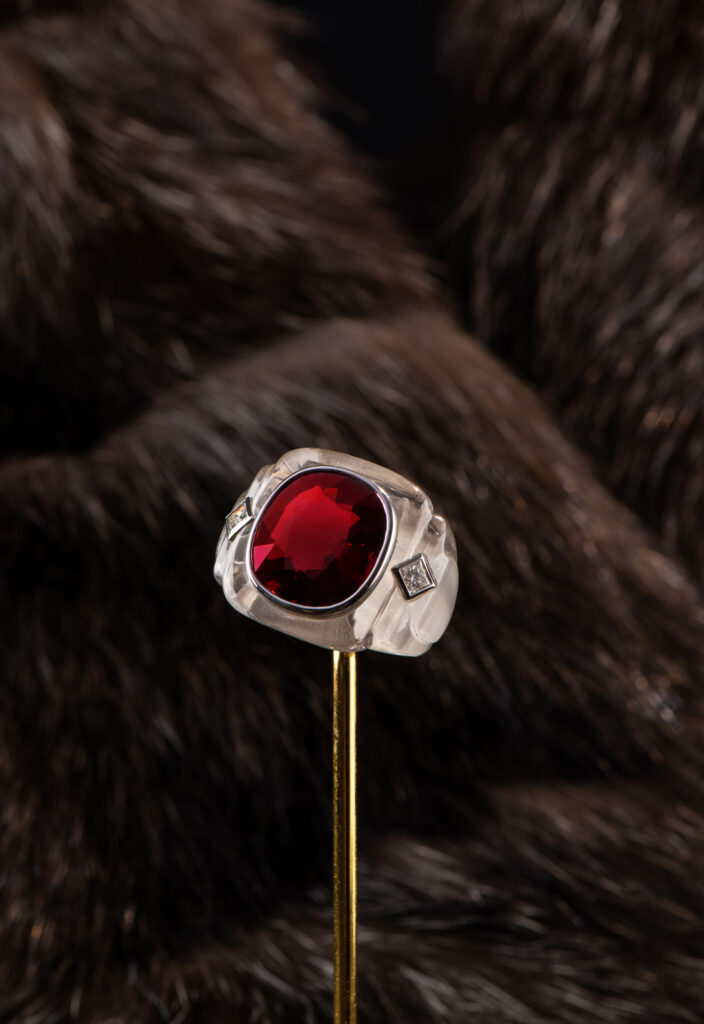 Created by Julien-Loïc Garin, The Collection has inspired references and styles of the past – ancient Egypt, eternal India, the Renaissance period, the Art Nouveau. The "Story-ring Hollywood" (main picture and above) comprises of 15.79 carats of cushion-cut rubellite, adorned with 0.71 carats of princess cut diamonds, mounted on a hand-carved rock crystal and 18k grey gold ring. Variations are possible in other stones and gold. Each piece is handcrafted and unique, signed and numbered. Price upon request.
Available at The Collection JLG here.